Dates go way back, and we're here to share 10 fascinating facts about the California Superfruit's unique history.
At Joolies, we think Medjool dates are pretty fascinating all by themselves. After all,
our organic dates
are a naturally sweet treat for solo eating, popping in smoothies, and mixing into baked goods like tasty little jewels. And we're always stoked about their high fiber, excellent potassium levels, and the low glycemic index that makes them a smart sweetener for people with blood sugar issues.
That said, you don't have to be a date nut to realize that, beyond their taste and nutrition, Medjool dates have a super intriguing backstory, too. From dates' origins in antiquity to their use in the rationing days of World War II, these fruity powerhouses have played a unique role in various cultures and time periods.
We're willing to bet you never knew these ten fascinating facts about dates' history.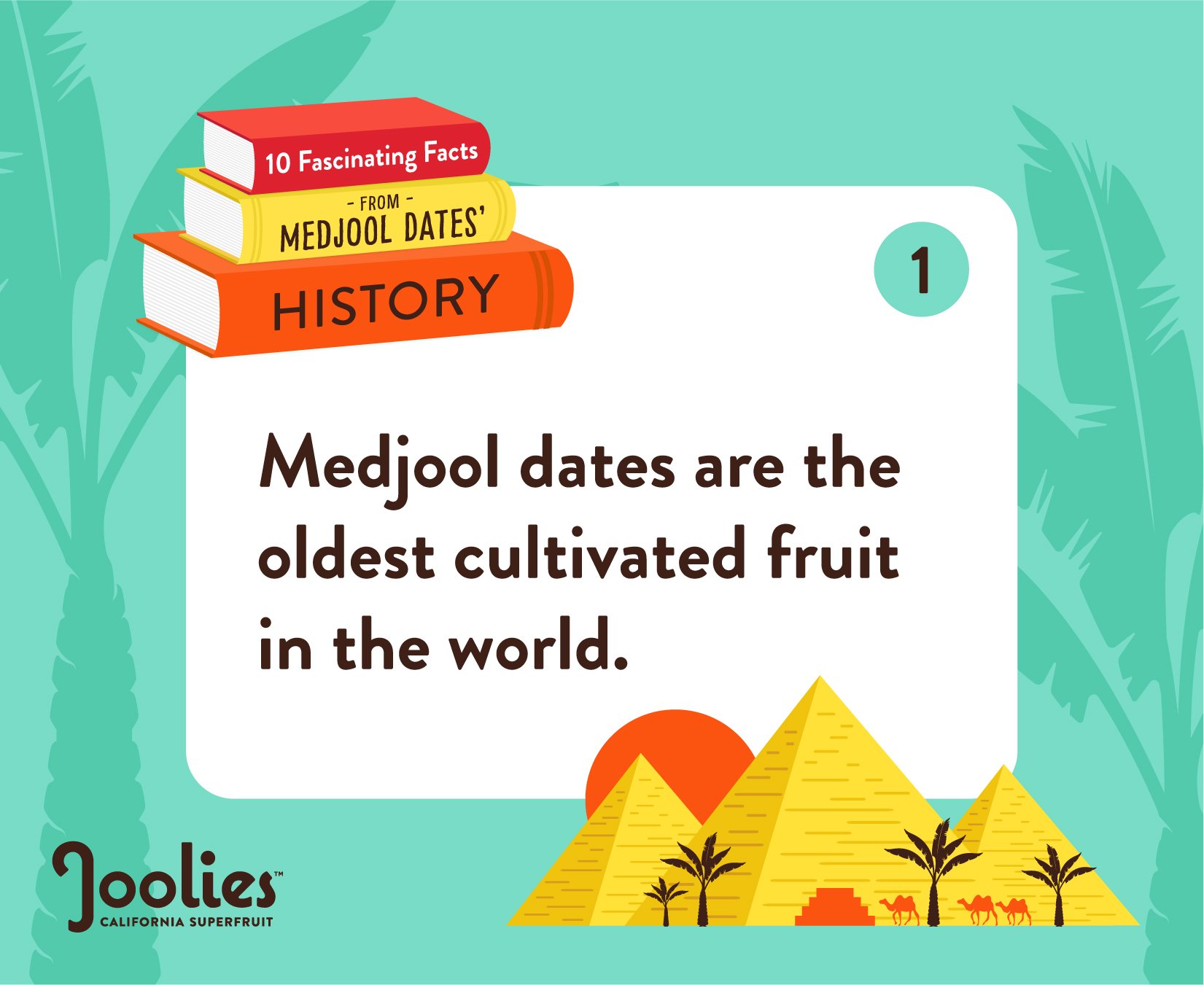 1. Medjool dates are the oldest cultivated fruit in the world
Step aside, ancient grains—dates will give you a run for your money. Medjool dates are thought to be the oldest cultivated fruit in the world! Some historians estimate that they've been grown and harvested by humans for at least 6,000 years. Archaeological evidence shows that dates were cultivated by the Sumerian people in the so-called "cradle of civilization" (the region between the Tigris and Euphrates rivers in the Middle East) before 3,000 B.C. We're proud to continue this extensive tradition.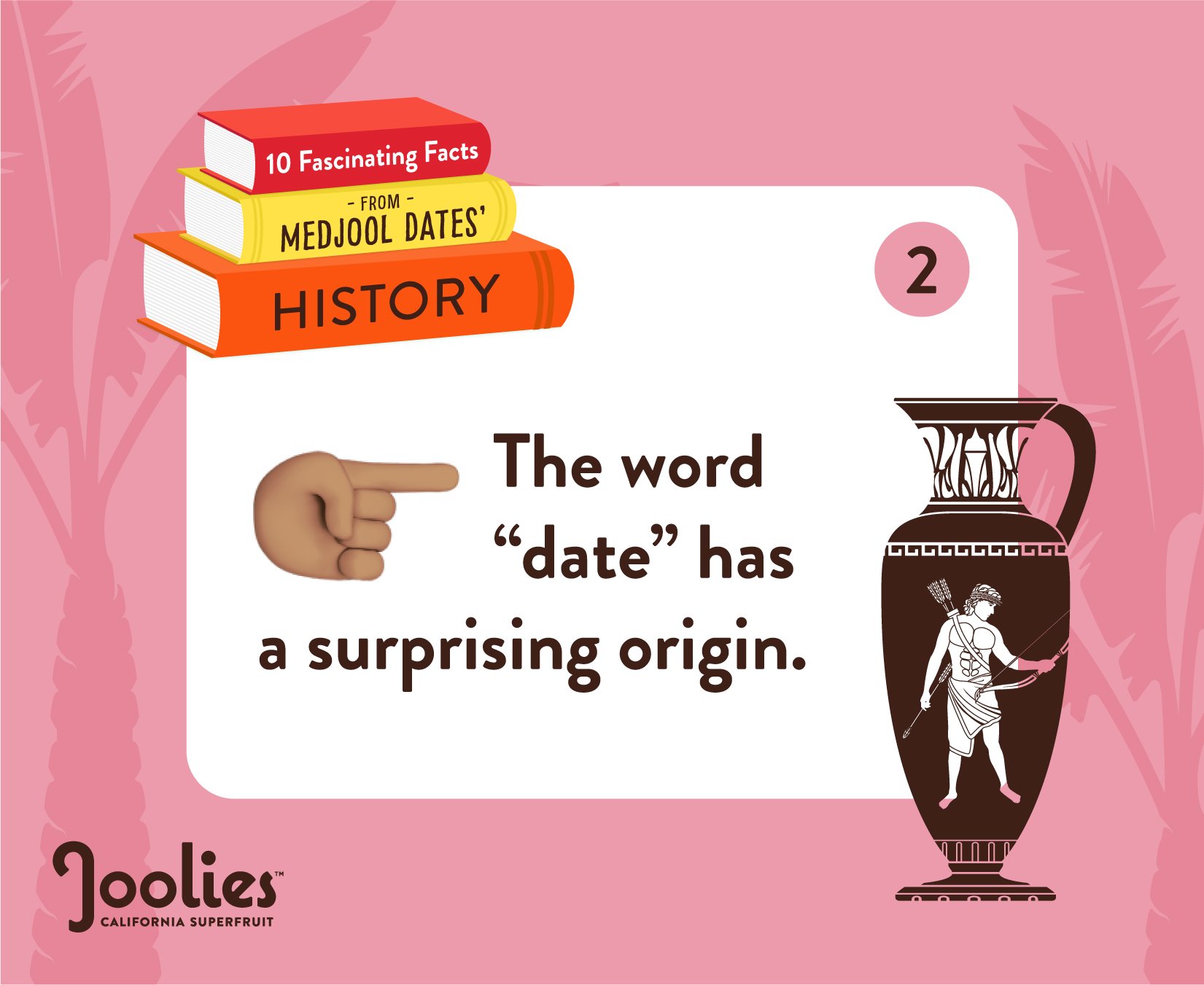 2. The word "date" has a surprising origin
According to the Online Etymology Dictionary, the word "date" (the fruit, not a date on the calendar) has quite a fascinating history. It originally appeared in the English language around the year 1300, borrowed from the French word of the same spelling—which in turn stemmed from the Greek word "dactylus," meaning finger or toe.
Etymologists have speculated that this may have been because dates resembled human digits. Or it's possible that plant's leaves reminded the Greeks of the palm of a hand, with fruit as "fingers."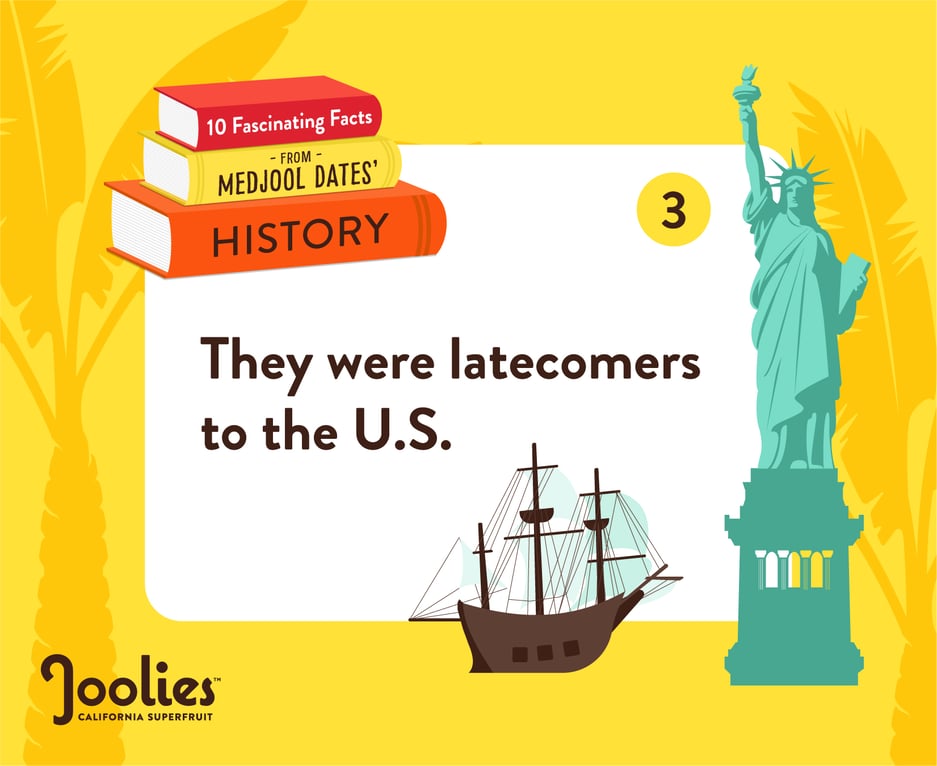 3. They were latecomers to the U.S.
Although dates have been enjoyed in the Middle East and Africa for thousands of years, they didn't make it to the United States until much later. The first dates arrived in the U.S. around 1900.
According to National Public Radio, in 1898, the United States Department of Agriculture created a special delegation of international agricultural explorers. These men were given the task of exploring the globe to find unique varieties of produce that could grow on American soil.
Two of these dietary swashbucklers ventured to Baghdad, where they realized that the growing conditions for dates resembled the dry, arid climate of southern California. Thus, dates were introduced to SoCal's Coachella Valley.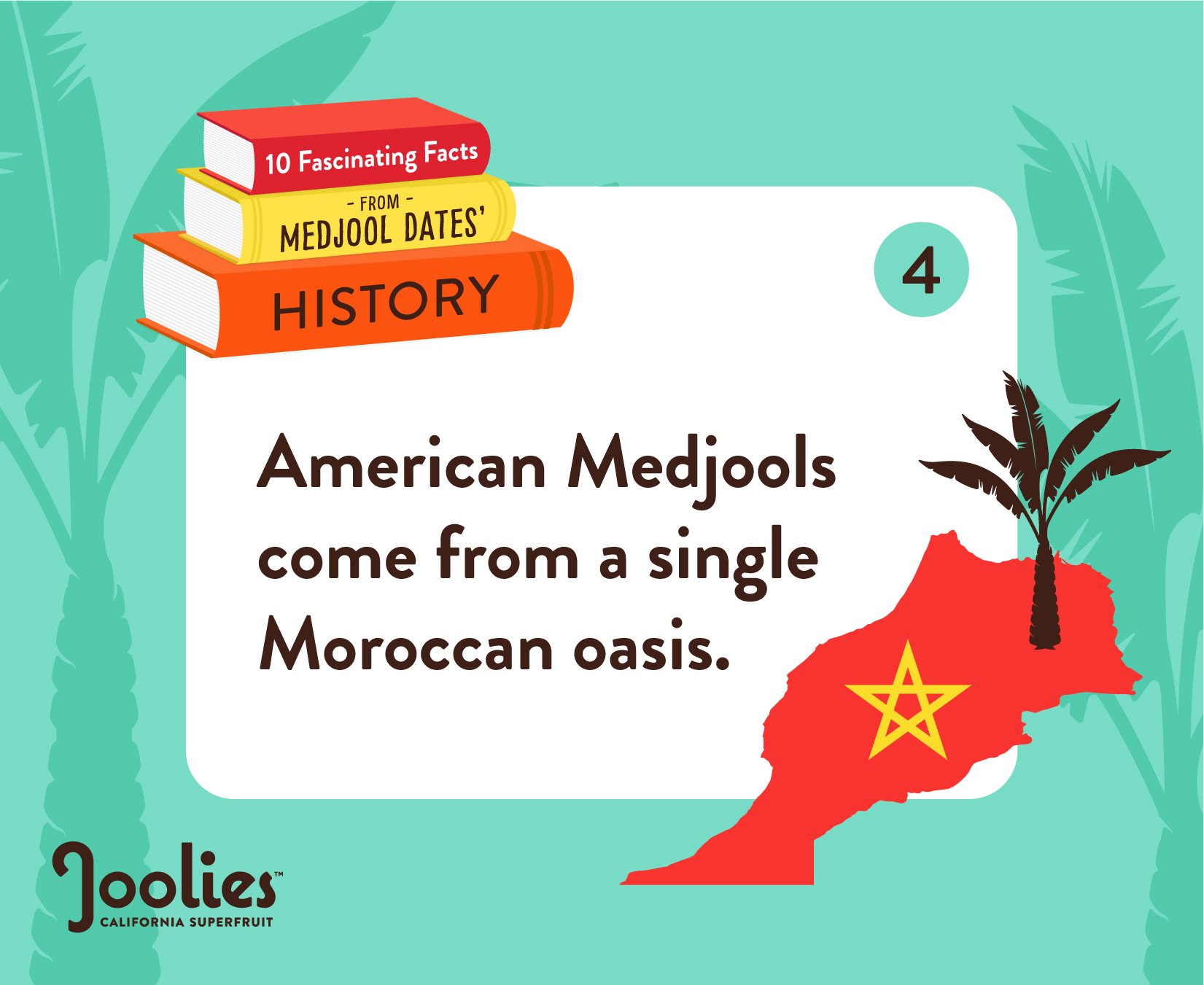 4. American Medjools come from a single Moroccan oasis
The foodie explorers who brought dates to the States returned from the Middle East with multiple varieties of the fruits. But American Medjool dates in particular—our favorites!—can trace their origin to a single oasis in Morocco. The Oasis of Boudenib in this north African country supplied nine offshoots of date palms, which were transported to the Coachella Valley in the early 1900s. Over time, these original plants proliferated into the square miles of date palms that thrive in the valley to this day.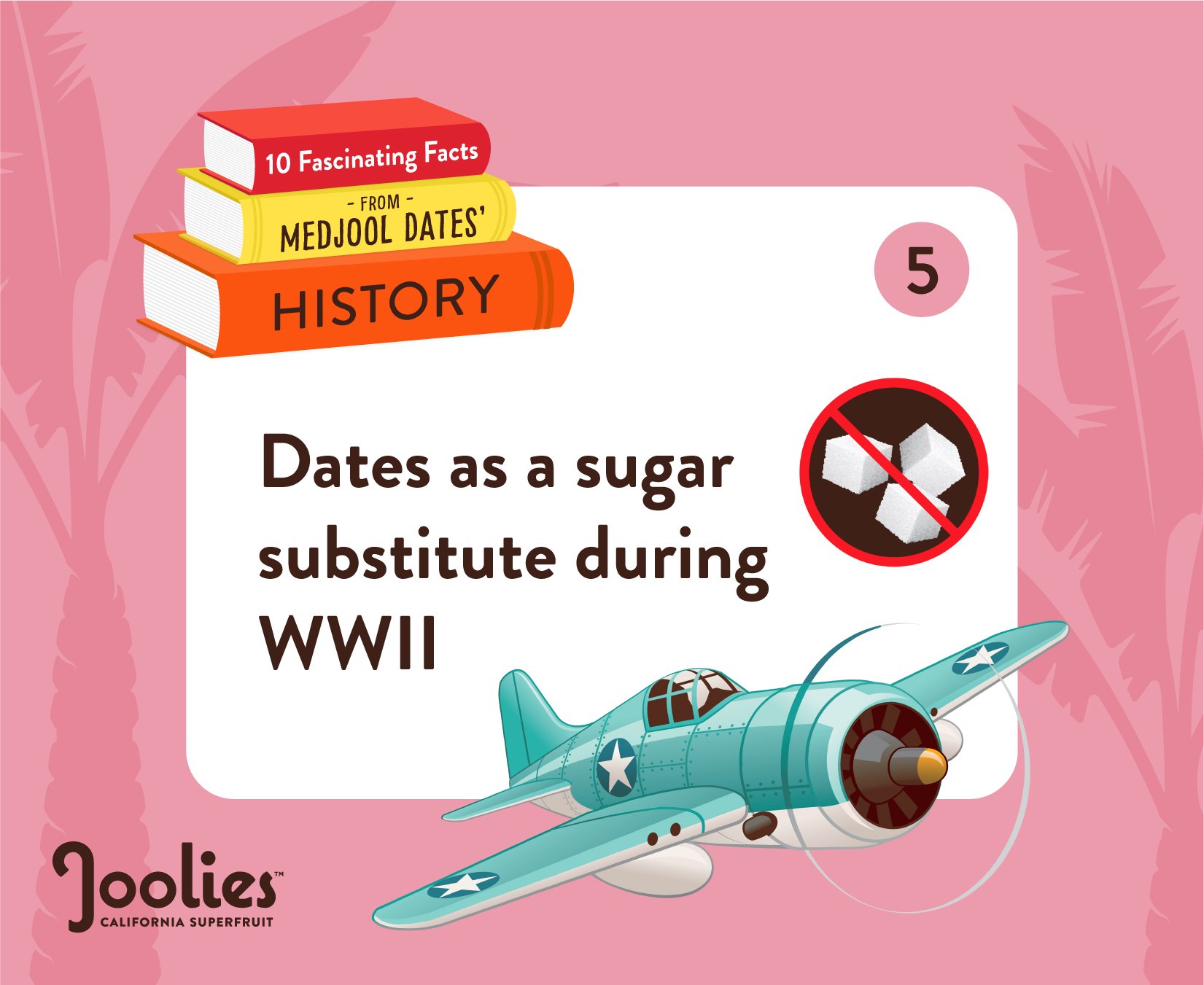 5. Dates as a sugar substitute during WWII
Dates experienced an unexpected boost in popularity during World War II. At this time when sugar was rationed due to wartime shortages, many Americans discovered that dates served as an excellent alternative to the white stuff for sweetening foods.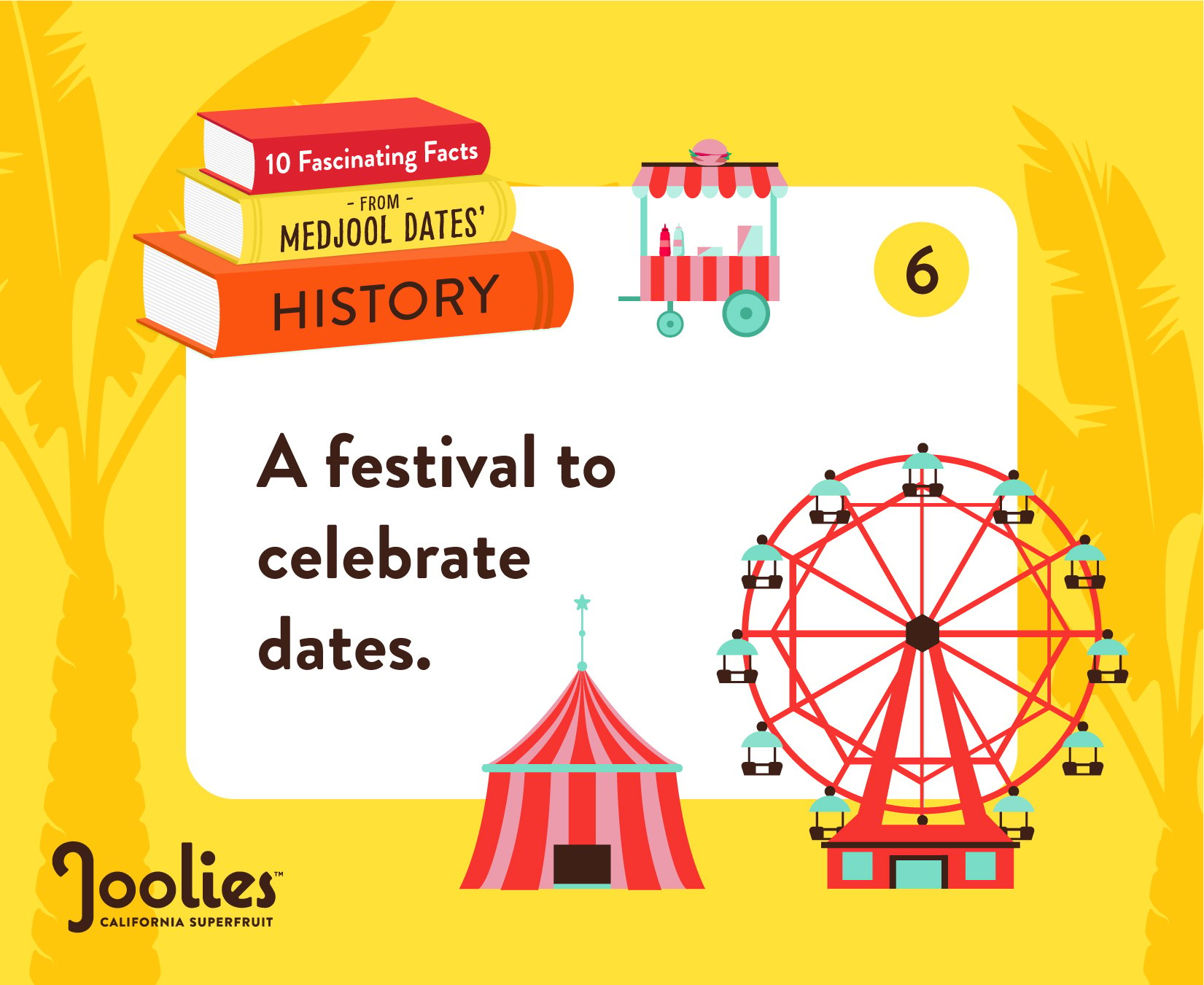 6. A festival to celebrate dates
Set a date for February! Since 1947, an annual National Date Festival has been held in February in Indio, CA in conjunction with the Riverside County Fair. Here, the desert fair grounds play host to carnival rides, food trucks, and a celebration of the end of the date harvest.
While the festival has been on hiatus for the past couple of years due to Covid-19, you can follow its Facebook page for updates on future events.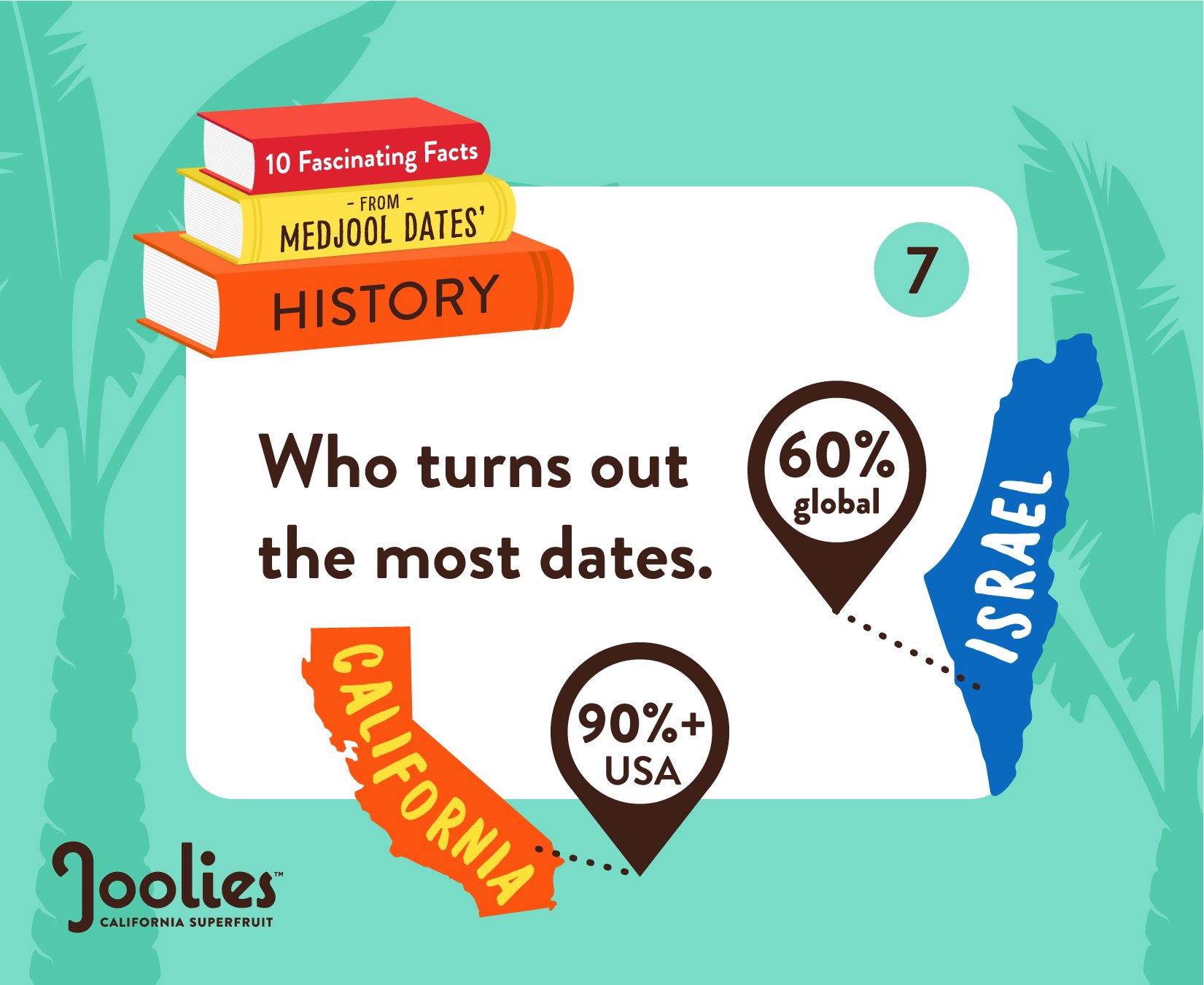 7. Who turns out the most dates
In the U.S., California's Coachella Valley is date country, producing over 90% of the country's supply of Medjools. Worldwide, though, a Middle Eastern nation churns out even more Medjools than California. (Not surprising, right?) Israel is the largest exporter of Medjool dates in the world, with 60% of the global market share.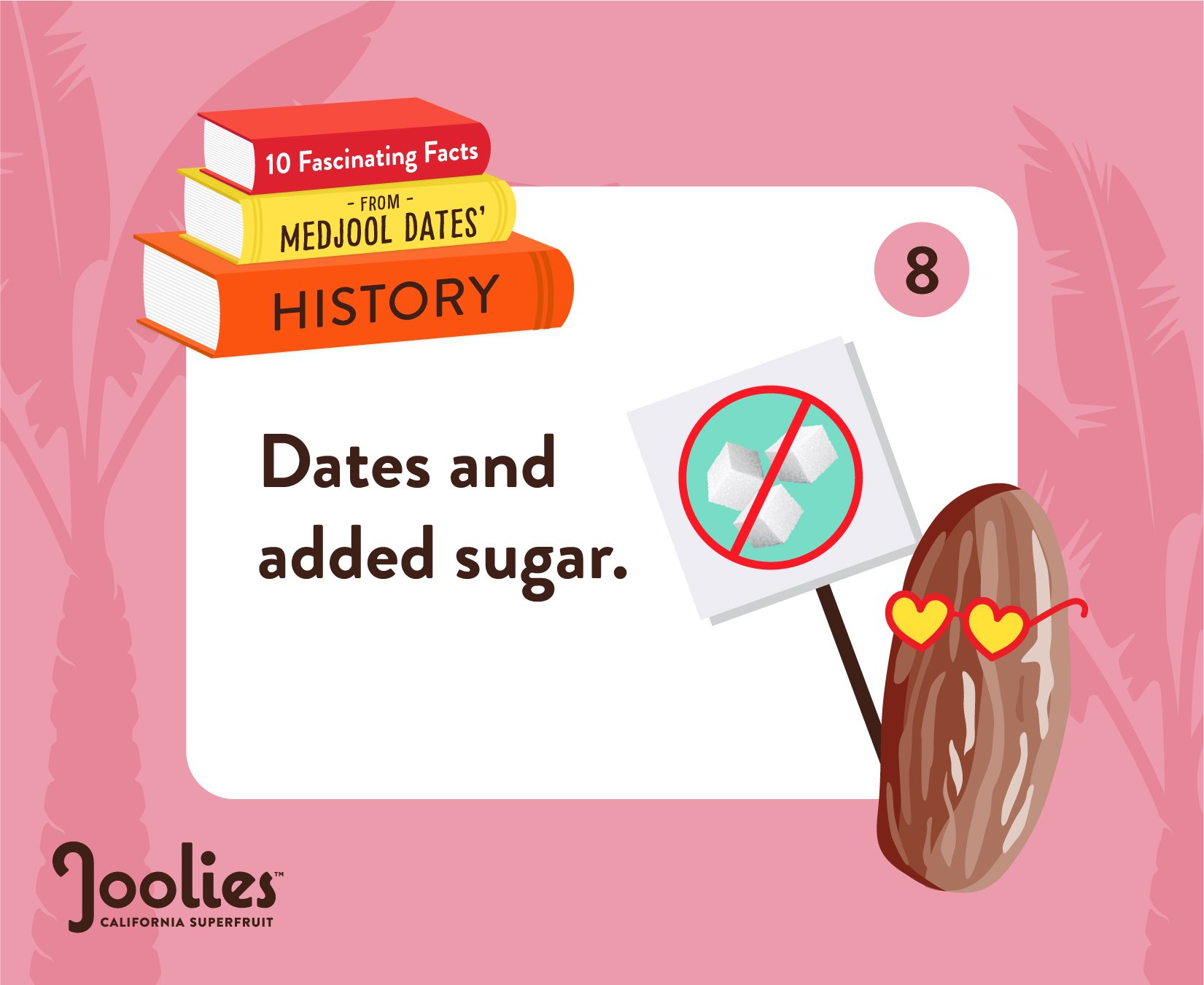 8. Dates and added sugar
Back in 2018, the Food and Drug Administration (FDA) announced their plans to give the nutrition facts label a makeover. The idea went that the new label would highlight nutrients most Americans are concerned about—including added sugars. Now, updated labels must include the number of grams of sugar that have been added to packaged foods. (A very good thing, since health experts believe sugar-sweetened beverages and foods have contributed to the increase in obesity and type 2 diabetes.)
Under the FDA's new guidance, there's great news about dates as sweetener! Because they're a fruit—which is considered a natural source of sugar—dates do not count toward added sugars in foods.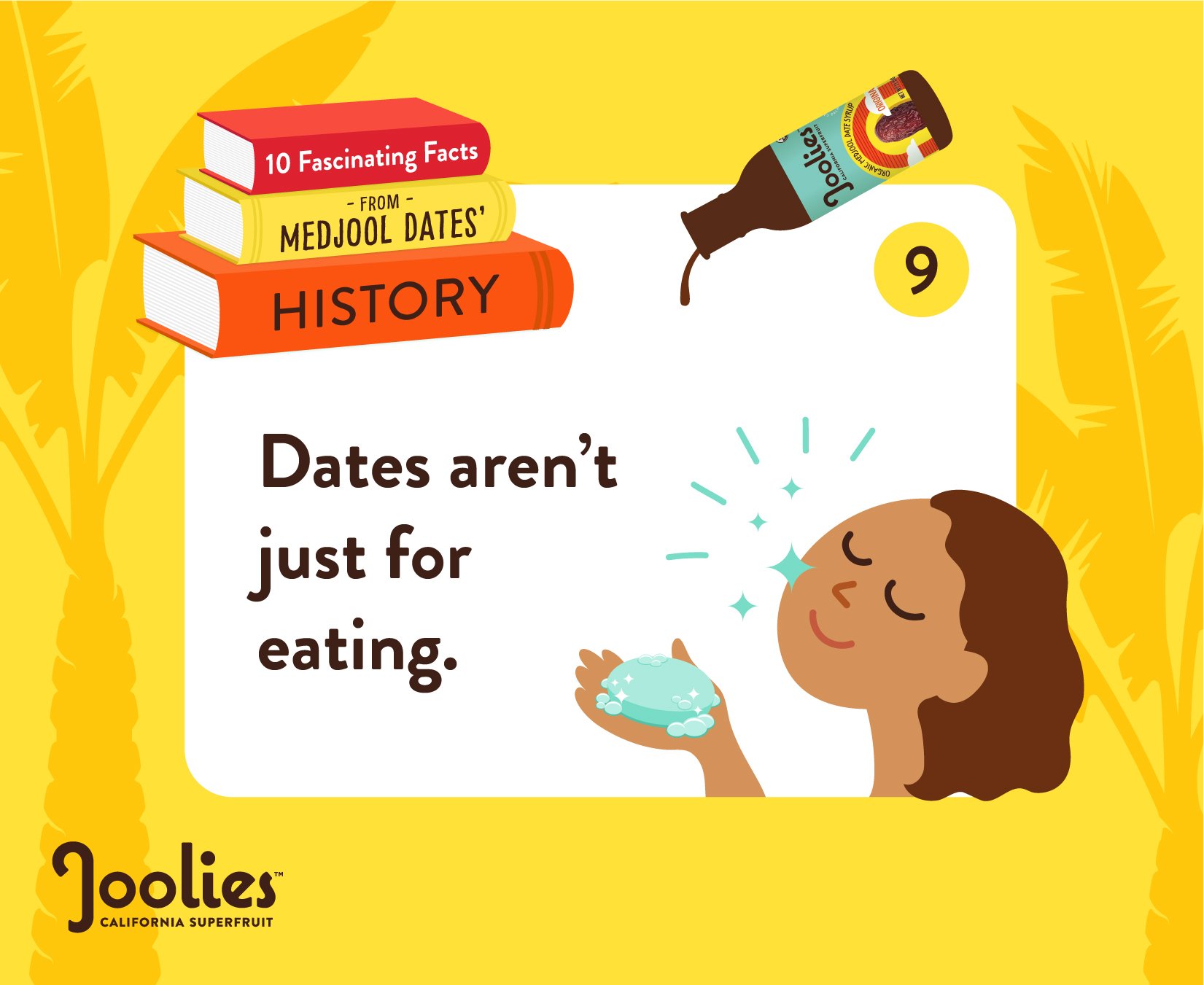 9. Dates aren't just for eating
Our favorite way to use Medjool dates is to eat them, of course—but, believe it or not, their uses go beyond meals and snacks. Dates can even be used in soap and beauty products! A 2020 study in the journal Environmental Technology and Innovation found that the runoff from date syrup enhanced antioxidant and antibacterial activity in soap. (We'd totally shower with date soap.)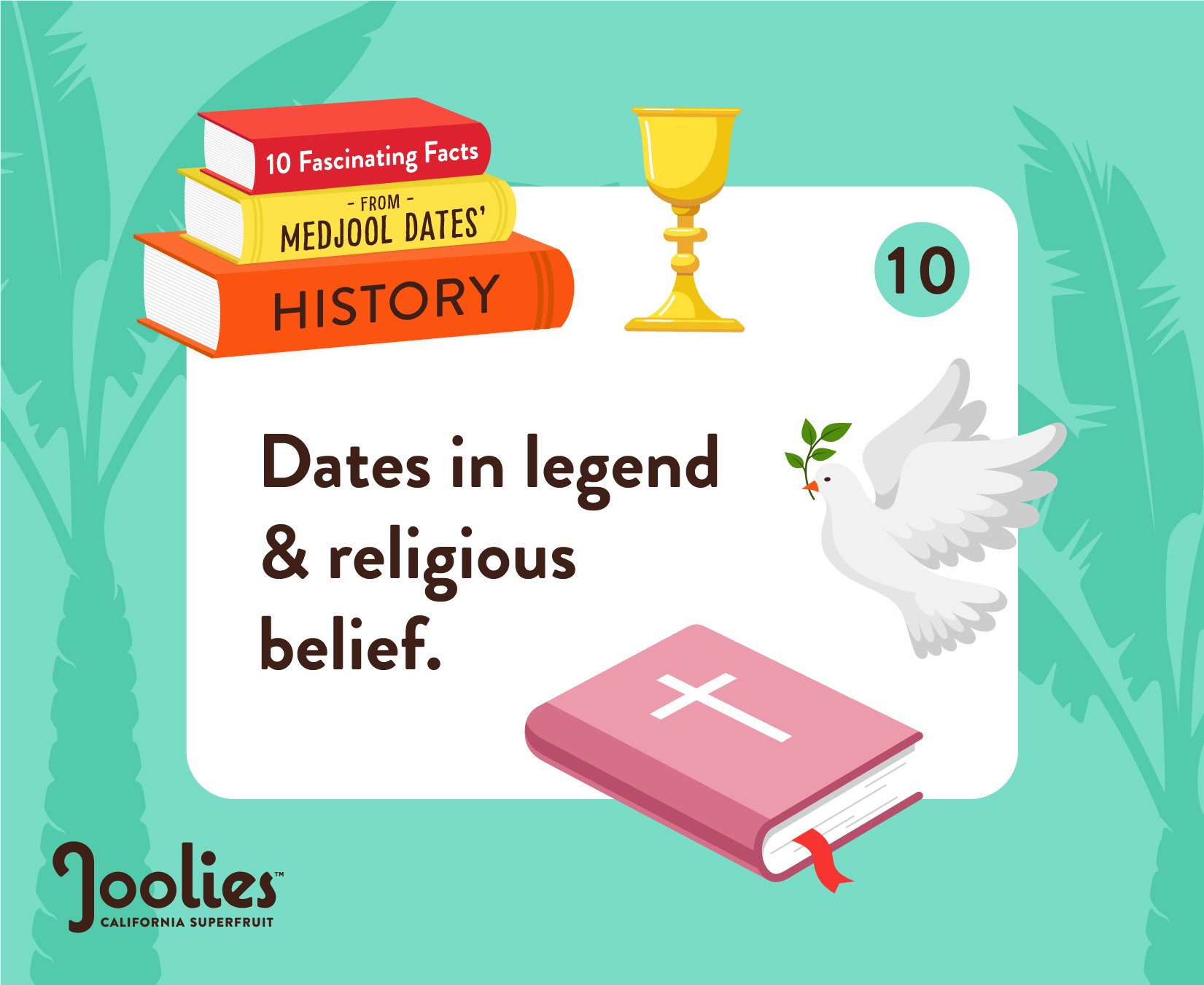 10. Dates in legend and religious belief
By now, you know that dates have been around since time immemorial—so it's no surprise that they've appeared throughout ancient legends and even holy scriptures. According to the L.A. Times, there's an ancient Islamic tale in which Adam, the first created man, buried clippings of his hair and fingernails in the ground. Suddenly a date palm sprang up on that very spot, providing delicious fruits!
The Bible, too, makes multiple mentions of dates. The people of Israel enjoyed the sweet fruits, turning their juice into wine and using date palm leaves for household baskets, mats, brooms, and more. In biblical times, the date palm was even considered symbolic of the tree of life.
Bottom Line
With a history stretching back thousands of years, dates are clearly here to stay. At Joolies, we're not only fascinated with their lengthy past, we're excited about their future! Find us at a store near you to see what the millennia-long hype is all about.
Written by: Sarah Garone, NDTR
Nutrition and Dietetic Technician, Nutritionist and Freelance Writer