With Earth Day right around the corner (on April 22nd to be exact) we would like to share some of our ideas to encourage an environmentally-friendly lifestyle for all! We all know to recycle our plastic bottles, soda cans, and glass, but what are some of the other ways to do our part?
Upcycling describes the act of reusing an item to stretch the value of the product. It is an incredible way to help protect the earth. By upcycling products as much as you can, you can do your part to reduce the amount of waste that ends up in our landfills and lessen the need for production that uses up our planet's limited resources and materials.
In the spirit of Earth Day and supporting the upcycling phenomenon, we've compiled a list of great ways to reuse our boxes for your convenience. Our large or jumbo packs of Joolies medjool dates are spacious and come with dividers that make them perfect for reuse.
Who wouldn't want to enjoy a big box of our delicious chewy delights and save the environment? Let's explore how you can upcycle our boxes!
#1 Reuse them as a lunch box!
If you bring lunch to work or maybe you're going out on a picnic date, you have the opportunity to upcycle our Joolies boxes. Our boxes are spacious and enclosed which makes them perfect to pack up your lunch to take with you. You can use the dividers to separate out your foods.
Voilá! You're ready to go.
Plus, the fact that they're pretty darn cute is an extra bonus! You'll be styling with your fun, environmentally-conscious lunchbox.
#2 They are wonderful for your travel knick knacks!
If you're packing up for a trip and need a way to separate out some of your random knick knacks or other items, our large or jumbo boxes are excellent to separate out your belongings and fit easily into your suitcase.
Plus, if you know the struggle of having your liquids burst and ruin your clothing after a long plane ride, you can have some peace of mind while traveling by using one of our boxes to protect your belongings.
#3 You can use them in the garden to organize your gardening seeds!
Do you enjoy spending time in your garden soaking up the sun and nurturing your plant babies? We love it too! And we love upcycling our boxes to organize everything we need and keep things tidy. Sort and store your extra seed packets with the compartments in one of our large or jumbo boxes.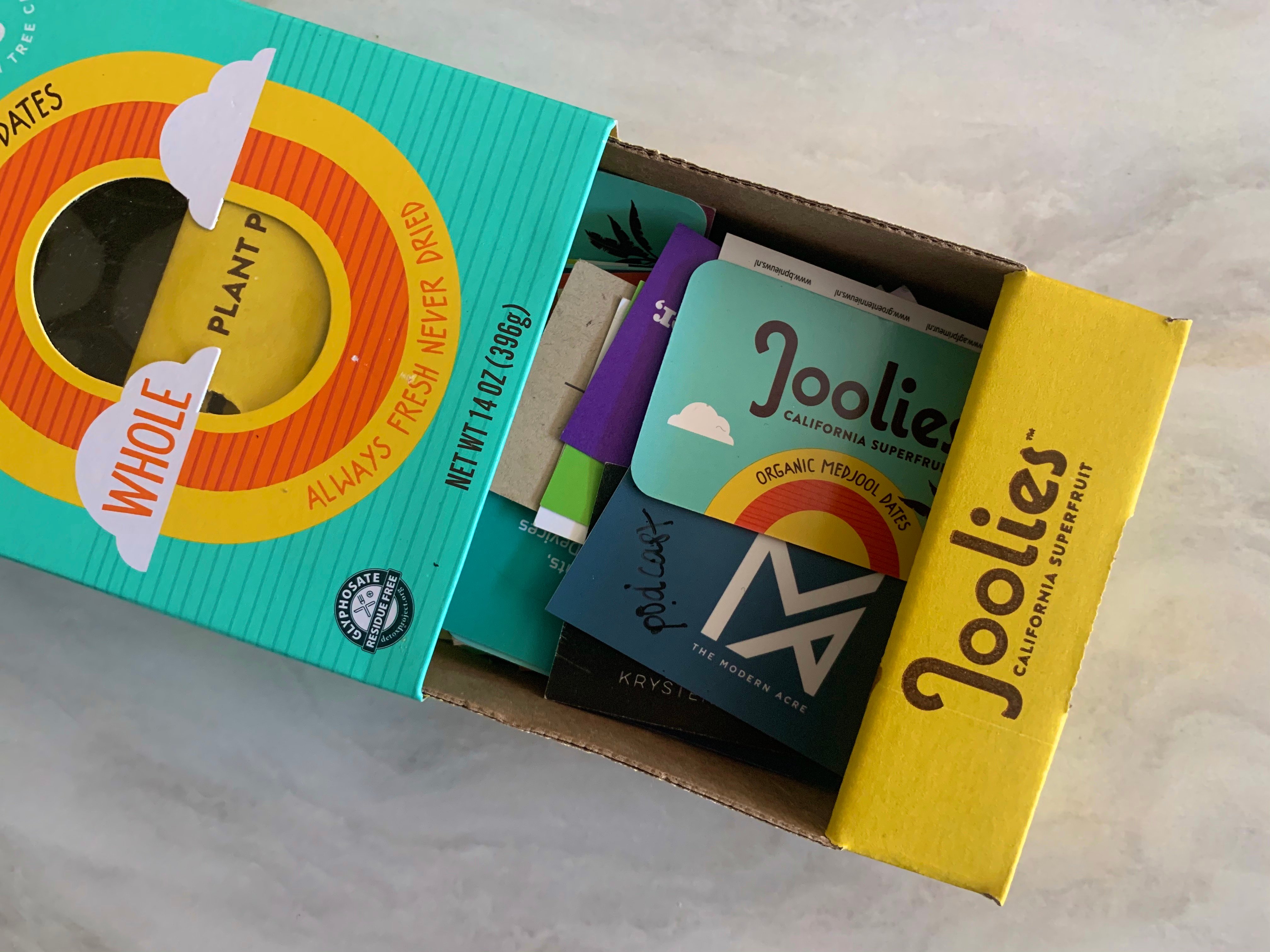 #4 Use them as a business card holder for the busy young professional!
This one goes out to all of you ambitious entrepreneurs and young professionals! If you're starting or running a business, our boxes can work to hold the business cards that you collect. The dividers are extra helpful for organizing them alphabetically or by industry.
#5 They are perfect to reuse as a gift box!
Our small, large or jumbo packs all work great to use as a gift box to wrap up that special gift for a friend, significant other or family member. Who doesn't love a surprise? If you're gifting them something extra special, wrapping it in one of our boxes will throw them off a little.
Beware though...they might be disappointed when they open it up and find something other than delicious medjool dates inside… just saying!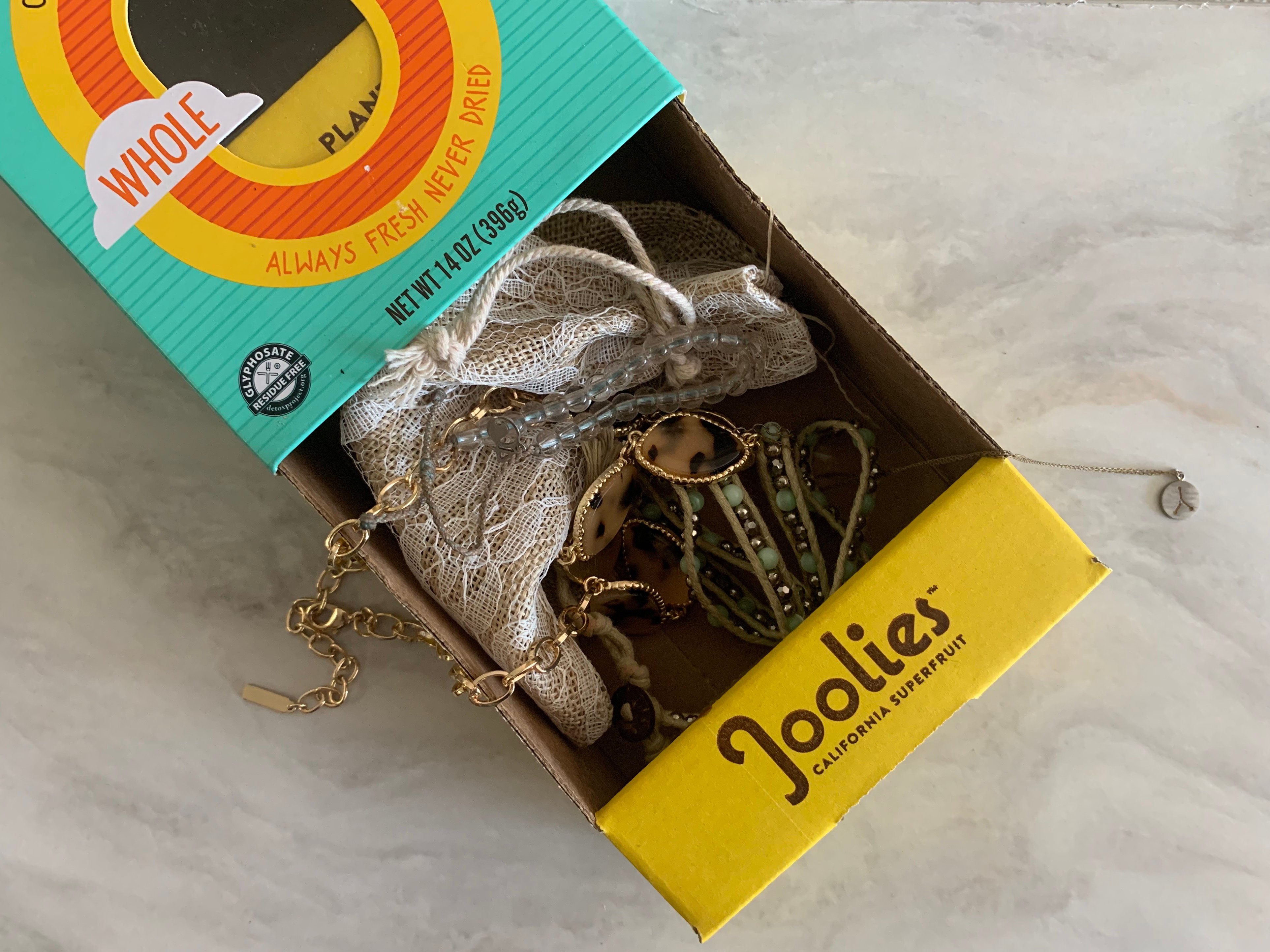 #6 Upcycle it as a jewelry box - or jool-ery if you will!
I don't know about you, but my favorite collection is my jewelry collection! I can't get enough and often run out of places to keep my earrings, bracelets, necklaces and brooches (yes, I still wear brooches).
If you've run out of space to store all of your jewelry, you can reuse one of our boxes to make room for more! And you can use the dividers to separate them out and keep them. Feel free to call it your "jool-ery box", wink wink.
#7 And they are great for storage in general!
Is your junk drawer overflowing? You are not alone. We have found that our boxes have storage super powers.
For anyone who likes to stay organized (or anyone who doesn't), you can use Jooliess boxes in your cabinets and closets to store any miscellaneous supplies that are causing a little too much clutter throughout your home. The more dates you enjoy, the more boxes for storage - our boxes are easy to stack and label.
In Conclusion
It's important that we all do our part to protect the future of our planet and take care of the world we live in. Upcycling is a great way to do so.
It helps to limit the waste that has the potential of ending up in the streets, oceans, and overflowing the landfills. And it lends a hand to reducing the need for mass production of these items which leads to the depletion of our planet's natural resources and materials.
Joolie's boxes are perfect for storing your household items, reusing for gifts or a cute container for your lunch. Sounds like a win-win-win, right? You and your loved ones can enjoy a large box of delicious medjool dates, reuse the box in so many helpful ways, and help to protect the environment and future of the beautiful planet we are so lucky to inhabit! Happy Earth Day!