Thinking about the environmental impact we have unleashed on our dear Mother Earth is certainly a hard pill to swallow. But now is not the time to ignore the facts. We've allowed our consumption to go too far and as a result, it has caused substantial damage to our beautiful planet.
If we don't start making some major moves to combat our extreme waste and pollution levels, the world we know and love won't be the same for future generations. It might even be completely uninhabitable.
There is one problem in particular that is so woven into our day to day lives that it seems impossible to solve in just one lifetime. While it isn't the only culprit for the significant harm we've done to the environment, this issue continues to grow worse and worse. We're talking about plastic waste.
In 2015, the first global analysis of plastic production and use reported that the amount of plastic made by humans had accumulated up to 8.3 billion metric tons[1]. That's the equivalent of one billion elephants, or more than 200 million Statues of Liberty! And this number continues to increase exponentially.
8 million metric tons of plastic end up in our oceans every single year. And that's in addition to the 150 million metric tons[2] of plastic that already shares the seas with the threatened marine life. Reports warn that by 2050 there will be more plastic in the ocean than there is fish.
For the past 70 years, we've incorporated plastic into everything. Back in the 50s, our plastic consumption was just 2 million metric tons per year. Over the course of the past 75 years, we've watched this number grow to over 400 million[3].The numbers make it abundantly clear that we have a problem of enormous magnitude on our hands.
We know what you're thinking. A challenge of such global proportions can make you feel really small. But even one person choosing to use less plastic is a step towards a bigger solution!
Another way that you can commit to living a more environment-friendly lifestyle and cut down on your plastic use is to support brands that are doing the same. In recent years, there have been several businesses stepping up to do their part to lessen and eventually eliminate the use of plastic!
Joolies Makes an Impact
Here at Joolies we recognize that we must do what we can to ensure our products are not a part of the problem. We've set a goal to reduce the amount of plastic used in our packaging and help slow down the production of new plastic by using recycled materials. Our packaging contains less than 2g of plastic and we encourage the upcycling or recycling of our medjool date boxes. When you buy a box of Joolies medjool dates, you can be sure that you're purchasing from a company that is part of the solution!
And we're happy to tell you that we aren't alone! While our impact might be small, we like to root for the big guys out there changing the sustainability landscape as we know it. It brings hope to see other small businesses and major corporations put their large platforms to good use and join the movement towards eliminating single-use plastics.
We've compiled the following list of 7 major brands and retailers that have committed to using less plastic.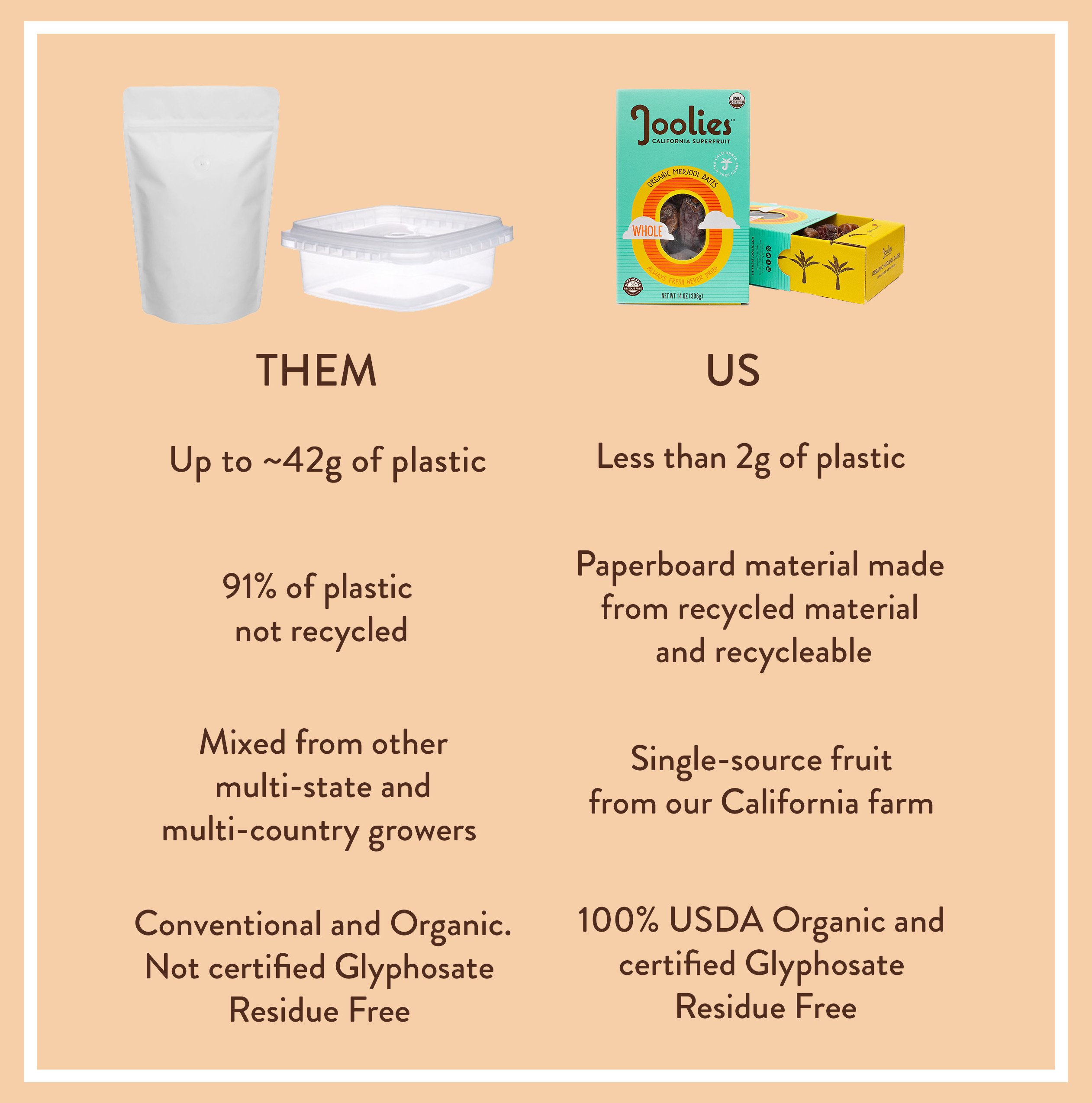 1. Albertsons
Last year Albertsons announced their Plastics and Packaging Pledge with the goal of reducing plastic and working towards sustainability throughout their company. Since this announcement, they have implemented policies to limit the amount of plastic within their operations and Own Brands portfolio across all 2,200 stores including Albertsons, Safeway, Vons, Tom Thumb, Jewel-Osco, ACME Markets, Randalls, Haggen and others.
Albertsons' Plastics and Packaging Pledge outlines their goals for the next five years, including ensuring that 100% of the packaging for their Own Brands products are recyclable, reusable or industrially compostable. They have also committed to reducing plastic usage with a primary focus on single-use plastics and recycling all non-consumer facing plastics for producing new retail, industrial and consumer items.
Another important element of the movement towards reducing plastic waste is helping consumers better understand how to recycle themselves. Albertsons has also promised to provide more straight-forward and understandable recycling communications on their Own Brands packaging by 2022. This will include using QR codes and collaborating with How2Recycle to improve and standardize their labeling systems.
Albertsons is one of 250 companies – and counting– that are a part of the Sustainable Packaging Coalition, which is made up of retailers, manufacturers, education institutions and governments all committed to advancing the shift towards sustainable packaging practices.
2. Trader Joes
Another popular food and beverage company that has joined the fight towards sustainability is Trader Joes. They announced at the end of 2018 that they would be improving their packaging and reducing their plastic use with a heavy focus on finding opportunities to introduce more sustainable practices.
Trader Joes has pledged to reduce the amount of plastic packaging in their stores and has introduced a framework of principles to help them better navigate their internal operations and vendor partnerships. At the time of this announcement, they had already discontinued single-use plastic carryout bags in all stores, switched out their plastic produce bags for biodegradable bags, reduced the use of Styrofoam packaging, and communicated to their vendors which substances would no longer be allowed in their packaging.
Moving forward, TJs is taking steps towards further reducing the use of plastic packaging for produce, eliminating any remaining Styrofoam packaging and replacing it with recyclable options, and completely phasing out the use of plastic in their greeting cards, flower bags, and tea packages. Trader Joes is continuously looking for more opportunities to implement sustainable practices.
3. Whole Foods
Whole Foods Market has been a long time advocate for sustainability. They have operated with environment-friendly values at the core of their business for over 40 years. Back in 2008, the health food giant became the first U.S grocery store to stop using disposable plastic bags at checkout.
In 2019, they enhanced their efforts by reducing the amount of plastic used in their produce department and changing out their rotisserie chicken containers for bags that consist of 70% less plastic. Together, these efforts lowered their use of plastic by approximately 800,000 thousand pounds per year. During the same year, they also became the first retailer to ban plastic straws in all of their venues.
4. Walmart
Walmart is another major corporation that is taking great strides towards reducing plastic waste to help create a more sustainable future. In February 2019, they announced that they would be building off of their existing practices for limiting plastic use for their private brand packaging.
The announcement outlined their commitments to switch to 100% recyclable, reusable or compostable packaging for their private brand by 2025, reduce at least 20% of plastic consumer content by 2025, and ensure that all of their private brand products are labeled with How2Recycle guidelines by 2022. They have also pledged to collaborate with suppliers to eradicate all non-recyclable materials in their merchandise packaging by the end of this year.
In addition to the internal developments to reduce plastic waste, Walmart has also released a playbook all about recycling to offer guidance to other suppliers and retailers and help them achieve their own sustainability goals. Through their Project Gigaton platform, they are encouraging other retailers to follow in their footsteps and commit to limiting their plastic use.
The Walmart Foundation also supports several initiatives working towards the goal of building a circular economy, including the Beyond 34 Project by the US Chamber of Commerce Foundation. The primary goal of this project is to raise the current 34% recycling rate in the United States by developing a scalable model to expand upon opportunities for circular practices.
5. Danone
Health-conscious food and beverage company, Danone, has been dedicated to promoting a healthier, more sustainable lifestyle and the belief that the health of humans and the health of the planet are deeply connected. Their products and practices are an excellent example of operating a business in a responsible and sustainable way.
Danone uses 100% circular packaging for their products, meaning all materials are recyclable, reusable or kept in use and out of the landfills. As of 2017, they were able to transform their total packaging to contain 86% reusable and recyclable materials – 77% of which could be attributed to plastic products.
Moving forward, Danone has committed to achieving 100% use of recyclable, reusable or compostable packaging for all of their products and they are pioneering several movements towards eliminating waste and rethinking the way companies operate to incorporate more sustainable practices. Their tremendous efforts to collaborate with other organizations and optimize for a circular structured economy include partnering with the Inter-American Development Bank, starting the Danone Ecosystem Fund, and founding the Eco-Emballages in France.
6. Johnson and Johnson
Next on our list of brands that are dedicated to improving the health of the planet is Johnson and Johnson. Their efforts to reduce their carbon footprint and implement sustainable practices include commitments to their own Health for Humanity 2020 Goals and the United Nations 2030 Sustainable Development Goals.
In 2018, J&J teamed up with the Ellen MacArthur Foundation, United Nations Environment Program and 250 other organizations to take action towards eliminating plastic waste by announcing the New Plastics Economy Global Commitment. Under this pledge, J&J and others will replace disposable and plastic materials with more recyclable, reusable and biodegradable materials in their packaging. They will also focus on eliminating single-use plastics.
7. Unilever
Taking great strides towards more sustainable practices is the multinational consumer goods company, Unilever. Their recent commitments to building a circular economy, eliminating plastic packaging and creating opportunities for more sustainable practices have driven systematic change within their own company and throughout their industry.
In 2017/18, Unilever announced the expansion of their Design for Recyclability guidelines that was originally launched in 2014. Under these guidelines, the company began searching for more areas in which they could innovate for sustainability, such as introducing modular packaging, designing for disassembly and reassembly, more extensive use of refills, and recycling and reusing post-consumer materials.
Unilever also launched a collaboration with the Ellen MacArthur Foundation and signed the New Plastics Economy along with Johnson and Johnson. This global commitment represents major systematic change focused on three principles: recycling, reusing and keeping materials in use.
Additionally, Unilever is dedicated to working with governments to build a circular economy/ Their efforts are helping to facilitate the development of the infrastructure needed to collect, recycle, and refurbish materials. Similar to Albertsons and Walmart, Unilever is also ensuring that the recycling and disposal instructions on all packaging is understandable and straightforward for consumers.
In Conclusion
Every step taken towards reducing plastic is a step towards reducing our footprint, restoring our natural ecosystems and reversing the damage that our consumption has done to our beloved planet Earth. The commitments that the major corporations mentioned above are making to implement more sustainable practices and environment-friendly policies are the changes we all have been waiting to see.
The team here at Joolies is committed to doing our part to improve the health of the planet and the longevity of future generations. We'll continue to limit the amount of plastic in our packaging, use recyclable materials and encourage the upcycling and recycling of our medjool date boxes. Check out some of our other articles about how you can upcycle our packaging!
The environmental crisis we are facing is going to take tremendous effort to see some real change, but all of our small choices to be better can really make a huge difference!