This blueberry crumble pie is a decadent dessert that requires minimal effort-guaranteed to love. Gluten-Free, Vegan, and Refined Sugar-Free.
Looking for a healthier desert that doesn't skimp out on flavor? Trust us on this one. Our blueberry crumble pie is nutritious, easy to make, and pairs well with some fresh whipped cream or vanilla bean ice cream! Perfect to serve up when entertaining guests or just for yourself too (hey, we've done that).
The crust and crumble are made out of almond flour,
date syrup
, old-fashioned oats, and coconut oil. This simple combo works so well together to create a delicious texture, completely
gluten free, vegan, and refined sugar-free
dessert!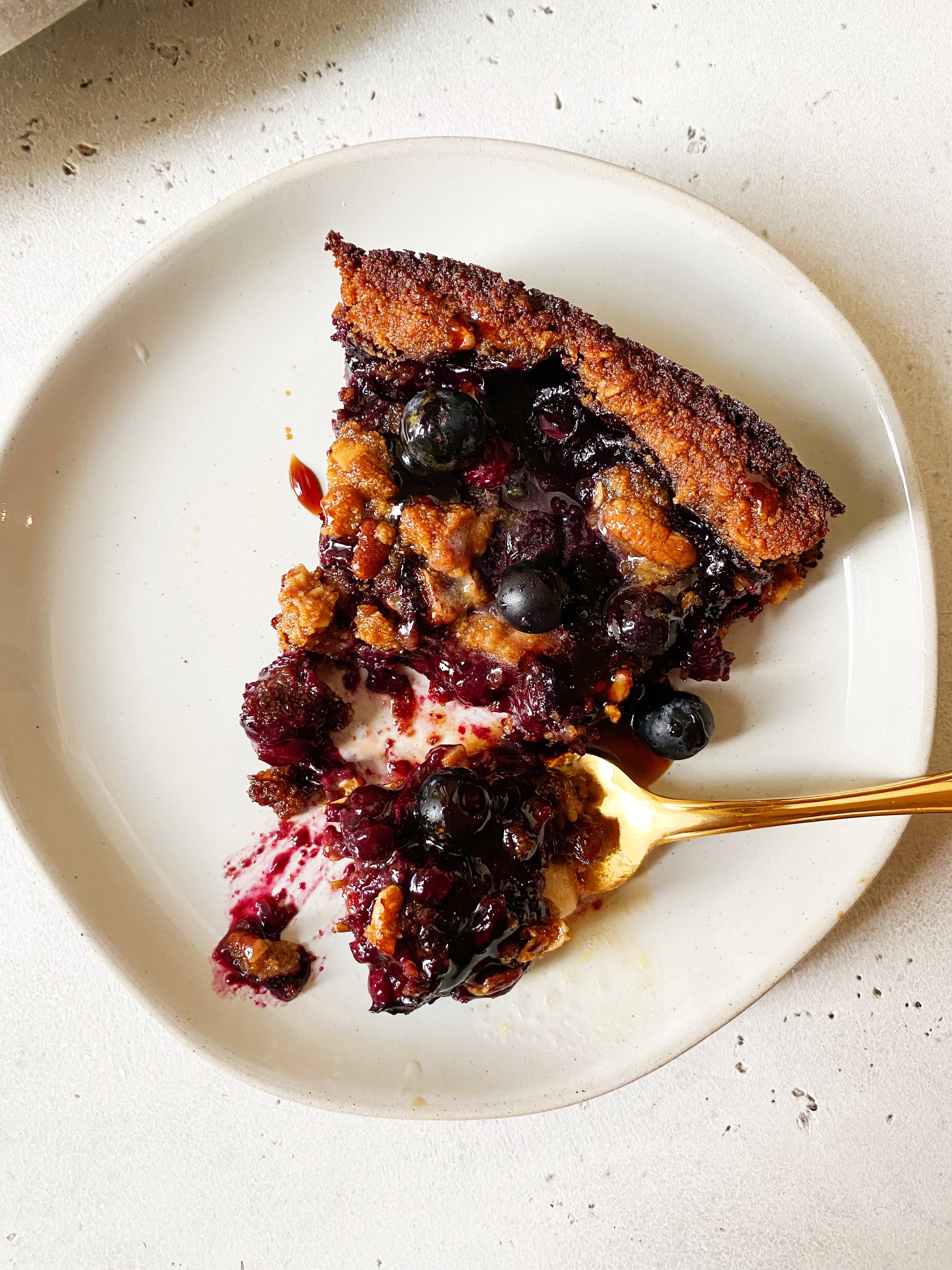 The filling is a delicious combination of fresh blueberries, date syrup, lemon juice, and tapioca starch which creates a perfectly natural sweetened filling.
Typically, pie fillings are sweetened with *drum roll please* refined sugar, so we're ditching the processed sugar and using
Joolies date syrup
an all natural sweetener made with only one ingredient:
organic medjool dates!
Aren't crazy about blueberries? Swap for strawberries, cherries, figs, you name it! No matter what your flavor is, this versatile date recipe will always deliver!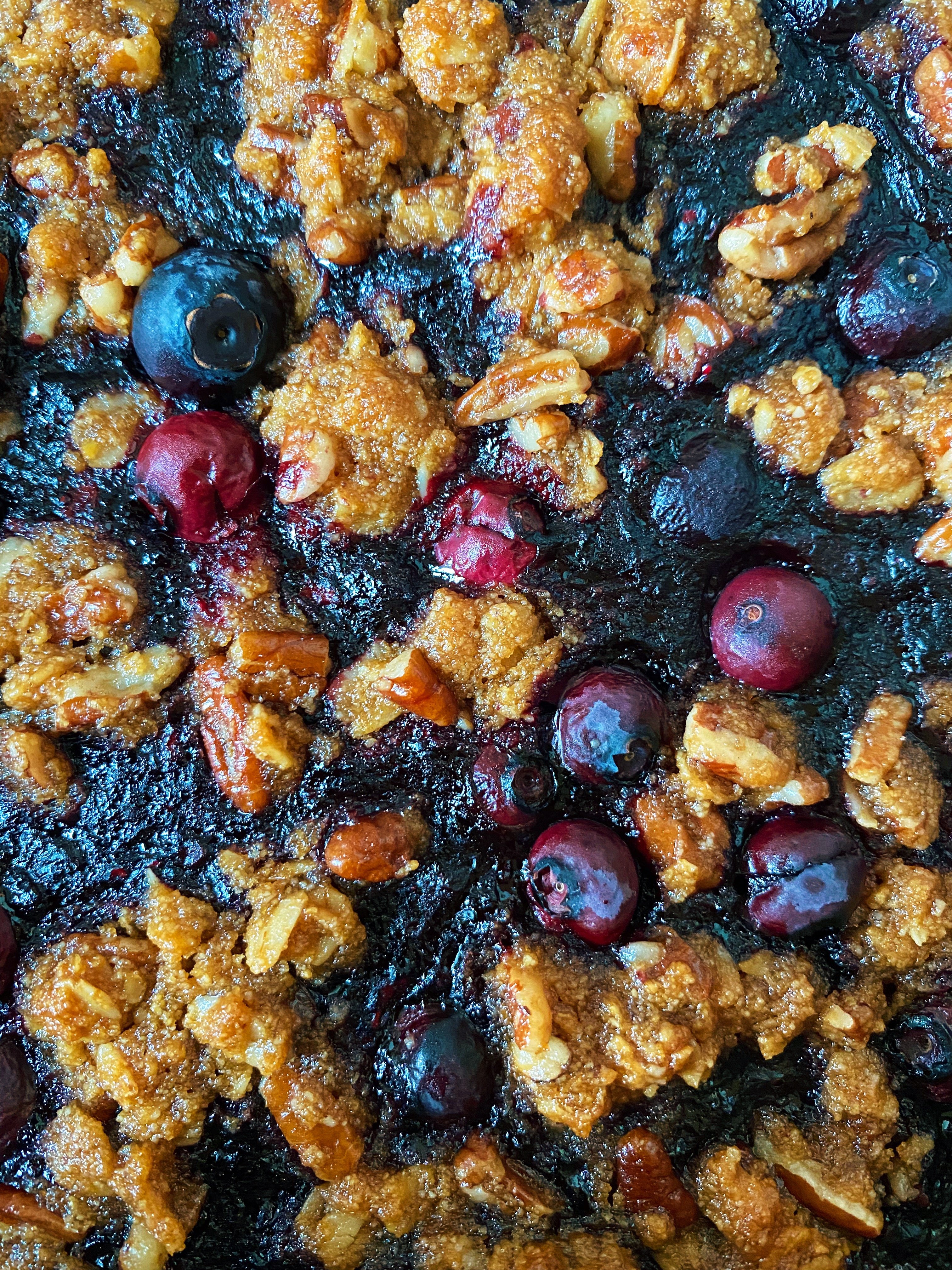 Ingredients for the crust:
Almond Flour

This will thicken up the batter and also has a stellar nutritional profile that's

rich in Vitamin E and magnesium

and just like medjool dates, almond flour is a great low glycemic option!

Joolies Date Syrup

Old-Fashioned Oats

T

his helps create that perfect crust and crumble texture. We recommend using old-fashioned oats to get the best crumble! Some of our favorite gluten-free oat brands are Thrive Market and Bob's Red Mill.

Refined Coconut Oil

You want this to be melted, in order to thoroughly mix with the other ingredients. Once cooled, it will double as a binder to hold everything together. Note: be sure to use refined coconut oil as it has no coconut flavor.

Baking powder

Don't forget this guy! While it may seem unnoticeable, this little leavening agent lightens and expands the crust by causing the dough to rise slightly.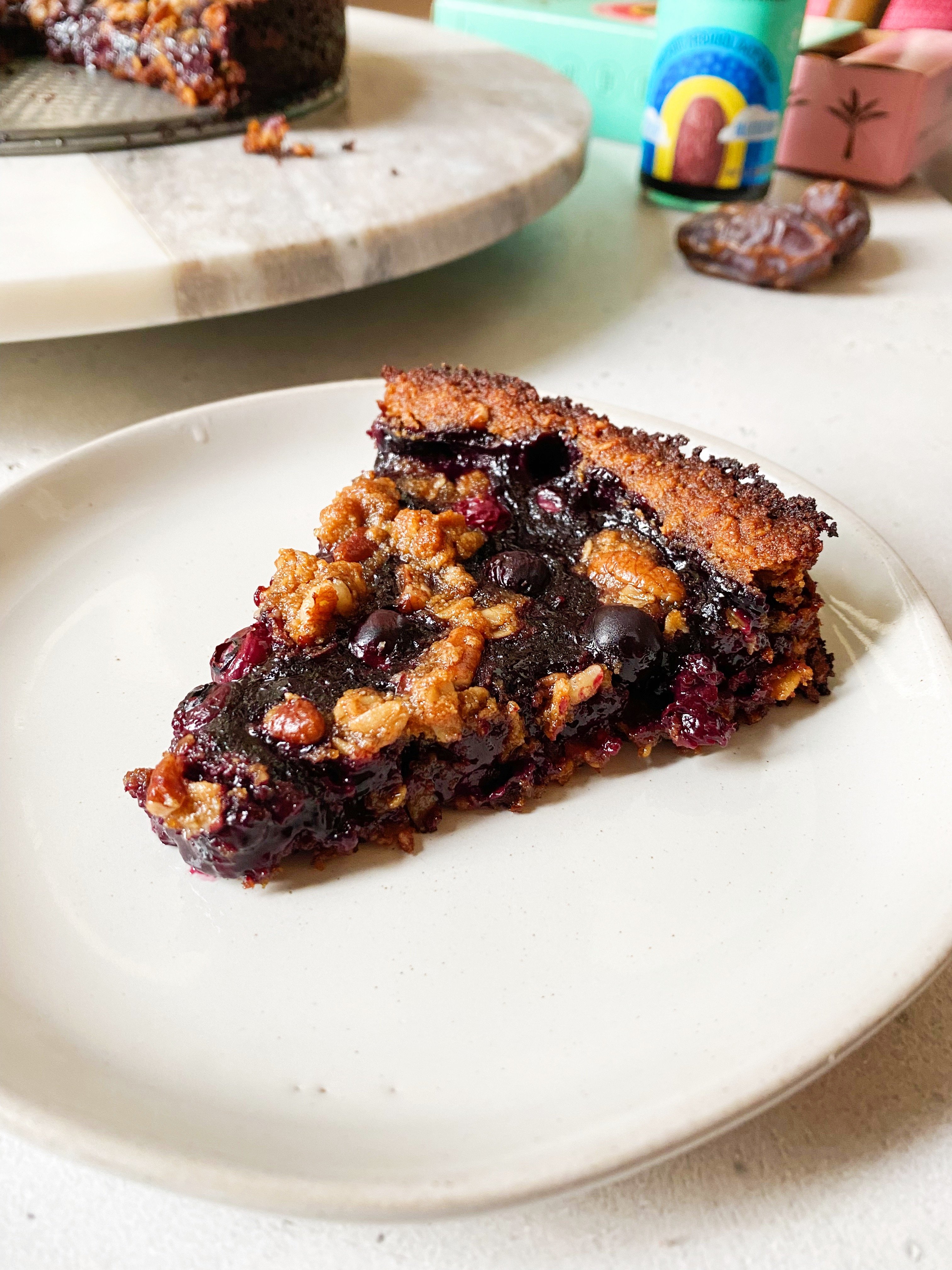 Ingredients for the filling:
Blueberries

This is the star of the filling and fresh is always best

for consistency and flavor! F

rozen blueberries will work also--just make sure there is no added sugar, sometimes they'll sneak that in 👀

Joolies Date Syrup


This natural sweetener with balance out the tartness of the blueberries and lemon while adding a boost of

antioxidants, magnesium, potassium and all the health benefits of dates!

Lemon Juice

You'll get the best flavor from fresh lemons, so grab a few and start juicing 🍋

Tapioca Starch

Also called tapioca flour, is a natural thickening agent that will create the perfect consistency for the filling. If needed, you can substitute 1 tablespoon of cornstarch with 2 tablespoons of tapioca starch.


If you make this sweet treat, be sure to tag both of us on
Instagram
@jooliesdates and use the hashtag #jooliesdates
so we can see all your date-able recreations! And you can always comment below!