This Broccoli Date Spring Chop Salad comes together in minutes and is loaded with good-for-you ingredients like medjool dates, sugar snap peas, and hazelnuts and is tossed in a toasted cumin CBD vinaigrette. Perfect for meal prepping or as an easy weekday meal. Date recipe created by @spooningwithsara
From the combination of healthy fats and fiber-rich ingredients like medjool dates, broccoli, and sugar snap peas, this plant-powered salad is full of yummy textures and flavors that will
actually
keep you satisfied. It's tossed in a toasted cumin CBD vinaigrette, made with
Cannaves Oliva Hemp-Infused Extra Virgin Olive Oil
sweetened naturally with
Joolies date syrup
.
We love using
Cannaves Oliva
as a higher-grade finishing oil to add supplemental flavor & holistic benefits to our diet like this vinaigrette! We know hemp can be a taboo topic and fully believe that each individual should educate themselves before jumping in head first. Cannaves Oliva contains organic full-spectrum hemp oil and is non-psychoactive. You can check out more about this amazing minority woman owned and operated business here.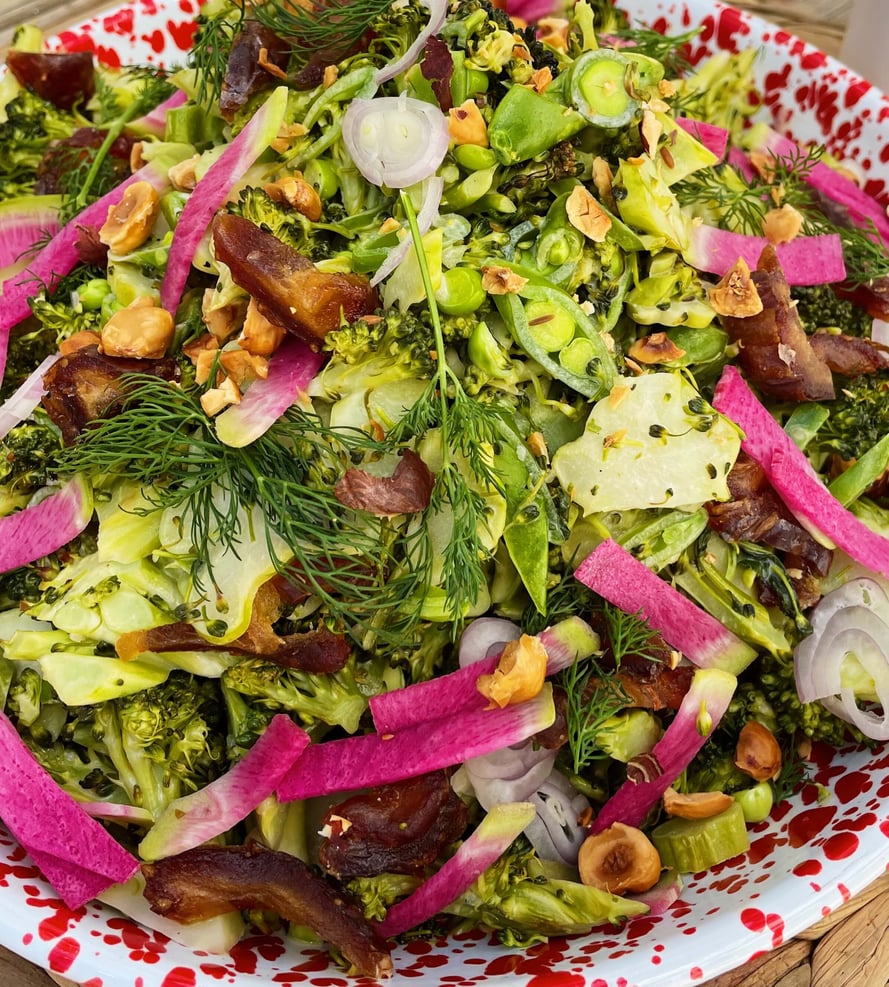 Benefits of this salad:
naturally vegan, gluten-free, and grain-free.
no added sugars, but naturally sweetened with medjool dates.
easy, natural way to incorporate hemp extract (CBD) into your diet.
perfect salad to add to your meal prep or compliment to a main dish.
Quick healthy meal that uses everyday, nutritious ingredients.
Ingredients for the dressing:
Cannaves Oliva Hemp-Infused Olive Oil

Organic, Greek, extra-virgin olive oil infused with organic, single source, full-spectrum hemp extract that doubles as a

healthy fat source for our dressing and provides the delicious benefits of hemp.

Lemon Juice

Fresh is best! You'll get more flavor and zest from a freshly squeezed lemon. Plus,

lemons are a great source of vitamin C and help to increase nutrient absorption.

Tahini

This nut-free butter made from sesame seeds serves as the base of the dressing, making it nice and creamy.

Joolies Date Syrup

The only natural sweetener needed to balance out the other salty + bitter ingredients. Plus you still maintain all the nutrient and health benefits of a medjool date in the syrup form.

Cumin Seeds

Typically this small seed is used in ground form, but we'll be toasting this whole small seed to intensify it's flavor. Just be sure not to burn them!

Sea salt + pepper

This enhances the other flavors we've got going on!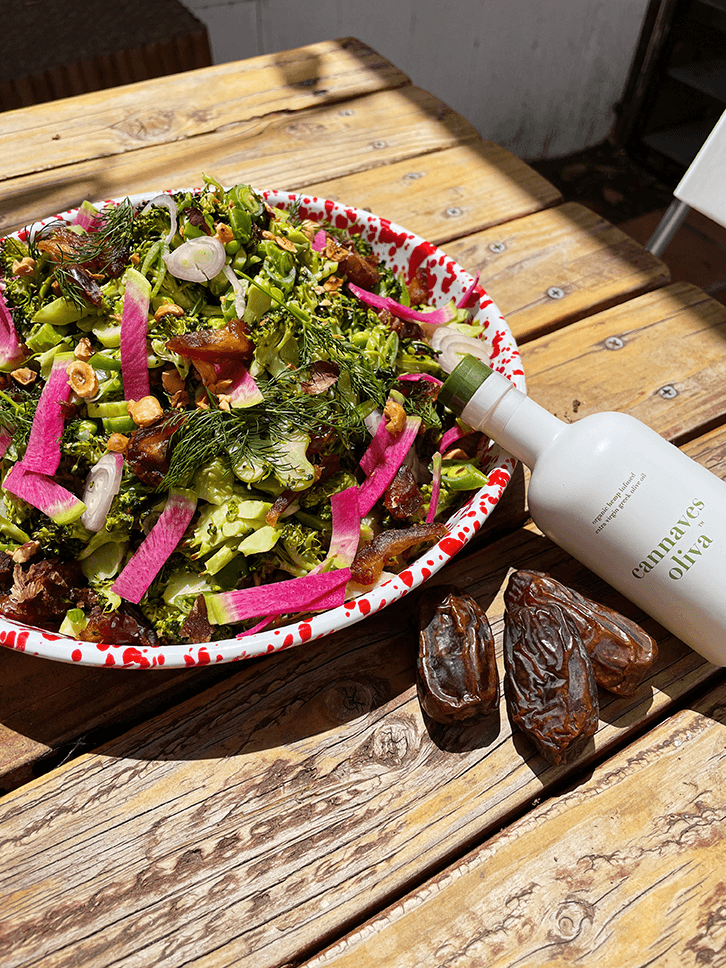 Ingredients for the salad:
Broccoli

We can't have a broccoli salad without the broccoli! Raw broccoli can be a bit pungent, so we're going to slightly cook it in the oven.

Joolies Dates

Even though dates are typically used in sweet dishes, they are an amazing addition to salads. It adds a sweet, caramel flavor to the rich spices of the recipe.

Sugar Snap Peas
Watermelon Radish


This crisp veggie adds beautiful color, a bit of natural crunch to our salad. Compared to regular radishes, this has a milder peppery, sweet flavor.

Shallots


If you're not familiar with shallots, think smaller onions with a milder flavor (they won't make you cry!) and hints of garlic.

Hazelnuts

This nut is rich in nutrients, with a high content of protein, fats, vitamins and minerals. For a substitution, we recommend replacing with almonds, brazil nuts, or pecans.
Optional Add-ins:
Fresh vegetables and/or fruit

Shredded carrots, chopped apples, purple cabbage, fresh avocado are just a few of our favorite salad additions!

Extra proteins
More nuts/seeds

Sunflower seeds, pistachios, cashews, pine nuts, whatever fits your fancy! These are a good source of healthy fats.


If you make this tasty salad, be sure to tag us on
Instagram
@jooliesdates
and use the hashtag

#jooliesdates
so we can see all your date-able recreations! And you can always comment below!