Naturally vegan, paleo, and gluten-free and only take about 30 minutes to whip up! Since these are no bake, they are the perfect treat for those hot summer days when you want some chocolate indulgence without having to turn on the oven!

Remember those cosmic brownies you used to enjoy as a kid? The ones where you would pick off the colorful sprinkles and eat first? Well we've created a good-for-you "cosmic brownie" made with wholesome ingredients and naturally sweetened with
Joolies dates
and
date syrup
🌴One bite of these fudgy
No Bake Vegan Brownies
will take you right back to your childhood🤗 Even better, you can store them in the fridge for up to two weeks or the freezer for up to a month.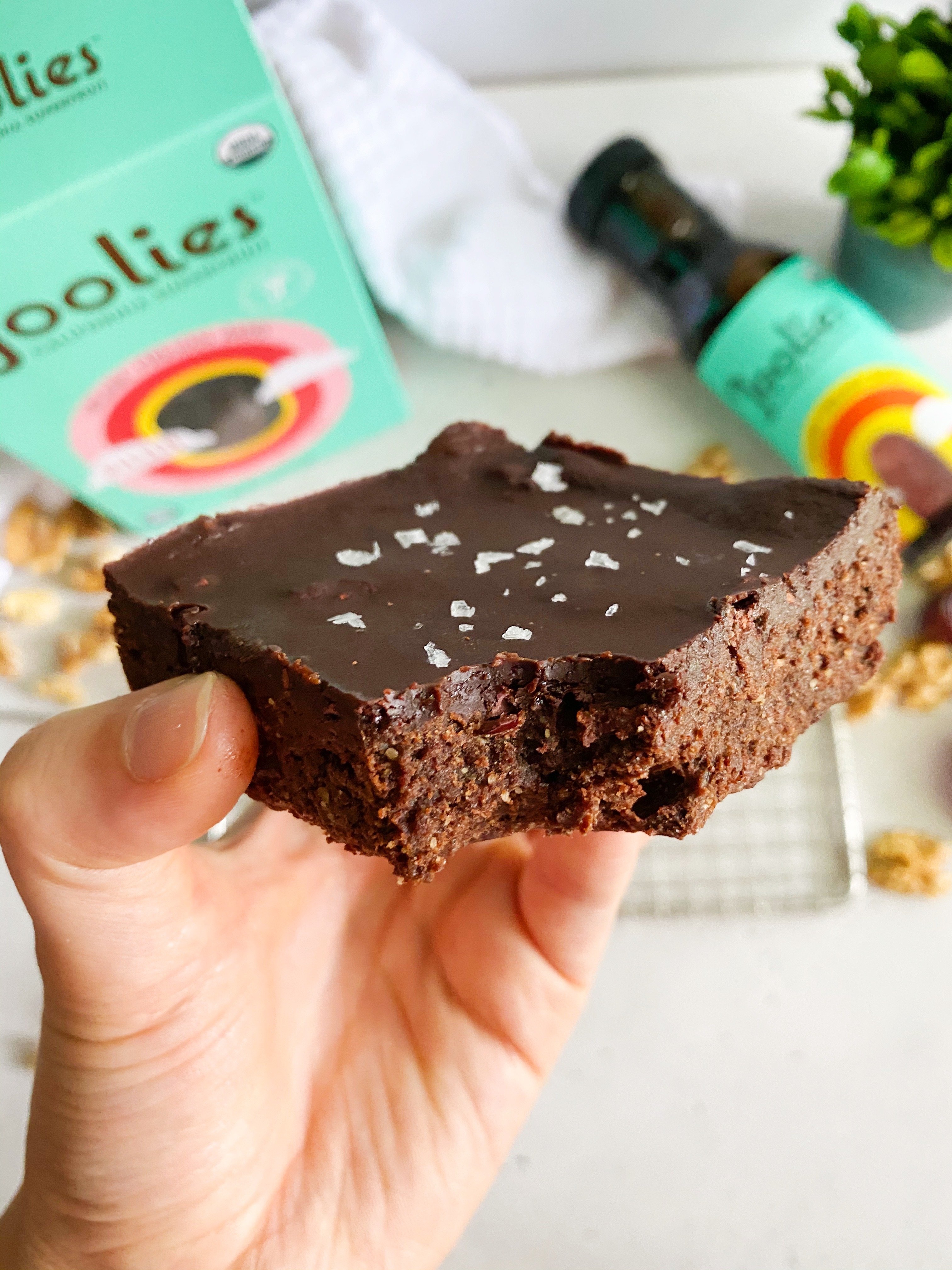 Ingredients you'll need:
Joolies Dates

The only natural sweetener needed in our brownies! Don't forget to soak in warm water first! Why soak them? Well while they are juicy beforehand, this step allows them to become extra-hydrated to create the perfect texture.

Raw Walnuts

We recommend using raw walnuts to avoid any added oils or salt! It also supports a healthy gut, Omega-3 levels, and help control blood sugar levels thanks to its slow-digesting properties 👏

Cocoa Powder

This is where we get our yummy chocolate flavor from, of course! You can substitute for raw cacao powder if needed, but it is a little bitter. Regardless, you'll get an awesome pump of antioxidants!

Joolies Date Syrup

The only natural sweetener for our glaze topping. Plus, you still maintain all the nutrient and health benefits of a medjool date in the syrup form.

Coconut Oil

You want this to be fully melted, so pop it into the microwave for 20ish seconds before adding to the glaze mixture. It will melt quite quickly, so take it out of the microwave and stir for a bit if it isn't fully melted yet!
Optional add-ins:
Shredded or Flaked Coconut

Coconut adds some great texture to these moist AF brownies. Any type of coconut will do, and you can add these into the batter or sprinkle on top!

Berries

This is more of add-on...for a little sweet kick! Strawberries, blueberries, blackberries...heck! Even some bananas or peaches would be delicious, too 🍓🍌🍑
Ice Cream

Just a little reminder that brownies and ice cream are the original superhero duo! Whether you're non-dairy or not, add this on some good ol' fashioned vanilla for a childhood flashback 😉We also love this vegan, avocado-based ice cream from Cado!