This Vegan Kale Salad comes together in just 10 minutes and is loaded with good-for-you ingredients like chickpeas, olives, medjool dates and pumpkin seeds and is topped off with a fresh and light lemon vinaigrette. Perfect for meal prepping or as an easy weekday meal.
One bite of this salad and you'll stay KALE'in the day🙊 Full of nutrient-rich ingredients like chickpeas, medjool dates, avocado, pumpkin seeds, this vegan salad is also naturally gluten-free, nut-free, and refined sugar-free.
We know kale doesn't have the *best* reputation, but it's all about how you prep this leafy green (and which type of kale you use!). For this salad, we use Tuscan or Dino Kale, which is a hearty leafy green rich in vitamins C, K, iron, etc, and has a mild flavor so if you have sworn off kale, try this type, you might change your mind! You can read more about Dino kale here.
We all need a good crunch in our salads and instead of going for the croutons this time, seeds and nuts are the perfect healthy swap! In this date recipe, we added Go Raw sprouted pumpkin seeds. You may be wondering, what does sprouted mean anyways? We'll let the experts take it from here...read all about "why sprouted" here.
Benefits of this salad:
naturally vegan, gluten-free, and nut-free.
no added sugars
ready to eat in under 10 minutes
perfect salad to add to your meal prep
Quick healthy lunch or dinner salad that uses everyday, nutritious ingredients.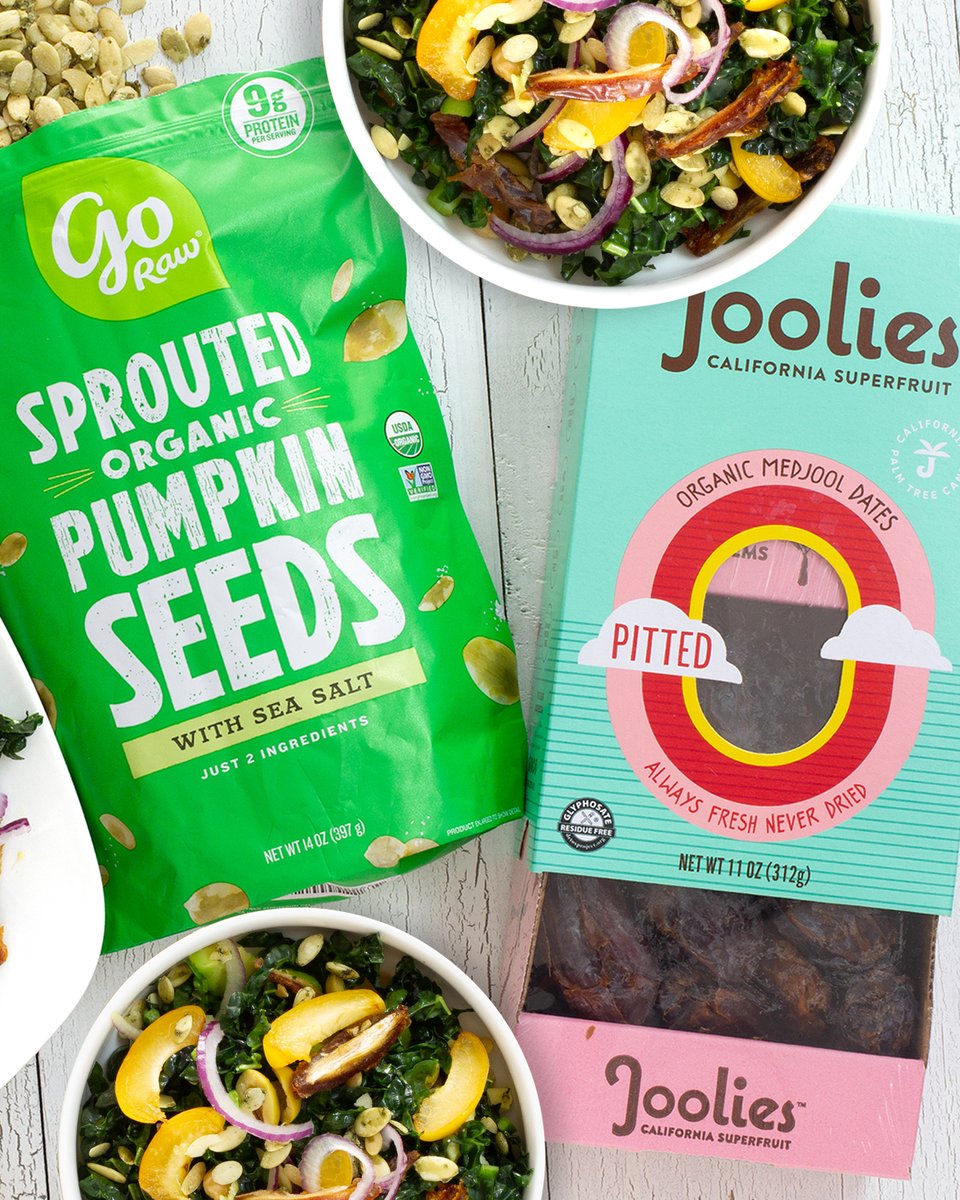 Ingredients for the dressing:
Olive Oil

This healthy fat source for our dressing lot of

proven benefits

. You can substitute with avocado oil or tahini for an oil-free option.

Lemon Juice

Fresh is best! You'll get more flavor and zest from a freshly squeezed lemon. Plus,

lemons are a great source of vitamin C and help to increase nutrient absorption.

Sea salt + pepper

This enhances the flavors of our salad.
Ingredients for the salad:
Tuscan (dino) kale

A hearty leafy green is a major key to creating a fulfilling salad! While this type of kale has a mild flavor, other types of kale can have a bitter taste. To avoid this, we recommend blanching then massaging the kale with the dressing.

Castelvetrano Olives

This bright green olive is considered the "snack" olive of Italy for its buttery, mild sweet flavor. If olives just aren't your thing, feel free to substitute with capers, artichokes, or just omit!

Garbanzo Beans

Chickpeas are a great way to add more texture and plant-based protein to a salad, making it more satisfying. If you have a little extra time on your hands, try roasting the chickpeas!

Avocado

Another delicious heart-healthy fat and a great source of fiber👏

Joolies Dates


Even though dates are typically used in sweet dishes, they are an amazing addition to salads. It adds a sweet, caramel flavor to the rich spices of the recipe.

Fresh Apricots

If you've never had a fresh apricot, think a smaller less-juicy peach with subtle subtle sweetness and tartness. Feel free to substitute with any fruit you have on hand.

Go Raw Sprouted Pumpkin Seeds


Not only do they add a good crunch, but also provide additional protein!

They are very high in magnesium, and omega-3s

!
Optional Add-ins:
Fresh vegetables and/or fruit

Radishes, snap peas, cucumber, berries, oranges, figs are just a few of our favorite salad additions!

Extra proteins
Nuts

Walnuts, pistachios, cashews, pine nuts, whatever fits your fancy! These are a good source of healthy fats
How to store
Whether you are meal prepping or have leftovers this hearty salad keeps crisp and crunchy in the fridge for a few days. You can mix in everything except the avocado and dressing until you are ready to eat because nobody likes a soggy salad😅 Store the salad in an air-tight container in the fridge and the dressing in a separate container.
If you make this tasty salad, be sure to tag us on
Instagram
@jooliesdates

and use the hashtag

#jooliesdates
so we can see all your date-able recreations! And you can always comment below!