Mother's Day is a time to celebrate that special woman in your life who changed your diapers when you were little and wiped your tears when you went through your first break-up. It is also a day to recognize and support the pregnant mamas who are going to be a mother within the next few months. Being pregnant is hard work, so taking some time to recognize and support mamas-to-be on Mother's Day will go a long way this year.
You can surprise the pregnant lady in your life with a bunch of flowers or a fancy brunch, but why not give her something that can help support a healthy pregnancy, help with labor, and provide her with an unexpected sweet-treat? Organic medjool dates are a perfect food for pregnant women for many surprising reasons that we are going to dig into in this article.
Medjool dates are considered a fresh fruit and grown on palm trees. Sometimes confused to be dried fruit or prunes, they are naturally sweet and have a caramel-like flavor. They're also less perishable and long-lasting fruit that you can stock up on! Dates are perfect on their own or for baking, adding to smoothies, stirring into sauces or adding a sweet pizazz to a savory dish..
Fiber is a pregnant woman's best friend, and dates are a perfect vessel
There is nothing glamorous about constipation, but between 16 and 26 percent of pregnant women experience it according to data published in the Journal of Obstetrics and Gynecology (1). For the most part, changes in hormone levels that naturally occur during pregnancy are to blame. Fortunately, there are many remedies available to help a mama get things moving a little more easily. Eating foods that are naturally rich in fiber is a perfect first line of defense. Most adults will need between 25 and 35 grams of fiber per day along with plenty of fluids to encourage regular number 2s. Dates have specifically been shown to help increase bowel movement frequency. In one study, people who ate dates for 21 days experienced increases in bowel movements compared to when they did not eat dates (2).
An organic medjool date, Pitted Snack Pack provides 3 grams of fiber, which accounts for 11% of your daily recommended intake. Skipping the chalky fiber supplements and sneaking in some dates instead is a gentle and natural way to show a pregnant woman's bowels some love. Trust us, she would much prefer to skip the constipation than be surprised with a dozen red roses any day of the week.
Dates are chock-full of pregnancy-friendly nutrients
If you have ever dreamed about finding a food that is loaded with important nutrients that support a developing baby that also satisfies a sweet tooth, then you are about to have your fantasy become a reality. Medjool dates naturally contain many important nutrients that are needed in higher amounts during pregnancy, including folate, choline, iron, and magnesium according to the USDA (3). Eating an organic medjool date, Pitted Snack Pack daily along with a prenatal vitamin is a yummy way to ensure that mama is getting the right nutrition to support a growing baby in a simple and sweet way.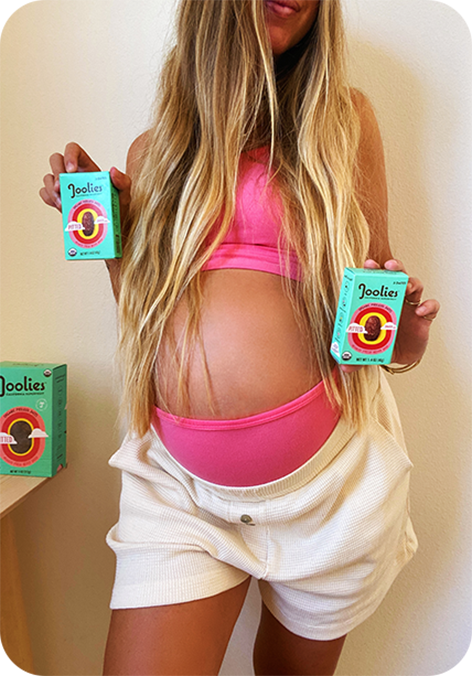 Dates can support a healthy labor
While pregnancy can be a beautiful time in a woman's life, sometime during the third trimester many women will start griping that she is SO ready to go into labor. While there are many myths surrounding ways to induce labor, eating dates has some real scientific data supporting their consumption. Specifically, eating dates has been shown to increase cervical ripening.
.....Cervical what?
Let's start understanding the concept of cervical ripening by going back to sex-ed 101 and understanding what a cervix is: a tissue that connects the birth canal to the uterus. The cervix needs to ripen, or become softer, in order for labor to take place. No cervical ripening, no labor!
When mama reaches the point where she is done with her pregnancy with a capital D, she may want to start bumping up her daily date consumption.
Why, you ask? Data has found that eating around 70 grams of dates per day (equal to approximately 5 Joolies medjool dates per day) in late pregnancy may increase cervical ripening (4). "It is recommended for pregnant women to consume dates to help with cervical ripening, particularly in the last weeks of gestation', according to an article published in the Journal of Midwifery and Reproductive Health (5).
In one study, researchers found that women who ate 6 dates a day for the 4 weeks before delivery had the following results:
higher cervical dilatation and ripening at hospital admission
lower c-section rate
less need for certain medications
shorter labor when compared with women who did not eat dates daily (6).
Best of all, no studies have shown a negative effect of eating dates while pregnant. If a woman is late in her pregnancy and is ready to get her baby out of her belly ASAP, eating 5 or more dates per day will certainly not hurt, and may actually help speed things along!
Dates are a healthy sweet-treat that has a low glycemic index
Pregnancy cravings aren't just pickles and ice cream. From salty to sweet, there is no telling what a pregnant woman is going to NEED to eat at any given moment.
Dates help satisfy sweet cravings in a healthy way thanks to their low glycemic index (7). With low glycemic foods, the carbs are digested more slowly and are less likely to give blood sugars a spike (8). They are also loaded with vitamins and minerals than sugary gummy bears and sour worms could never compete with.
Instead of a box of chocolates this Mother's Day, dip some Joolies organic medjool dates in some dark chocolate or make other medjool date recipes for indulgent treats that gives moms-to-be a nutritional boost.
Dates-The Perfect Mother's Day Treat
Organic medjool dates are a surprising and no-fuss treat that is perfect for an expectant mother to include in her diet. They are an easy food to toss in a purse in the beginning of the day or to enjoy as a dessert after a satisfying meal. Perfectly versatile, satisfying, and nutritious, Joolies organic medjool dates are a simple solution for pregnant mamas to help support her on her journey to motherhood.
Are you a mom-to-be? Check out more resources For Mom's here!
Don't forget date benefits don't just end at birth. Read all the postpartum benefits and health benefits of medjool dates next!
Written by: Lauren Manaker, MS, RDN, LDN, CLEC, CPT
Registered Dietician, Nutritionist, Women's Health Expert and Freelance Writer