Dates truly have everything going for them. They are incredibly yummy, surprisingly nutritious and wonderfully versatile! Out of the numerous varieties of dates, there is one that surely outshines all the rest – medjool dates.
Nicknamed the "king of dates" and the "Cadillac of dates", medjool dates have an incredibly long history of being used in creative recipes for snacks, appetizers, desserts and more. They're larger and darker in color compared to other kinds and their caramel-like taste and texture might have you thinking you're biting into a candy rather than a fruit if you close your eyes!
Medjool dates are one of the oldest cultivated fruits, tracing all the way back thousands of years as a staple in Middle Eastern and Northern African cuisine. Since then, they have spread across the globe becoming a popular choice for a simple, nutritious snack, a substitute for refined sugar and a flavorful addition to hors d'oeuvre platters and classic dishes. They are loaded with vitamins and nutrients that make them a desirable treat to curb your sweet tooth and lift your energy levels when you're hit with that late afternoon fatigue.
And they can be used in more ways than you'll ever believe! Blend them with your go-to fruits and ingredients to make a healthy smoothie that tastes more like a milkshake. Chop them up and toss them in a salad to add a touch of sweetness. Bake them into your usual brownie or cookie recipe and revel in their caramel-like ooey-gooey goodness.
Medjool dates are tasty any way you slice 'em! And some of the most delicious combinations are some of the easiest to do. We've put together the following list of our top 10 simple, quick and delicious recipes that incorporate the perfect mates for dates! We have to warn you though… after reading these suggestions, you'll most likely wind up having medjool dates for every. single. meal.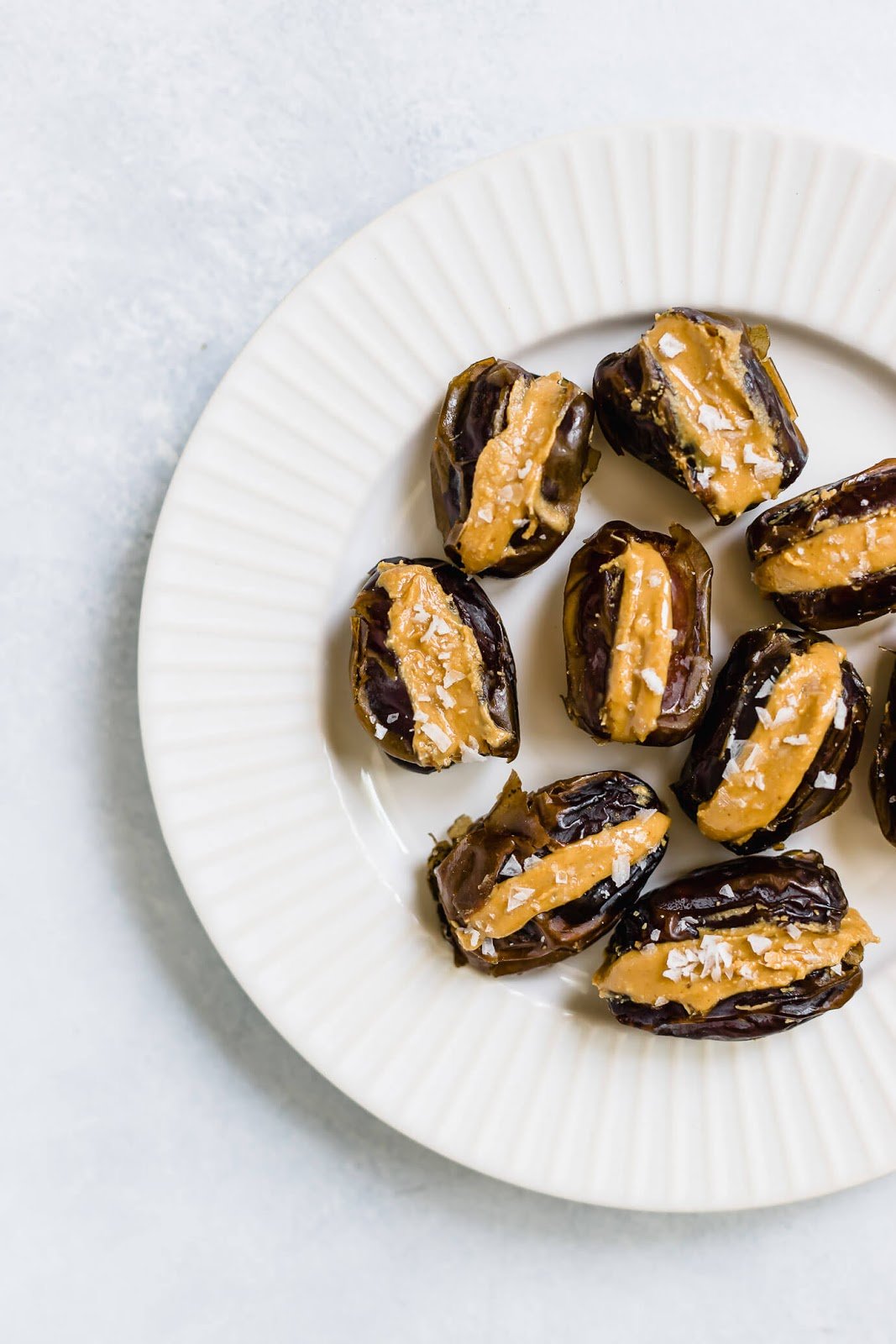 1. Medjool Dates and Nut Butter
When you're in need of a pick-me-up, our organic medjool dates combined with your preferred nut butter can give you the boost you need without leaving you feeling jittery or causing you to crash shortly after. Nut butters are an excellent source of protein and natural fats that are beneficial to your heart health and cholesterol. Paired with the natural sugar content and carbohydrates of medjool dates, you have a well-balanced snack that's guilt-free and macro complete!
You can go the classic route and enjoy a medjool date stuffed with peanut butter! This pairing is chock full of vitamins and nutrients and will help curb your appetite and keep you feeling full for longer. Plus, it tastes just like a Snickers bar!
If you want a healthier spin on this recipe, opt for almond butter. It's one of the most nutrient-dense nut butters, containing loads of calcium, magnesium, manganese and phosphorus! It is especially high in Vitamin E, which is an essential antioxidant.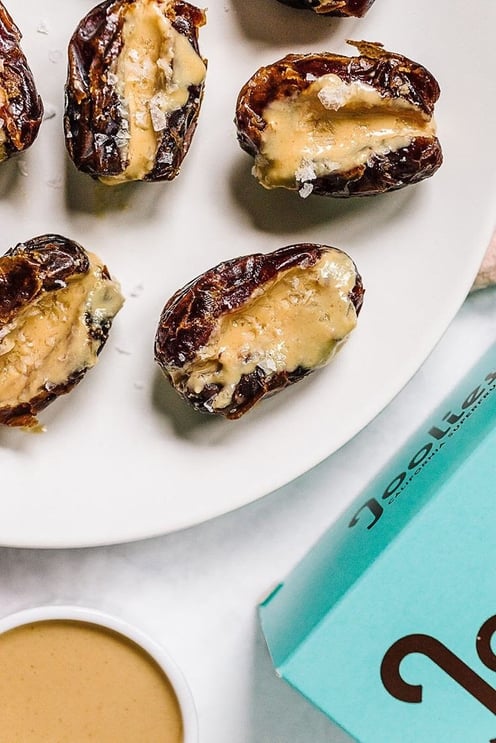 2. Medjool Dates and Tahini
Tahini is a creamy, nutty and savory paste that is made from ground sesame seeds! It's rich in protein and nutrients, including B vitamins, vitamin E, calcium, iron and more. And it makes for a healthy and delectable treat when stuffed into a chewy medjool date.
Just like medjool dates, tahini is versatile. It can be mixed with lemon juice, water and garlic and turned into a vibrant salad dressing or a savory dip for falafel or veggies. It can also be enjoyed as a sweet delight by mixing it with honey or molasses and spreading it on toast!
Our favorite way by far to indulge in this mouthwatering delicacy is paired with organic medjool dates. Slice a medjool date down the middle (be careful not to cut it all the way in half) and fill it with a spoonful of tahini. A drizzle of honey adds an extra layer of decadence!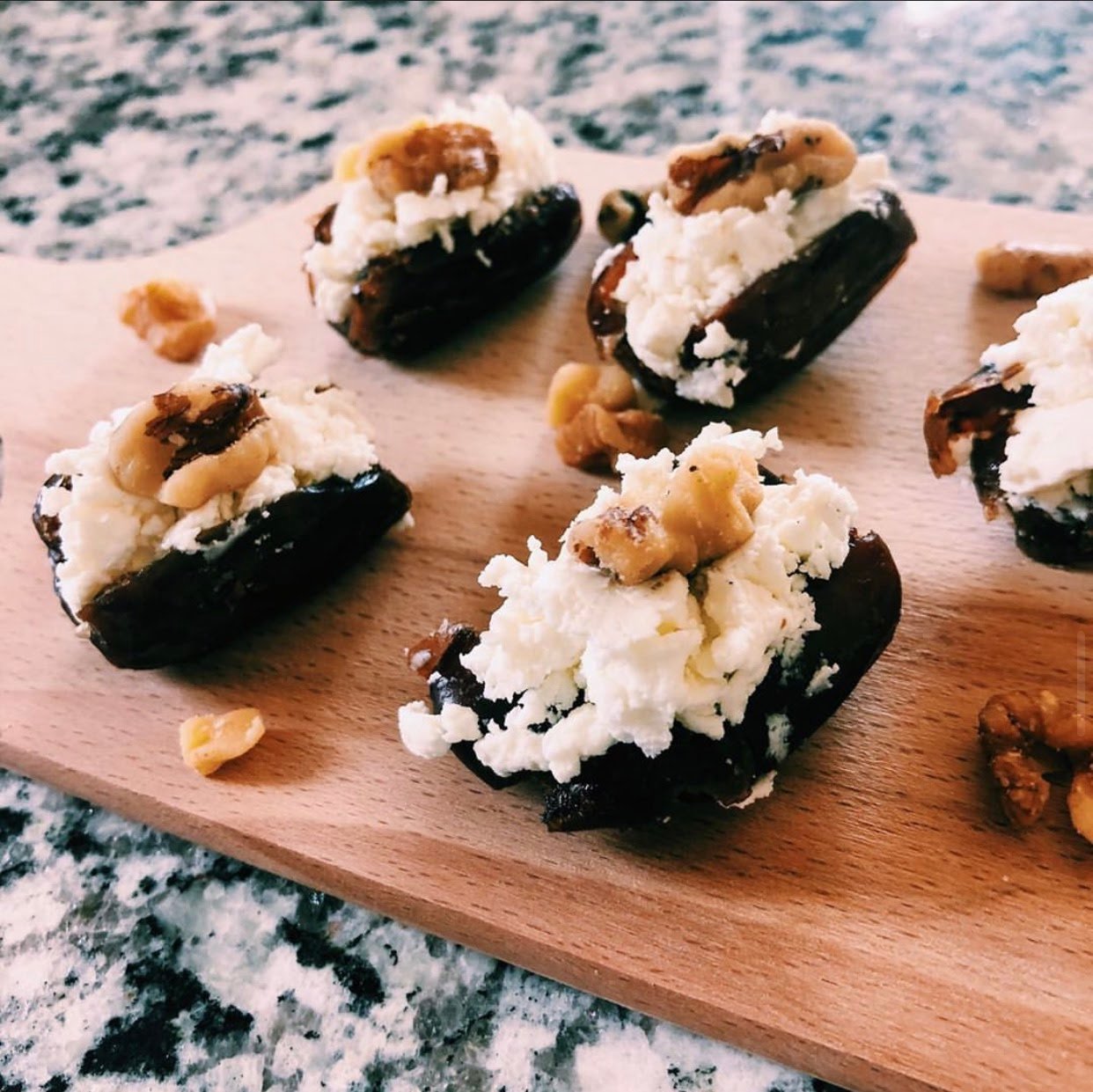 3. Medjool Dates and Goat Cheese
If you ask us, no charcuterie board is complete without medjool dates! Cheese and dates go together like rama-lama-lama-ka-dinga-da-dinga-dong…(Grease reference, anyone?) You can use any kind of soft cheese you prefer. Popular pairings include cream cheese, bleu cheese, or ricotta. Our favorite cheese to pair with dates is goat cheese!
Goat cheese is an excellent source of protein, healthy fats and bone-strengthening nutrients such as calcium, copper and phosphorus. A serving of goat cheese is a low-fat alternative to other cheeses and can help promote weight loss, as it works to keep you feeling full.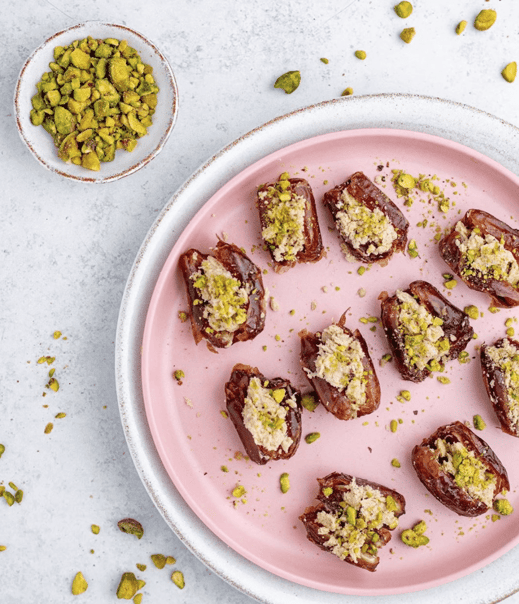 4. Medjool Dates and Pistachios
Some of the fun and convenient qualities of medjool dates that sets them apart from other varieties is their larger size and their pocket-like nature. It makes it easy to stuff them with any of the ingredients included in this blog! Pick up some pitted dates or just remove the stones yourself and you have an edible transportation device for your other favorite snacks. All aboard the date-mobile!
Loading a medjool date with your choice of nut makes for another great pairing! We especially love pistachios.
Pistachios stuffed into dates are an amazing balance of savory and sweet with a surprise crunch in the middle. Plus, pistachios are loaded with healthy nutrients and antioxidants.
If you're extra adventurous in the kitchen and want to try something new, you can also enjoy medjool dates and pistachios together by making a pistachio paste. This requires more time and few additional ingredients, though. We prefer simplicity when it comes to snacking :)
5 . Medjool Dates and Mascarpone
For a creamy delight that pairs nicely with medjool dates, pick up some mascarpone on your next grocery store trip! Mascarpone is a type of heavy cheese that is a popular ingredient in Italian cuisine. It is often referred to as the Italian version of cream cheese! If you've ever enjoyed tiramisu for dessert in a fancy Italian restaurant, you've definitely tasted the silky sweetness that is mascarpone.
Similar to other cow cheeses, mascarpone is heavily concentrated in calcium. It also contains other essential vitamins and nutrients, including vitamin A, vitamin B12, zinc, phosphorus and riboflavin. Combined with the numerous nutrients in medjool dates, this delicacy can be enjoyed as a healthy option for an appetizer, snack, or even a dessert.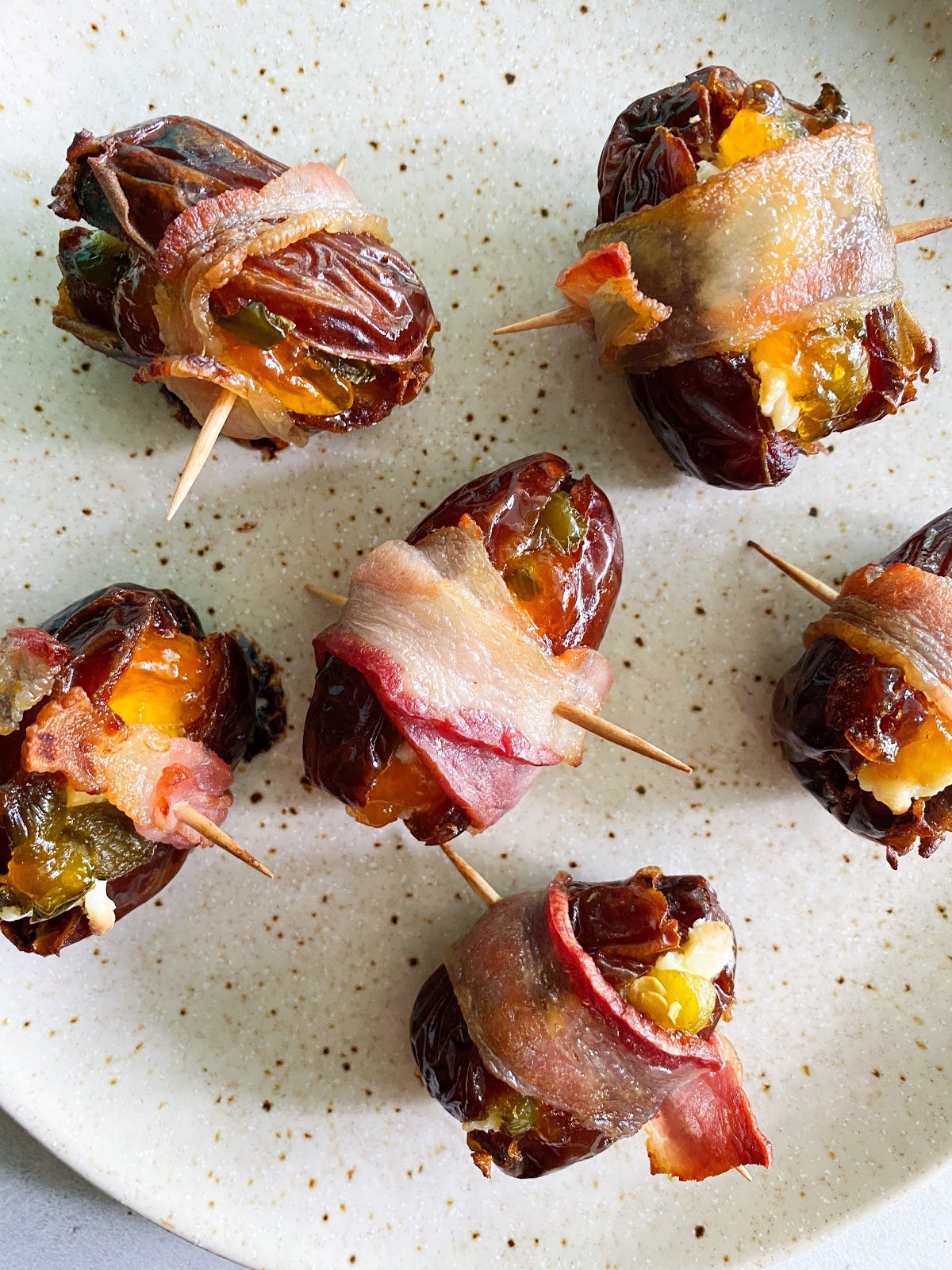 6. Medjool Dates and Bacon
If you want to really WOW your friends or family at the next get-together or potluck, this next recipe is a winning combination. Medjool dates wrapped in bacon is a quick and easy recipe. Be prepared for a total flavor-bomb in your mouth! Bacon might be the star of every carnivore's breakfast plate, but organic medjool dates take it to a whole new level.
Although bacon isn't the healthiest choice, it does have some nutritional value. It's an excellent source of protein and is high in B vitamins and other essential nutrients. As long as it is enjoyed in moderation, it's an awesome treat – especially when wrapped around a luscious medjool date.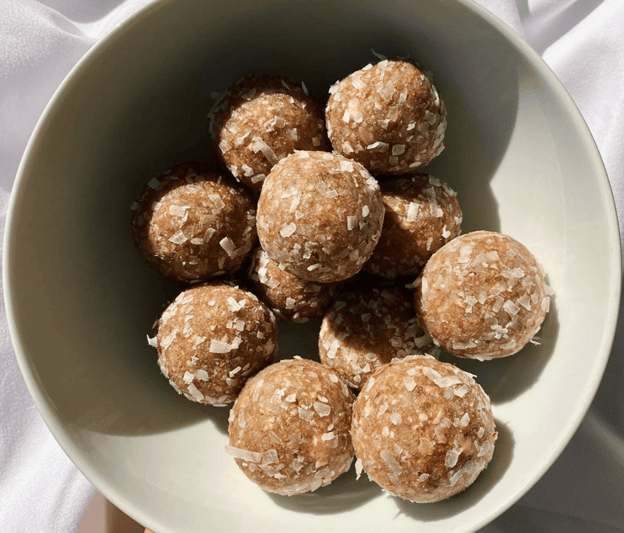 7. Medjool Dates and Coconut
Another match made in heaven is organic medjool dates and coconut! This simple recipe is perfect if you're trying to cut down on your refined sugar intake and avoid other not-so-healthy sweets.
There are several ways to enjoy medjool dates and coconut together, but we prefer to create coconut date balls! Just toss a handful of dates into a food processor, form the paste into balls, roll them in shredded coconut and toss them in the freezer. Top it off with an almond, pecan or nut of your choice for some extra crunch :)
Coconut has a ton of nutrients, vitamins and health benefits. It's high in fiber (just like medjool dates), zinc, and iron!
8. Medjool Dates and Marzipan
This next pairing is another sweet treat! Marzipan is typically made up of ground almonds and sugar, and used to make candies and confections. Another fun way to use marzipan is in the center of a medjool date!
To ensure that you're not loading up on too much sugar when enjoying marzipan, you want to make sure you buy the highest quality as it will contain less refined sugar in the raw mix. It will also contain more of the essential nutrients found in the almond meal such as calcium, potassium, magnesium, and polyunsaturated fats!
9. Medjool Dates and Prosciutto
Smoky, salty, thinly sliced, and all around delicious – prosciutto just HAD to be included in this list of perfect pairings. Although it might not be the most nutritious choice to enjoy with medjool dates, it has some merits – as long as it's eaten in moderation.
Prosciutto provides a small percentage of some of the essential nutrients we should eat daily, including iron, zinc, niacin and vitamin B-12. However, it is high in saturated fat and sodium, so be sure to not overindulge in this savory delight.
Medjool dates wrapped in prosciutto make for a yummy appetizer or snack, and it's extremely simple to make! We especially enjoy this combination with goat cheese stuffed inside and a little honey drizzled on top.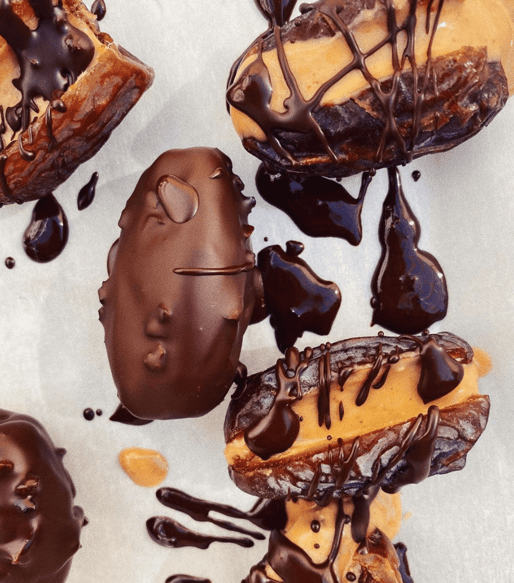 10. Medjool Dates and Dark Chocolate
This list of perfect mates for dates would not be complete without medjool dates and dark chocolate! In fact, this entire article could have been written about this winning combination alone. There is an endless amount of recipes to make that take advantage of this mouth-watering power duo.
For the simplest way to enjoy medjool dates and chocolate together, we like to melt some dark chocolate in a heat-proof bowl placed in a pot with simmering water. Then, we dip our pitted dates so that they are lathered in the chocolatey goodness. After that, we pop them in the fridge or freezer so that the chocolate hardens. If you want an extra crunch, you can sprinkle some crushed almonds or pistachios on the melted chocolate before putting them in the refrigerator.
Dark chocolate has an abundance of proven health benefits! It is a robust source of antioxidants, fiber, iron, magnesium, copper, and other important nutrients. Paired with a nutrient-dense medjool date, dark chocolate can prevent future ailments and curb your craving for something super sugary and unhealthy!
In Conclusion
Savory or sweet...Simply stuffed or baked into your most impressive recipe...medjool dates can be enjoyed in so many delicious ways. With such an extensive list of combinations, you're going to need to stock up. :) We hope you enjoyed this list of our top 10 favorite quick, easy and delicious mates for dates!