Have you ever added Joolies dates to your salads before?! If you answered yes or no, either way, this Roasted Squash Salad with Date Balsamic Dressing is calling your name. We know, salads can be so bleh sometimes, but this one is bound to change your mind😉Plus, this one is
dairy-free, gluten-free, paleo, and keto friendly!
Not only do medjool dates make a great salad topper, but they add the perfect touch of sweetness to a homemade salad dressing. So many store bought dressings have lots of additives and fillers in it (yuck!) and many sweeten with refined sugar. Our bodies metabolize refined sugar very quickly, read: sugar crash. Medjool dates are a natural low-glycemic sugar, which your body breaks down at a slower rate, read: no sugar crash, leaving your feeling full!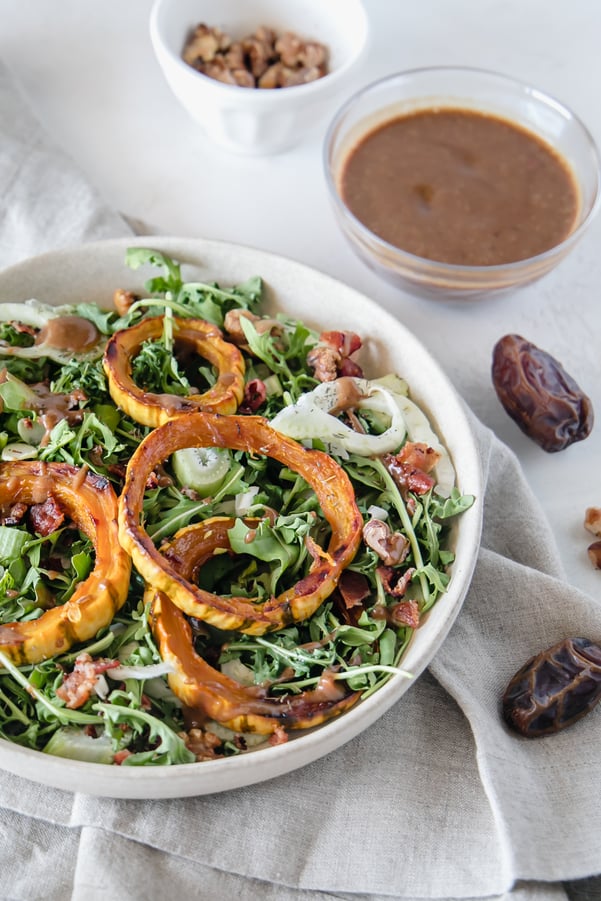 So what all goes into this delicious salad and salad dressing? Here are the highlight ingredients:
Joolies Dates

Our star ingredient here! We're going to top the salad with some, but it's most important role is in the homemade salad dressing. Be sure to soak your dates for 30 minutes before blending. The softening of the dates allows for a smooth texture to be made.

Delicata Squash

One of our main salad toppers! If you cannot find delicata squash near you, you can use butternut squash as a substitute. Note: be sure to get a fresh one, not frozen squash!

Bacon

This gives our salad some protein and extra flavor! If bacon isn't your thing, feel free to sub with a plant-based alternative.

Walnuts


A salad always needs a little crunch! Walnuts add extra nutrients and healthy fats into the mix.