Even though you do roast some veggies here, it is a perfect summer or winter salad. With the coolness of the cucumber and the savory goodness of the bacon (and the squash of course), this is an amazing salad to eat year round!
Have you ever added Joolies dates to your salads before?! If you answered yes or no, either way, this Roasted Squash Salad with Date Balsamic Dressing is calling your name. We know, salads can be so bleh sometimes, but this one is bound to change your mind😉Plus, this one is dairy-free, gluten-free, paleo, and keto friendly!

Not only do medjool dates make a great salad topper, but they add the perfect touch of sweetness to a homemade salad dressing. So many store bought dressings have lots of additives and fillers in it (yuck!) and many sweeten with refined sugar. Our bodies metabolize refined sugar very quickly, read: sugar crash. Medjool dates are a natural low-glycemic sugar, which your body breaks down at a slower rate, read: no sugar crash, leaving your feeling full!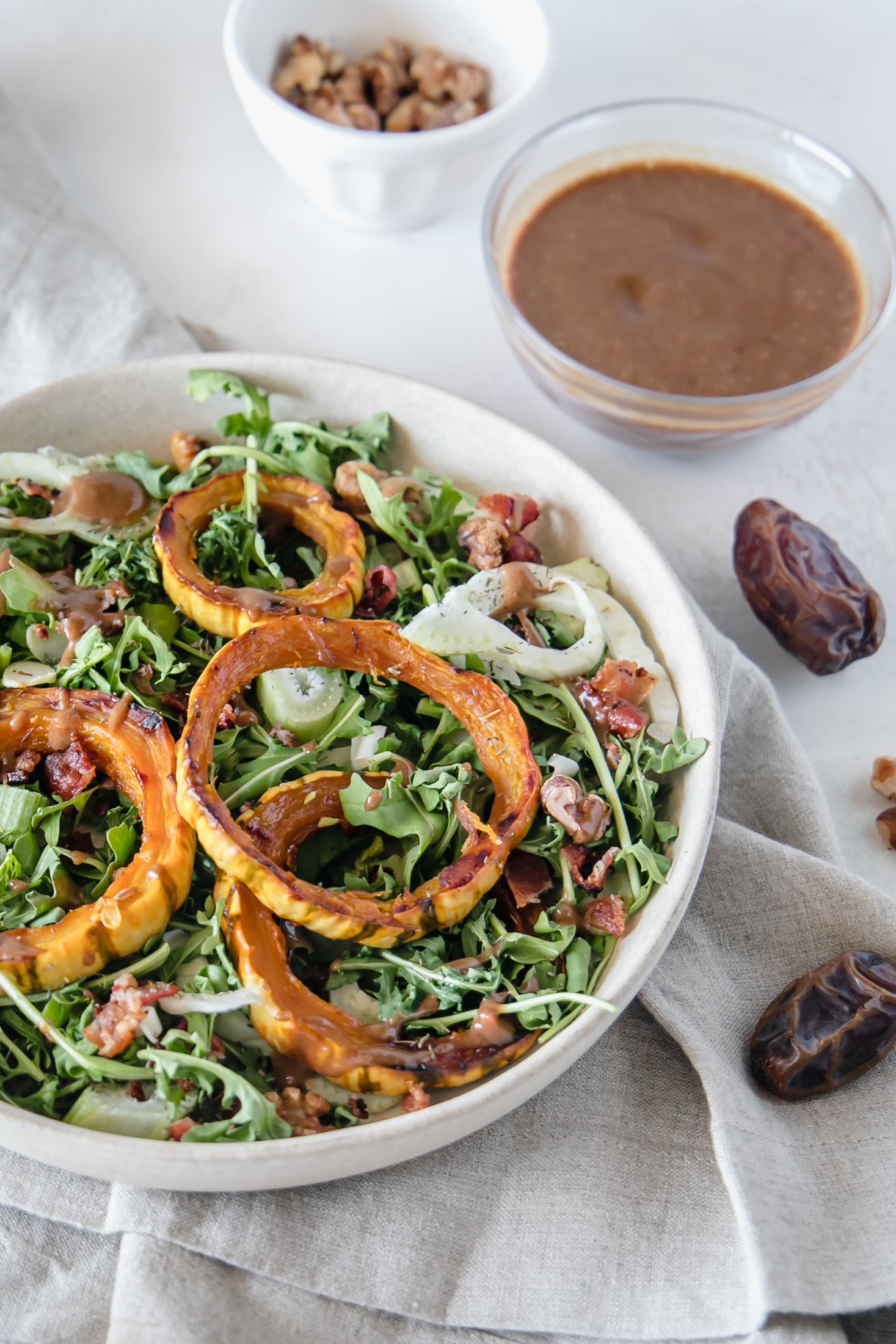 Ingredients you'll need:
Joolies Dates

Our star ingredient here! We're going to top the salad with some, but it's most important role is in the homemade salad dressing. Be sure to soak your dates for 30 minutes before blending. The softening of the dates allows for a smooth texture to be made!

Delicata Squash

One of our main salad toppers! If you cannot find delicata squash near you, you can use butternut squash as a substitute. It's really easy to get frozen squash, but it will NOT work the same. Please buy fresh squash no matter what type you buy!

Bacon

This gives our salad some protein and extra flavor! If bacon isn't your thing, feel free to sub with a plant-based alternative. Here are some bacon alternatives or sausage alternatives that are both vegan friendly! You can also just take out bacon all together and add some other fun toppings that fit your diet 👏

Walnuts


A salad always needs a little crunch!

We recommend using raw walnuts to avoid any added oils or salt! It also supports a healthy gut, Omega-3 levels, and help control blood sugar levels thanks to its slow-digesting properties.

Optional add-ins:
Dried or Fresh Berries

If you haven't had fruit in your salad before, now is the time to try! Step out of your comfort zone and find which berries go best with your taste

palate

. Dried goji berries are typically a good beginner fruit to try in savory dishes!

Hard Boiled Eggs

In case bacon isn't your thing, you may want to try some hard boiled eggs for some added protein. Protein helps maintain healthy blood sugar levels and (of course) build those strong muscles of yours 💪

Cheese

If you don't mind dabbling in dairy, cheese is a great fat to add to any salad. If you are vegan or have any allergies, vegan cheeses are a great substitute! We especially love the vegan cheese from Miyoko's which you can find here.

Avocado

Duh! Avocado goes great on anything. No explanation needed.