If you don't buy organic or maybe some Instagram influencer told you to, this article is for you. Buying organic isn't just an over-hyped trend. It means buying quality produce and products for you and your family and, in turn, maintaining healthy bodies and minds. There's a reason why our family farm has been certified organic since its inception! 🌴
One of the ideas behind "going organic" is taking out glyphosate and other pesticides completely from one's diet. What is glyphosate you ask? All of your questions are answered below 👇✨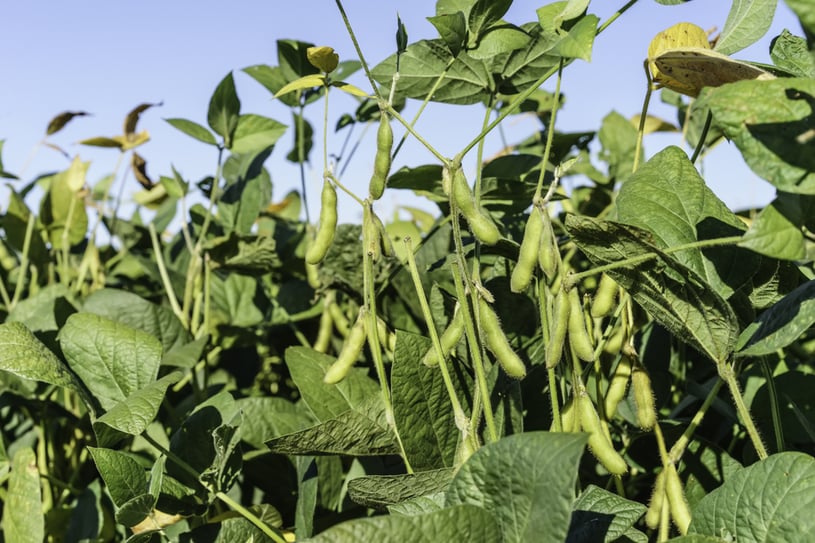 What is Glyphosate?
According to the EPA, a glyphosate is a "widely used herbicide that controls broadleaf weeds and grasses," being first registered in the United States in 1974. The most household name of glyphosate is Roundup, which is one of the largest brands common among farmers across the nation. Using pesticides, herbicides, and other chemicals kill unwanted weeds, making the lives of farmers a lot easier 🌱
Most of the produce and products found on shelves and in stores are not by your local Joe anymore, unfortunately. They are mass produced and entered into the supply chain by by enormous corporations to keep up with the growing year-round demand, meaning these chemicals are not being used to grow better produce but to increase profits and efficiency 💰It's also super difficult to remove pesticide residues from the food if its already treated with similar Roundup herbicides!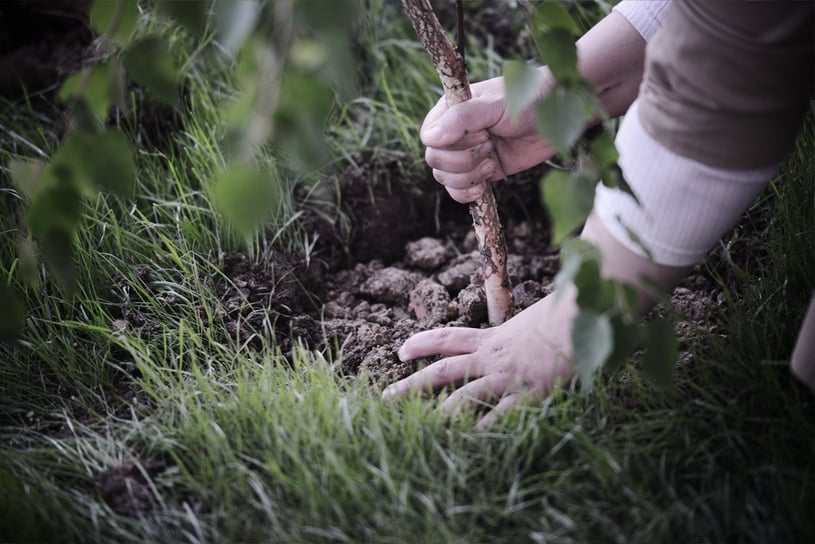 Effects On Human Health
Even though the EPA does not currently claim there are side effects for humans, they do not state anything about the drastic concerns of Roundup. According to one study in 2019, being regularly exposed to glyphosate can increase one's risk of non-Hodgkin lymphoma (NHL) by 41%, a cancer of the immune system. In 2018, Monsanto (the owner of Roundup) lost $289 million to Dewayne Johnson, a man from San Francisco who regularly used Roundup as a groundskeeper. Johnson was diagnosed with terminal cancer in addition to having 80% of his body covered in lesions—some days not even being able to speak due to the pain. Due to possible glyphosate carcinogenicity, around 800 other lawsuits went against Monsanto in that same year! 😯
Studies and stories, like the ones above, are becoming more prevalent and frequent. To say the least, there are valid worries regardless of what Monsanto or the EPA affirm. Many organizations have declared glyphosate to be safe to use under the recommended limit provided, however, how can we guarantee this is being followed as consumers? Just recently, 90% of tested hummus products contained way beyond what was allowed by the EWG. So, how is anyone supposed to know what really is in their food❓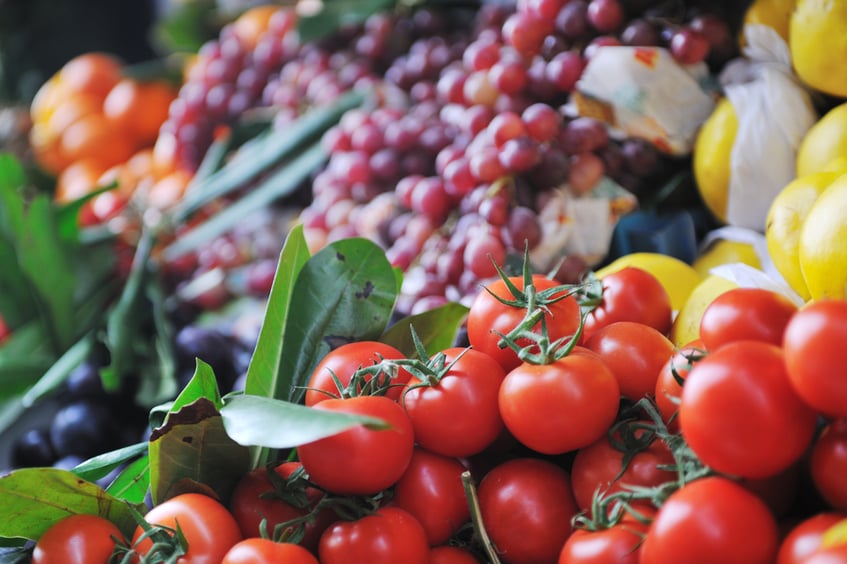 How To Avoid It
Sadly, many companies use an assortment of pesticides for their crops, even if they are "family" brands like Cheerios or Nature Valley. In fact, over 21 breakfast cereals were found to have traces of the chemical. This doesn't mean we have to cancel breakfast though! All you have to do is take an extra few seconds at the grocery store to inspect the labeling of the products you're buying.
This is a great video to check out if you're more of a visual learner 😉
Whether it be produce or products, checking for the USDA organic, Glyphosate-Free, or Non-GMO Project labels are the keys to success.
Here's what you're looking out for: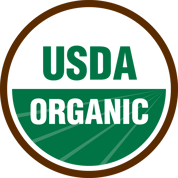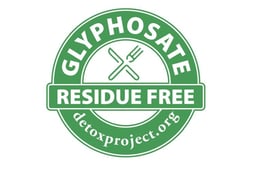 USDA Organic has been on the scene for quite some time. But what you might not recognize is the second badge indicating a product is Glyphosate Residue Free. This certification is newer and founded by nonprofit The Detox Project and declares, just like it sounds!, the product does not contain residues of the harmful glyphosate.
Despite being new, many food brands, like Joolies Dates, Oatly, Partake Cookies and Heavenly Organics, have raised the bar high for food transparency by going through rigorous testing and adopting the seal to showcase on their packaging and websites.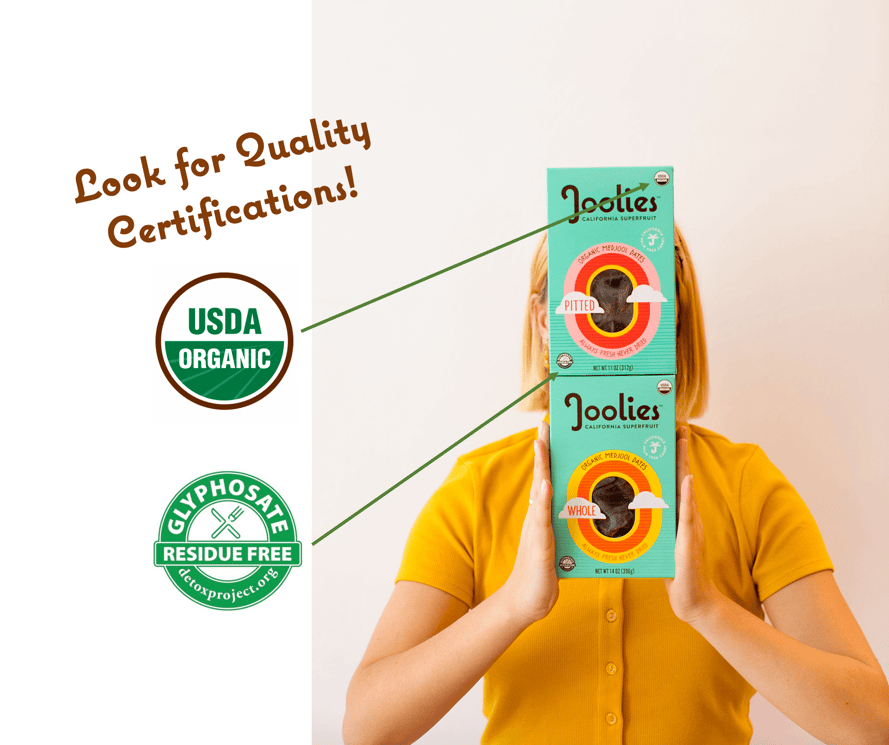 Even though we can't always eliminate our glyphosate exposure from our daily life (especially if you like eating out), it's SO important to know what's in your food, even if it's being cooked at home! 🍔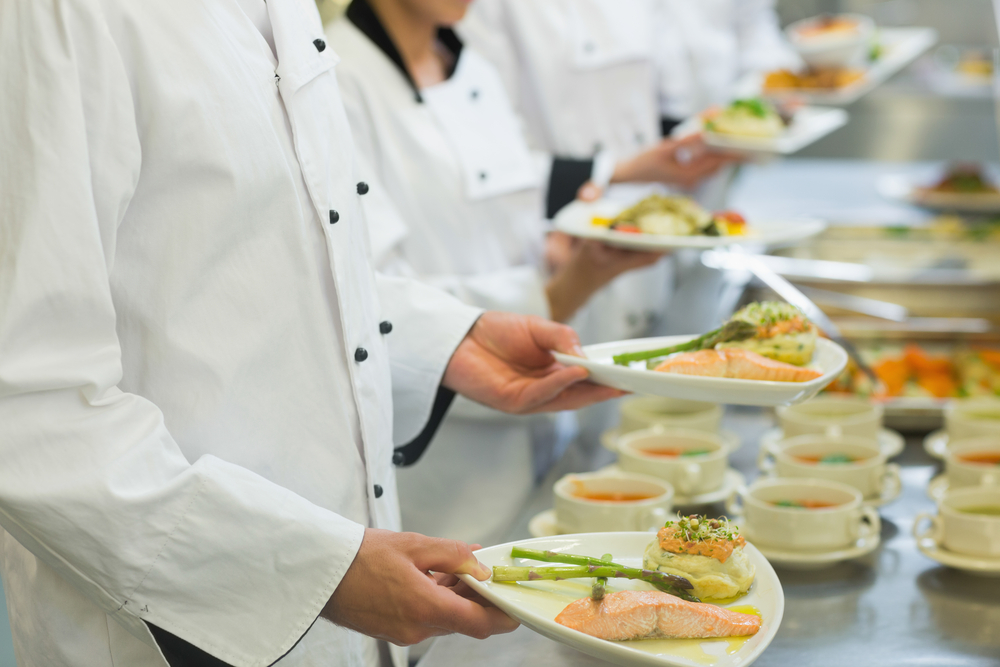 Conclusion:
Like we all say here at Joolies, we are with you no matter what path you choose. Even as a little medjool date company, we want to ensure our community is being educated and making the right decisions for their health 💕Check out the links attached to this article to make sure you are staying up to date with current events 📺 Happy date-ing! 🌴🌴