Whipped goat cheese dip topped with crispy bacon, sweet caramel-y medjool dates and fresh rosemary for a delectable and beautiful appetizer.
There's no doubt we love a good stuffed date...sweet, savory, bacon-wrapped...you name it! Well what if we took a bacon-wrapped stuffed date and deconstructed it into a delicious, decadent dip 🤩Introducing Whipped Goat Cheese Dip with Bacon and Dates.
The creamy base to this date recipe is made up of a combination of crumbled goat cheese, greek yogurt, vinegar, honey, olive oil and cracked black pepper. Now we know that itself sounds good enough just to spread on some toasted bread (and trust us, it is😉), but don't stop there--we're getting to the best part!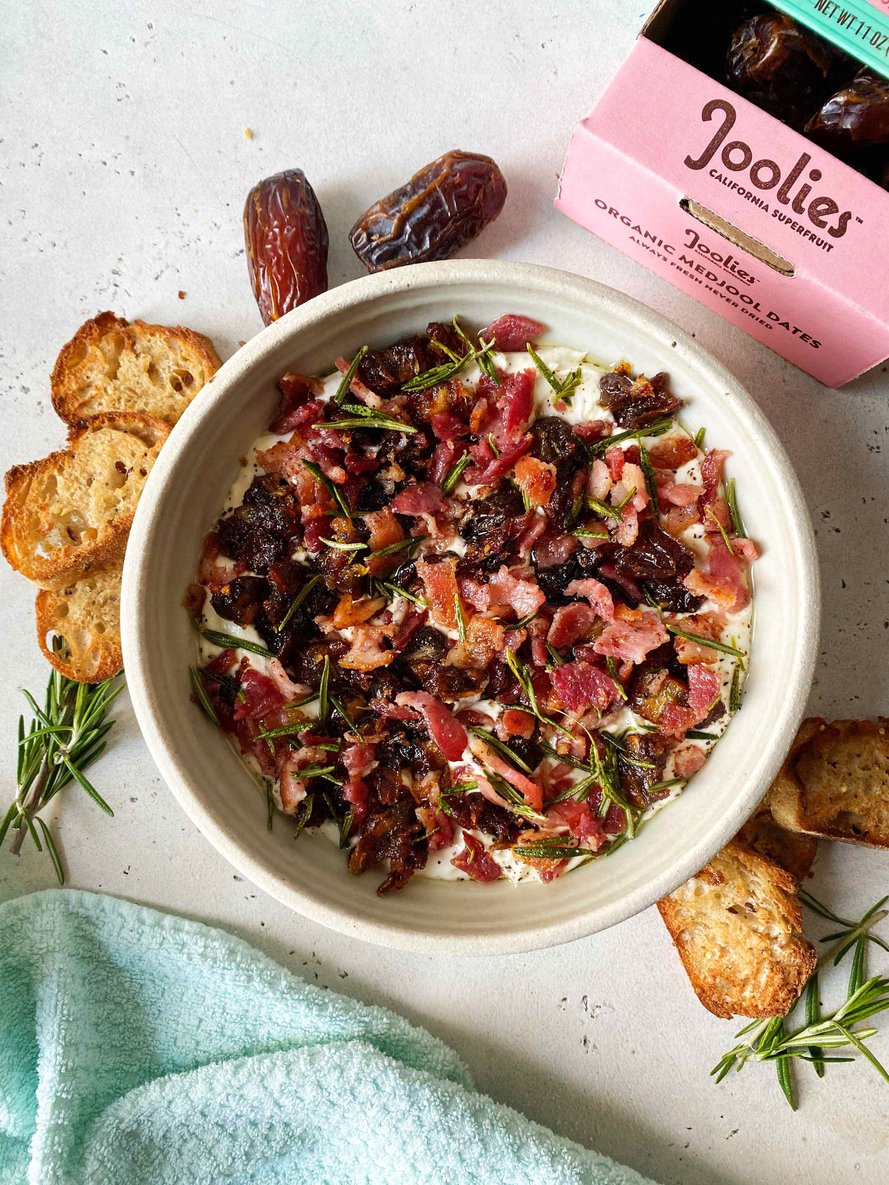 Crispy bacon, sweet caramel-y medjool dates, fresh rosemary, honey, minced garlic and onion take this dip beyond the next level--the perfect balance of sweet and savory. For the delectable, flavor-packed topping there is one super important tiny step that cannot be forgotten...save the bacon drippings in the skillet! Consider it the gift that keeps on giving 😂 because we're going to use (need) it to cook the rest of the topping!
Once that topping magic is tender, caramelized, and ready to meet its creamy partner, we'll crumble the bacon and rosemary on top with a drizzle of olive oil and a few shakes of cracked black pepper to bring it all together. While you could dip a spoon and go to town, we recommend dipping crostini, toasted bread or crackers 🥰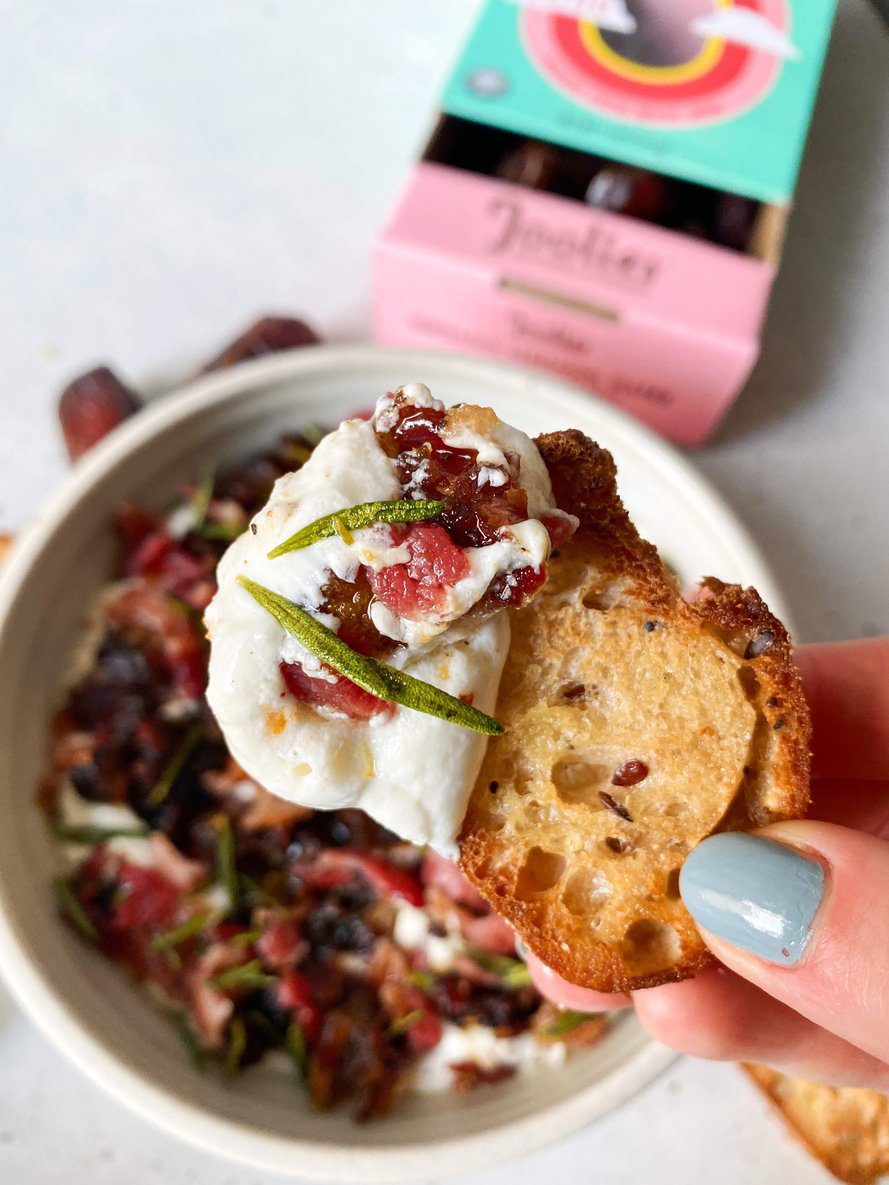 Why this appetizer is so great
A beautiful, flavorful dish perfect for entertaining, holidays, celebrations, or just happy hour at home!
An easy appetizer to prep ahead of time with minimal clean up that will impress everyone.
Versatile! You can serve it with a whole bunch of different things on the side and adjust the ratio of goat cheese to greek yogurt as your palate pleases.
Naturally gluten-free and nut-free.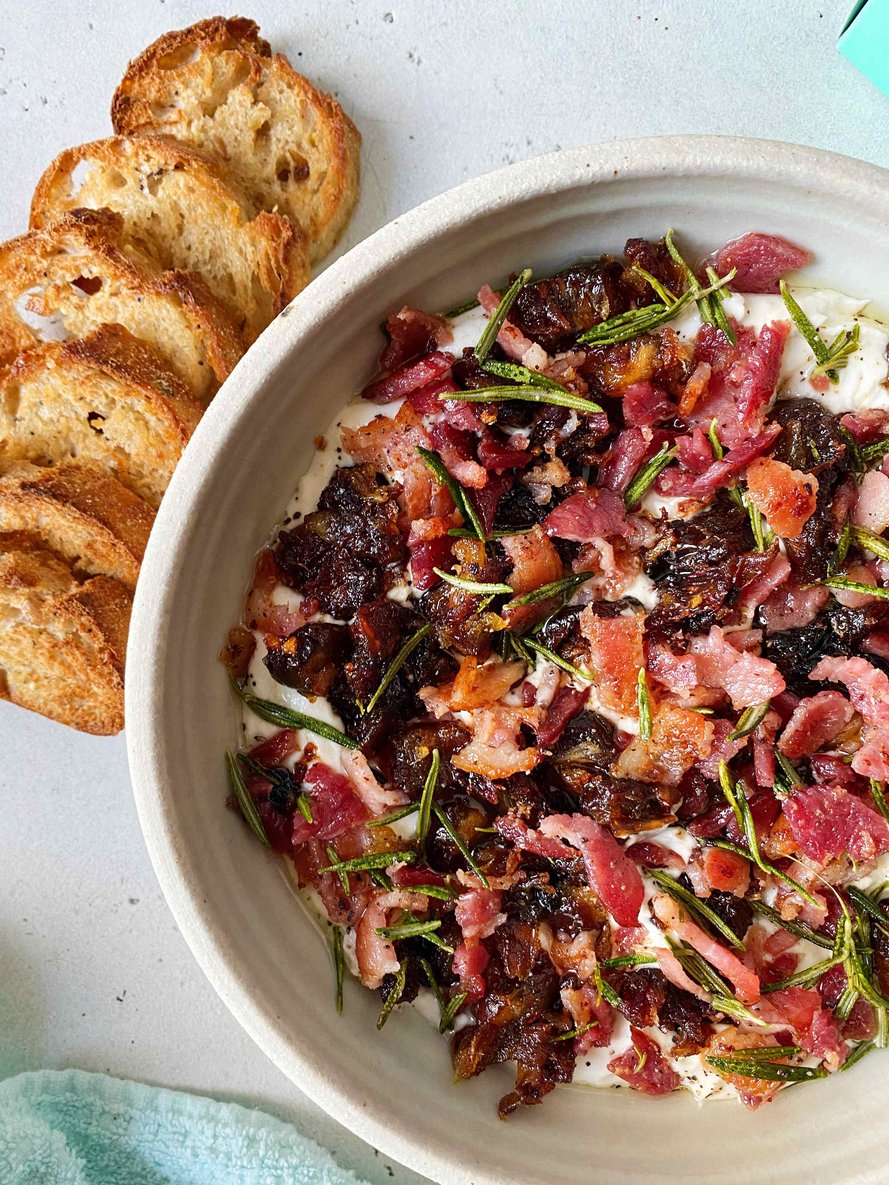 Ingredients you'll need:
Joolies Pitted Dates

You can't stuff a date without a date! We love using our pitted option for these, but whole work just as well! Just be sure to remove the pit as always 😉If you're running low on your stock of dates, you can buy some in bulk right here or in our 2 pack right here!

Goat Cheese

This serves as the base of our dip for a great creamy texture! If you're not a goat cheese fan, swap it out for a different soft cheese like cream cheese. You can also use a dairy-free cheese if you so desire as an alternative.

Greek Yogurt

The creaminess of the yogurt mellows out the tartness of the goat cheese and gives us that delicious whipped texture

.

Bacon

This is just as essential as the dates in this recipe--it adds just the right amount of salty to cut the sweet dates in our topping. Plus we'll use the bacon drippings to cook the rest of the topping!

Honey

A little bit of this brings adds the perfect dose of sweetness into the dip to balance out the tart cheese. You can swap for Joolies Date Syrup!

Olive Oil

This adds healthy fats, antioxidants, and extra moisture to this dish. You can substitute with avocado oil, but note it won't add additional flavor due to its neutrality.

Fresh Rosemary

Grab some fresh rosemary in the produce section at the grocery (not the dried kind in the seasoning section). Fresh adds brighter flavor!

Garlic + Onion

You don't need too much in this recipe, but it adds just the right amount of flavor to really elevate the flavor profile of this dish. We recommend adding fresh minced garlic and onion versus powders.

Vinegar

We used distilled white vinegar but you can swap for apple cider vinegar if desired.

Salt + Pepper

This enhances the other flavors we've got going on. We recommend using fresh cracked black pepper.