This cinnamon pecan and dates granola is sweetened with no other than Joolies date syrup! It's an energy boosting topper that provides so much nutrients thanks to a few ingredients like coconut oil, pumpkin seeds, and rolled oats.
If you love the flavor of homemade
granola
, sunflower seeds, and maple syrup as much as we do, this is the date recipe for you. Granola makes for one of the best toppings on yogurt, smoothies, breakfast bowls, you name it! There are so many yummy store-bought options to chose from, but lots of them are loaded with added sugar and preservatives (yuck!) so you can never go wrong with making your own😉 All you need is a small sauce pan or baking sheet and a few simple ingredients!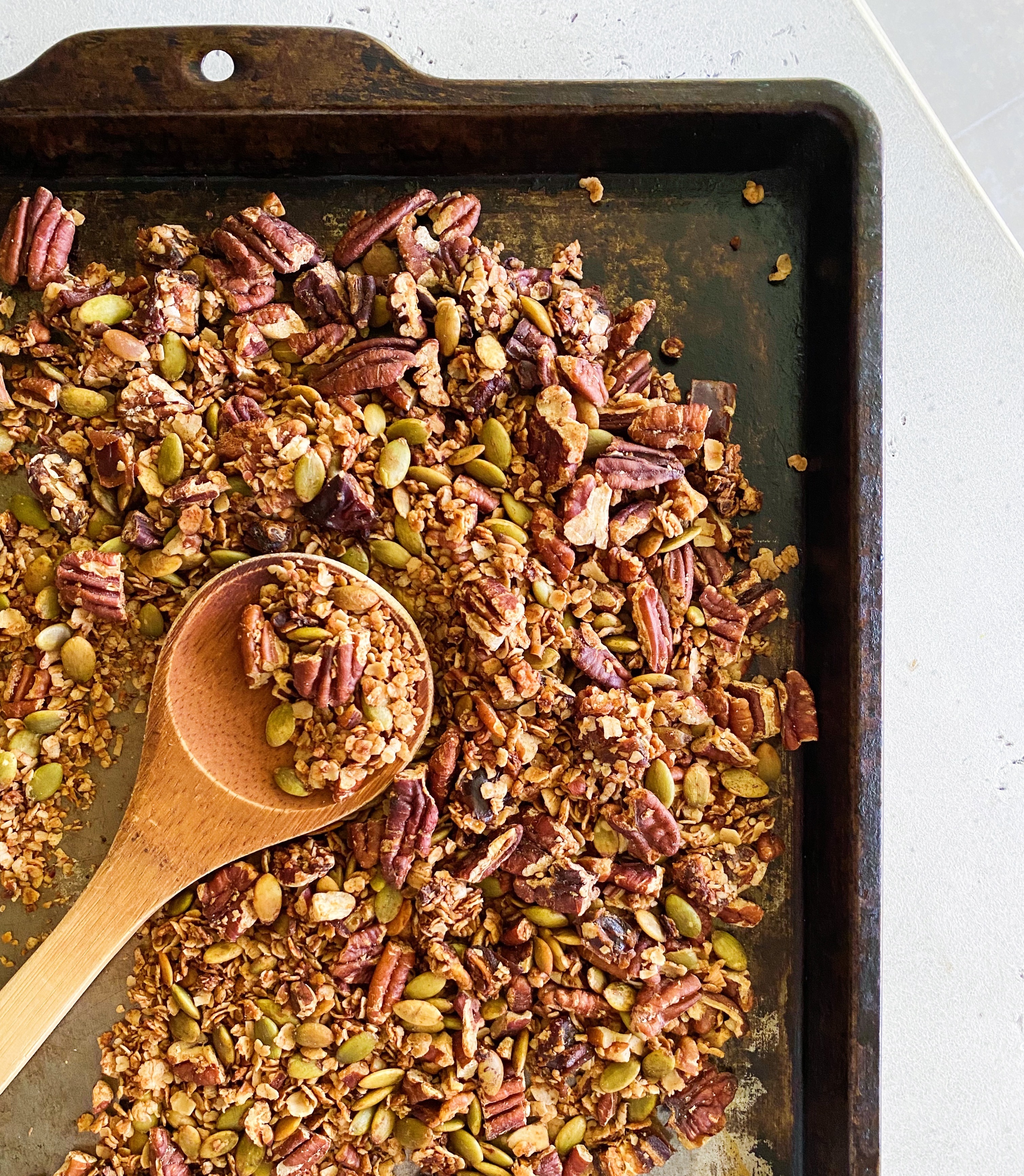 This Date-Sweetened Cinnamon Pecan Granola is vegan, gluten-free, and naturally sweetened with
Joolies Date Syrup
🌴All you need is 30 minutes to create this delicious, crunchy granola.
We have to say the best part is the pieces of dates, which are a little crispy on the outside, but soft and caramel-y on the inside after being baked 😍 Plus it's more affordable and you can make a big batch to keep on hand for a few weeks! It's a win-win 🙌 Truly little gold nuggets!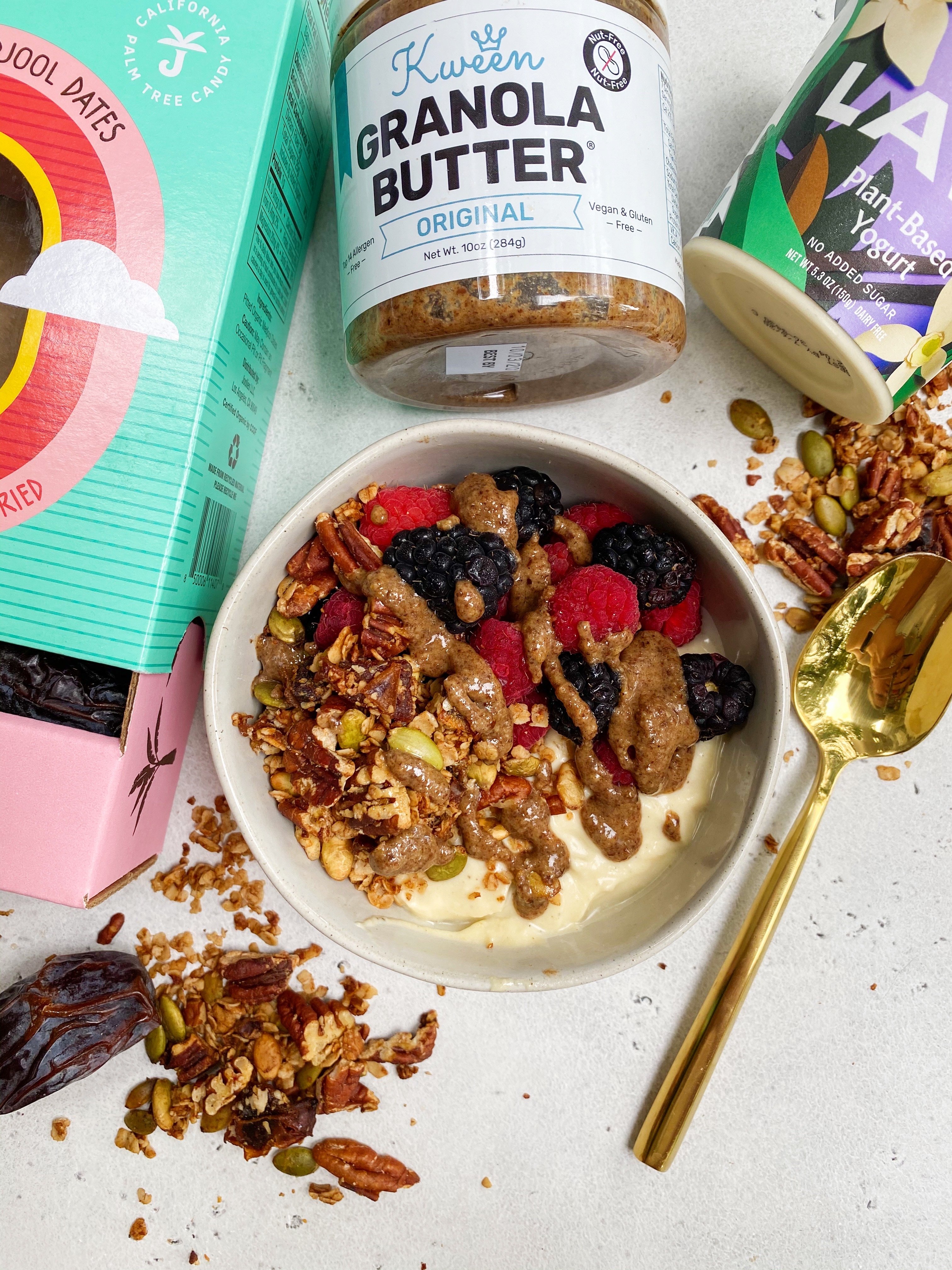 Ingredients you'll need:
Joolies Dates

Quite possibly the star of the 'nola here 😛Just remove the pit and chop these up into little chunks! Even though we use some date syrup too (see below), the chopped dates add some extra chew that is well needed among all of these crunchy nuts.

Gluten-Free Oats


This serves as the base for our granola. If you are grain-free, feel free to substitute this out for another nut or coconut flakes. Oats do provide long-lasting energy and can be a great pre or post workout snack!

Pecans


Adding a healthy fat will help keep you fueled and full longer. It adds a great nutty flavor! They also can help keep your bones nice and strong in addition to fighting off inflammation. Check out the amazing things pecans can do for your health here!

Joolies Date Syrup

Coconut Oil

You want this to be melted, so pop it into the microwave for 20ish seconds then pour directly into the mix. This will crisp up our granola so make sure everything gets evenly coated.

You can also use avocado oil, just make sure to use an oil with a high smoke point!
Optional add-ins:
Dried Fruit

Goji berries, blueberries, raisins, strawberries, cranberries, or whatever you got, you can add in this granola! If it's dried and a fruit, it will be magnificent in this granola recipe.

Chocolate Chips

More like a topping than an add-in! After it's done baking, make the granola is fully cooled before adding in some dark chocolate in the mix. It's a zero guilt topping for added goodness!

More Nuts and Seeds

Cashews, walnuts, pistachios, almonds, or whatever you want! Same thing as the dried fruit, some of us have preferred kinds of nuts so just use those instead. Your kitchen creativity can really shine in this granola!