This moist, fluffy, and overall *bomb* banana bread is perfect for cozy Sundays, without having to break the normal eating routine. With all natural ingredients and no dairy OR gluten, this is the perfect loaf to please traditional and special eaters!
There's nothing quite better than a fresh, warm slice of homemade banana bread! And you may be finding yourself in the kitchen baking more than you ever have in your entire life (and that's on quarantine) 😪Well meet us for a baking DATE because we have a delicious Fluffy Banana Date Bread to make with you 🍌
This fluffy and moist banana date bread is
gluten-free
and
dairy-free🙌
But no worries if you don't have any 1:1 gluten-free flour on hand, you can substitute all purpose.
Now adding
Joolies dates
into the bread is MAJOR KEY. It takes the moisture factor to a whole👏new👏level👏 (since Joolies are SUPA juicy)!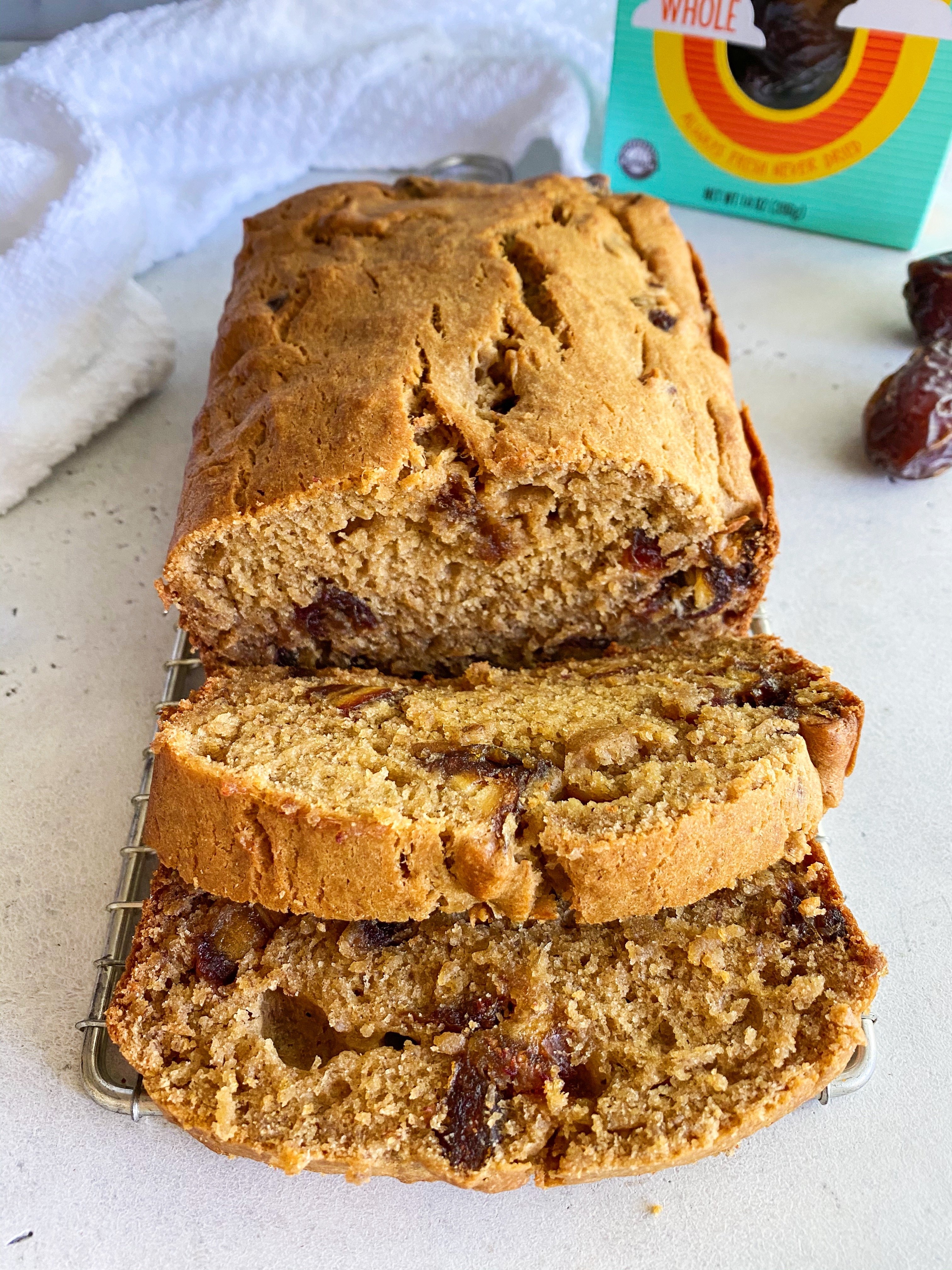 Ingredients you'll need:
Ripe Bananas

Not only do you get a great *natural* sweetness, but also vitamins and nutrients like Vitamin B6 + C! Make sure that your bananas are super spotty (that's when they are the sweetest and easily mash-able). Don't have ripened bananas? Just pop your un-ripened bananas (still peeled) on a baking sheet and put in the oven at 250 degrees for 20-25 minutes or keep them in a paper bag overnight.

Joolies Pitted Dates

These are just as essential as the bananas are in this recipe! Joolies add an amazing texture, moistness, and boost of nutrients like potassium (3x that of a banana!), magnesium, Vitamin B's, etc!

Coconut Oil

You want this to be melted, so pop it into the microwave for 40ish seconds, then let it cool before adding to the batter (you don't want it to cook the eggs). As an alternative, you can use vegetable oil or butter—whatever floats your boat!

1:1 Gluten Free Flour

You can also substitute all-purpose flour if you aren't GF! We recommend the Bob's Red Mill combo flour or King Arthur. Since this is designed as a GF/DF bread, don't worry about the texture. We got you 😉

Optional add-ons:
Kween and Co. Granola Butter

This is the Joolies secret! Our friends over at Kween make the most delicious spreadable granola butter that is *literally* heaven on Earth. After you bake this loaf, we recommend taking a big ol' slab of this butter for extra awesomeness!

Lark Ellen Farms Vanilla Cinnamon Grain-free Granola

In case you didn't get enough granola action with the Kween butter above, you can add some more crunch with Lark Ellen Farm's vanilla granola. The bread...the butter...the granola...is just a party in your mouth 💥