These easy, no bake, vegan funfetti cake energy bites are made with 6 simple ingredients, naturally sweetened with medjool dates and studded with colorful festive sprinkles.
Now not to be dramatic here, but Funfetti changed the birthday party world forever. I mean, was it even a birthday party if you didn't have the rainbow 🌈 sprinkled filled cake?! Well it doesn't have to be your birthday to make these
funfetti cake energy bites
but you sure can act like it is😉 Made with only 6 ingredients, these rainbow sprinkled energy bites are
vegan
,
gluten free
,
paleo
, and
only
sweetened with
medjool dates
, making them
refined sugar-free
as well. These party bites will satisfy your sweet tooth, fuel you through your day
, and give you something to look forward to besides happy hour😜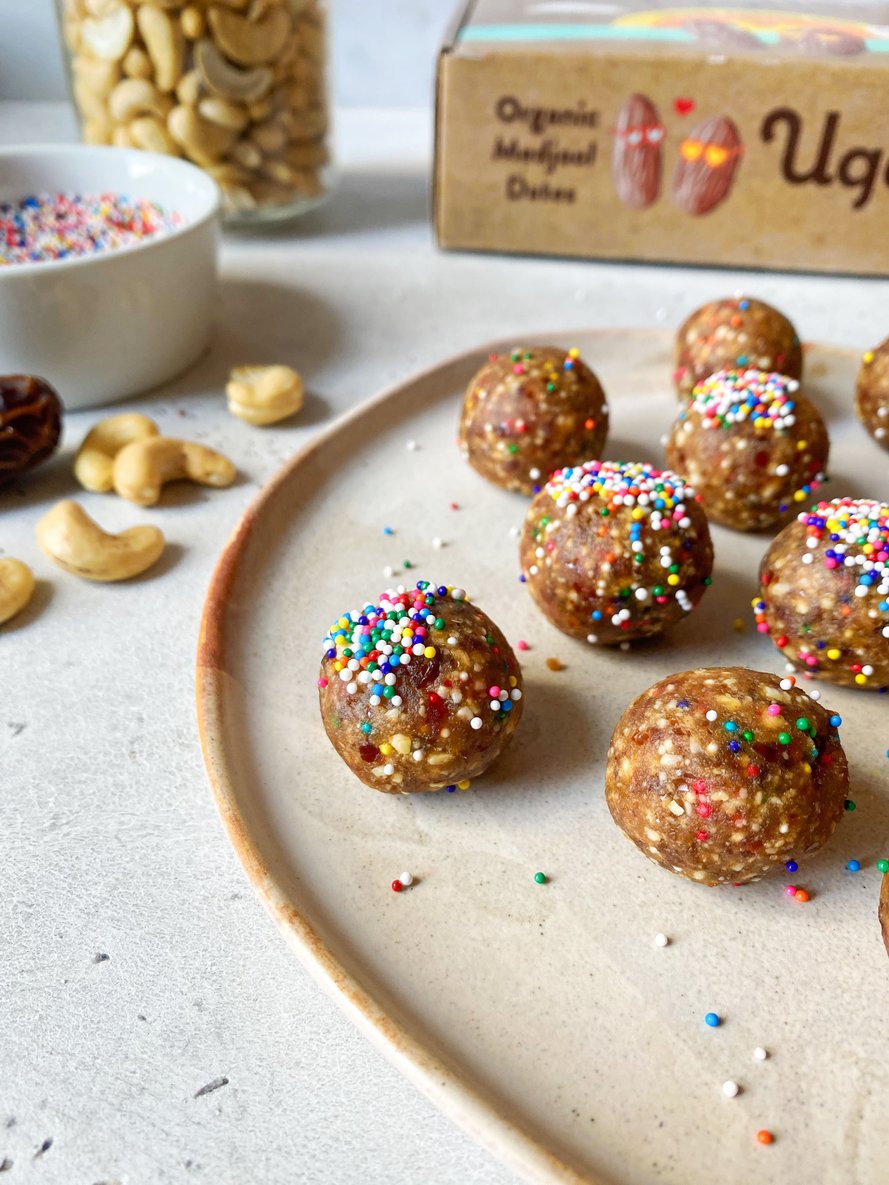 Packed with healthy fats, protein, carbs and a low-glycemic sweetener, these fun(fetti) energy bites will do more than just satisfy your sweet tooth--these bad boys are full of beneficial nutrients and will keep you full longer. We love using our Ugglies medjool dates which may have some cosmetic imperfections, but where they lack in appearance, they make up for 10x over in flavor👅
What also makes them so great is that they are 100% customizable! If you're trying to incorporate more protein, add in your favorite protein powder or some collagen peptides. Flaxseed, chia seeds, or hemp seeds are also a great add-in for additional benefits.
They freeze super well, so go ahead and make a big batch so you'll always have something nutritious (and delicious) on hand--your future self will thank us😊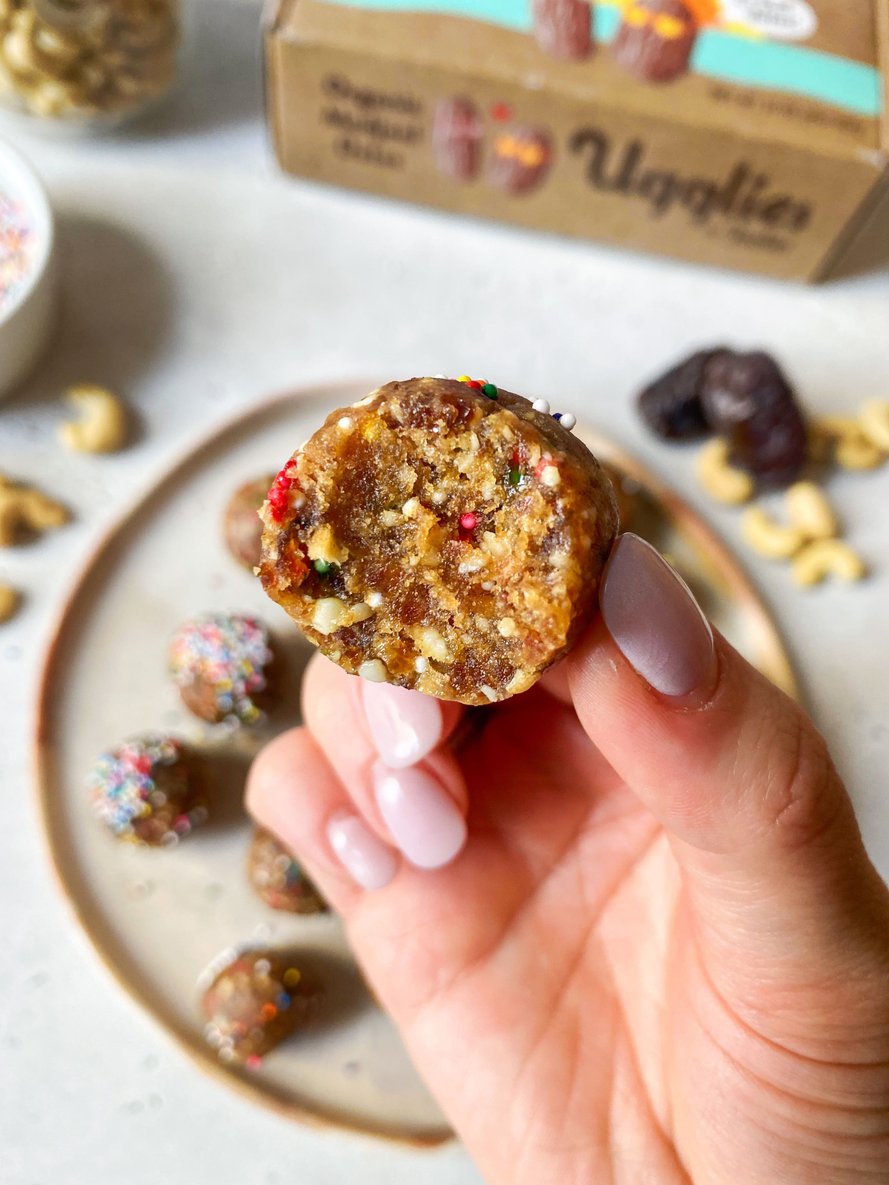 Ingredients you'll need:
Joolies Pitted Dates

The only natural sweetener needed. Don't forget to soak in warm water first! Why soak them? This step allows those juicy dates to become extra-hydrated to create the perfect texture. Our Ugglies box is perfect for making energy bites, smoothies, and baking!

Raw Cashews

Be sure to soak these in filtered water for at least 2 hours beforehand. If you are soaking longer than 2 hours, place them in the fridge

.

We don't recommend substituting this because the cashew flavor is needed for the birthday cake-like taste!

Oat Flour


This acts as a great binder to get the perfect texture. You can substitute with almond or coconut flour if needed. Note: coconut flour will alter the flavor.

Coconut Oil

You want to use refined coconut oil so there is no unwanted coconut flavor added! This also adds moisture to the mixture.

Vanilla

This ingredient is most necessary to create that familiar birthday cake flavor we all know and love!

Sprinkles

it wouldn't be funfetti without the sprinkles, but if you just want the birthday cake flavor without the pizazz, feel free to omit.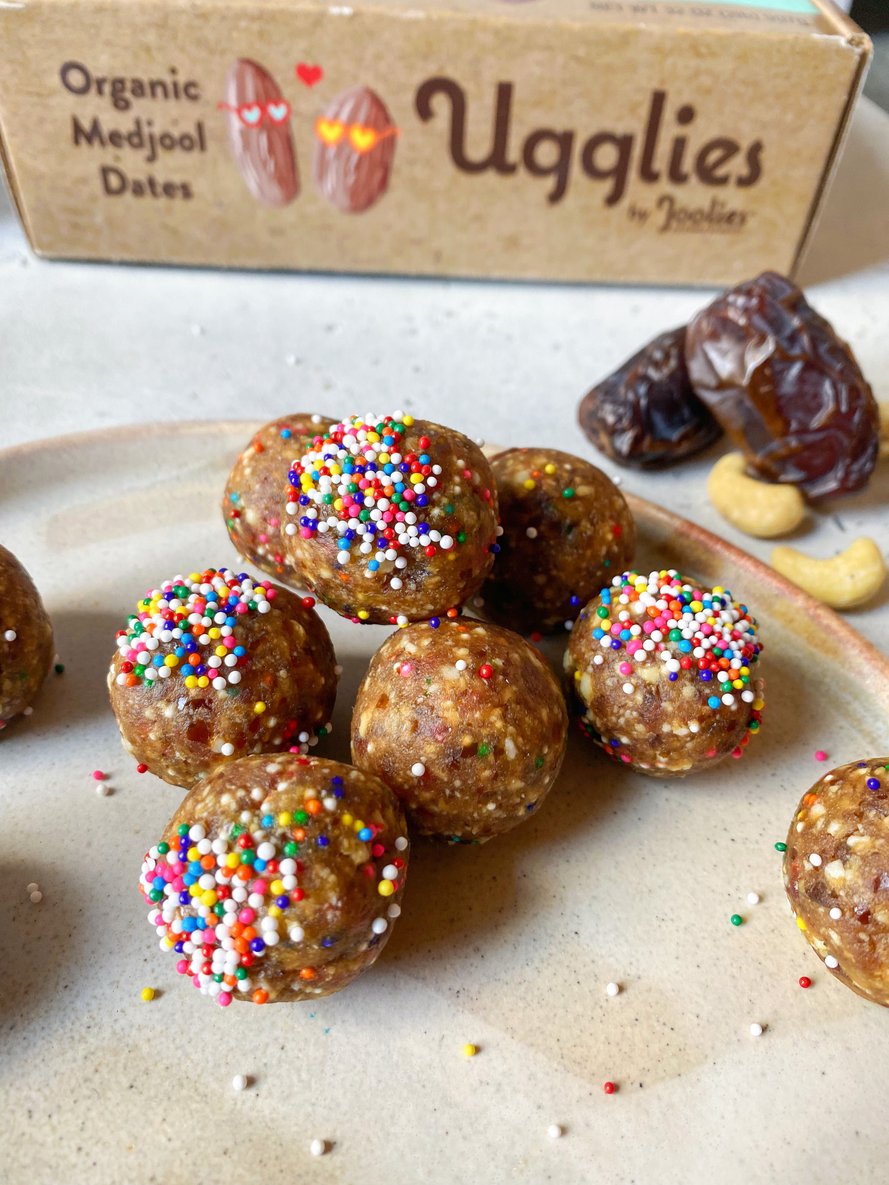 Optional add-ins:
Chia seeds/ Flaxseed/ Hemp seeds

Collagen peptides

A great source of protein that also has many benefits for hair, skin, gut, and joints. This is

one brand

we love and you can also learn more about collagen peptides on their website.
If you make this yummy snack, be sure to tag us on
Instagram
@jooliesdates and use the hashtag #jooliesdates
so we can see all your date-able date recipe recreations! And you can always comment below!