This Healthy Chicken Pad Thai combines some of the most nutrient-packed and mouthwatering ingredients that will fuel your body right. Not to mention, it only takes 30 minutes, making it an easy, homemade meal anyone can enjoy.
Is chicken pad thai normally your cheat meal? Favorite restaurant maybe closed down? Or can't afford to eat out for the 5th time this week? We get you. This date recipe solves ALL of these problems! It's a quick, simple, and all homemade pad thai recipe that truly tastes like the real deal (minus all the nasty chemicals, soy, preservatives, and other stuff) ✨
What really makes this dish unique is (of course) the
date syrup!
It adds a little sweet kick to such an already savory flavor to make a delicious pad thai sauce. There is no extra fish sauce or complicated ingredients in this guy, just natural, whole foods! ❌🌭
This healthy pad thai is a winner for the whole family since it feels like take-out but with a natural twist, and, trust us, the kids won't be able to tell the difference 😯
Whether you need an easy meal to whip up on a weekday or even for lunch if you're working from home, this is the perfectly balanced meal to make. Don't spend $40 on soggy noodles and dry chicken when you can make it way better yourself AND from the comfort of your own kitchen 🍽️🙌
Moreover, you can make this a perfect date or family night by sharing a sweet treat—like our Medjool Date Rice Krispies, Gooey Vegan S'mores Bars, or some Joolies Love Handles 🍪🍫🍩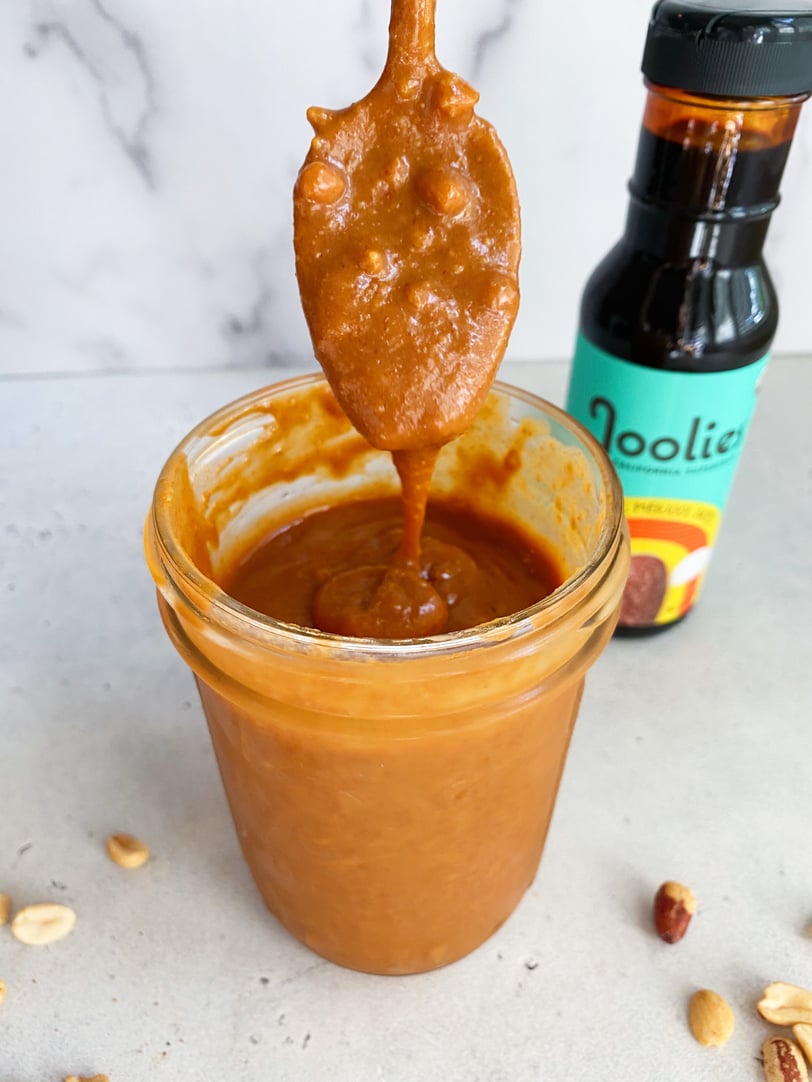 Ingredients for this Pad Thai:
Chicken Breasts

Duh! Because you can't have chicken pad thai without the chicken! Feel free to swap out the chicken for a different protein or omit to make it completely vegan!
White Onion

Onions are a staple in most cuisines, and this dish is no different. Onions have tons of flavor, not to mention their incredible benefits

🤘

Whole Carrots

Carrots add a beautiful crunch to the silky noodles and are full of tons of vitamins and minerals that are great for your eye, skin, and hair health!

Bella Mushrooms

What's a bella mushroom? Great question! It's just a different variety of portobello mushroom. If your local store doesn't have these in stock, grab some basic portobellos 🍄

Broccoli

Time to finally get rid of that head of broccoli you froze 2 months ago! Defrost that baby for some added flavor, crunch, and nutrients!

Coleslaw Mix

Cabbage is one of the foundations of a good pad thai, so definitely don't skip this one! In case you want to shred your own cabbage, you can totally do that. If you're feeling a little lazy today, you can buy it pre-shredded and washed 💦

Kelp Noodles

Excuse me? Seriously, kelp? Yep! You can find these bad boys in any natural market. Yet, if you're in a bit of a pinch or don't have this access, you can use zucchini noodles too! 🍆

Sesame Oil

Despite being very misunderstood, sesame oil has a lot of proven benefits. Just make sure you know where your oil is coming from and how it is processed before putting it in your cart 😉

Ground Ginger

Especially during these times of uncertainty, it doesn't hurt to fill your diet with antioxidant rich foods like ginger. Ginger can help with everything from your immune system to muscle aches!

Sea Salt


Can't forget about the basics though! Sea salt is wonderful for the taste profile of this dish, but you can also use whatever is in your cabinet. Save that trip to the store!
Pad Thai Sauce:
Joolies Date Syrup


Honestly, the star of the show ⭐The sweet, caramel flavor of a fresh medjool date is like no other and makes for a killer duet with the peanut butter 👇

Peanut Butter


The key to making a great pad thai sauce, is using naked peanut butter. No oils, no sugars, nothing but peanuts in the ingredients list. Some of our favorites are Wild Friends and Santa Cruz Organic!

Sriracha

The best thing about sriracha is it's milld nature. It definitely adds just enough kick for even the mild palette individuals. You can always add more for those spice junkies 😆

Coconut Aminos

Rice Vinegar


Last but not least, the bitterness of the vinegar ties the whole dish together. A little bit goes a long way on top of it being the secret of the best homemade "take-out" recipes 💕
If you make this decadent treat, be sure to tag us on
Instagram
and
Pinterest
so we can see all your date-able recreations! And you can always comment below!