This is an easy waffle made for the GF/DF friend—using only eggs, gluten-free flour, and some non-dairy milk (plus a few other things for flavor). Yet, no waffle is complete without some syrup, date syrup that is!
Whether it's International Waffle Day, Waffle Wednesday, or just any normal day, these homemade date-sweetened waffles will be your go-to 🙌Crisp on the outside, soft and fluffy on the inside so you get the best of both worlds without any refined sugar!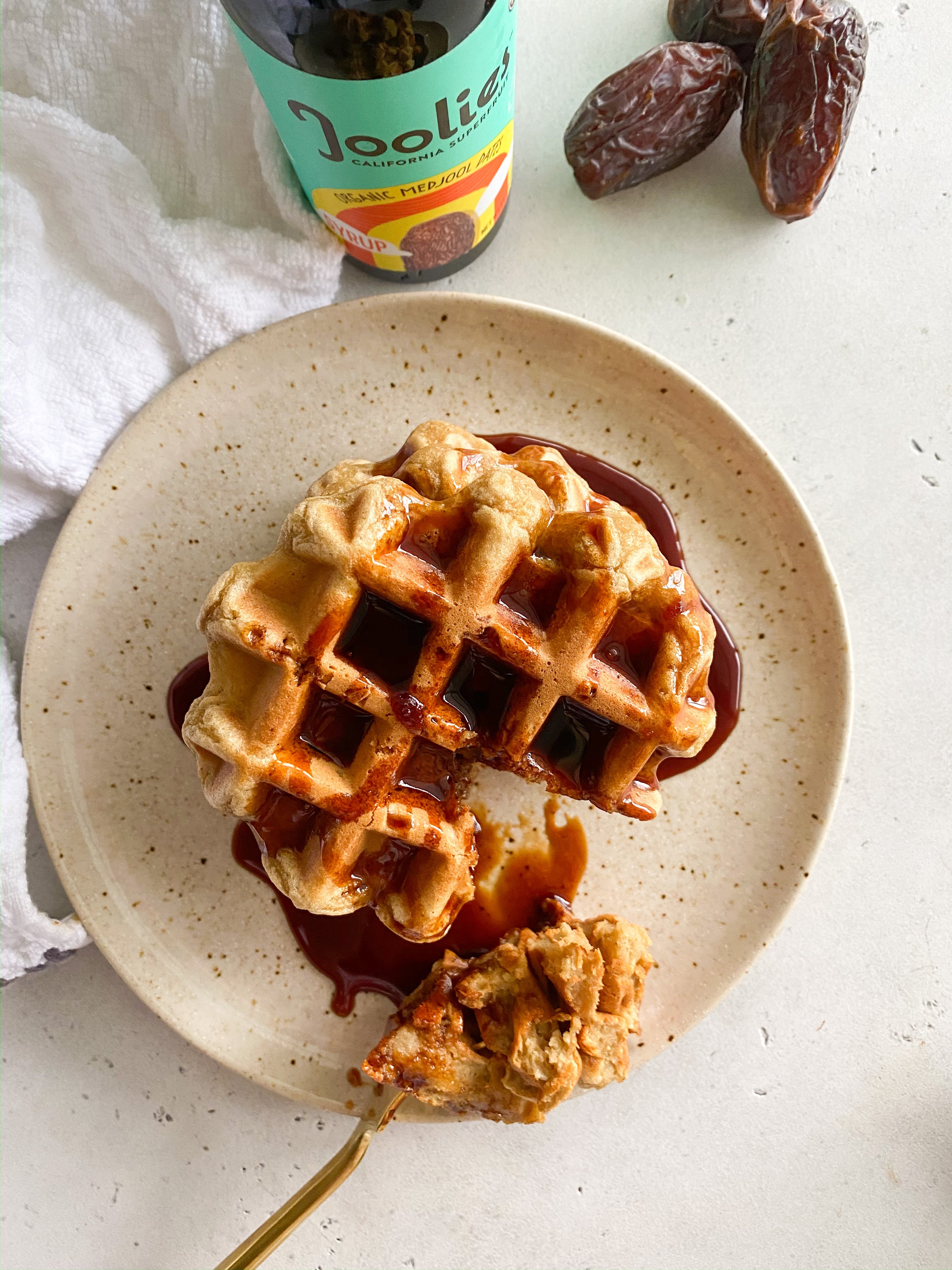 These beauties are 100% sweetened with Joolies
medjool date syrup
, so you still get all the nutritional
health benefits of dates
like fiber, potassium, Vitamin B, etc. Once you hop on the date syrup train, you'll never go back 💁This recipe is super versatile, so you can easily swap the Gluten-Free flour for regular all-purpose flour and vice versa (see recipe below for specifics).
Ingredients you'll need:
Gluten-Free 1:1 Flour

You can also substitute all-purpose flour if you aren't GF! We recommend the

Bob's Red Mill combo flour

or King Arthur. Since this is designed as a GF/DF bread, don't worry about the texture. We got you 😉

Eggs
Date Syrup

Even though the dates are heated down into a delicious syrup, this doesn't mean you lose any of the vitamins or minerals...hooray! If you're new to using date syrup or a little worried on your baking skills, we just posted a new blog on using syrup in all of your baking adventures. Check it out here!

Baking Powder

Despite being such a small ingredient, this is the catalyst that really gets those fluffy waffles poppin'! There has to be some in the depths of your pantry somewhere, we promise 😆

Oil

Whether it be vegetable, avocado, or coconut oil, make sure to find a oil that has a high smoke point so that way the chemistry doesn't change during the cooking process and end up burning! Here is a great article if you're new to adjusting your oil to your cooking needs.
Optional add-ons:
All the toppings

Waffles are great on their own, but they become infinitely better with some scrumptious toppings—berries, whipped cream, sprinkles, fried chicken, bacon, bananas, cinnamon, nut butter, eggs, bacon, and so much more!