Ma'amoul Date Cookies are a buttery, shortbread-like traditional Middle Eastern dessert with a sweet date or nut filling.
During the season of Ramadan, we wanted to highlight some date recipes that are native to Middle Eastern culture and traditions. Ma'amoul cookies are a traditional Middle Eastern dessert served throughout the year, but especially during religious holidays like Ramadan and Eid. They're also popular during Middle Eastern Christian and Jewish communities for Easter & Purim! Preparing ma'amoul is a special family activity, passed down through generations💜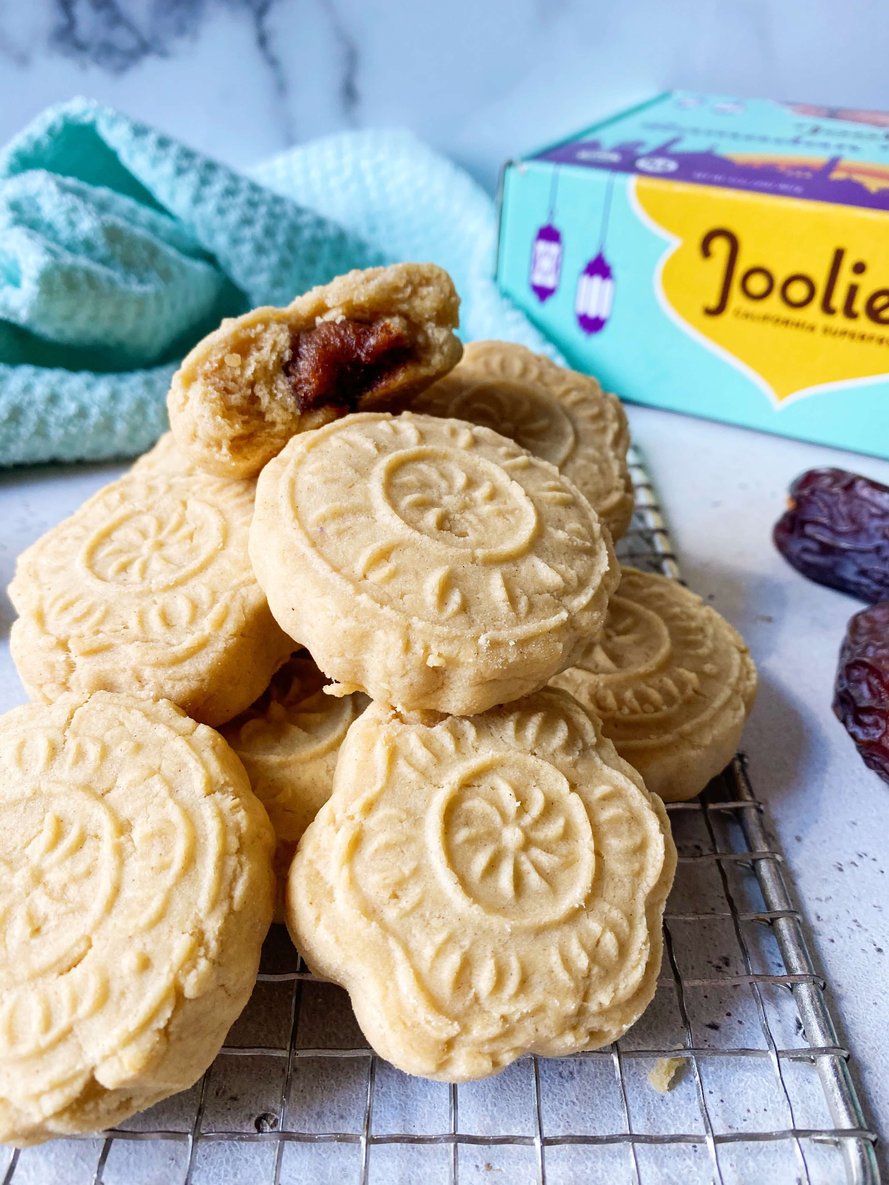 Typically ma'amoul is filled with dates, pistachios, or walnuts, and scented with orange blossom and/or rose water aromas, which are two essential ingredients in a majority of Middle Eastern desserts. The texture is much like a buttery shortbread, with a gooey or crunchy but always sweet inside.
As you can tell, ma'amoul isn't just your average plain circle shape that cookies typically come in. A special mold (typically wooden like this) is used to shape and decorate the cookies with a detailed, symbolic design. Most of the decor today resemble sun bursts, being that ancient civilizations worshiped the sun it could be something that has been passed down! Other designs depict flowers and pieces of nature that symbolize spring time, which has always been seen/celebrated as a rebirth.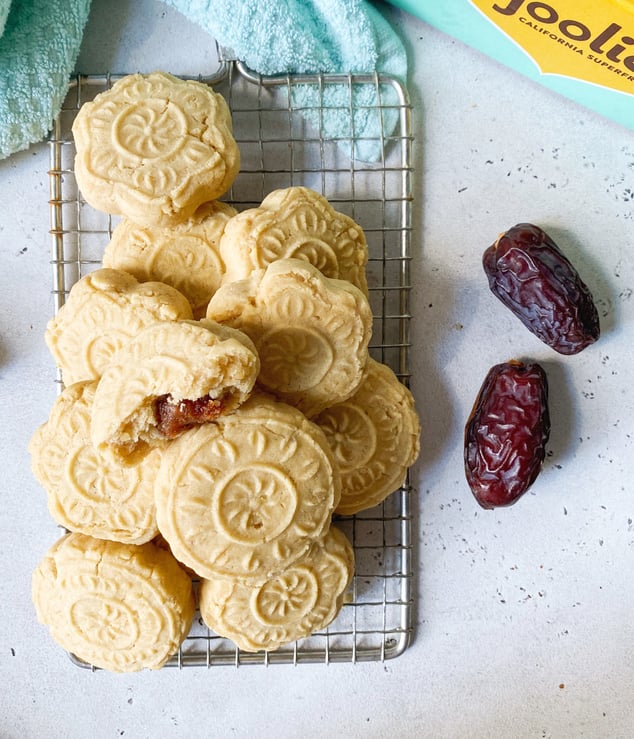 Ingredients for the cookies:
Semolina flour

Semolina is a coarser type of flour made from durum wheat, which is grown primarily in the Middle East. It has earthy aromas and a high gluten content that will give the perfect ma'amoul texture.

All purpose flour

This flour is super versatile and works as a great compliment to the semolina flour to create the right cookie structure.

Butter

You'll want this to be melted so pop in the microwave or heat over the stove on medium/low heat until entirely melted. Let it cook slightly before adding into the mixture.

Cinnamon and salt

This adds and enhances the flavor of the cookies.

Dry Milk

This gives us all the properties of milk we need without messing with the liquid portion of the recipe and elevates the flavor.

Active Dry Yeast

You may be used to adding baking powder instead of yeast to help bake goods rise, but yeast is needed in ma'amoul to help create a more "cakey" texture.

Milk

You want this to be warm, but be sure to not

overheat the milk or it will most likely kill the yeast. We recommend whole milk or 2% but nothing less than 2%.

Rose Simple Syrup

Sweetens the cookie dough while adding the aromas of rose (and orange blossom if desired) and feeds the yeast. To make, combine 1 cup of granulated sugar with 1 cup of water and bring to a boil then remove from heat. Let it cool to room temperature and add in several drops of rose or orange blossom water.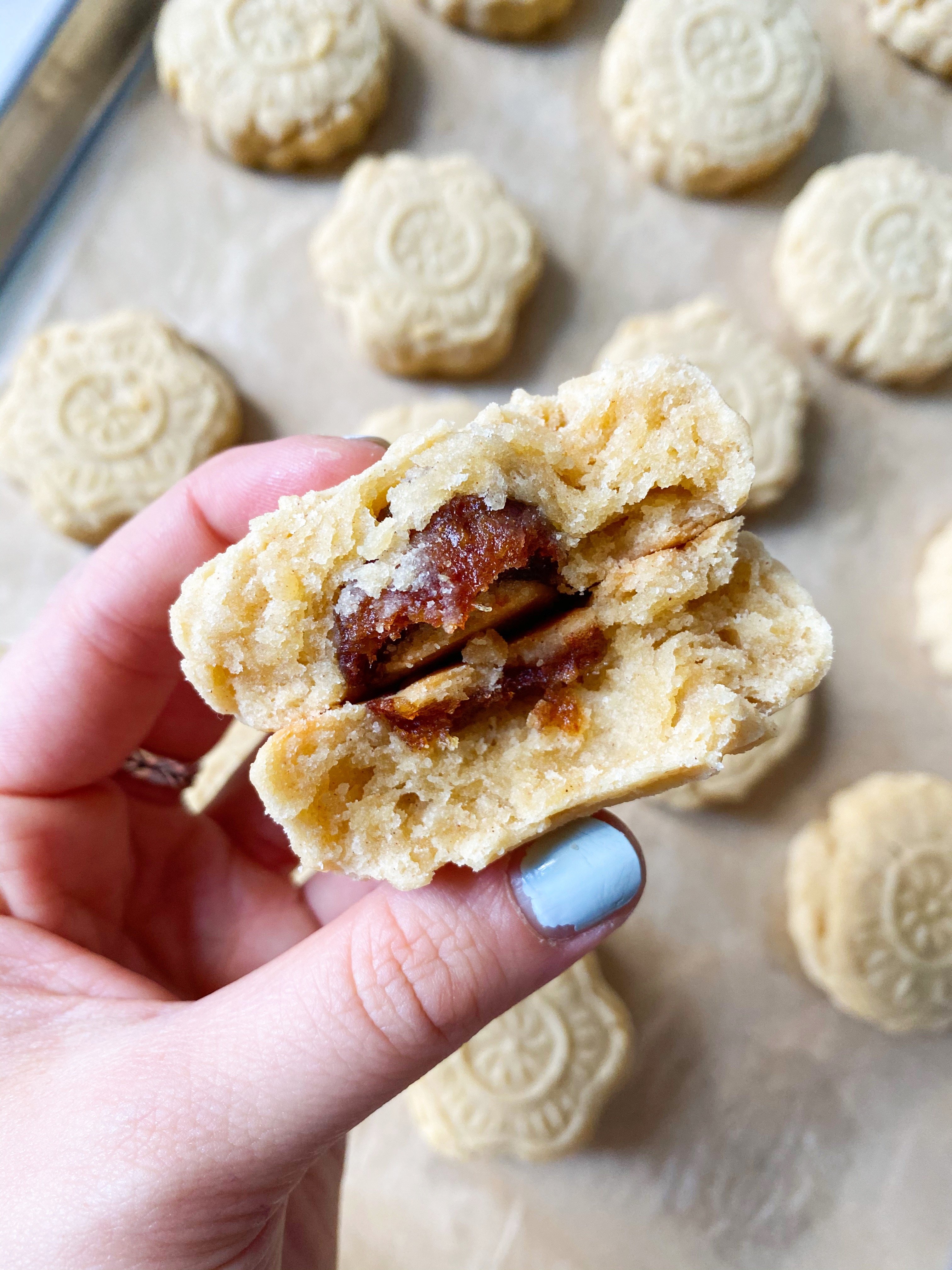 Ingredients for the date filling:
Joolies Pitted Dates

Medjool dates give us that amazing ooey, gooey texture in the center of the ma'amoul and pack in good nutrients like magnesium, potassium, antioxidants and more.

Butter


We recommend using unsalted butter. If needed, substitute with ghee.

Sesame Seeds

Commonly used in Middle Eastern and Asian dishes, this small seed adds a sweet, nutty taste to our filling.
HUGE thank you to our sweet friend Jenan Matari for sharing the beautiful history of this traditional Middle Eastern dessert with us💖
If you make this traditional Middle Eastern dessert, be sure to tag us on
Instagram
@jooliesdates and use the hashtag #jooliesdates
so we can see all your date-able recreations! And you can always comment below!