Healthy apple nachos layered with fresh apples, coconut flakes, pumpkin seeds and drizzled with date syrup and nut butter for an easy and healthy snack both kids and adults will love.
If you haven't already seen this iconic snack on TikTok, here's your chance to try it out yourself! With the 🍎 base, lip-smackin' peanut butter, and the cinnamon-ny deliciousness of our Cinnamon Date Syrup, this triple threat can easily settle that tummy growl or late night sweet tooth. Forget the super processed store bought caramel, we're using date syrup

that will make you think you're eating a caramel-dipped apple!
These apple nachos come together super quick and can be customized to your tasting! Naturally gluten-free, vegan, grain-free and refined sugar-free! Plus you get a good serving of protein and healthy fats from the nut butter, making this snack even more satisfying. If you're feeling extra special, make sure to add some of our optional toppings listed below to get an extra crunch 💥 or make this healthy snack a little more fun for the kiddos 😊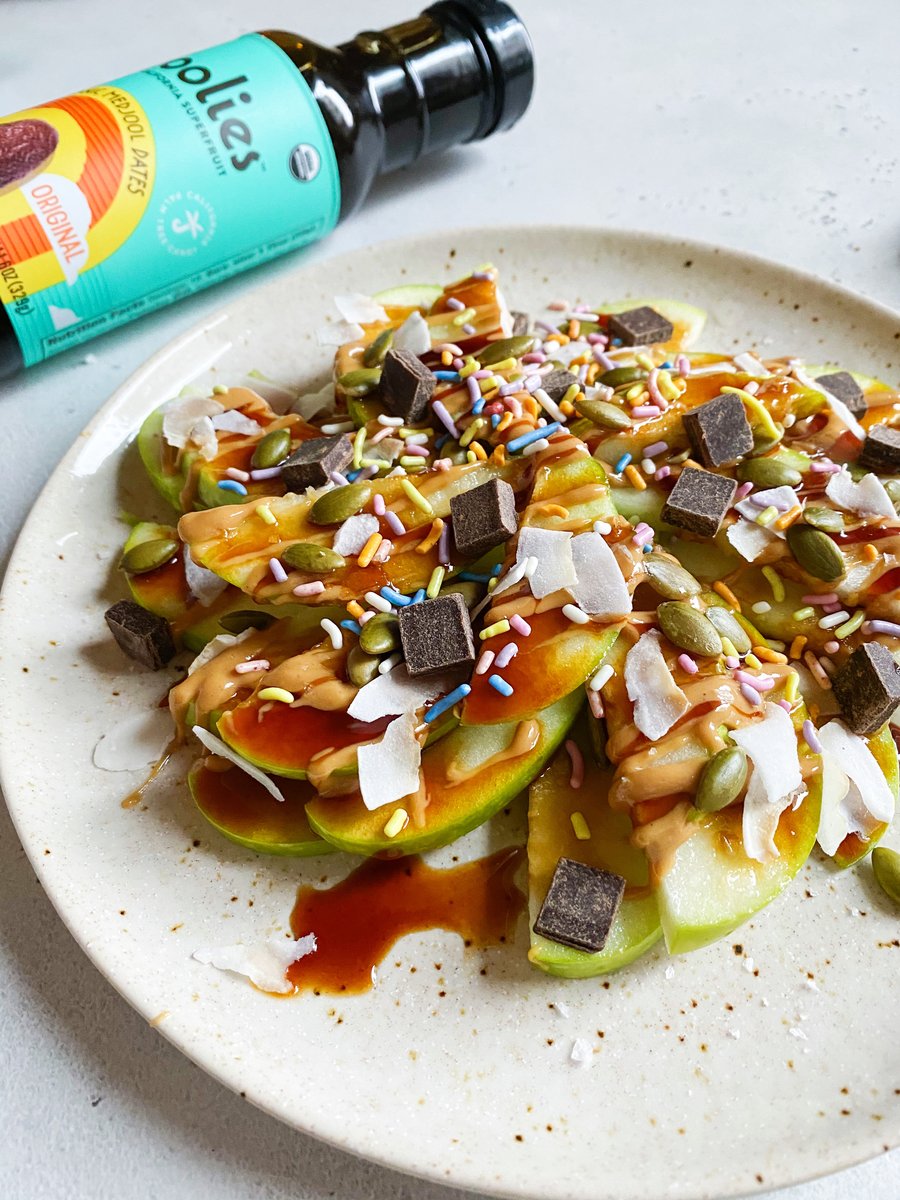 Ingredients you'll need:
Joolies Cinnamon Date Syrup

This gives our snack that caramel flavor and texture that will make you think you're eating a caramel-dipped apple, except this is made 100% with 1 ingredient: medjool dates!

Apples

This acts as the "chips" of our nachos. Green, red, pink lady, you can use whatever apple is your favorite or in season!

Peanut Butter


This adds healthy fats and protein which will help to keep you fuller longer. Feel free to use any nut/seed butter. Some of our favorites are

Coconut Flakes

We recommend using unsweetened or even toasted flakes would be delicious! If you're not a fan of coconut, feel free to omit it.

Pumpkin Seeds

These add a nice crunch into the mix and great benefits like magnesium, iron, antioxidants and much more. Feel free to swap for a different seed/nut!

Fresh Lemon/Lime Juice

You know how apples can brown super quick? Just squeeze some fresh lemon or lime juice and toss them in it so they stay fresh longer.
Optional Toppings:
Dark Chocolate Chunks

Sprinkles

For a little extra pop of color that the kids (and all ages) will love.

Granola
If you make this trending date recipe, be sure to tag us on Instagram and Pinterest so we can see all your date-able recreations! And you can always comment below!