A rich and creamy chocolate cashew milk naturally sweetened with medjool dates, vegan and paleo, ready in 5 minutes!

A delicious beverage that both kids and adults will love!
Homemade nut milk. It sounds a bit daunting but we promise it's easy as 1-2-3! Once you make and experience the creamy decadence of this Date-Sweetened Chocolate Cashew milk, making your own nut milk will be a perfected skill of yours😉
All you need are 3 (well 4 if you count water💦) simple ingredients to whip up this yummy cashew milk, which is vegan, paleo, and refined sugar-free. You'll also need a high-speed blender and a nut milk bag. If you don't have a nut milk bag, don't fret! A cheese cloth will work just as well.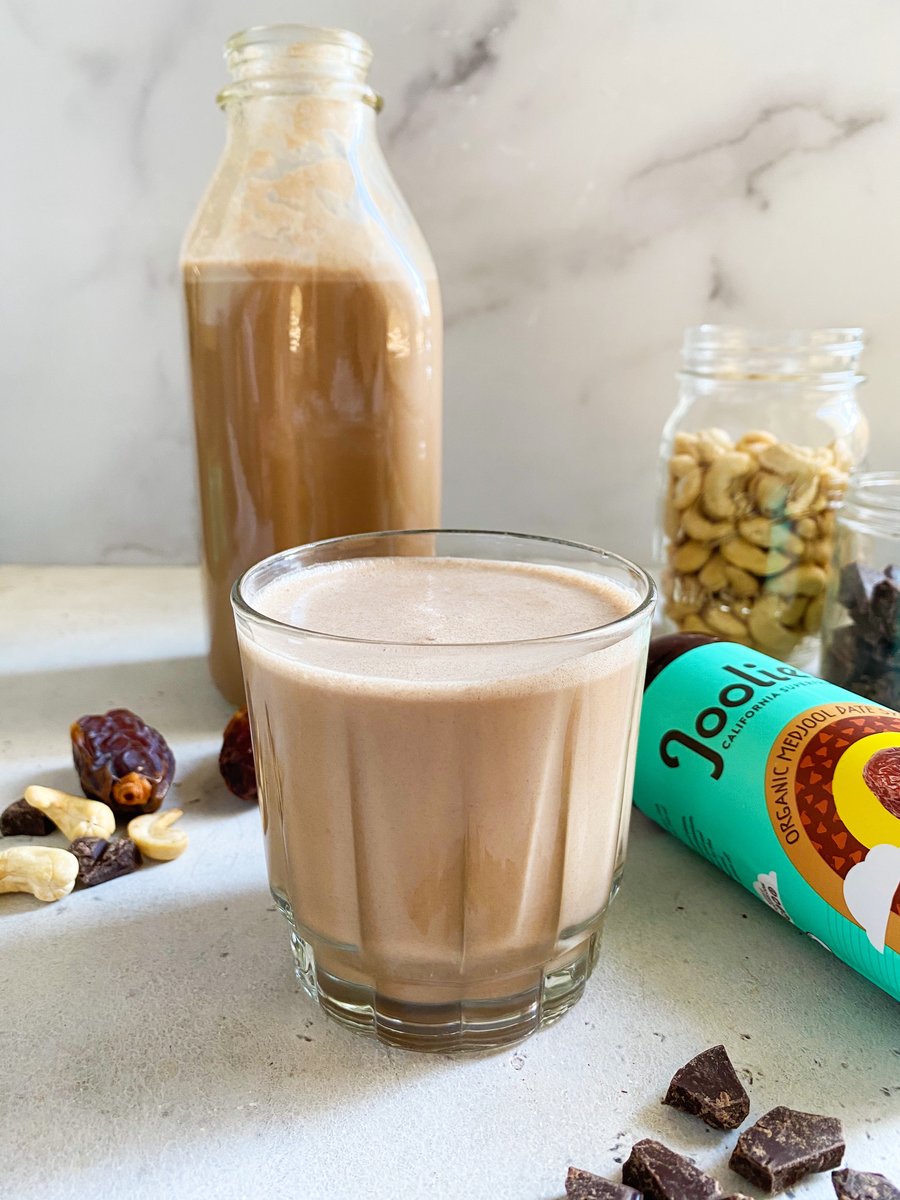 The best part? It's ready in 5 minutes! Wait what, just 5 minutes😱? That's less time than it takes to go to the store! There's just a little bit of prep work before blending everything up.
It's super important that the nuts are soaked in water for a few hours. Soaking time depends on the type of nut, but for cashews we just need a little over 2 hours. Why soak them? Well, nuts and seeds contain phytic acid (aka phyate) which plants use to store phosphorus. In humans, it can inhibit the absorption of nutrients like iron, calcium, magnesium, etc. in the gut. So when they are soaked, it helps to reduce the levels of phyate, making them easier to digest. You can read more about phytic acid here.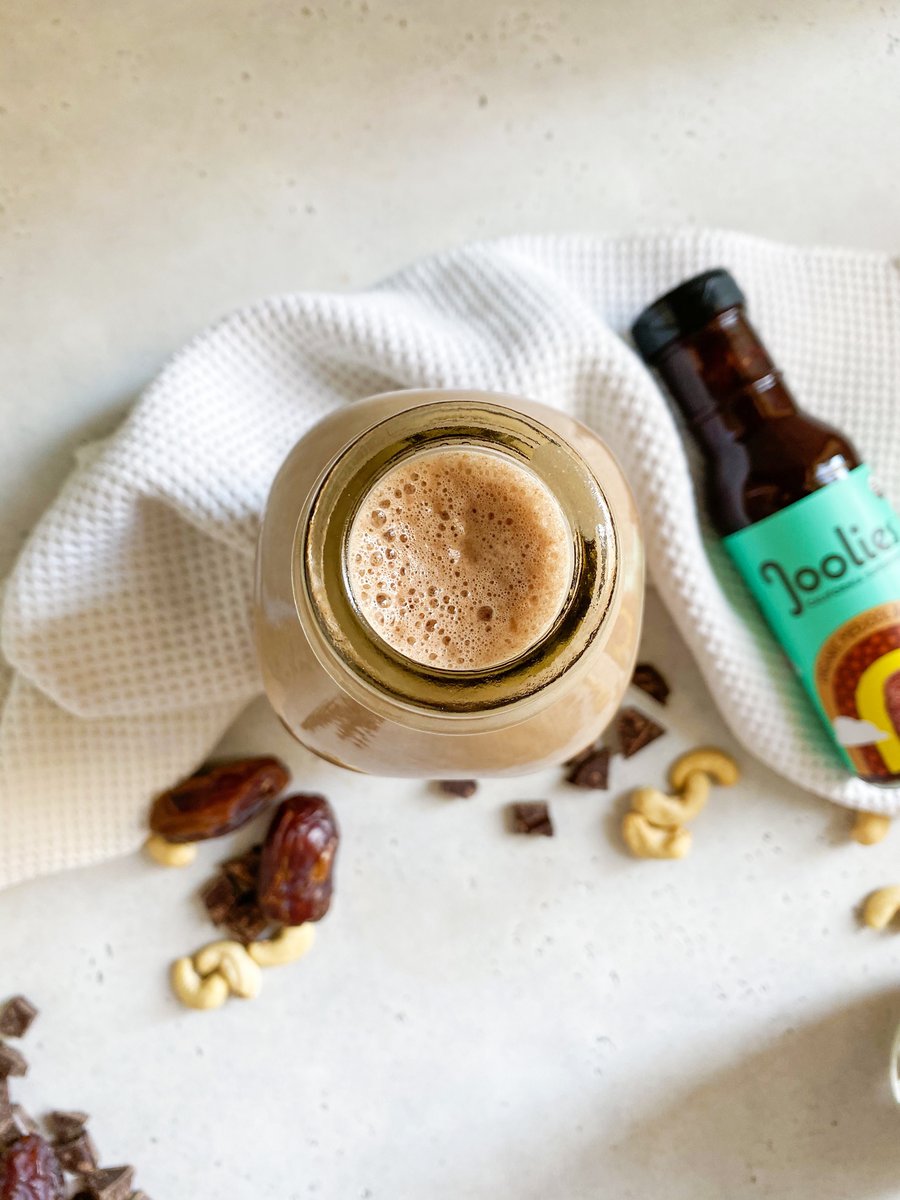 This decadent chocolate milk is the perfect addition to smoothies, oatmeal, and coffee☕But our favorite way to enjoy it is just straight up😎 Plus it makes a great post workout recovery drink with it's rich nutrient profile.
Why This Homemade Cashew Milk is so good:
It's made in just five minutes. Yes you read that right, five minutes.
It's soooo much creamier and richer than store-bought milks.
You only need 3 simple ingredients: cashews, date syrup, and cocoa powder (and water 💦)
There are no weird ingredients like additives, fillers, or preservatives just good, clean ingredients.
Naturally sweetened with Joolies date syrup, which is low glycemic so it won't spike your blood sugar.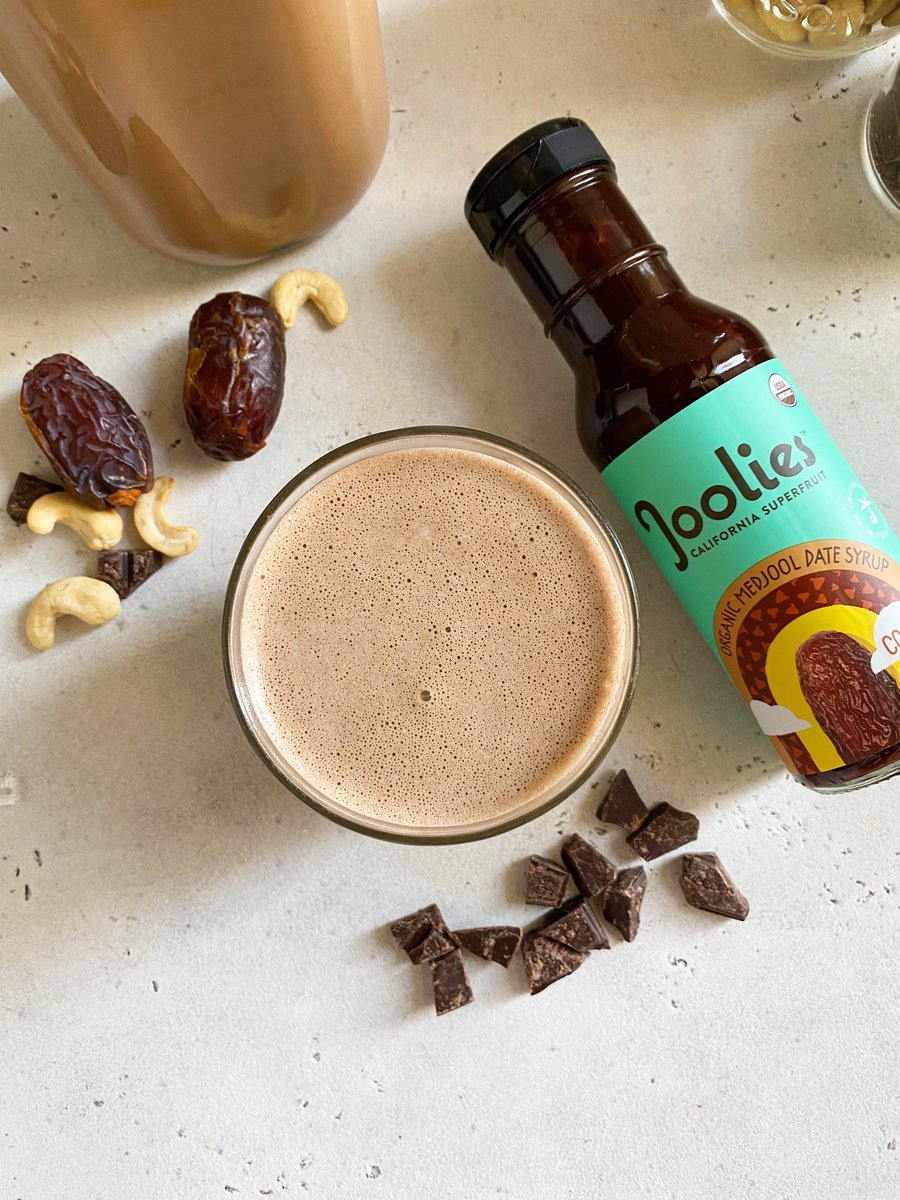 Ingredients you'll need:
Joolies Cocoa Date Syrup

The only natural sweetener needed. A decadent, vegan chocolate syrup that will remind you of indulgent Hersey's syrup. Plus you still maintain all the nutrient and health benefits of a medjool date in the syrup form.

Raw Cashews

Be sure to soak these in filtered water for at least 2 hours beforehand. If you are soaking longer than 2 hours, place them in the fridge

.

Cocoa/Cacao Powder

If you make this decadent homemade milk, be sure to tag us on
Instagram
@jooliesdates and use the hashtag #jooliesdates
so we can see all your date-able date recipe recreations! And you can always comment below!