Spread the Joolies cheer! Our organic medjool dates are a great addition to holiday activities with your kiddos.
The holiday season seems to sneak up faster and faster every year… especially when you're busy watching your little ones grow! One minute you're packing up the summer activities and then, in a blink, it's time to shop for holiday gifts 🎁
While the end of the year is meant for slowing down to enjoy time with family creating special memories, we know it can be an extra busy time for hardworking mamas and papas like you.
When you're juggling kids, family, work, gift shopping, and other holiday planning, you don't always have enough time to think of creative ways to turn up the holiday cheer!
That's where we come in :) 'Tis the season to be JOOLIES!
To make this year extra memorable for wonderful families like yours, we took some of our favorite holiday traditions and gave each a special twist. We're delighted to share the following recipe for holiday FUN with you and your kids!
1. Elf on the Shelf
Looking for a new holiday tradition? Elf on the Shelf is one that will surely have you and your kids laughing on the daily.
Elf on the Shelf (whose name is T.B.D. by each family) is a special scouting elf assigned to your home! His job is to secretly keep an eye on the kids and send reports back to Mr. Claus on whether they've been naughty or nice… But the thing is, this elf can be a little mischievous 😏
The fun part is seeing your youngsters' faces light up every morning when they discover their Elf doing something silly!
Have a blast finding different ways for your Elf to get into some trouble. This is an adorable and pretty hilarious idea to keep the Christmas spirit alive and hopefully keep your kids on their best behavior!

2. Cookies for Santa
Of course we all know the Christmas tradition of leaving cookies for Santa Claus, but why not mix it up this year?
Switch up your typical cookie recipe by using organic medjool dates. Slice up our scrumptious pitted dates into tiny pieces and add them into your usual cookie batter for a decadent, caramel-like texture. Or substitute white or brown sugar with our yummy, organic date syrup to cut down on processed sugars and keep those nasty sugar crashes to a minimum 🍪
We have dozens of delectable cookie recipes made with medjool dates on our blog for you to explore. Just be sure to make a big batch... you want to have enough for Santa too. And don't forget the carrots and celery for the Reindeer! 😉

3. Hot Chocolate Night
Nothing screams 'holiday season' more than hot chocolate by a warm and cozy fire! But when you're dealing with kids on a sugar high, it can end up being far from relaxing 😅
Skip the sugar rush this year by trying a new hot cocoa recipe using Joolies Original Date syrup or Cocoa Date Syrup. Made with just four wholesome ingredients, including organic medjool dates, cocoa, water and sea salt, you and your kiddos can enjoy this childhood favorite without loading up on sugar!
For a quick and easy (and vegan!) hot chocolate recipe, we love to sip on our Date Sweetened Vegan Hot Chocolate. Top it off with some mini marshmallows and a candy cane stick and you've got yourself a festively delicious cocoa that your kids will crave year after year!

4. Make a Gingerbread House
Building a gingerbread house is an absolute MUST when it comes to holiday activities. And it's pretty easy to make it happen. Just pick up the gingerbread house kit (or kits) of your choosing and clear some space at the table.
One way to spice up this cherished activity is to introduce new ingredients that can be used for decorations. Joolies medjool dates are perfect for building little reindeer on the roof – with pretzels for antlers! Cinnamon sticks turn your gingerbread house into a gingerbread cabin! And candy rocks are always a fun addition. 🥰

5. Dressing Up Dates
If you want a fun activity that requires little set up or planning, gather the kiddos in the kitchen and get creative with Joolies! There are so many different flavors that pair well with medjool dates.
Dressing up your dates is a much easier activity than baking cookies, plus it's less messy and less sugary – which makes it a perfect activity to do with the little ones!
Nut butters, cream cheese, or tahini are all great stuffing ingredients. For toppings, try nuts, shredded coconut, Joolies cocoa syrup, marshmallows, green and red M&Ms or whatever else you can think of to create all different kinds of date masterpieces!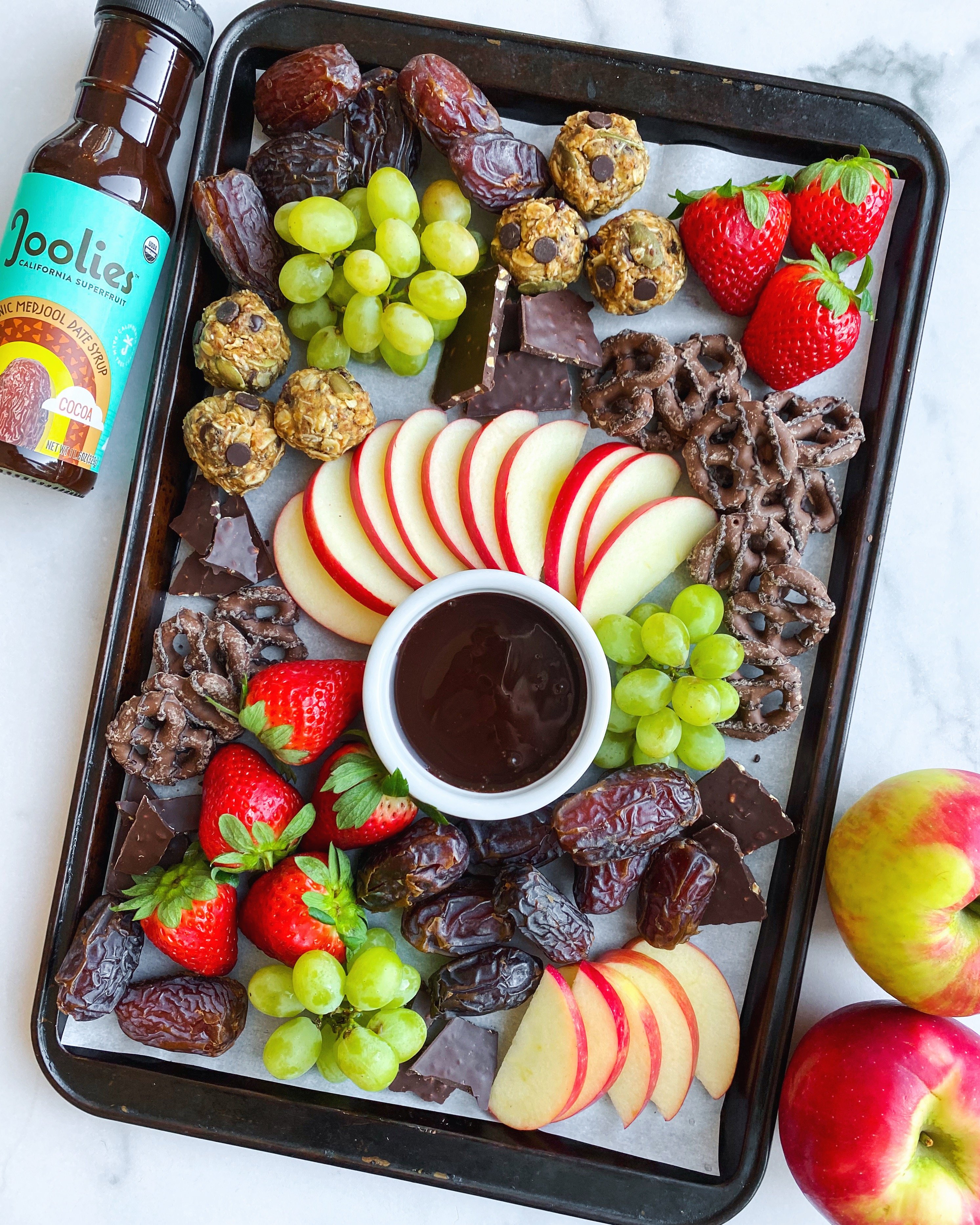 6. All I Want for Christmas is... Fondue!
Having a fondue night is fun all year round, but this year why not turn it into a festive activity for the kids? All you need is your favorite fruits, Joolies medjool dates, marshmallows, pretzels, and other candies or snacks. And of course, the main attraction – melted chocolate for dipping! 🍫
You don't need a fancy fountain to host your own kid-friendly fondue night. You can easily melt your chocolate on the stove and serve it in a bowl. Add Joolies Cocoa Syrup to make it extra rich and smooth! To keep the chocolate fondue from hardening, fill a large bowl with hot water and place the bowl of chocolate in there.
7. Christmas Puzzle
Another great family tradition is doing a Christmas puzzle together. Spend the night listening to your favorite Christmas tunes while getting your puzzle on! Or keep the fun going all season long by doing a more complicated puzzle! 🧩
Don't forget the snacks to help you stay focused… Christmas charcuterie boards filled with Joolies medjool dates, fruits, cured meats and roasted chestnuts are perfect for puzzling!
Happy Holidays!
We hope these fun twists on classic holiday traditions give you some ideas for fun ways to connect with your kiddos this season. Give the gift of Joolies Medjool Dates for an even sweeter holiday! From all of us at Joolies, we wish you Merry Christmas, Happy Holidays, and Happy New Year. 🎄🥂🌟