Ooey gooey cinnamon date rolls made with a sticky caramel-like date filling and slathered with a sweet cream cheese glaze. A delicious and decadent treat inspired by the season of Ramadan. Recipe co-created by Zaynab Issa and Mehreen Karim.
With the season of Ramadan upon us, we wanted to highlight recipes inspired by Middle Eastern culture and traditions that use medjool dates (of course)! To help us celebrate the beautiful food culture of Ramadan, we partnered with Zaynab Issa and Mehreen Karim to bring you the most delicious Gooey Cinnamon Date Rolls that are Iftar-worthy.
They're everything you know and love about a cinnamon roll but taken up a few notches. An ooey gooey filling made with sticky caramel-like dates and cinnamon rolled up between a fluffy dough, and topped with a rich sweetened condensed milk and cream cheese glaze for the most stunning sticky cinnamon rolls.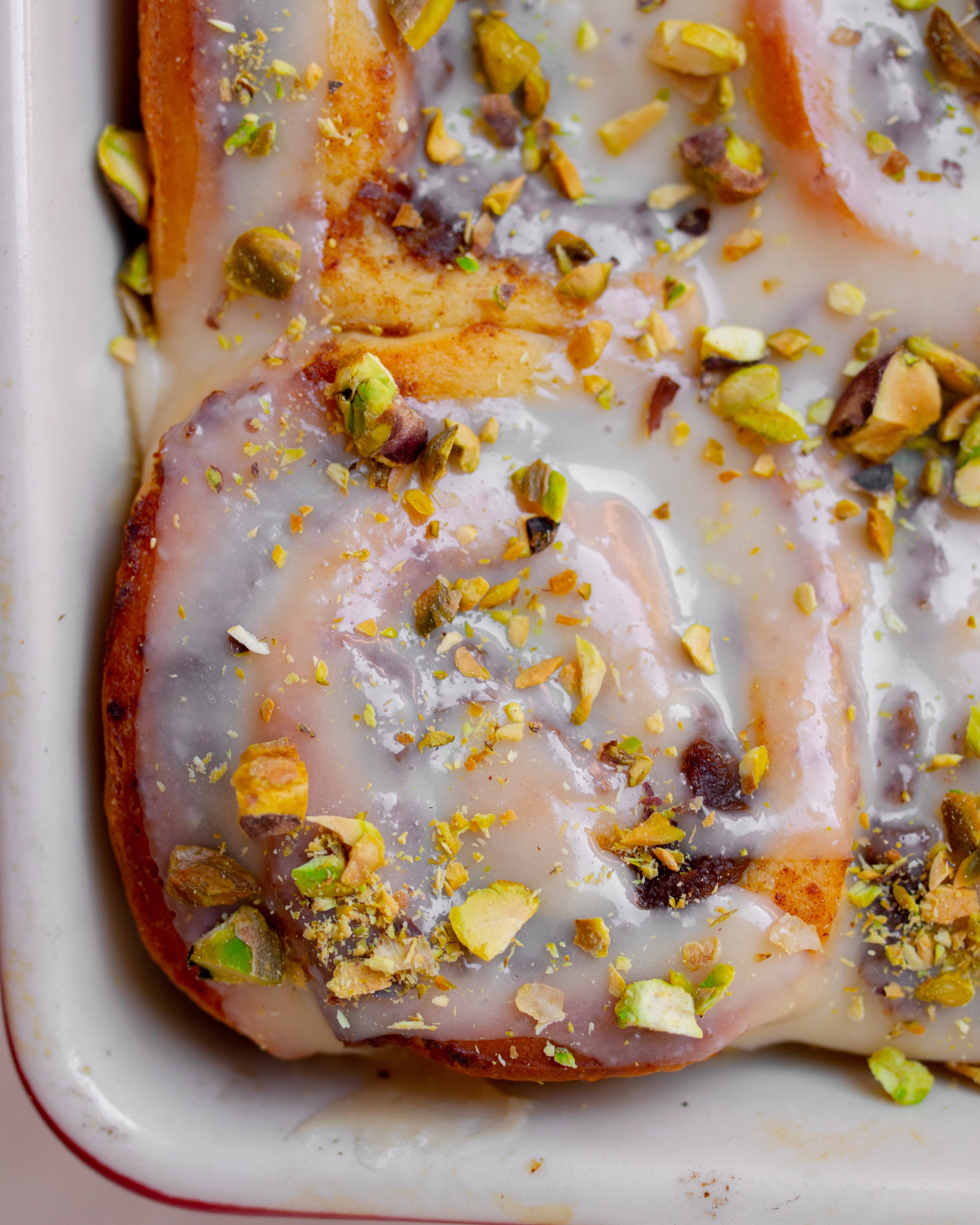 Zaynab and Mehreen found inspiration for these stunning cinnamon rolls from their family traditions.
"Dates are a historical token of every Ramadan Iftar (the meal to break fast), but let's face it – we aren't reaching for them otherwise. At the end of the month of Ramadan, we're usually left with a large rubbermaid container filled with unused dates. To use up the extra stock, my mom used to make a delicious date cake flavored with cinnamon and topped with a sweetened condensed milk and coconut topping. That was great, but these are better."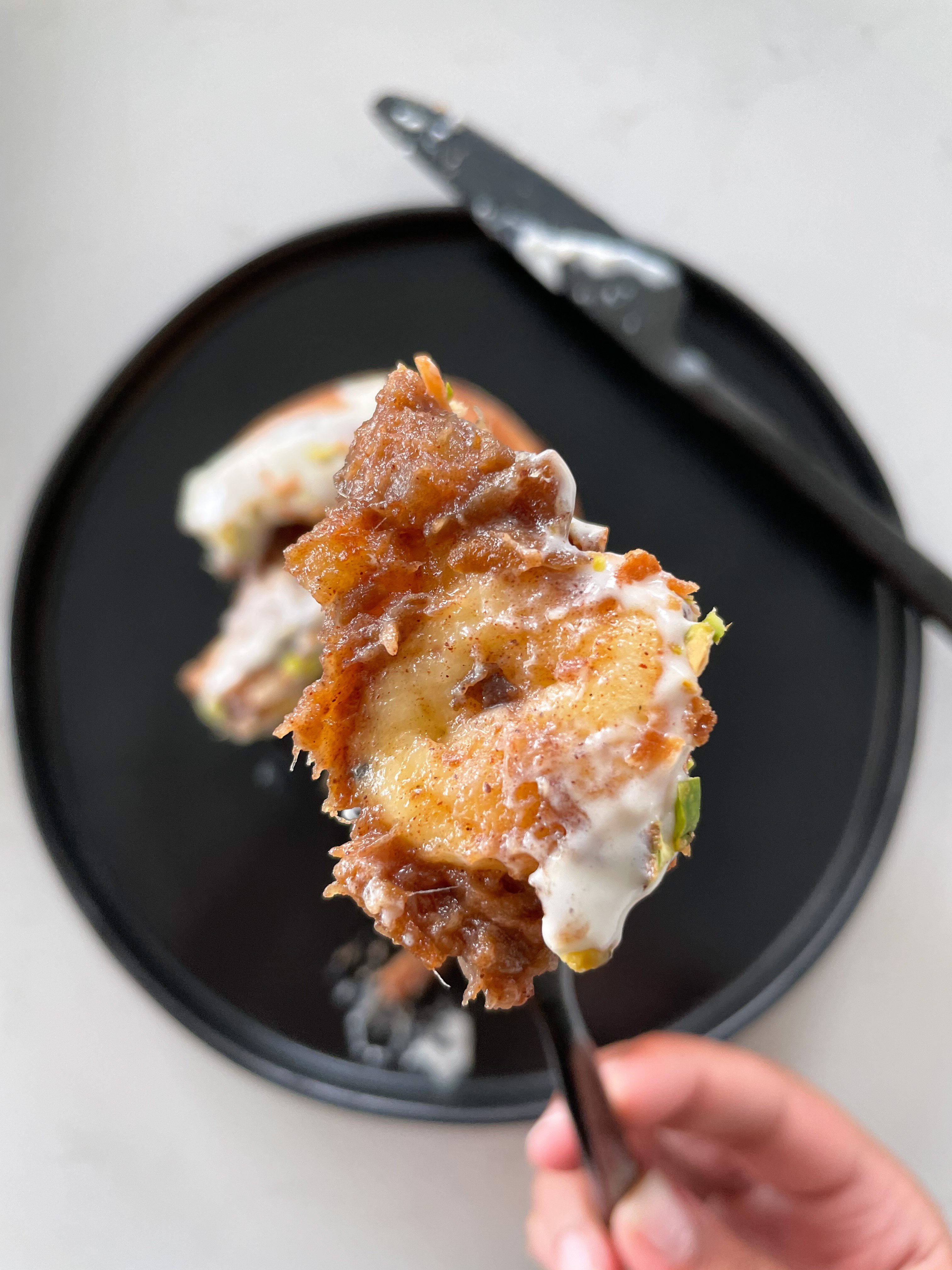 Ingredients for the dough:
Milk


You want this to be at room temperature by the time you're ready to start making the dough. Do not overheat the milk or it will most likely kill the yeast and the dough won't rise. We recommend whole milk or 2% but nothing less than 2%.

Instant Yeast

This helps create a tender and fluffy dough in a pinch. Instant yeast will swiftly activate and mix into the rest of the wet ingredients with no need for blooming.


Butter


Essential for rich and fluffy cinnamon rolls!Salted or unsalted butter works either way.

All Purpose Flour

We need flour for our rolls or else that would be one flat dessert!

Granulated Sugar

This is to sweeten the cinnamon roll dough and also helps to feed/activate the yeast.

Nutmeg

This elevates the flavor of the dough.

Salt

Salt controls the rate of yeast fermentation--which basically means it slows down how fast the dough rises (you don't want it rising too fast)! It also strengthens the gluten bonds, so you have fluffy af cinnamon rolls.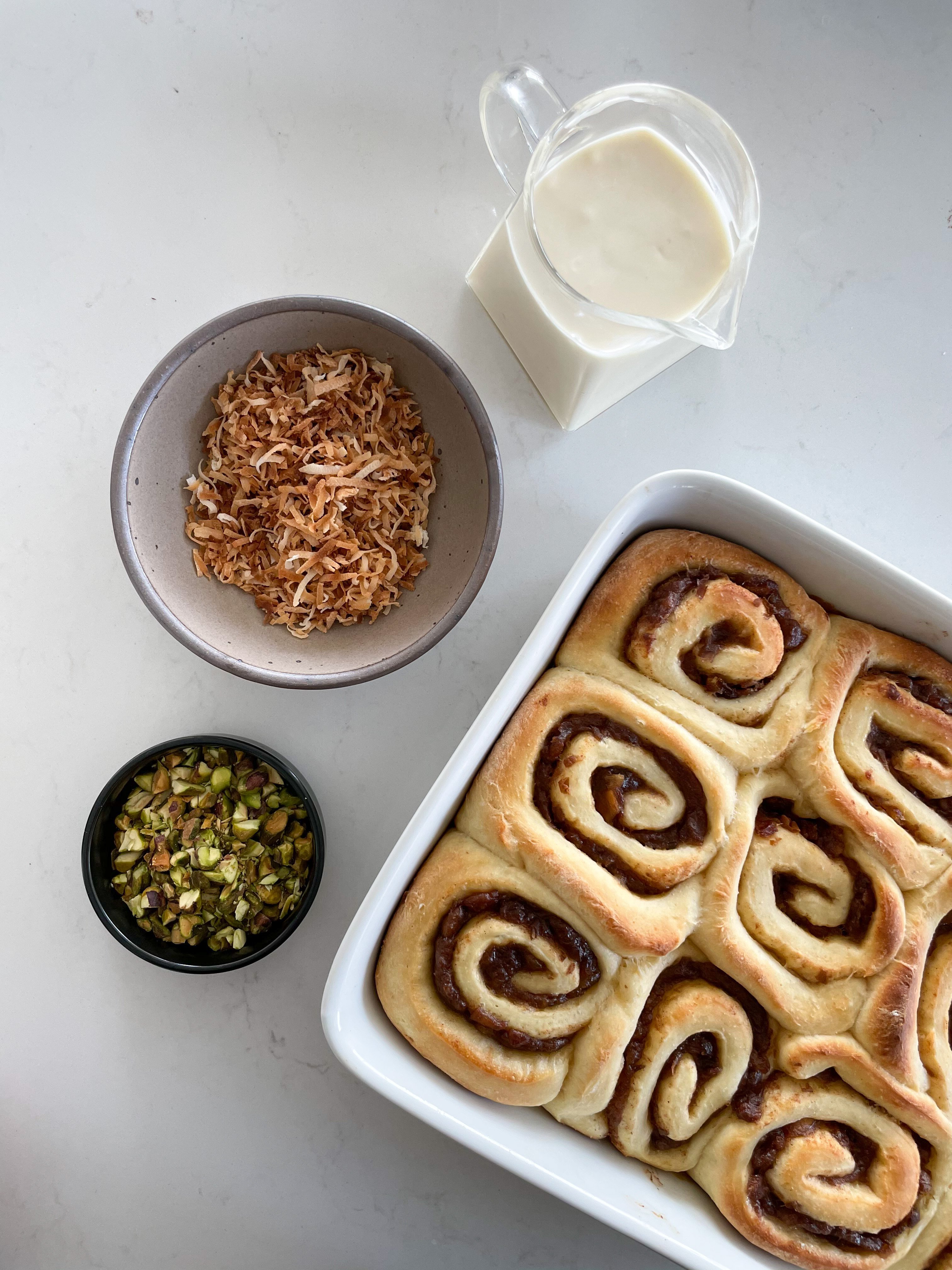 Ingredients for the filling:
Joolies pitted dates

This palm tree candy gives us that amazing ooey, gooey texture we want to experience when we dig in

and a boost of nutrients like potassium, magnesium, and B vitamins!

Heavy Cream

Adding heavy cream into our filling creates a more "whipped" texture and with it's higher fat content, won't curdle.

Cinnamon

Adds FLAVOR and complements the medjool dates so well.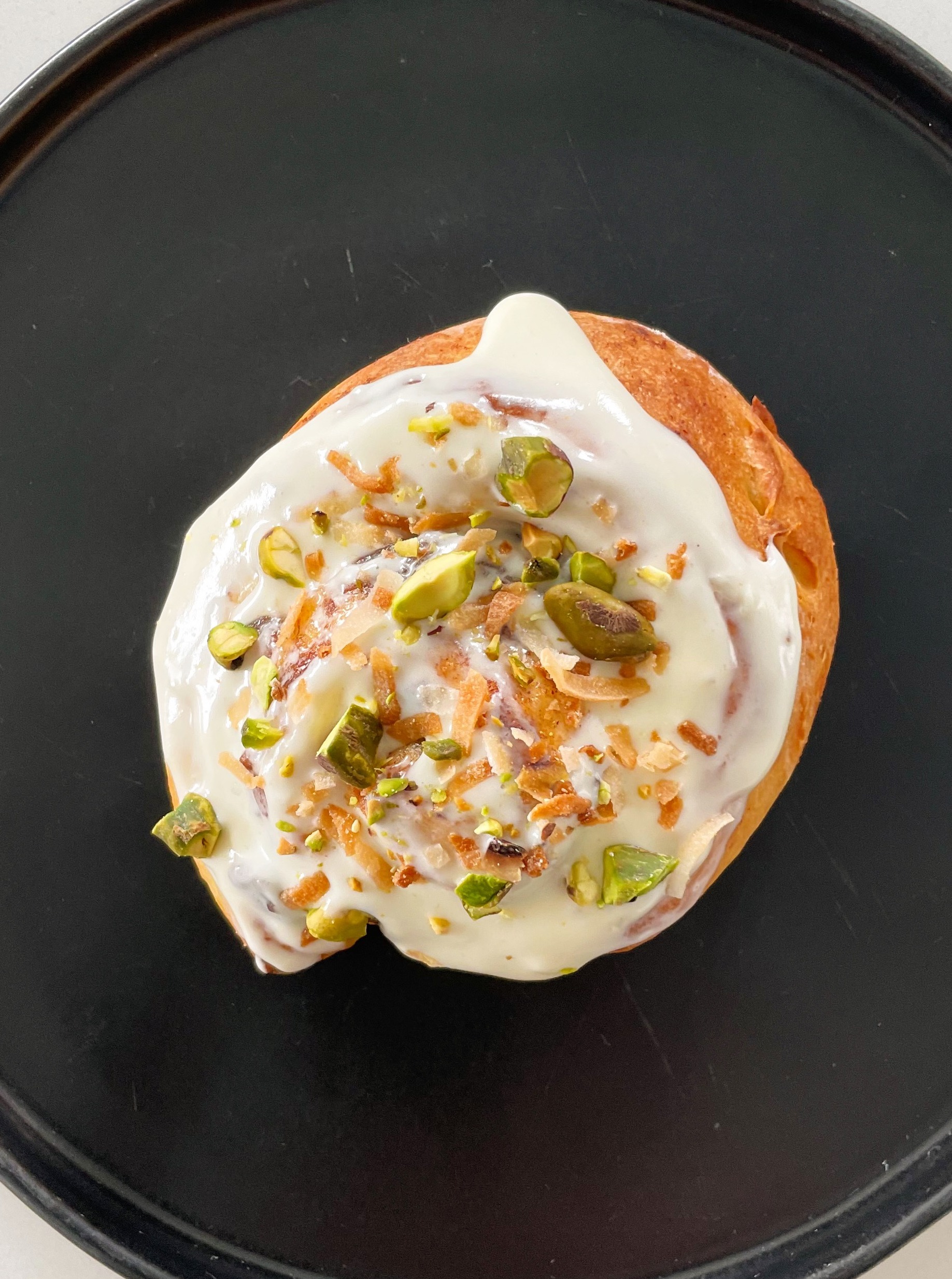 Ingredients for the icing:
Cream Cheese

The tartness of the cream cheese helps to balance out the sweetness of the rolls. Full fat or light will both work, just keep in mind a higher fat content creates a richer taste.

Sweetened Condensed Milk

Provides sweet, creamy milky flavor without all the extra moisture from regular milk.

Toasted Shredded Coconut and Pistachios

This adds a bit of crunch and warm, toasty flavors. Optional but highly recommended!
If you make this ooey gooey cinnamon date roll for Iftar, brunch, or just cause, be sure to tag us on
Instagram
@jooliesdates and use the hashtag #jooliesdates
so we can see all your date-able recreations of this date recipe! And you can always comment below!