This Pumpkin Spice Baked Oatmeal is made with gluten-free oats, filled with pumpkin pie spice and naturally sweetened dates. The perfect breakfast for a chilly fall morning!
As the mornings are starting to getting chillier, the desire for a cozy, warm bowl of oatmeal and a cup of steaming hot coffee become greater. This Pumpkin Spice Baked Oatmeal (for two) is perfect for a fall morning🍂 Made with gluten-free oats, fresh pumpkin, and naturally sweetened with Joolies Cinnamon Date Syrup for a cozy vegan breakfast (or snack)!
We topped ours with Cocojune Coconut yogurt, fresh blueberries, Kween and Co. Granola Butter, pumpkin seeds, and more cinnamon date syrup (duh)👅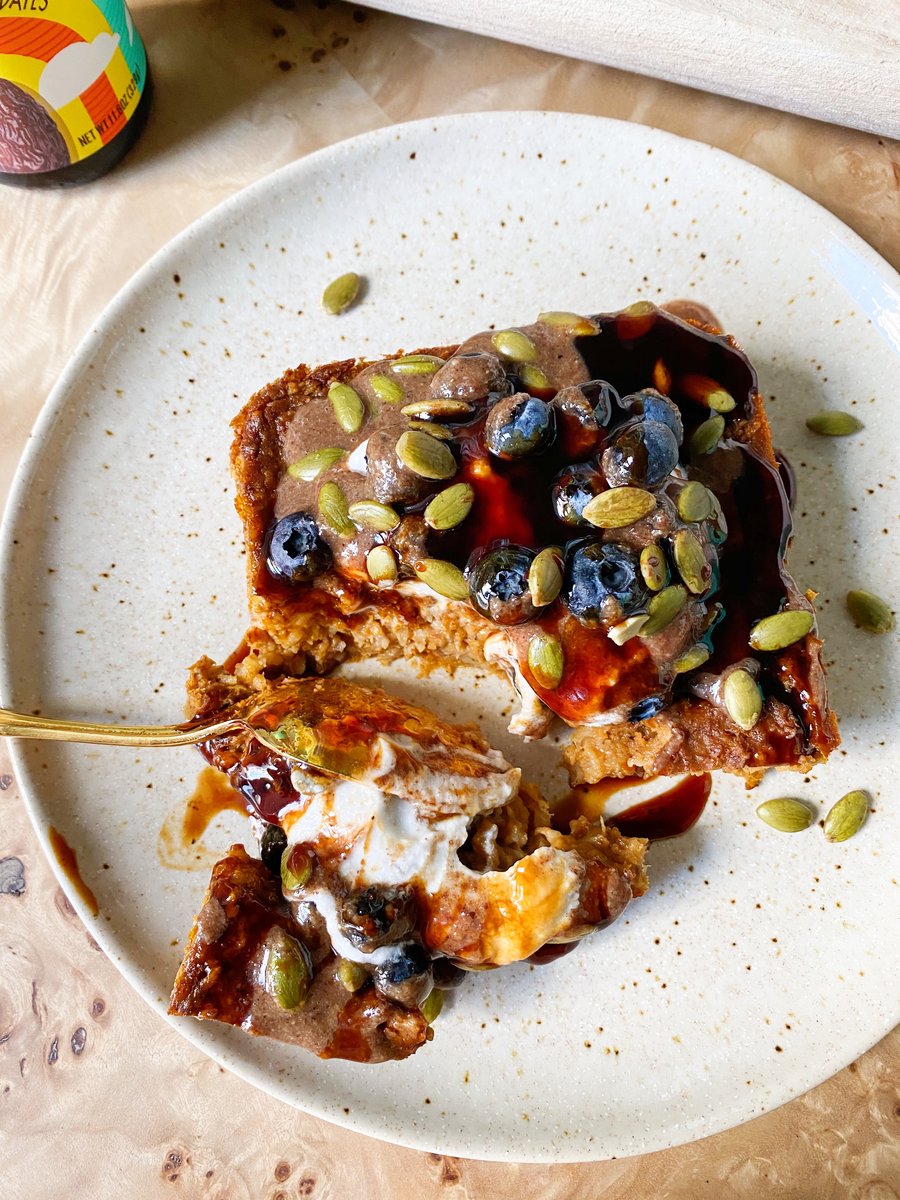 Ingredients in these oats:
Gluten-Free Oats


We recommend using quick or rolled oats to create the creamy texture. Some of our favorite gluten-free oat brands are Thrive Market and Bob's Red Mill

Joolies Cinnamon Date Syrup

Joolies Pitted Dates

Medjool dates add lil sweet caramel-y bites, while packing in good nutrients like magnesium, potassium, antioxidants and more.

Pumpkin Puree


Chia Seeds

These help to thicken the oats while also being a great source of healthy fats, fiber, and protein.

Dairy-Free Milk

To keep it vegan, we went with an almond milk, but any dairy-free milk will work perfectly. If you're out of milk, you can substitute with water, it just won't be as creamy.

Pumpkin Pie Spice and Cinnamon

These add that "pumpkin spice" favor we all love!



Optional Add-ins:
Protein Powder


If you're wanting a bit more protein in the morning, just add in your favorite protein powder (or collagen peptides). Note: you may need to add in a bit more liquid.

Fresh Fruit


Throw some blueberries, banana slices, or fresh figs for a little something extra.

Pepitas

Aka, pumpkin seeds! Pepitas are a great source of magnesium, iron, antioxidants and much more. You can read more about the benefits of pepitas here.
If you make this cozy breakfast, be sure to tag us on
Instagram
@jooliesdates and use the hashtag #jooliesdates
so we can see all your date-able date recipe recreations! And you can always comment below!