If you got some extra medjool dates, coconut cream, and vanilla in the pantry, you can make this ever so simple recipe for your next party (or eat all by yourself, too)! It's a sweet dip that goes wonderful with crackers, berries, veggies, or whatever you like.
We took major inspiration from a childhood favorite: caramel dip. You know the one in the green + white tub filled with lots of processed sugar, additives, etc? But without a doubt, tastes like a caramel dream! Well, we made that--just a better-for-you version😜
All you need are 3 ingredients to make this party favorite. This quick and easy date recipe makes for the perfect dip or topping to make a sweet treat 🍓But the fun doesn't stop there😉 This date caramel is a delicious ingredient in several other medjool date recipes we've created! Just keep scrolling to check them out💖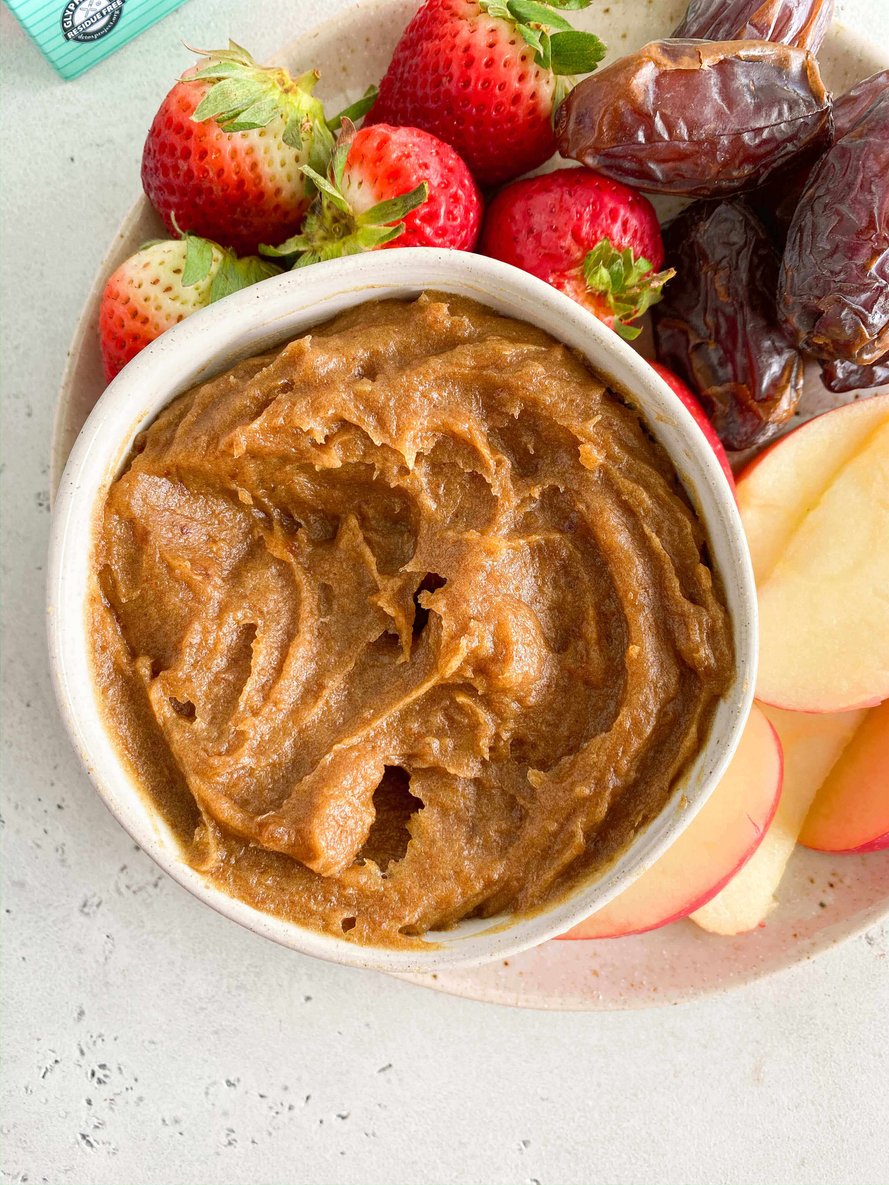 Made with no refined sugar, this decadently sweet dip gets it's caramel flavor and smooth texture from Joolies medjool dates 😍Plus you get all the nutritional benefits from dates like fiber, potassium, Vitamin B, etc in a delicious vegan and paleo dessert form!
Ingredients you'll need:
Joolies Dates

The only natural sweetener needed in our brownies! Don't forget to soak in warm water first! Why soak them? Well while they are juicy beforehand, this step allows them to become extra-hydrated to create the perfect texture.
Coconut Cream

This thiccc cream helps give the dip a little more structure, in combo with the dates, of course. Plus, coconut is just delicious all by itself and great for other baking adventures!

Vanilla Extract


This little addition adds more flavor while enhancing the other flavors in our recipe! Technically, you can go without it, but it's just so much more worth it to go to the store and spend the cash on a good vanilla. It's like baking banana bread without vanilla, it simply isn't the same without it!
If you make this party favorite recipe, be sure to tag us on
Instagram
and
Pinterest
so we can see all your date-able recreations! And you can always comment below!
More Date Caramel Recipes