We love an all-in-one, one-stop, grazing board. Here are 4 Mediterranean-inspired charcuterie board ideas including medjool dates for your next dinner party!
For a casual dinner party, holiday gathering, or ladies' night, one epic, all-purpose meal fits the bill: a charcuterie board! This artfully assembled collection of meats, cheeses, fruits, and veggies not only looks elegant, it's also the perfect way to enjoy the delicious offerings of a
Mediterranean diet
. Most of its chief components are integral parts of the heart-healthy, weight loss-promoting Mediterranean eating plan.
Ready to up your charcuterie board game? We're sharing tips and tricks for assembling the perfect board, plus four delicious, Mediterranean diet-friendly ideas for inspiration.
How to Make a Mediterranean Diet Charcuterie Board
To knock a Mediterranean diet charcuterie board out of the park, you'll want to keep a few things in mind: the basic principles of the diet, the visual appeal of your board, and which foods (or even which theme) you'd like to feature. Here's what you need to know about each.
What is the Mediterranean Diet?
A Mediterranean diet focuses on the foods enjoyed by people living around the Mediterranean Sea. It's a time-tested eating plan with amazing benefits like weight loss, reduced inflammation, and lower risk of heart disease and dementia. Generally, following a Mediterranean diet means eating anti-inflammatory foods like these:
Seafood, including fish, shrimp, crab, and scallops
Lean meats like chicken, turkey, and lean beef
Whole grains like whole wheat pasta and crackers, oats, quinoa, and barley
Beans and legumes like chickpeas, black beans, great Northern beans, and lentils
Nuts and seeds like walnuts, almonds, pistachios, flax seeds, and sunflower seeds
Fruits, such as dates, citrus fruits, apricots, berries, and melons
Vegetables like leafy greens, avocados, broccoli, tomatoes, and peppers
Some dairy products like yogurt, kefir, and certain cheeses
Olive oil
The really good news: All of these elements can make their way into an eye-catching charcuterie spread.
Making a Beautiful Mediterranean Diet Charcuterie Board
The perfect charcuterie board is all about aesthetics. From a wedge of gooey brie to a pile of crunchy crackers, an array of colorful foods arranged in bohemian style is what draws your eye—and makes you want to try a little bit of everything!
To add visual pop to your Mediterranean diet charcuterie board, consider how you'd like to organize your goodies, starting with your serving base. Do you have a large platter or tray? Even a sturdy tile or plank can make a unique serving board.
From there, try adding some visual diversity in the form of small bowls and jars. These mini containers are great for separating wet ingredients (like jam or hummus) you might not want spilling onto other foods, as well as containing small-bite items like pistachios or olives.
Try these other tips for even more appeal:
Keep each variation of the same ingredient separate on the serving board (such as different types of cheeses or meats).
Consider incorporating both sweet and savory elements.
Play with shapes. Crackers can easily lay domino-style in a circle or square around other ingredients, while dates can pile up in the shape of a heart for a Valentine's Day board.
Try mapping out your board ahead of time on a piece of paper.
Fill 'er up! The most attractive charcuterie boards have minimal empty space.
Choosing a Theme
Finally, before you put together your signature board, give some thought to ingredients and/or theme. Charcuterie boards can suit any event or diet specification! (Believe it or not, they don't even have to include meat.) Thoughtful additions—like cashew cheese for your vegan cousin, favorite fruits for a guest of honor, or even chocolates for a date night dessert—will make a custom platter that's just right.
4 Mediterranean Diet Charcuterie Board Ideas
Start your engines and assemble your mise en place–it's time to dive in! These four Mediterranean diet-friendly charcuterie boards will make you the star of your next foodie gathering.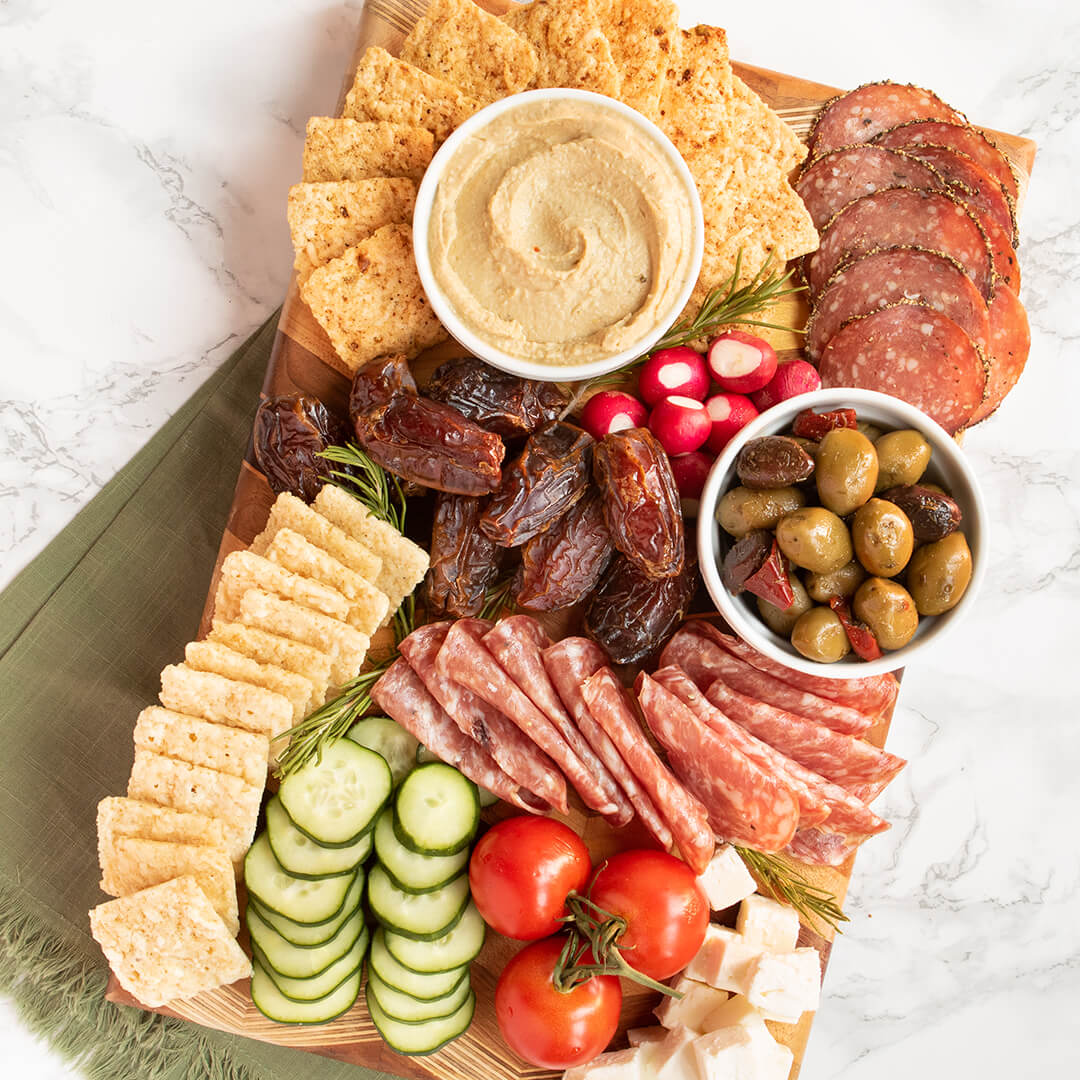 1. Classic Mediterranean Diet Charcuterie Board
If you're a charcuterie board newbie, we recommend starting here. A classic Mediterranean-style board never fails to impress.
In this "recipe" (we're using the term loosely) we've assembled ingredients that stay within a Mediterranean diet's anti-inflammatory parameters. That's why you'll find plenty of fruits and veggies, more smoked salmon than salami, whole wheat crackers rather than buttery rounds, and cheese in moderation.
Ingredients:
8 oz. smoked salmon, sliced into bite-sized pieces
4 oz. salami slices
2 oz. manchego cheese, sliced
5-oz. box whole wheat or seeded crackers
½ c. kalamata olives, drained of liquid
½ c. pitted Medjool dates
1 small bunch red or green grapes
½ c. shelled pistachios
1 c. baby carrots
1 c. cucumber slices
½ c. hummus
½ c. fig jam
Directions:
On a large platter, cutting board, plank, or other flat serving dish, arrange all ingredients, placing olives, pistachios, hummus, and jam into small bowls or jars. Place spoons in the bowls and cocktail forks within reach of the board for easy serving.
Serves 4 as an appetizer.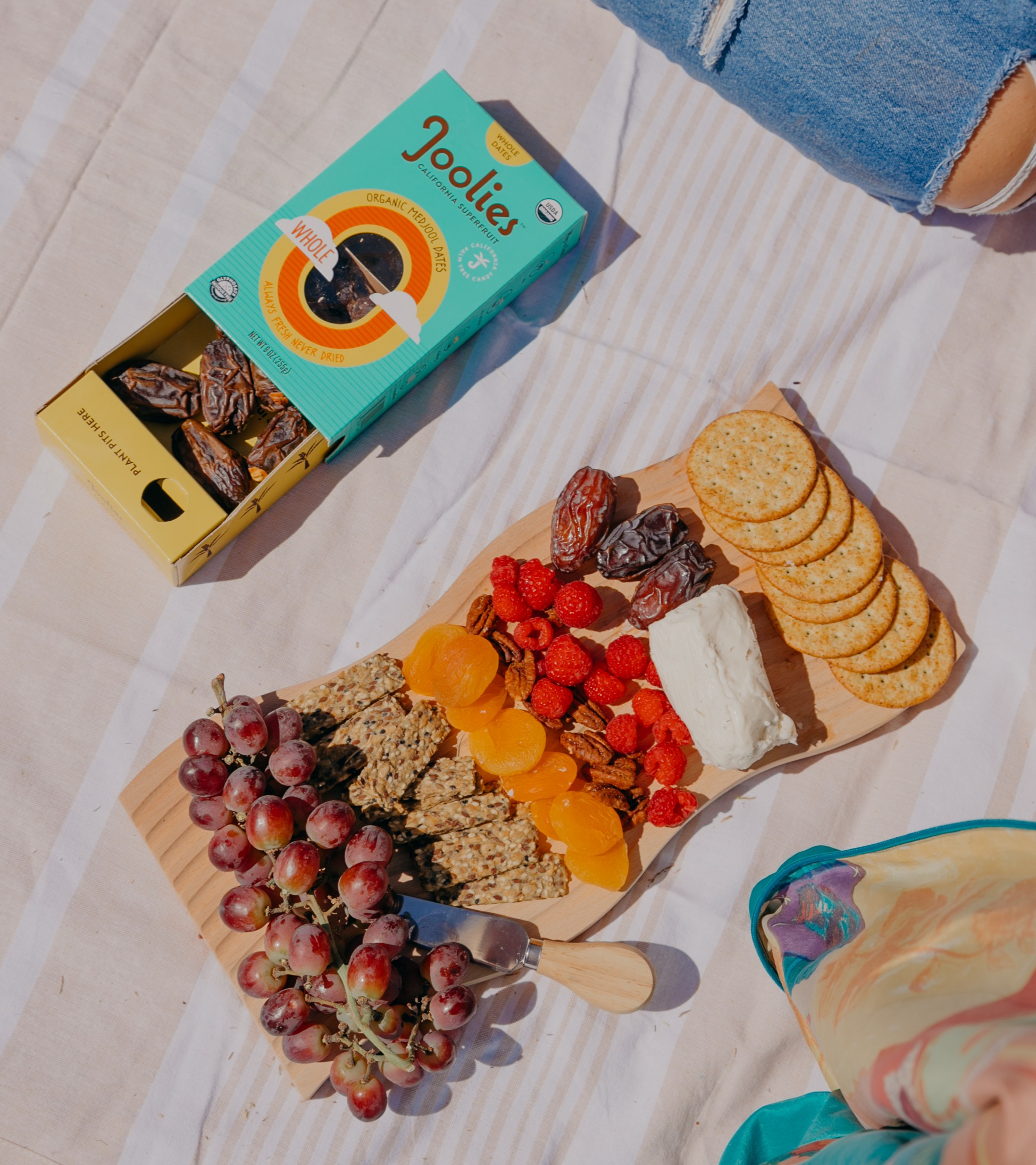 2. Mediterranean Fruit and Cheese Board
A wide variety of fruits and cheeses fall under the Mediterranean diet umbrella—and are tasty, to boot. In fact, in some European countries, a fruit and cheese course is standard after a meal. We're only too happy to get on board (literally) with that tradition! This cheesy "fruicuterie" board would be equally at home as a dessert, as part of a healthy brunch, or at a bridal or baby shower.
Ingredients:
8-oz. wedge brie cheese
8 oz. mascarpone cheese
4-oz. log creamy goat cheese
1 c. pitted Medjool dates
1 c. dried figs
1 ½ c. whole strawberries
1 c. blueberries
2 small bunches red or green grapes
3 kiwis, sliced
½ c. cinnamon-roasted pecans or almonds
½ c. honey, for drizzling
½ c. strawberry jam
Optional: 5 oz. buttery and/or fruity crackers
Directions:
Arrange all ingredients closely on a large serving platter or other flat board, placing blueberries, pecans, honey, and jam in small bowls or jars. Place spoons in the bowls and cocktail forks within reach of the board for easy serving.
Serves 4-6 as an appetizer or dessert.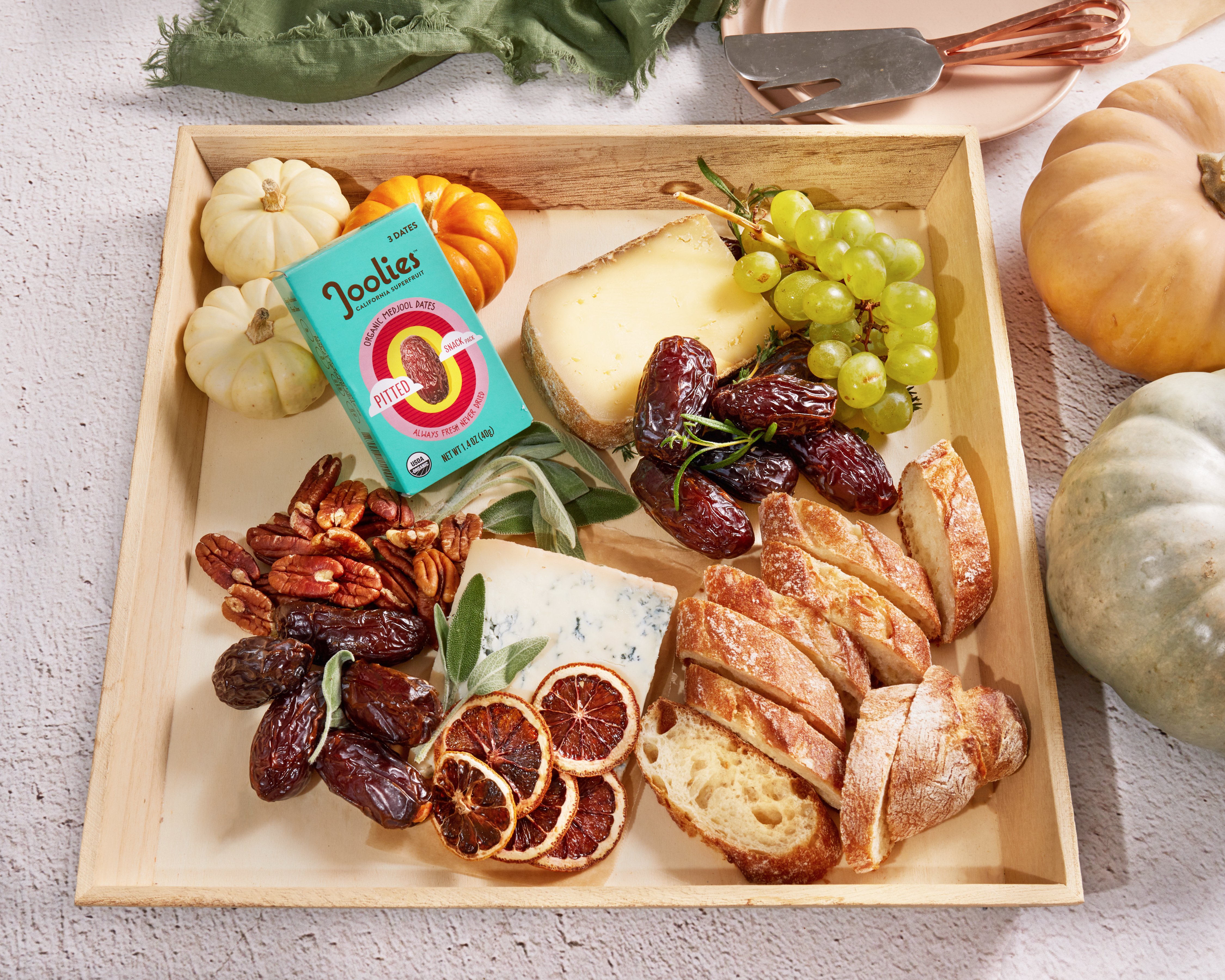 3. Vegetarian Mediterranean Diet Charcuterie Board
Is it really okay to make a charcuterie board without meat? We say yes! (It's your party, you can veg if you want to.) Assemble this one when you're not feeling meaty or have vegetarian guests.
Ingredients:
2 oz. Parmesan-Reggiano cheese, sliced into wedges
2 oz. manchego cheese, sliced into wedges
1 c. pitted Medjool dates
½ c. sun-dried tomatoes packed in oil, drained
1 c. sliced red bell pepper
1 c. marinated artichoke hearts, drained
½ c. kalamata olives, drained
1 10-oz. container hummus, any flavor
½ c. toasted walnuts
½ c. olive oil for drizzling
1 5-oz. package whole wheat crackers
1 sourdough baguette, sliced into rounds
Directions:
Arrange all ingredients closely on a large serving platter or other flat board, placing sun-dried tomatoes, artichoke hearts, olives, walnuts, and olive oil in small bowls or jars. Place spoons in the bowls and cocktail forks within reach of the board for easy serving.
Serves 4 as an appetizer.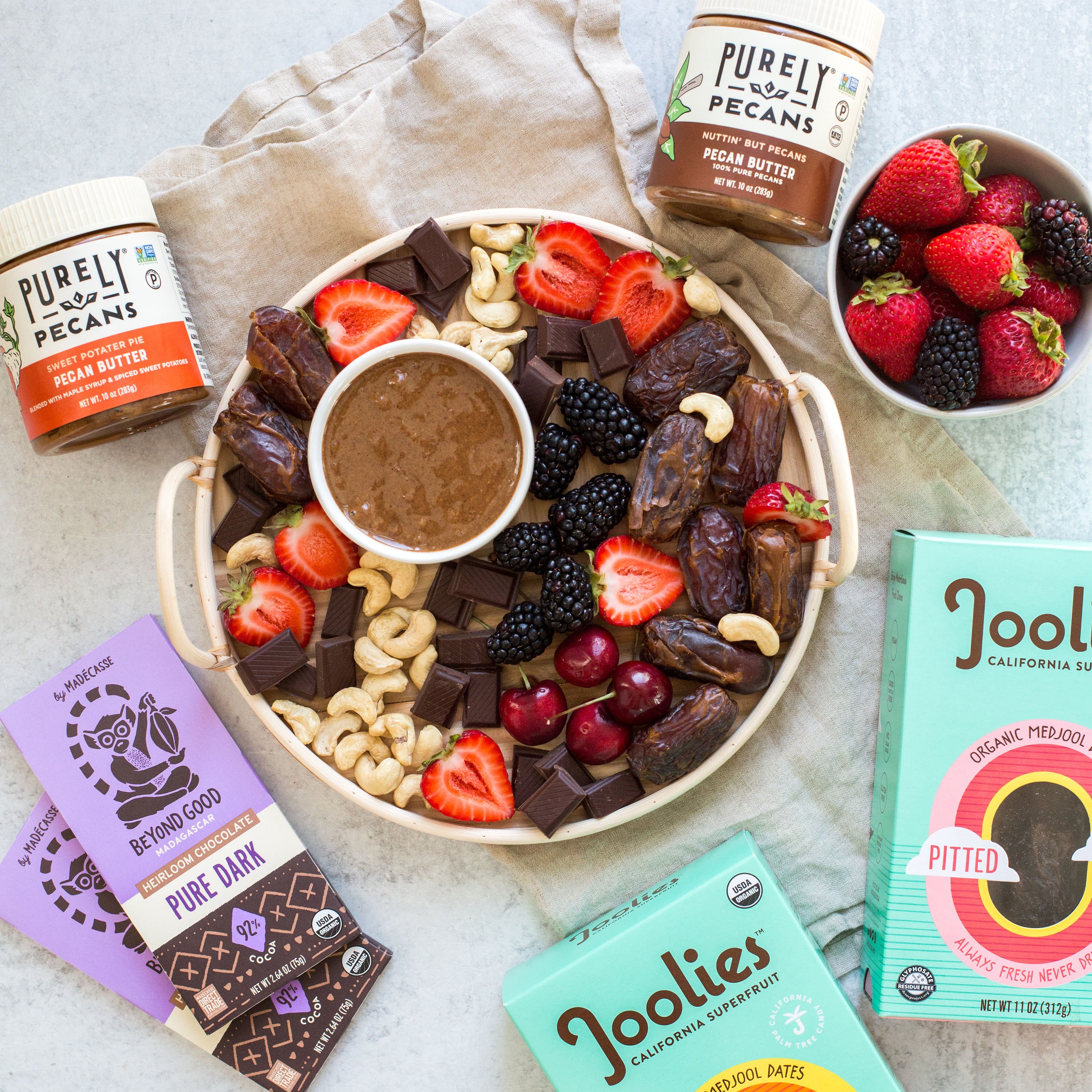 4. Mediterranean Diet Dessert Charcuterie Board
We can't say you'll never crave chocolate cake again after you've sampled a Mediterranean diet dessert charcuterie board…but we're willing to bet this becomes your new go-to healthy finish to a meal. The mix of sweet fruits, roasted nuts, and rich dark chocolate is irresistible. (For even more sweet inspiration, check out our Holiday Dessert Charcuterie Board!)
Ingredients:
4 oz. mascarpone cheese
½ c. Nutella or cookie butter
1 c. pitted Medjool dates
½ c. dried apricots
1 c. whole strawberries
¾ c. blackberries
1 apple, sliced
½ c. honey-roasted almonds
8 oz. dark chocolate, cut into bite-sized pieces
2 c. shortbread cookies
1 c. mini twist pretzels
Directions:
Stir date syrup into mascarpone, then scoop into a small bowl. Place Nutella or cookie butter and almonds in small bowls. Arrange all ingredients on a large serving platter. Place spoons and cocktail forks within reach for serving.
Serves 4.
FAQ's:
Is a charcuterie board healthy?
You bet! This buffet-style serving format lends itself well to including all sorts of uber-healthy eats, such as fruits, vegetables, nuts, and whole grain crackers. Tap your inner creative genius to make a charcuterie board as healthy as you like.
What cheese is considered Mediterranean?
You may have heard that a Mediterranean diet features yogurt as its primary dairy product. But that doesn't mean certain cheeses aren't a part of this eating plan. In fact, the countries around the Mediterranean Sea are famous for numerous signature cheeses. These include:
Feta
Fresh mozzarella
Halloumi
Manchego
Mascarpone
Goat or sheep cheese
Parmigiano-Reggiano


What can you put on a charcuterie board besides meat and cheese?
Despite the fact that the word "charcuterie" technically refers to meat, you can fashion a gorgeous board of tempting nibbles without any meat (or cheese). In addition to—or instead of—the usual animal products, try filling out your platter with nuts like pistachios or almonds, crackers and crispbreads, hummus, veggie slices, sliced fruit like peaches or apricots, and whole fruits like Medjool dates or berries.
Bottom Line
These Mediterranean-inspired charcuterie boards are simple, delicious, and incredibly easy to put together. The charcuterie board might seem daunting to tackle at first, but trust us when we say it's the chillest dish and requires no cooking whatsoever. So go on, get to it!
Check out Top 10 Mediterranean Foods and The Key to a Perfect Charcuterie Board for more Mediterranean diet and charcuterie board inspiration including medjool dates.
Written by: Sarah Garone, NDTR
Nutrition and Dietetic Technician, Nutritionist and Freelance Writer