Joolies Dates has teamed up with Perri Schneider, dating and relationship expert, for a two-part series on self love and partner love for Valentine's Day and beyond. After all, we love date-ing and we love to have pun at Joolies in all aspects of life. Enjoy!

This year has truly forced us to be more creative than ever, coming up with ways to stay entertained while staying home and staying safe. While past Valentine's Days' with your partner were spent out of your home in a romantic restaurant setting, this year, as Emeril says, "let's kick it up a notch!" 😉 Instead of relying on a restaurant to woo your partner, take the time to put the effort in and turn your home into your own enchanting destination. Here are a few ways to make this unique Valentine's Day into a truly special holiday and make any date night at home more than just Netflix and Chill 💕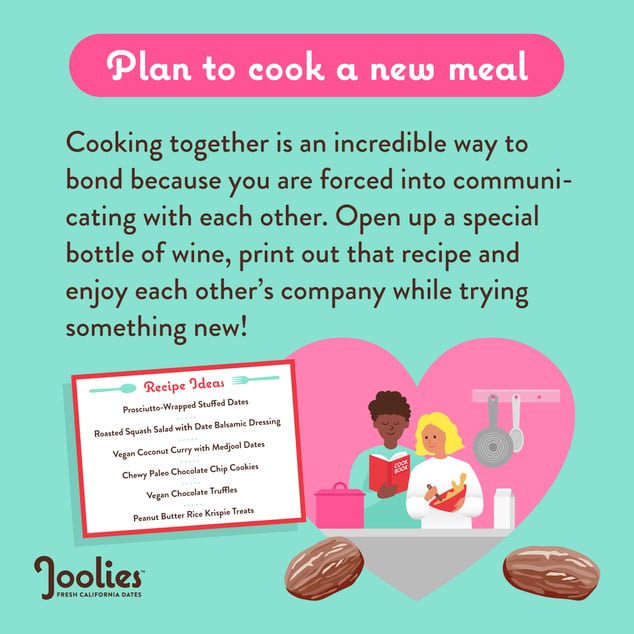 Plan to cook a new meal - Ever wanted to learn how to make curry? Or sear the perfect steak? Maybe you saw a recipe on Tik-Tok that you've been wanting to try for yourself! Now is the perfect time to try it out! Cooking together is an incredible way to bond because you are forced into communicating with each other(: Open up a special bottle of wine, print out that recipe and enjoy each others company while trying something new🍷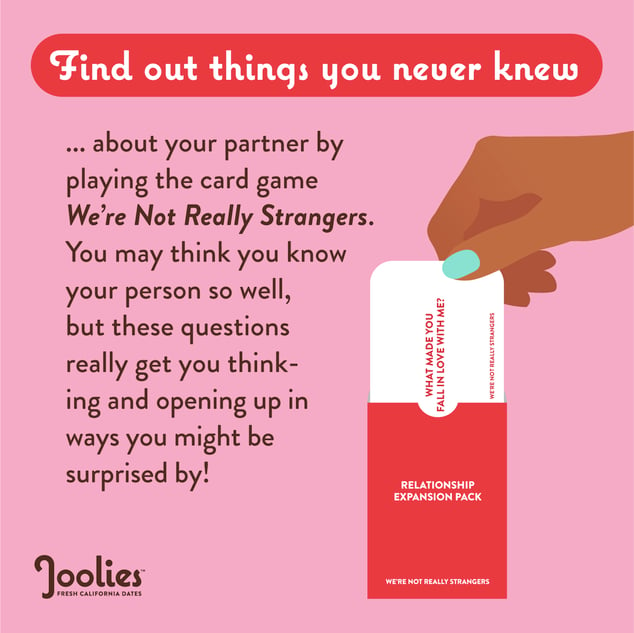 Find out things you never knew - Find out things you never knew about your partner by playing the card game "We're Not Really Strangers". You may think you know your person so well, but these questions really get you thinking and opening up in ways you might be surprised by! Or go for one of the classics "

Would You Rather

" (click for a free version here) or "

Never Have I Ever

" (click for free version here).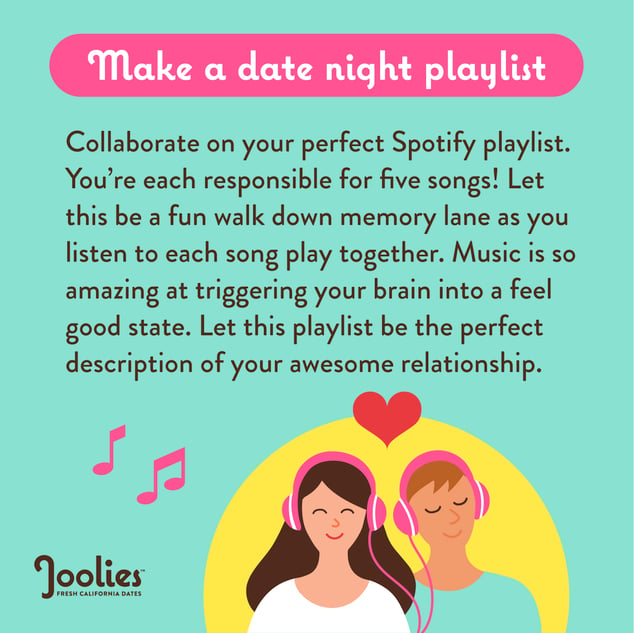 Make a date night playlist - Collaborate on your perfect Spotify playlis t🎶 You're each responsible for five songs! Make it a fun walk down memory lane as you listen to each song play together. Music is so amazing at triggering your brain into a feel good state😌 Whether you're cooking in the kitchen or amping up the romance to get in the mood, let this playlist be the perfect description of your awesome relationship.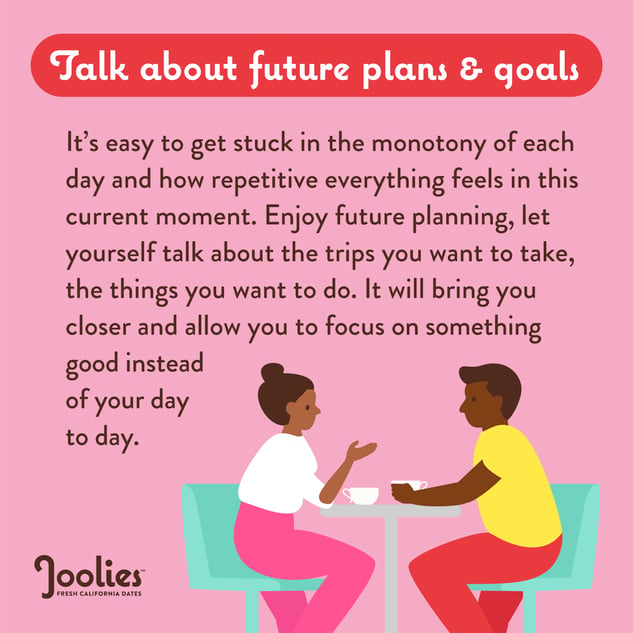 Talk about future plans and goals - It's easy to get stuck in the monotony of each day and how repetitive everything feels in this current moment. Enjoy future planning, let yourself talk about the trips you want to take, the things you want to do and make a bucket list! It will bring you closer and allow you to focus on something good instead of your day to day💖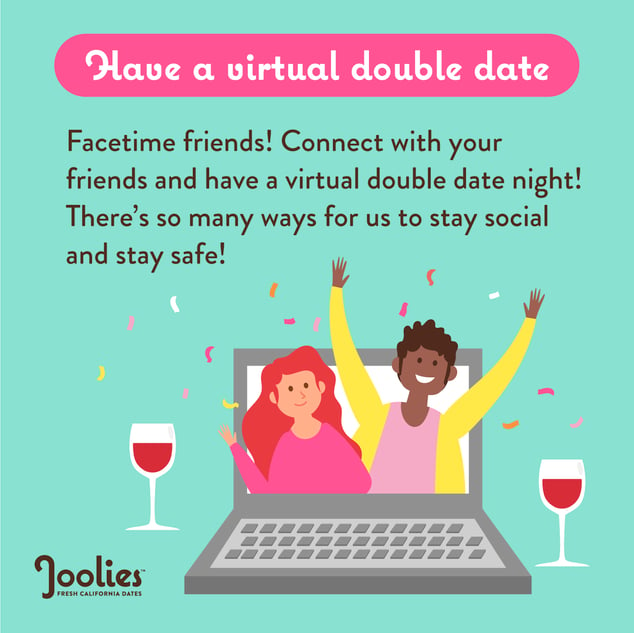 FaceTime friends - Connect with your friends and have a virtual double date night! There's so many ways for us to stay social and stay safe! Have a Wine & Paint 🎨 or trivia night. Bring the bar right to your home and take a mixology class online to spice up happy hour🥂Check out some fun classes here.
Now you can treat date night at home as an opportunity to be creative with your partner and make each other feel special with the little things.
Xoxo
-Perri
Whether it's these tips or our delicious medjools, we hope you have the best time date-ing out there!
--
Perri Schneider, featured on Yahoo, is the partner in crime people need when they're navigating dating apps and they feel like it's a waste of time. As she often says, "Dating apps suck, but they don't have to!" As such, she is there to be your personal motivator and dating app navigator so you can have the best possible experience. Perri draws from her personal experience using dating apps, so she has been through everything her clients have been through. However, it's her goal to shed some light and help clients make dating apps work for them. After years of trial and error, she perfected her approach to dating apps and finally found a partner that was perfect for her. Now, she wants to help other people do the same and accompany them through the highs and lows of the dating scene. Instead of leaning on friends who are also struggling, Perri truly guides her clients with insight and she shows people the path to love. A huge part of what Perri does is help people become more trusting of their intuition so they can feel a lot more confident about their options. She believes there's a match for everyone out there and dating apps are the perfect way to find them, as long as it's done right. Reach out to Perri on the gram (@PerriSchneider)!