Rich, decadent vegan chocolate truffles made with simple, wholesome ingredients and naturally sweetened with dates. No one will know they're paleo, vegan, and refined sugar-free.
We gotta brag for a second...we really nailed this one. Rich, decadent, and indulgent, these Vegan Chocolate Truffles will take you right to nirvana--all thanks to our Cocoa Date Syrup 😍

A decadent, vegan chocolate syrup that will remind you of the classic Hersey's syrup.
The ingredients? Organic medjool dates, organic cocoa, water, sea salt. Yea, it's pretty amazing 😉
Truffles are made with a chocolate ganache filling, which is made up of chocolate and cream, but we're switching a few things up to make these vegan, paleo, refined sugar-free, and 100% delicious 👅 All you need are a few simple ingredients to make a batch of these fudgy truffles.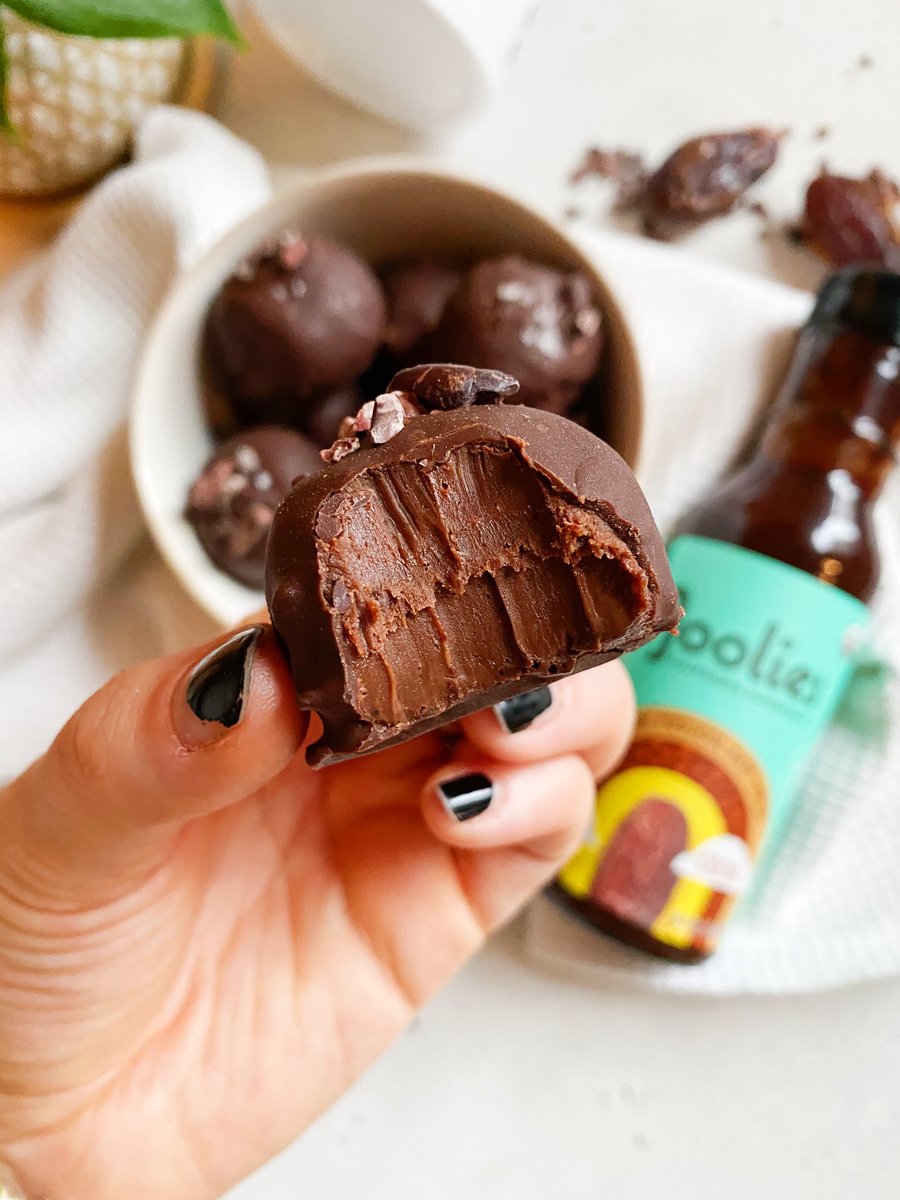 The two star ingredients here are Joolies Cocoa Date Syrup and Joi Almond Nutbase. You might be wondering, isn't that just like almond butter? Nope! This is an almond nutbase, with one ingredient: blanched California almonds. Blanched almonds have had the skin removed, which affects the flavor and aesthetic. By removing the skins, the almonds will have a less bitter and dry feeling, which makes it the perfect base for our truffles. You can check out our friends on social @addjoi 😊
Why these truffles are so great
If the photos don't speak for themselves...there are a few more reasons why.
Contain no refined sugar, but are naturally sweetened with Joolies date syrup.
With the holiday's coming up, they make a perfect gift or addition to your holiday spread.
Give you indulgence without the sugar hangover.
Easy to make! You don't have to be a baker or cook to nail this one😉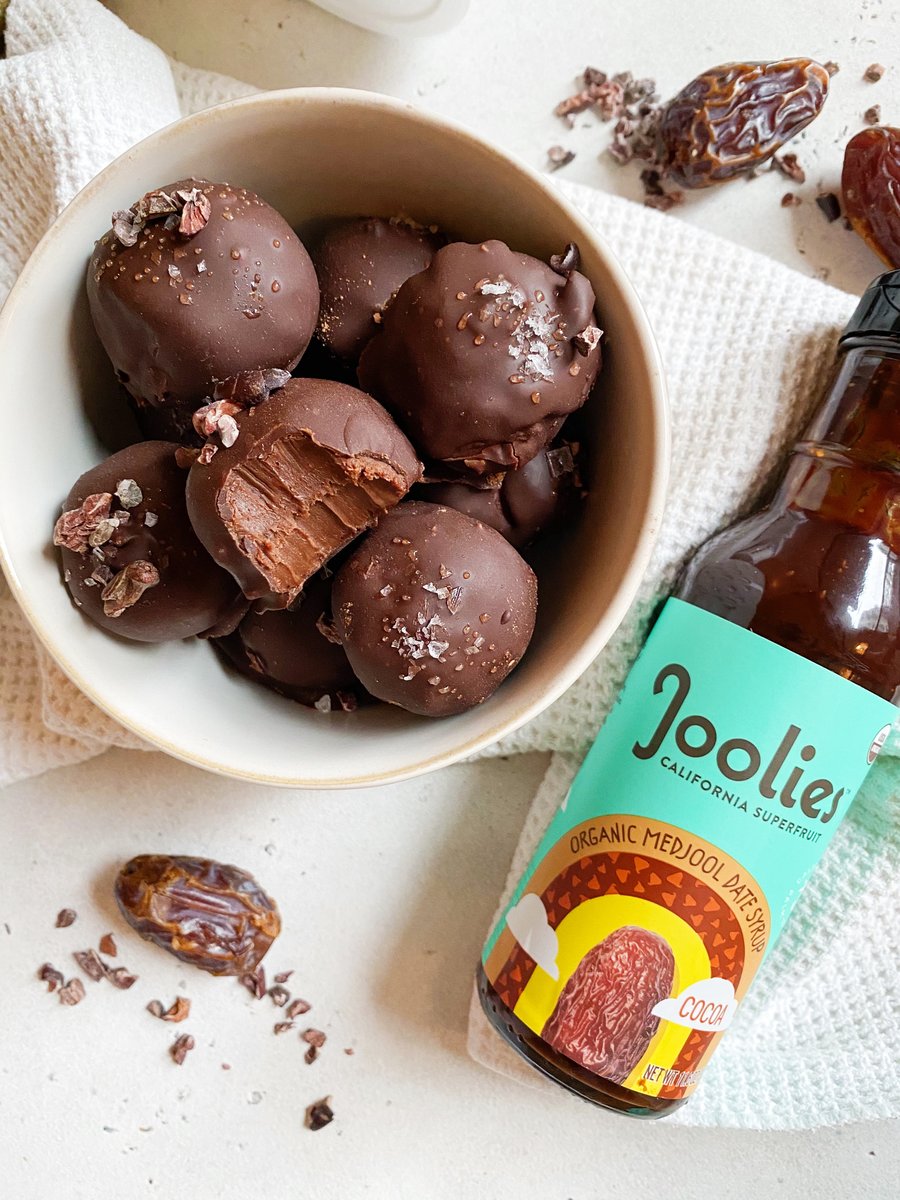 Ingredients you'll need:
Coconut Milk

It's important to get the full-fat version to get the creaminess we all love. Be sure to use the cream and

water when adding to the saucepan.

Joolies Cocoa Date Syrup

Dark Chocolate Chips

Joi Almond Nutbase

This serves as part of the base to our truffles without an overbearing almond flavor and helps create the fudgy texture.

Coconut Oil

Cocoa Powder

This adds a deeper, more decadent chocolate flavor to our fudge filling! You can substitute for raw cacao powder if needed, but we love

the ones from

Thrive Market

and

Santa Barbara Chocolate 💕

Cacao Nibs + Flakey Sea Salt

These are just the cherry on top for a little extra something! Sprinkles would also be a fun topping.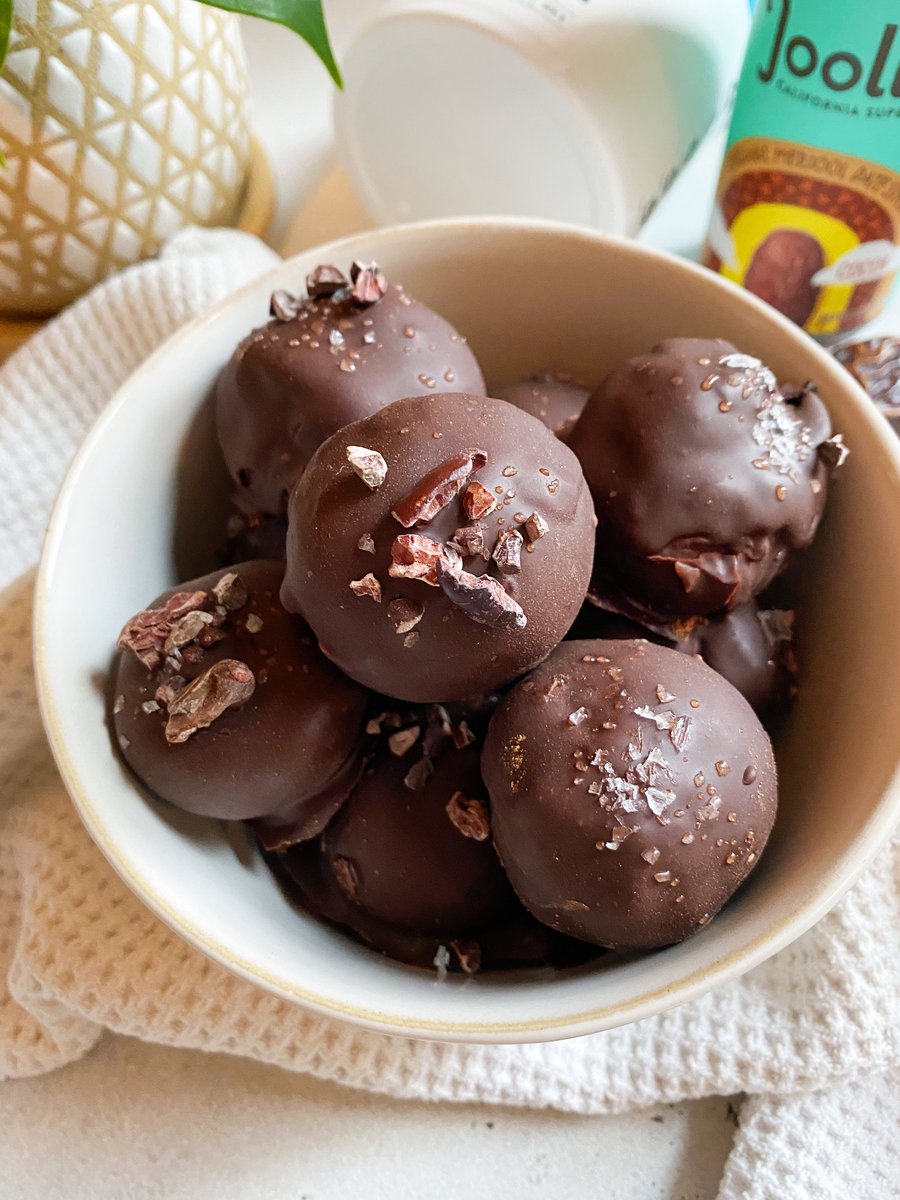 If you make this decadent dessert, be sure to tag us on Instagram and Pinterest so we can see all your date-able date recipe recreations! And you can always comment below!
Other Chocolatey Sweets You'll love: