Crispy edges with a soft gooey center, these allergen-friendly Salted Chocolate Chip Tahini Cookies are an effortless way to elevate a classic dessert. Plus they are only sweetened with dates!
Our Chewy Paleo Chocolate Chip Cookies were such a HIT, we decided to remix it up a bit to create Salted Chocolate Chip Tahini Cookies. The rich flavors of sesame tahini, dark chocolate, and Joolies date syrup elevates a classic dessert with a flavor-packed bites. or extra brownie (or should we say cookie😉) points, these tahini cookies are super duper allergen friendly! Gluten-Free, Dairy-Free, Nut-Free, and Refined Sugar-Free! Don't sweat it if you're not a baker, this date recipe is easy to follow and make--you only need one bowl to whip up these stunningly delicious cookies.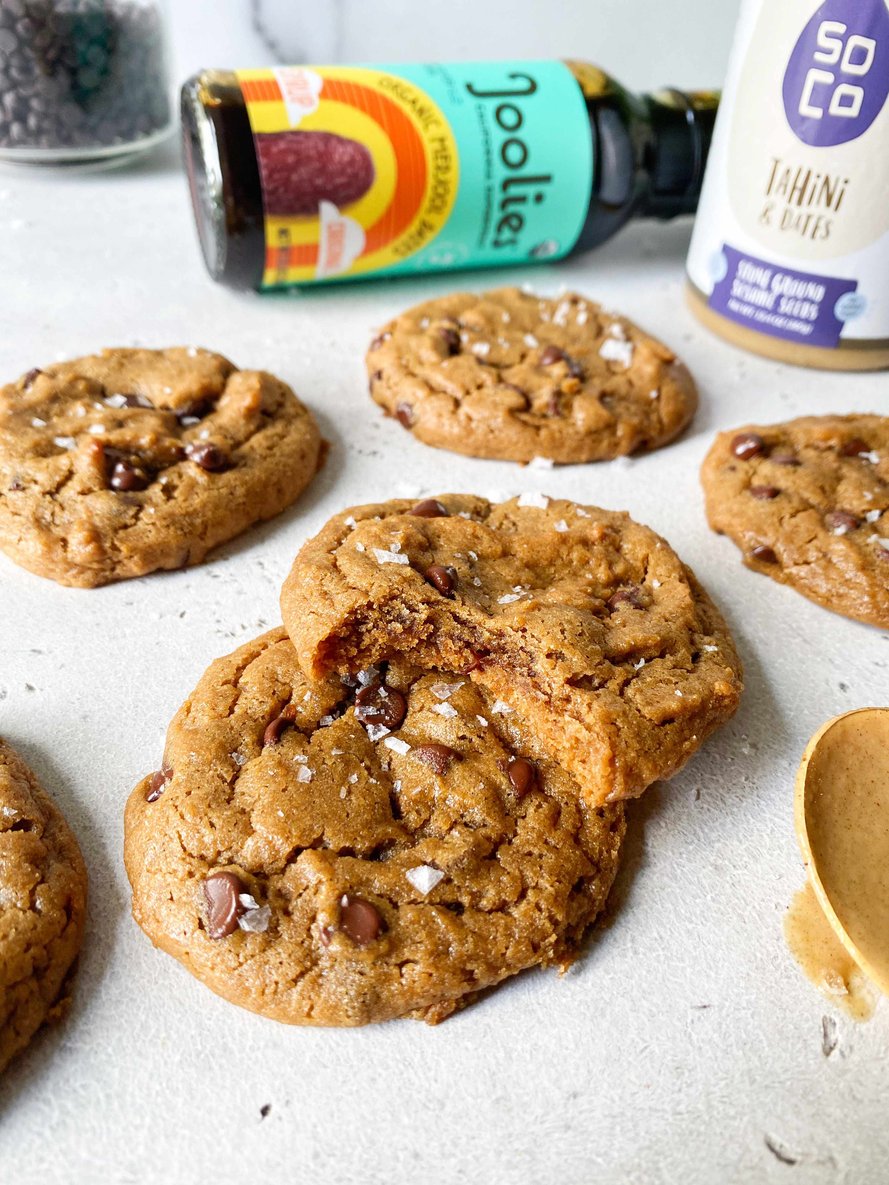 If you've never heard of or tasted tahini before, it's simply the smooth, creamy product of ground sesame seeds. Tahini is a staple of Middle Eastern and Mediterranean cooking (like hummus) and holds a rich savory nutty flavor with a tinge of bitterness. You might be used to using tahini in more savory recipes like dressings, sauces, and hummus (duh) but it makes a surprisingly delicious ingredient when it comes to baking sweets. Don't knock it till ya try it😉
The texture of the dough should be sticky and it's a very important step to chill the dough before scooping Which you might be wondering why?! For one, chilling the dough prevents the cookies from spreading out too quickly once you pop them in the oven. This simple step allows for the fats to cool so the cookies will expand slower to get that perfect texture. Plus, it results in more flavorful cookies😋 and these cookies are popping off with flavor!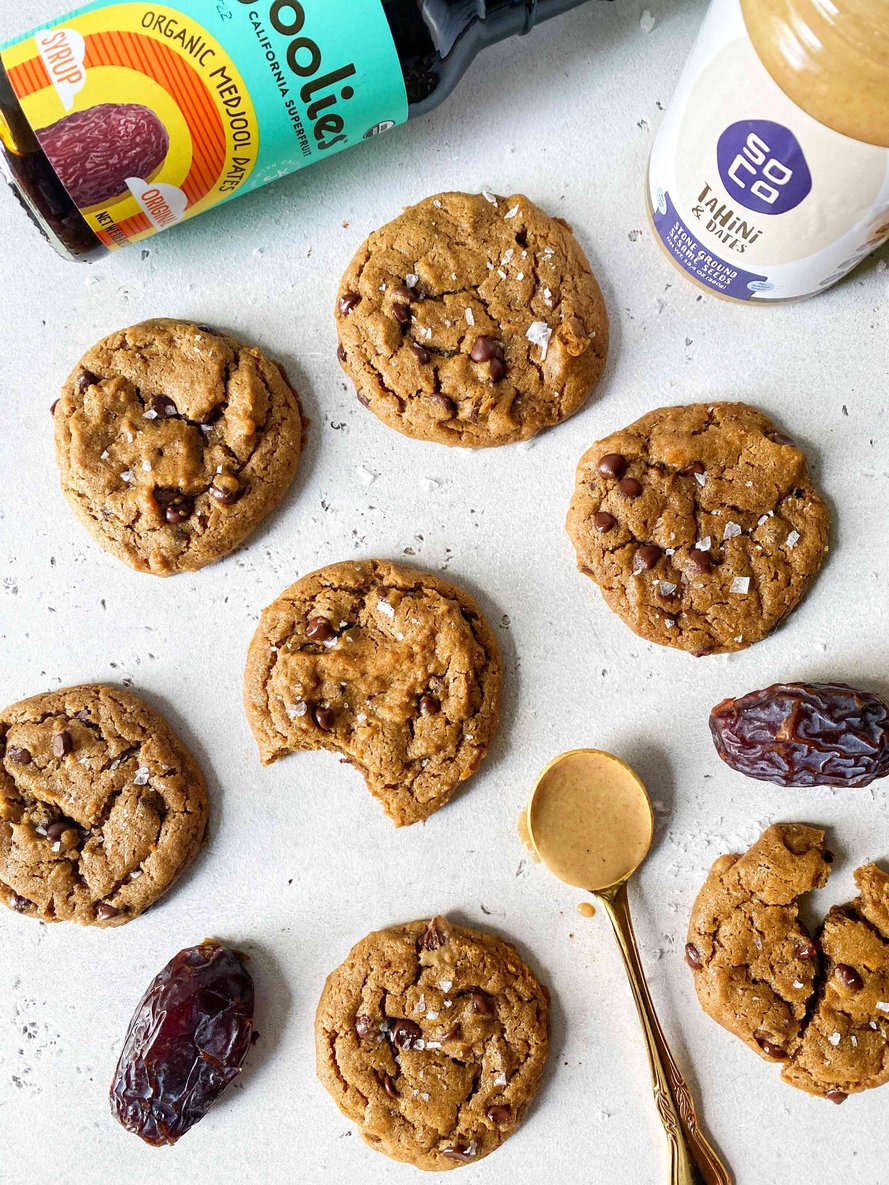 Tips and Tricks for these Cookies
Use refined coconut oil, not unrefined to avoid an unwanted coconut flavor. Treat the coconut oil like you would treat butter--softened not melted.
Runny and smooth tahini is key! If your tahini is too thick and chunky, it will alter the flavor and consistency of the cookies greatly.
If not using a flax egg, make sure your egg is room temperature so the batter will mix evenly.
Chill the dough for at least 20 minutes--the longer the better. You can even chill overnight, just be sure to cover it so it doesn't loose moisture.
Don't over bake! The cookies will continue to bake once removed from the oven so keep this in mind. If your cookies are coming out flat, make sure you are chilling the dough long enough and try lowering the oven temperature.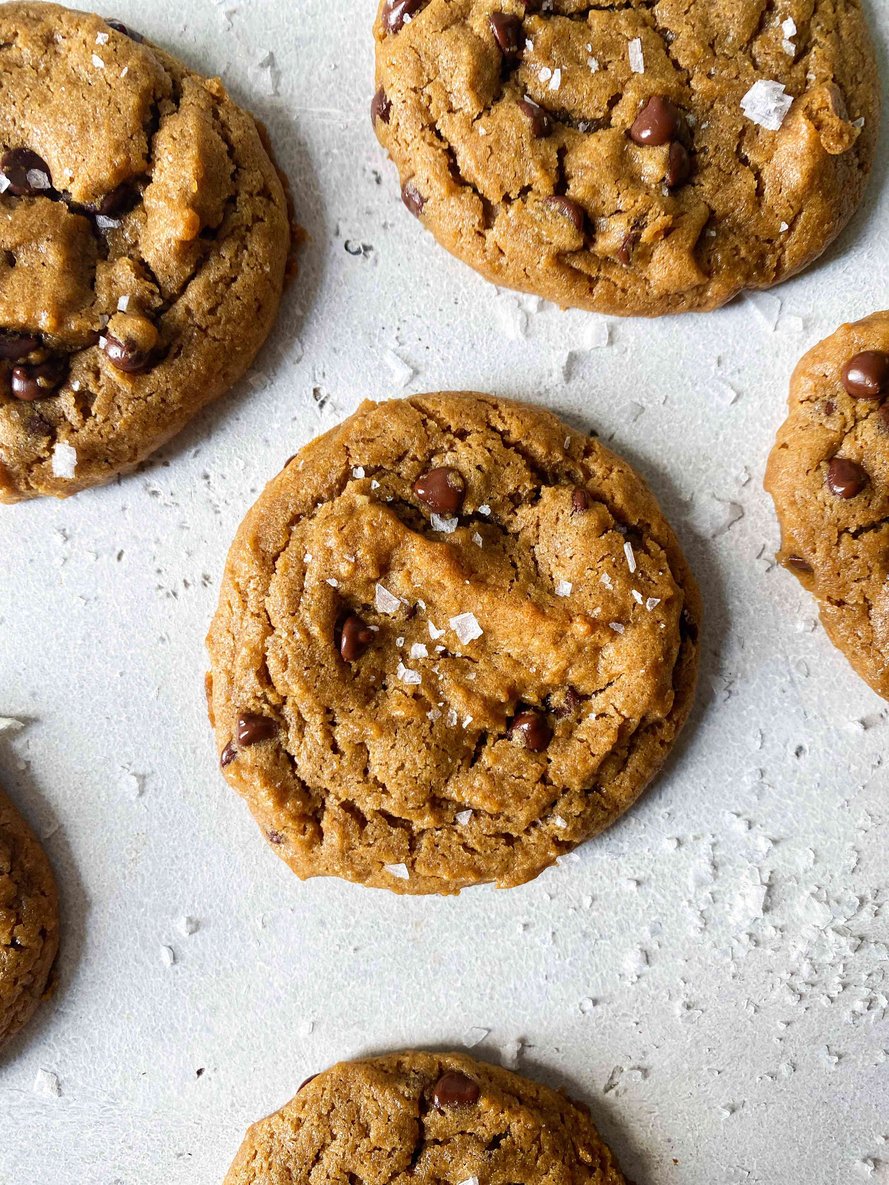 Ingredients you'll need:
Joolies Date Syrup

The only

natural

sweetener needed.

Even though the dates are heated down into a delicious syrup, this doesn't mean you lose any of the vitamins or minerals...hooray! If you're new to using date syrup or a little worried on your baking skills, check out this blog on using syrup in all of your baking adventures. Check it out

here!

Tahini

This creates a rich sesame base which gives the cookie great texture without any nutty flavor. We recommend using a tahini that is runny, silky-smooth and minimal bitterness like Seeds of Collaboration Tahini! (we especially love their Tahini + Dates butter🥰).

Coconut Oil

This is a swap for butter so treat your coconut oil like you would butter...softened, not melted! Melting the coconut oil will cause the cookies to turn out super flat (and sad🙁). As an alternative you can use butter or a vegan butter.

Egg or Flax Egg

This is the major source of moisture in this recipe and is the main component to binding the ingredients together to create the perfect cookie texture. If vegan, substitute for one flax egg (1 egg = 1 tbsp ground flaxseeds + 2-3 tbsp filtered water).

1:1 Gluten-Free Flour

This acts as a great thickener which will give us that perfect cookie dough texture!

Baking Soda

Despite being such a small ingredient, this is

essential

to getting the cookies bake up and brown!

Vanilla + Sea Salt

These will help compliment and bring out the other flavors. Plus, adding some flakey sea salt on top really elevates this dessert.

Dark Chocolate Chips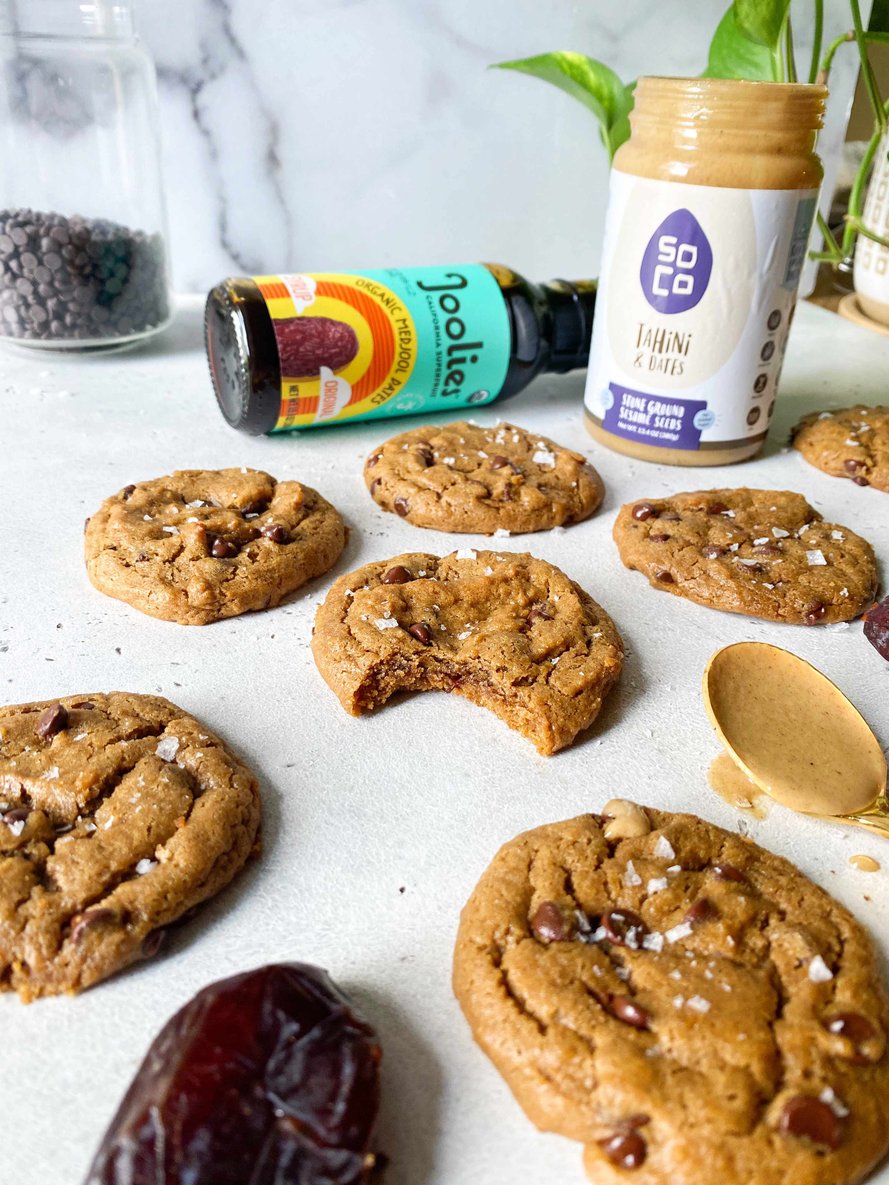 If you make this decadent date recipe dessert, be sure to tag us on Instagram and Pinterest so we can see all your date-able recreations! And you can always comment below!
Other Cookies You'll love: