These Almond Joy stuffed dates have a creamy center made with shredded coconut and coconut butter, coated in smooth dark chocolate for a sweet yet wholesome treat. Vegan, Gluten-Free, No Bake.
If you've been scrolling TikTok or the gram lately, you have probably seen the "doope" trend going around and let's just say we've been having a bit too much fun with it. Jooliettes = box of chocolates DOOPE. Medjool dates = candy DOOPE. Which brings us to...
Almond Joy Stuffed Dates
= almond joy candy DOOPE!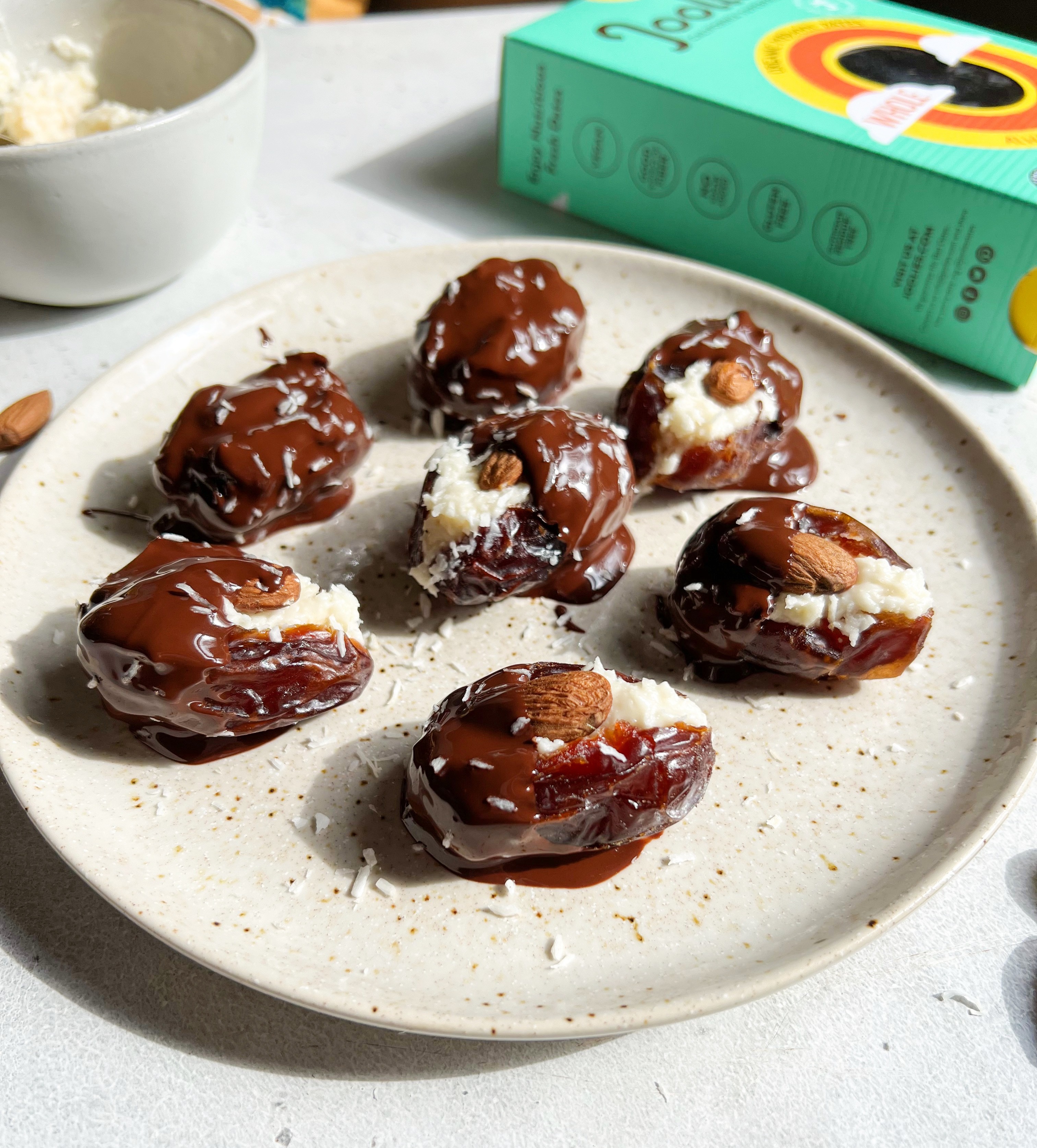 Just like our snickers stuffed dates, these Almond Joy stuffed dates taste like the real damn thing (read: candy bar) made with simple, wholesome ingredients. All you need are six ingredients to make this delectable candy bar doope that is no bake, gluten-free, paleo, vegan, and refined sugar-free.
If you are looking for a quick snack, better-for-you treat, these stuffed dates are full of healthy fats and yummy nutrients that make a terrific afternoon pick me up or late night sweet!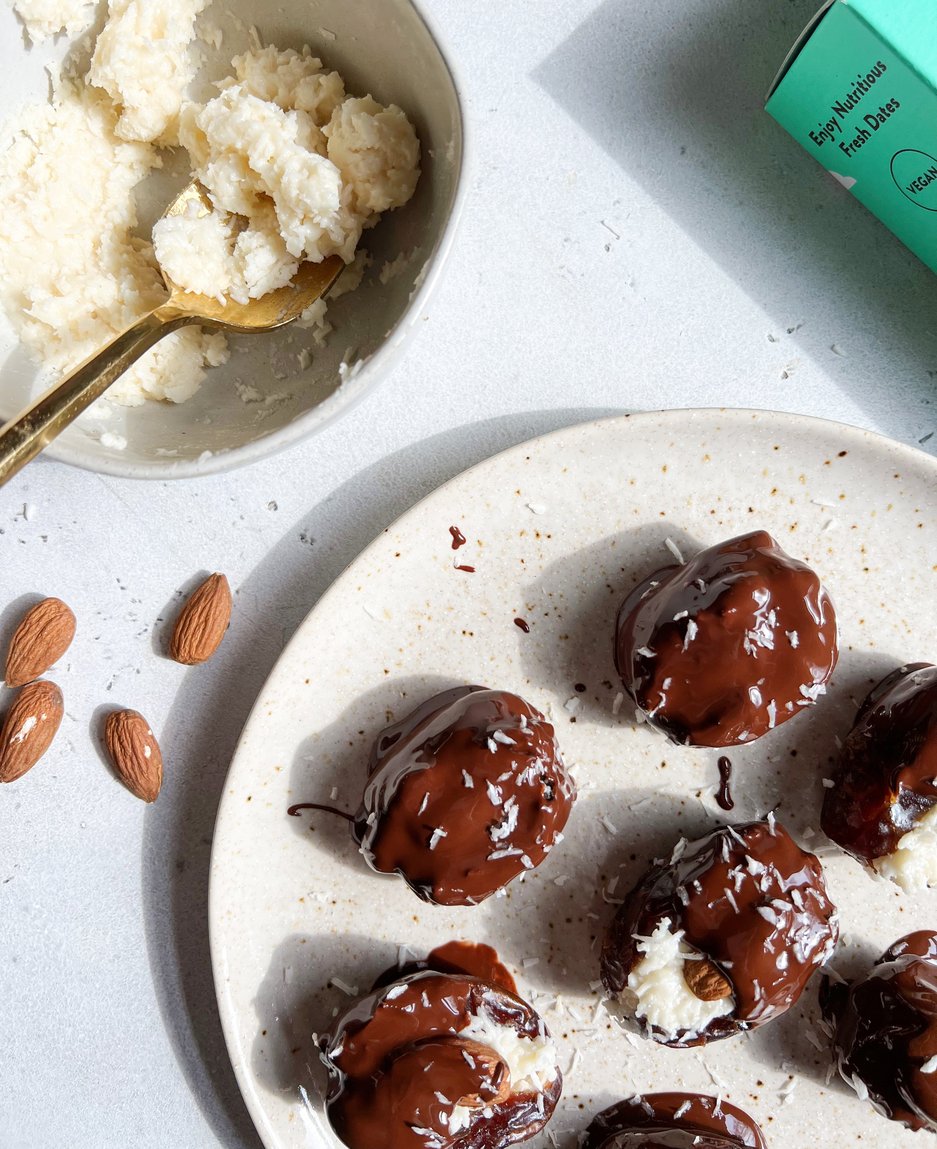 Ingredients you'll need:
Joolies Organic Medjool Dates

You can't stuff a date without a date! Whether you're team pitted or whole, both work equally as delicious and still give you all the amazing benefits of dates!

Shredded Coconut

We used unsweetened here, but if you want a sweeter bar go for the sweetened. Flaked also works great. Bob's Red Mill is a great choice.

Coconut Butter

This helps create that creaminess in the filling like a classic almond joy has while adding more coconut flavor. You can substitute with coconut cream, but we recommend mixing in some coconut oil to match the same texture as coconut butter.

Almonds


Quite possibly the most essential part of an almond joy! We recommend using roasted for the best flavor!

Dark Chocolate Chips

The smooth and delicious topping that wraps our medjool date in a warm chocolate blanket.

We recommend using a dark chocolate without fillers or artificial sweeteners (it takes longer to melt and isn't great for your body either) like Hu Kitchen, or Enjoy Life Foods

Coconut Oil


Adding a little bit of this into our melted chocolate helps keep it from drying out and thins it out to make it easier for dipping! Plus coconut oil has stellar health benefits, one being composed of healthy fatty acids called MCTs which promote brain function.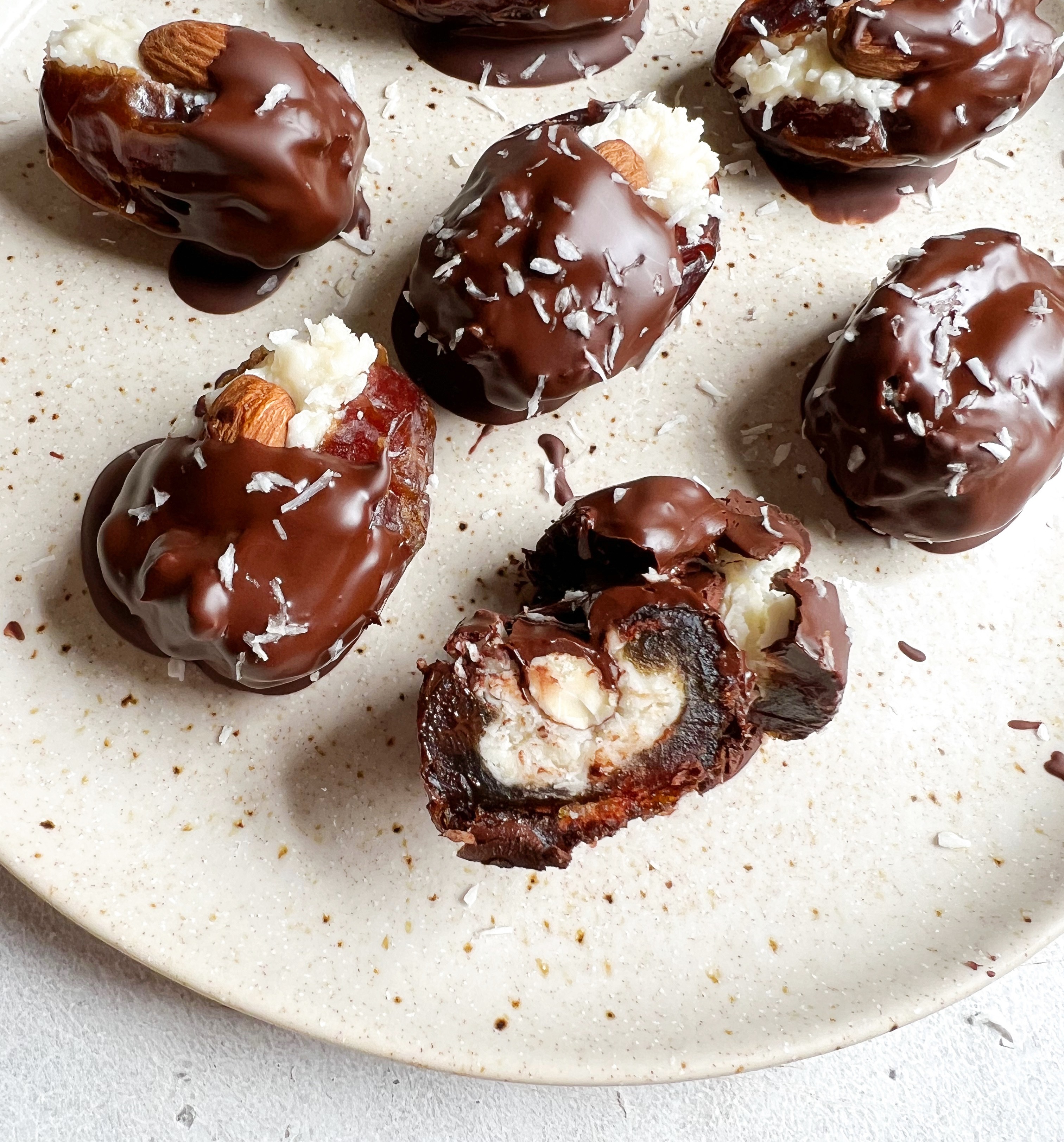 If you make this candy bar inspired stuffed date, be sure to tag us on Instagram and Pinterest so we can see all your date-able date recipe recreations! And you can always comment below!
More Date-able Candy Remakes You'll Love: