This Date and Fig Arugula Salad is a luscious blend of fresh figs, medjool dates, crunchy walnuts, creamy goat cheese and salty prosciutto, drizzled with a date-sweetened balsamic vinaigrette. Perfect for a light lunch, side dish, or topped with protein for dinner. Gluten-free, refined sugar-free, dairy free + vegetarian option.

If medjool dates had a fruity bff, fresh figs would without a doubt be their bestie. Not prunes because people easily confuse the two--which fun fact: medjool dates are a FRESH fruit while prunes are dried plums--the more you know! Medjool dates and figs most definitely make a perfect pair and this Date and Fig Arugula Salad is delicious proof of their friendship👯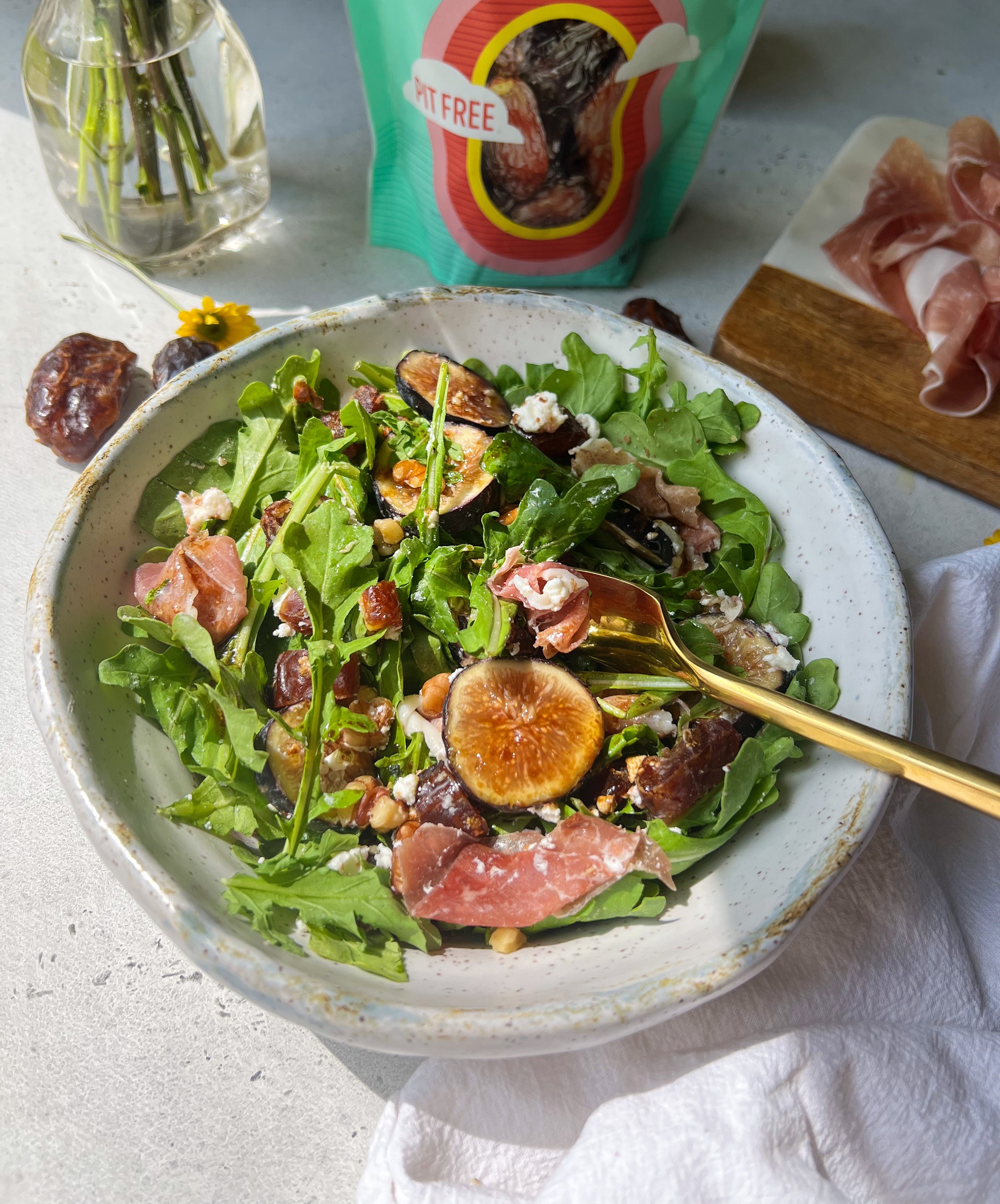 Full of dynamic flavors and textures, this Date and Fig Arugula Salad is where the summer and fall seasons meet. Hopefully you have discovered this salad before or during the prime of fig season as it is short and sweet indeed😉 The bold, peppery arugula is our leafy green base, topped with sliced, seasonal fresh figs, chopped medjool dates, crunchy walnuts, creamy goat cheese, salty prosciutto, drizzled with a homemade balsamic vinaigrette.
Not only do medjool dates make a great salad topper, but they add the perfect touch of sweetness to a homemade salad dressing.
The homemade balsamic vinaigrette is naturally sweetened with dates and it's
much
easier than you think...dare I say easier than running to the grocery and grabbing a bottled dressing?! All you need is a small mason jar to add the olive oil, balsamic vinegar,
date syrup
, mustard, garlic, and salt then shake shake shake it up until emulsified. Yep, definitely easier than going to the store😂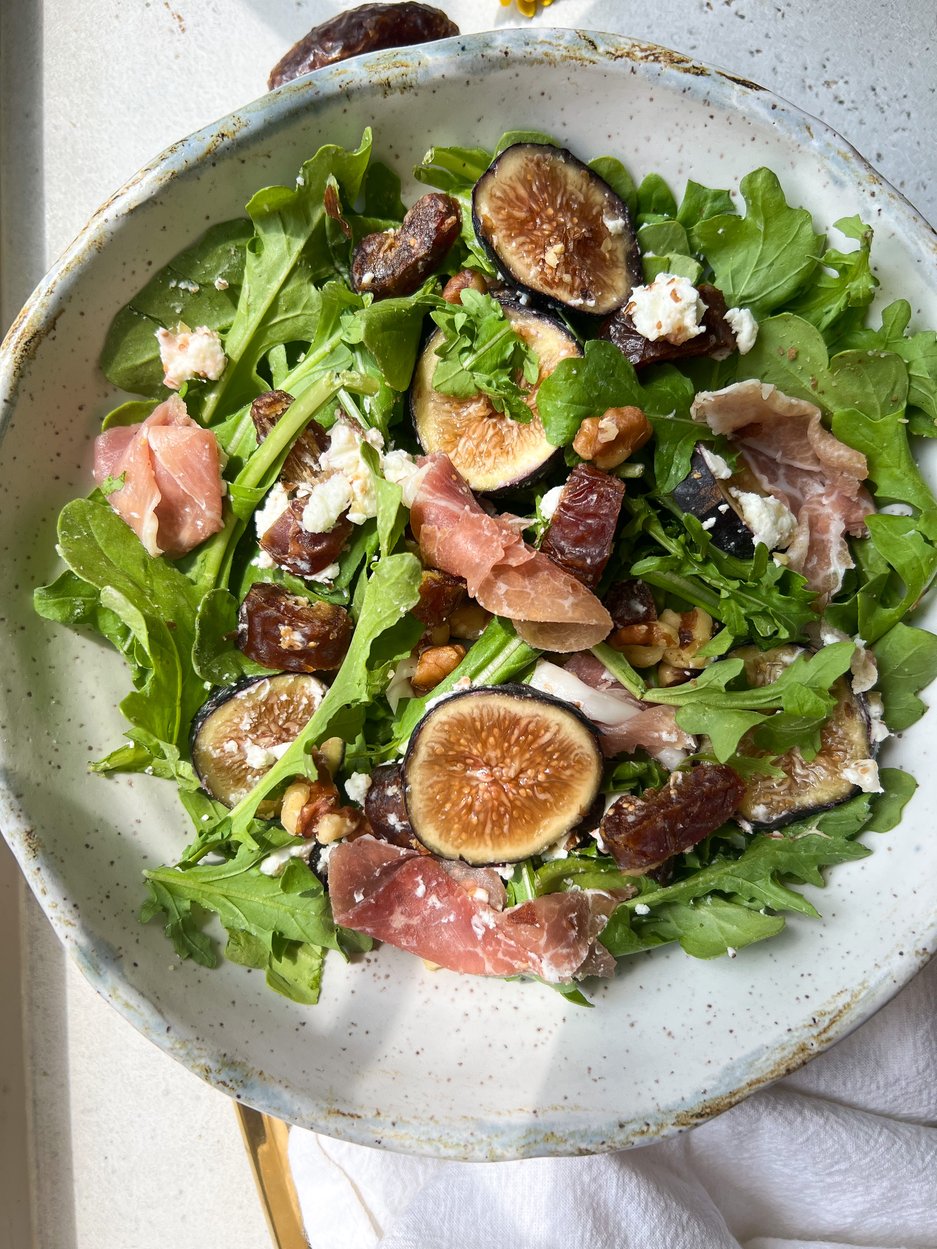 Ingredients for the salad:
Arugula
Joolies Organic Medjool Dates

Adding sweet, caramel-y, natural goodness, while adding delicious nutritional benefits! Our Date Toppers also work fabulously here, especially if you're in time-saver mode!

Fresh Figs

A seasonal gem, this fresh fruit is subtly sweet with honey, floral notes.

Walnuts
Goat Cheese

For a little creaminess and extra protein. Feel free to omit if you are dairy-free or substitute with a dairy-free version.

Prosciutto

This salty, cured meat gives our salad some protein and extra flavor! If prosciutto isn't your thing, feel free to swap

or take it out all together and add some other fun toppings that fit your diet 👏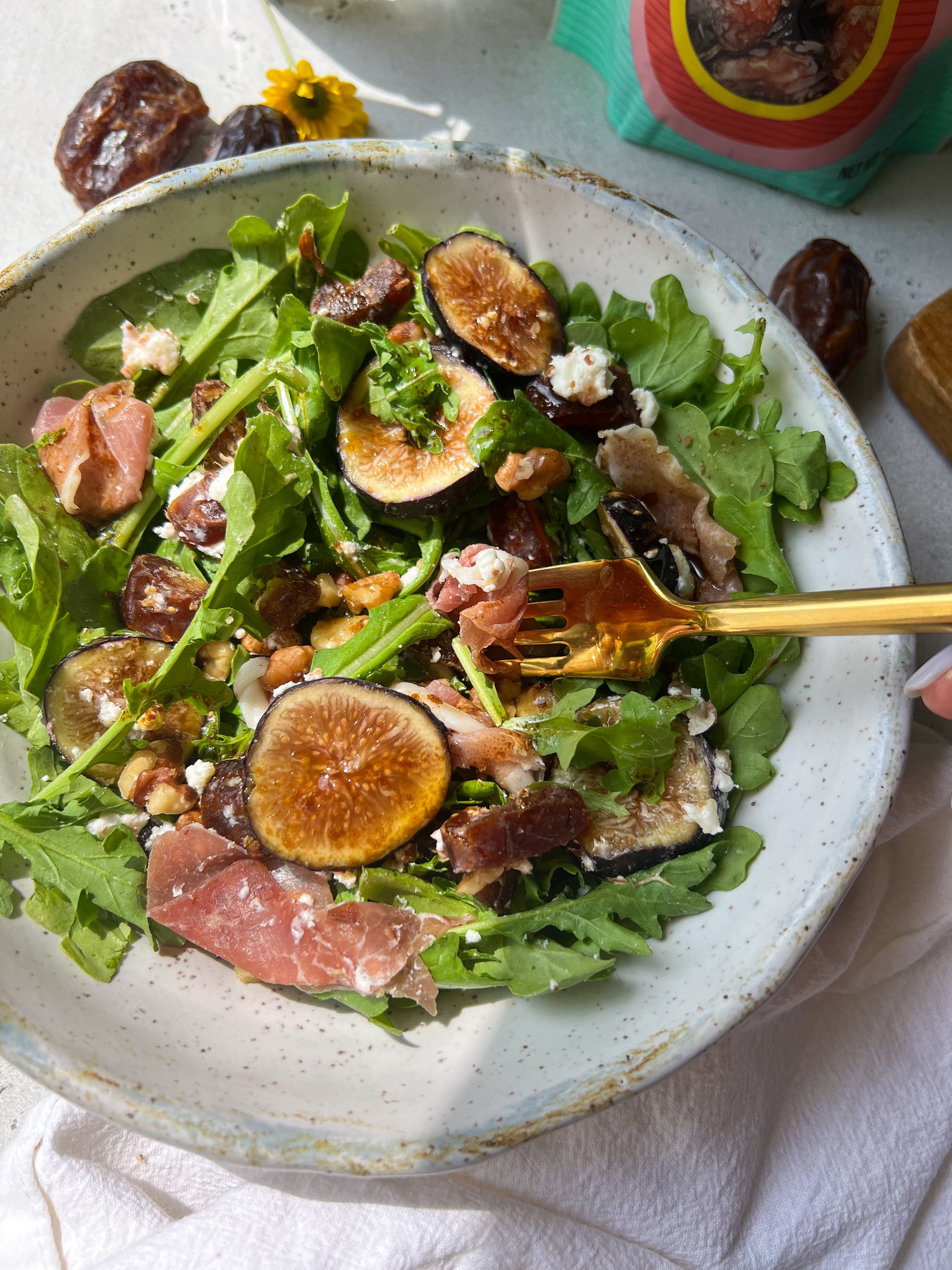 Ingredients for the dressing:
Olive Oil

This healthy fat source for our dressing lot of

proven benefits

. You can substitute with avocado oil or tahini for an oil-free option.

Joolies Organic Date Syrup

The only natural sweetener needed for our dressing. Plus you still maintain all the nutrient and health benefits of a medjool date in the syrup form.

Balsamic Vinegar

Dijon Mustard

Although small, it is mighty important! As a natural emulsifier, the mustard ensures the vinegar and oil stay together. Plus it adds a dash of zing.

Garlic and Salt

These help to compliment the other flavors!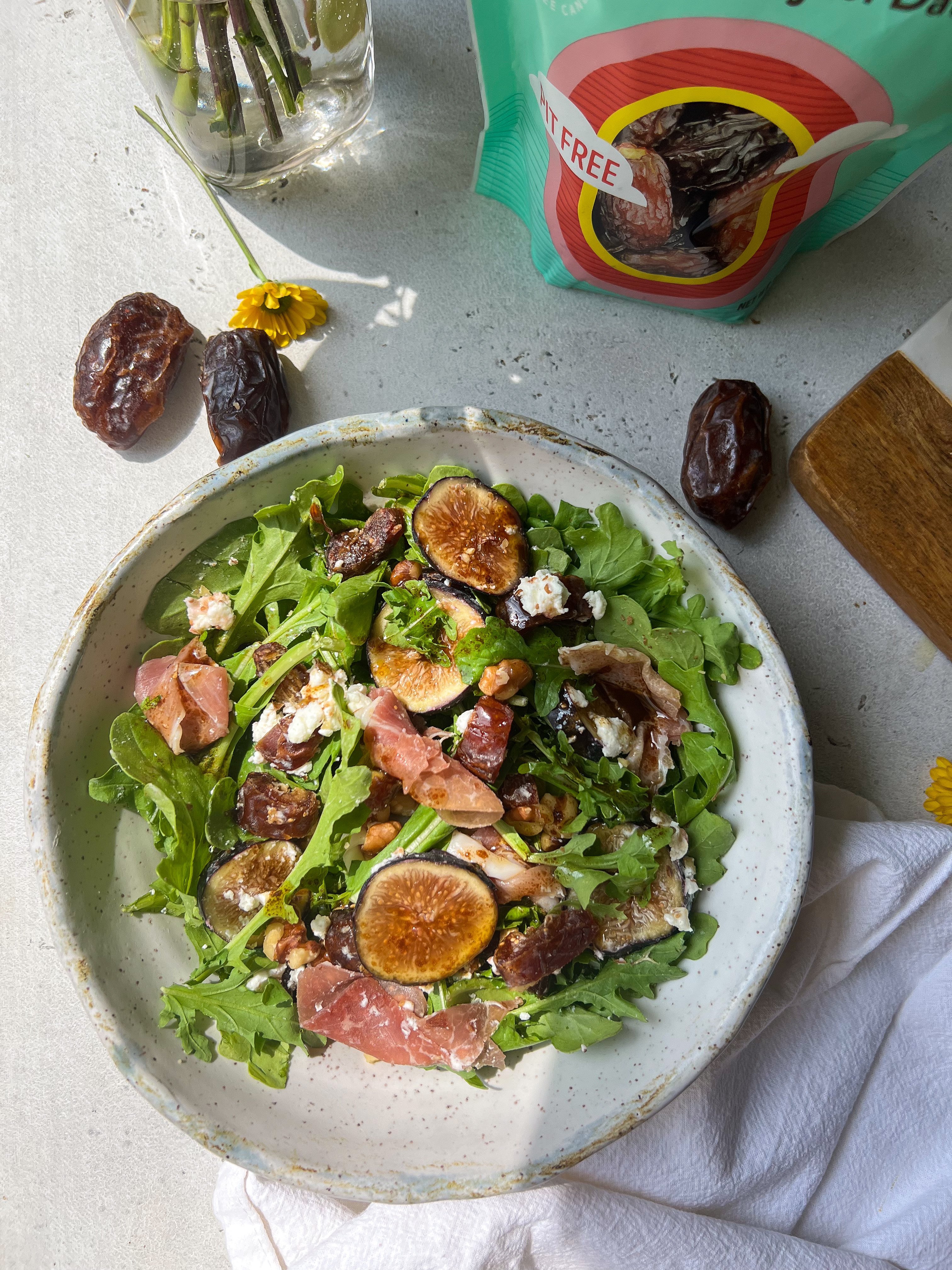 If you make this gorgeous, seasonal salad, be sure to tag us on
Instagram
@jooliesdates
and use the hashtag #jooliesdates
so we can see all your date-able date recipe recreations! And you can always comment below!
Other Recipes You'll Love