Dressed with a sweet, caramelized date glaze and garnished with chopped medjool dates and pistachios, these roasted carrots are a quick and easy side dish. Perfect for weeknight meals, holidays, and more!
Oh how delicious (said with a sarcastic tone), not another steamed, poorly seasoned, mushy vegetable! Vegetable side dishes can get boring, we get it! These Glazed Roasted Carrots with Dates and Pistachios are a palate-pleasing and beautiful side dish you can whip up with minimal effort.
Roasting is by far the easiest and quickest (aside from boiling them on the stovetop but we're not gonna count that) to prepare a delicious vegetable side dish whether you whip it up the day of or add it to your meal prep lineup. The grunt work is really just in the chopping portion because once that's done, it is smooth sailing😎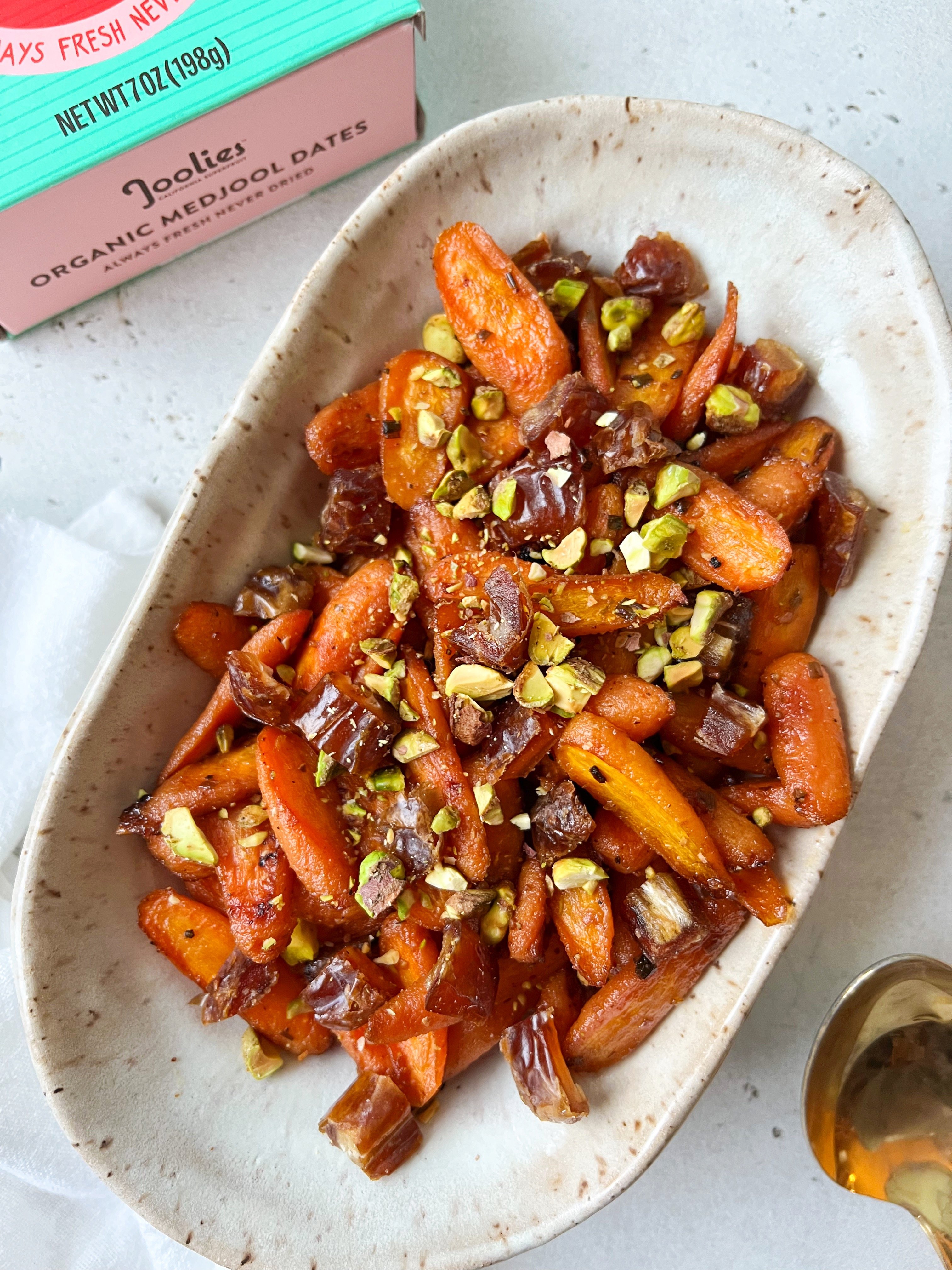 Before popping the chopped carrots into the oven
, we're going to toss them with olive oil,
Joolies date syrup
,
minced garlic, coriander, chives, pepper and salt before laying them out on the pan. The combination of the high heat of the oven and the coating with
Joolies date syrup
caramelizes the edges of the carrots to *perfection.* To to it all off, we

garnished our roasted carrots with chopped dates and pistachios for a sweet and crunchy topping.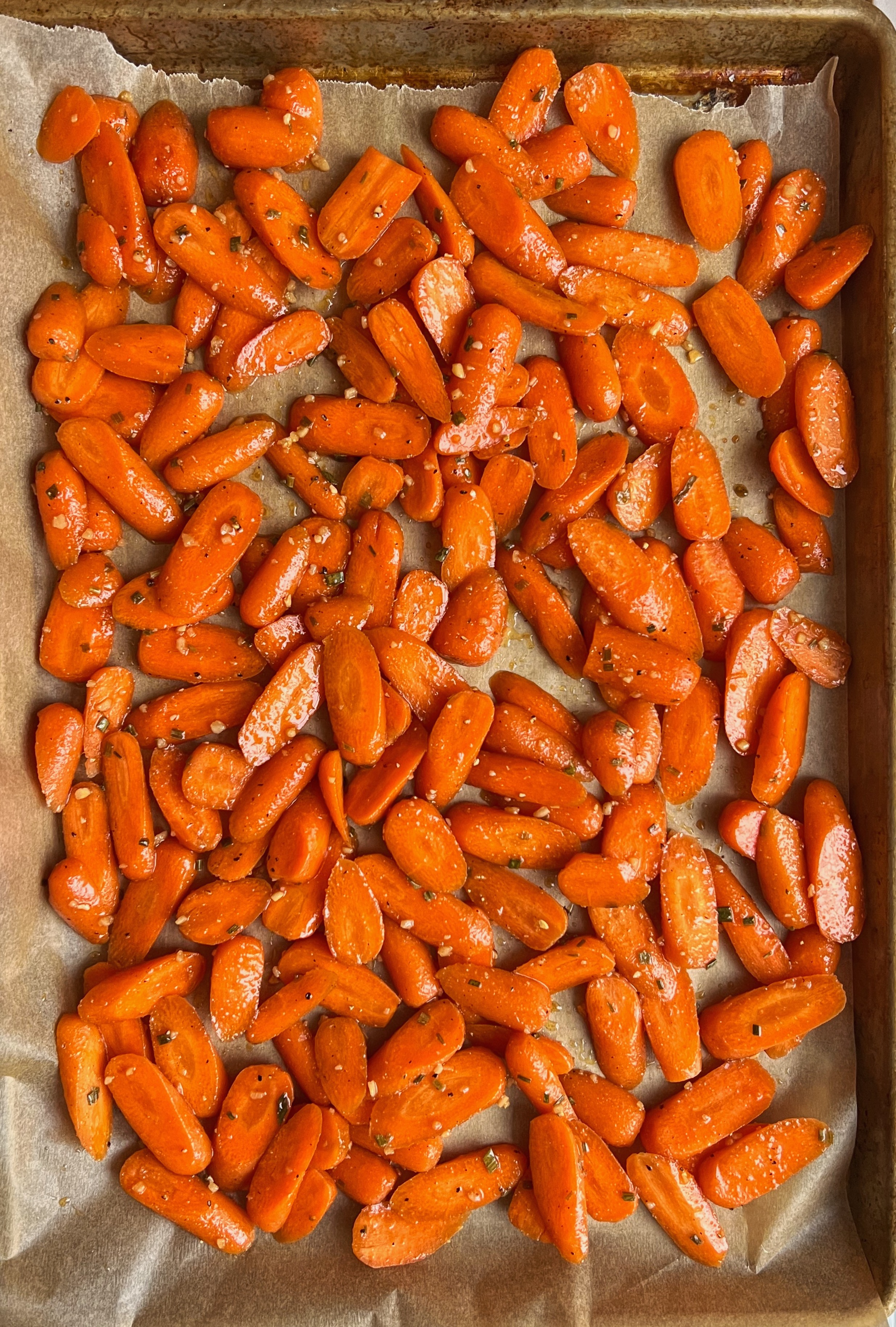 Ingredients You'll Need:
Fresh Carrots
Joolies Date Syrup


The sweet, caramel flavor of a fresh medjool date is like no other and when heated, it creates this delicious glaze that actually sticks to the dish!

Avocado Oil


For a nice neutral tasting oil, we went with avocado oil (which also has a higher smoke point), but olive oil will work just as well!

Minced Garlic

Whether you mince some fresh garlic yourself or grab a jar of minced garlic at the store, this is going to pack more flavor than a seasoning version. Plus, it is a complimentary pair with the spice coriander.

Joolies Medjool Dates

Even though dates are typically used in sweet dishes, they add a richer flavor profile to savory dishes, becoming more caramel-like when warmed.

Pistachios

This nutrient-dense nut adds a great crunchy texture to break up the softer ingredients and a bright color pop of green! Feel free to substitute with slivered almonds or pumpkin seeds for a nut-free alternative.

Ground Coriander

This might not be the most utilized spice in your pantry, but it's mild flavor adds warm nutty, citrusy, and sweet notes to our dish.

Chives

This herb adds a subtle onion-y flavor as well as a pop of color! Feel free to omit or substitute with minced onion.

Black Pepper & Sea Salt

These really enhance the other flavors we've got going on!


If you make this easy veggie side dish, be sure to tag us on
Instagram
and
Pinterest
so we can see all your date-able date recipe recreations! And you can always comment below!
More Easy Sides You'll Love