These savory goat cheese stuffed dates make for a quick and delicious appetizer! Topped with crunchy walnuts and pistachios, fresh thyme and a yummy drizzle of honey perfect for entertaining, snacking, and more. Gluten-Free and Vegetarian.
Entertaining guests? Or maybe just yourself? Because in all honesty, you don't always have to have a reason to throw a party or pamper yourself--do it just because you want! So if you're feeling fancy/need a mood-booster/need a tasty and impressive appetizer, look no further than to these Savory Goat Cheese Stuffed Dates.
The tart and tangy goat cheese pairs perfectly with the natural sweetness from the medjool dates. This appetizer is not only delicious, but chalked full of nutritional benefits! Medjool dates bring you
more potassium
than a banana oz for oz and serve as a natural source of energy⚡ But that's not all! You can check out the many wondrous benefits of dates
here
!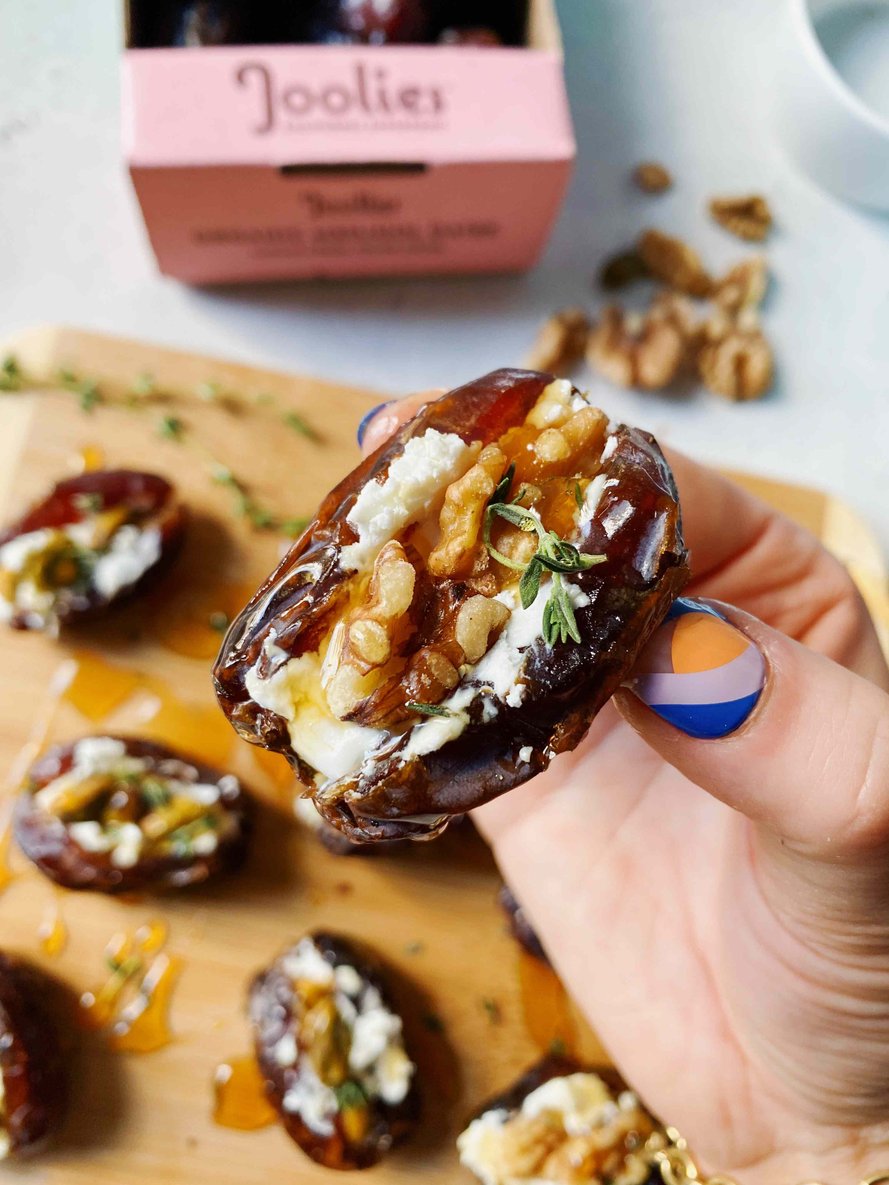 This is a no sweat appetizer that comes together in less than 10 minutes and will without a doubt impress guests. Who said impressive has to be complicated?😉 Plus, this is a recipe you can't mess up so have fun with the stuffings and toppings.
Why these stuffed dates are so great
All you need are 6 simple ingredients to make these flavor bombs!
Quick and easy to whip up, with no cooking required.
You can easily prep these little bites ahead of time and store in the fridge until it's time to party!
Naturally gluten-free, vegetarian, and can be made dairy-free.
Perfect for elevating charcuterie and grazing boards.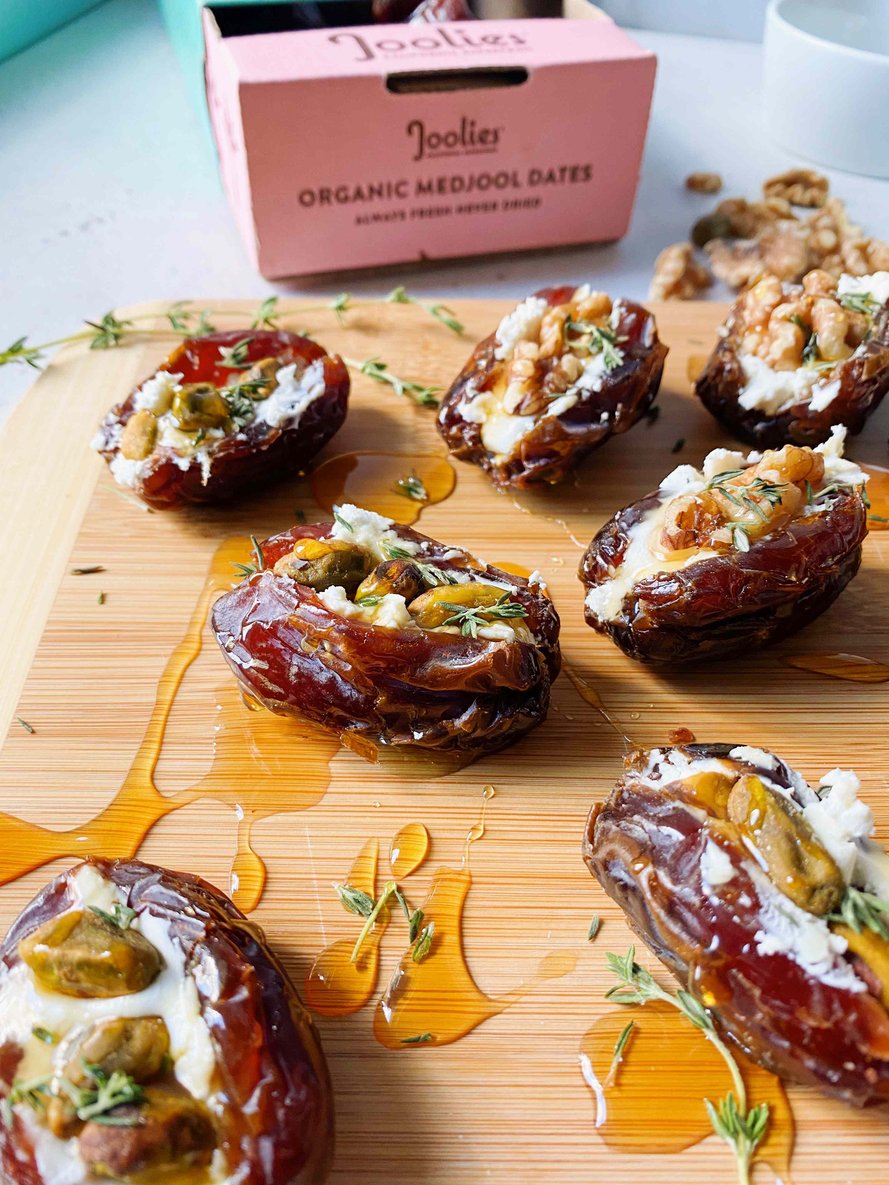 Ingredients you'll need:
Joolies Pitted Dates

You can't stuff a date without a date! We love using our pitted option for these, but whole work just as well! Just be sure to remove the pit as always 😉If you're running low on your stock of dates, you can buy some in bulk right here or in our 2 pack right here!

Goat Cheese
Walnuts + Pistachios
Honey

A little drizzle of this brings everything together and enhances all the flavors. You can omit or swap for Joolies Date Syrup!

Fresh Thyme

This incredibly fragrant Mediterranean herb pairs well with cheese and really deepens the flavor profile of our savory stuffed date. Feel free to swap with fresh oregano or rosemary.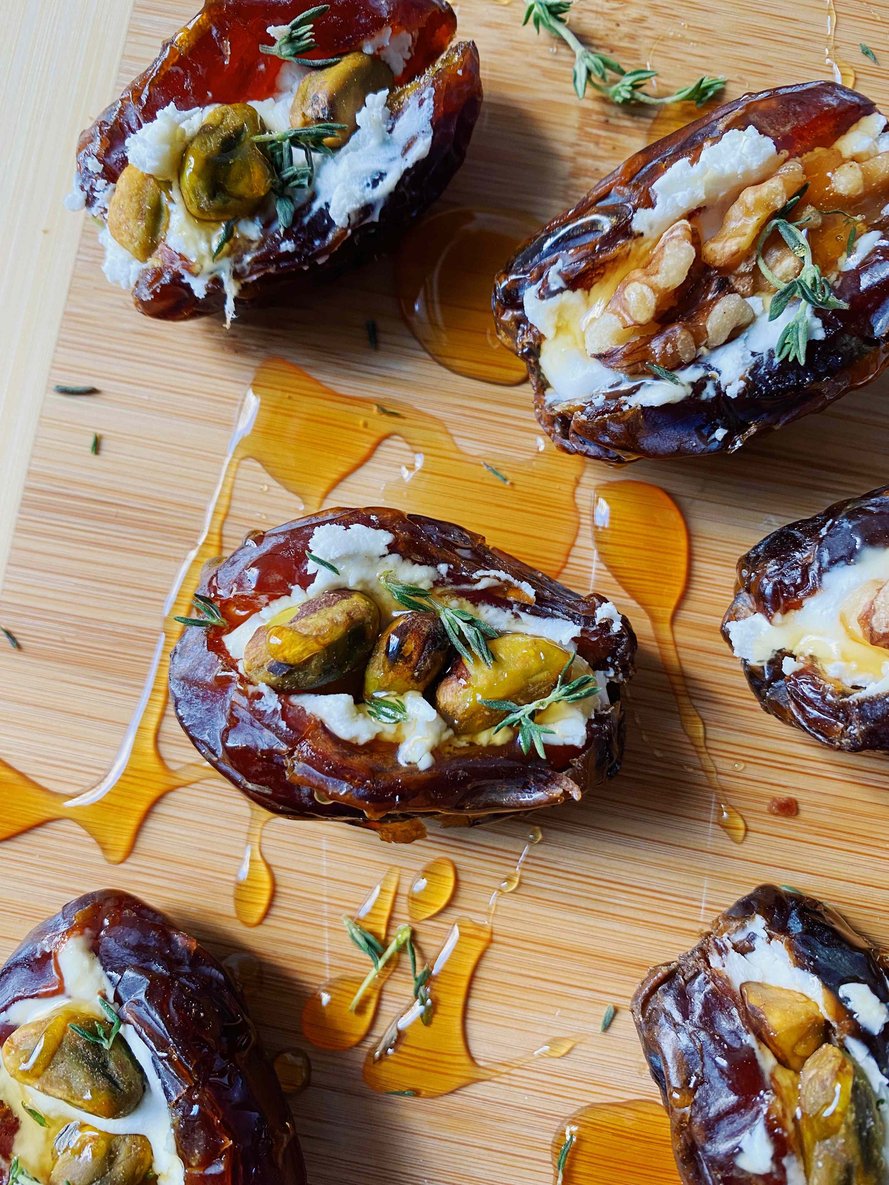 If you make this easy party appetizer, be sure to tag us on
Instagram
and
Pinterest
so we can see all your date-able date recipe recreations! And you can always comment below!
More Appetizers You'll Love