For when you need a sweet treat or a new filling for hamantaschen cookies, this super-easy medjool date-orange filling will easily become your favorite!

Date recipe created by Lauren Manaker. Photography by Jackie Stofsick.
During the Jewish holiday of Purim, Hamantaschen, a triangular-shaped cookie with a delicious filling, is traditionally eaten, but they are so good you will want to eat them all year long. While they are typically filled with jams, prunes or poppy seeds, why not mix it up a bit with delicious medjool dates?! There are just 4 main ingredients needed to make this super-easy date-orange hamantaschen cookie. Store-bought pie crust (or homemade!), Joolies medjool dates, almonds, and orange juice.
Purim is equated to "Mardi Gras" as it celebrates the liberation of Persian Jews from the evil prime minister, Haman in the Old Testament's Book of Esther. While there are feasts, drinking, and dancing, Hamantaschen (also known as "Haman's Pockets") is traditionally the popular celebration sweet. The unique shape of these buttery cookies is a bit controversial, as some believe it to be symbolic of Haman's favorite three-cornered hat, while others believe it is symbolic of Haman's ears being cut off before execution...try not to think about that too much 😅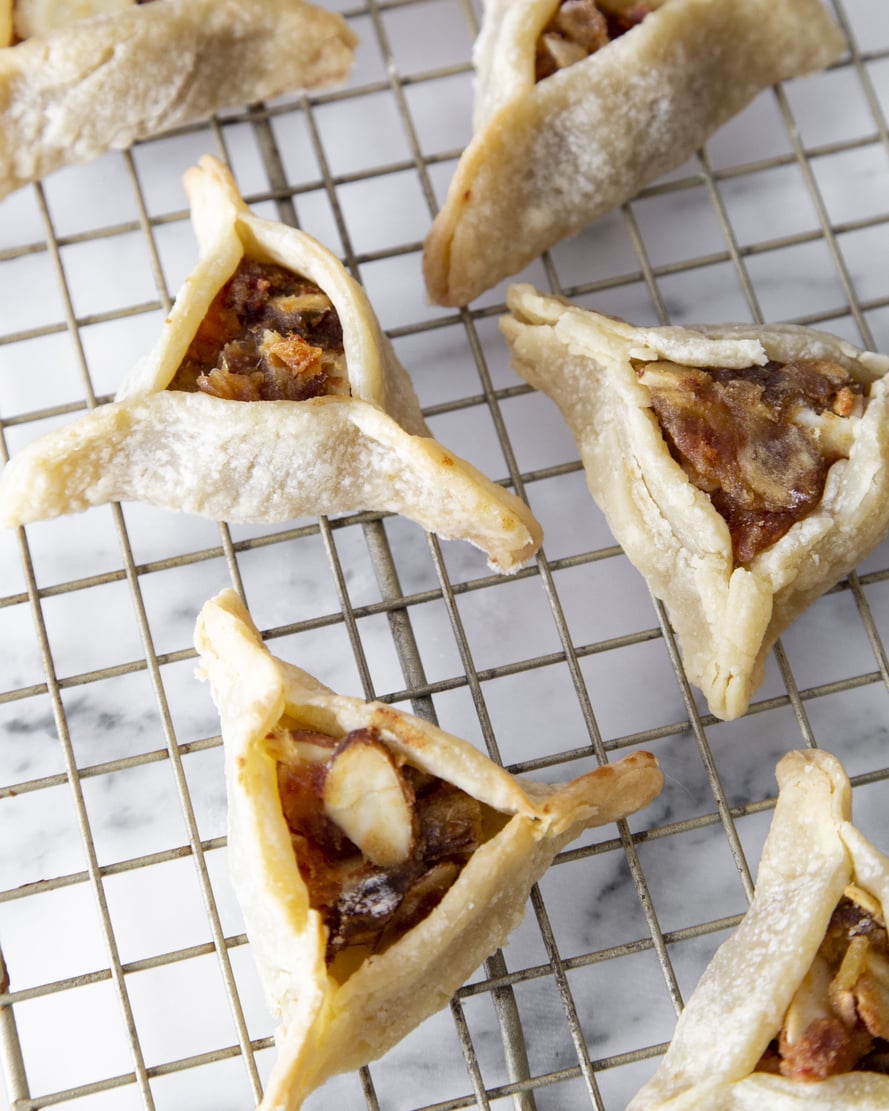 Ingredients you'll need:
Joolies Pitted Medjool Dates

This brings the natural sweetness to our filling. We love using our pitted option for these, but whole work just as well! Just be sure to remove the pit😉If you're running low on your stock of dates, you can buy some in bulk

right here

or in our 2 pack

right here

!

.

Slivered Almonds

These add a little added crunch and a subtle nutty flavor. For a substitute, you can sub in pecans, walnuts, or poppy seeds!

Orange Juice

Fresh is best here! This just adds a touch of citrus that brightens up the flavor palate.

Orange Zest


Not only does zesting an orange make your kitchen smell delightful, but this little addition takes things up a notch. Totally optional, but highly recommended😎

Favorite Cookie Dough or Pie Crust

If you are in absolute Betty Crocker mode, whip up your favorite cookie dough or pie crush. Otherwise, feel free to use pre-made refrigerated pie crust dough - we won't tell😉



If you make this deliciously easy date recipe, be sure to tag us on
Instagram
and
Pinterest
so we can see all your date-able recreations! And you can always comment below!
More Recipes You'll Love