Rich, decadent vegan chocolate fudge made with 4 simple, wholesome ingredients and naturally sweetened with dates. No one will know they're gluten-free, and vegan! Perfect to serve at parties or as a holiday gift.
Holy fudge! Rich, decadent, and indulgent, this Vegan Chocolate Fudge will melt in your mouth. We're switching a few things up from traditional fudge to make these vegan, gluten-free, nut-free, and 100% delicious 👅
All you need are four simple ingredients to make a batch of this fudge delight. One being
our Cocoa Date Syrup 😍

A decadent, vegan chocolate syrup that will remind you of the classic Hersey's syrup.
The ingredients? Organic medjool dates, organic cocoa, water, sea salt. Yea, it's pretty amazing 😉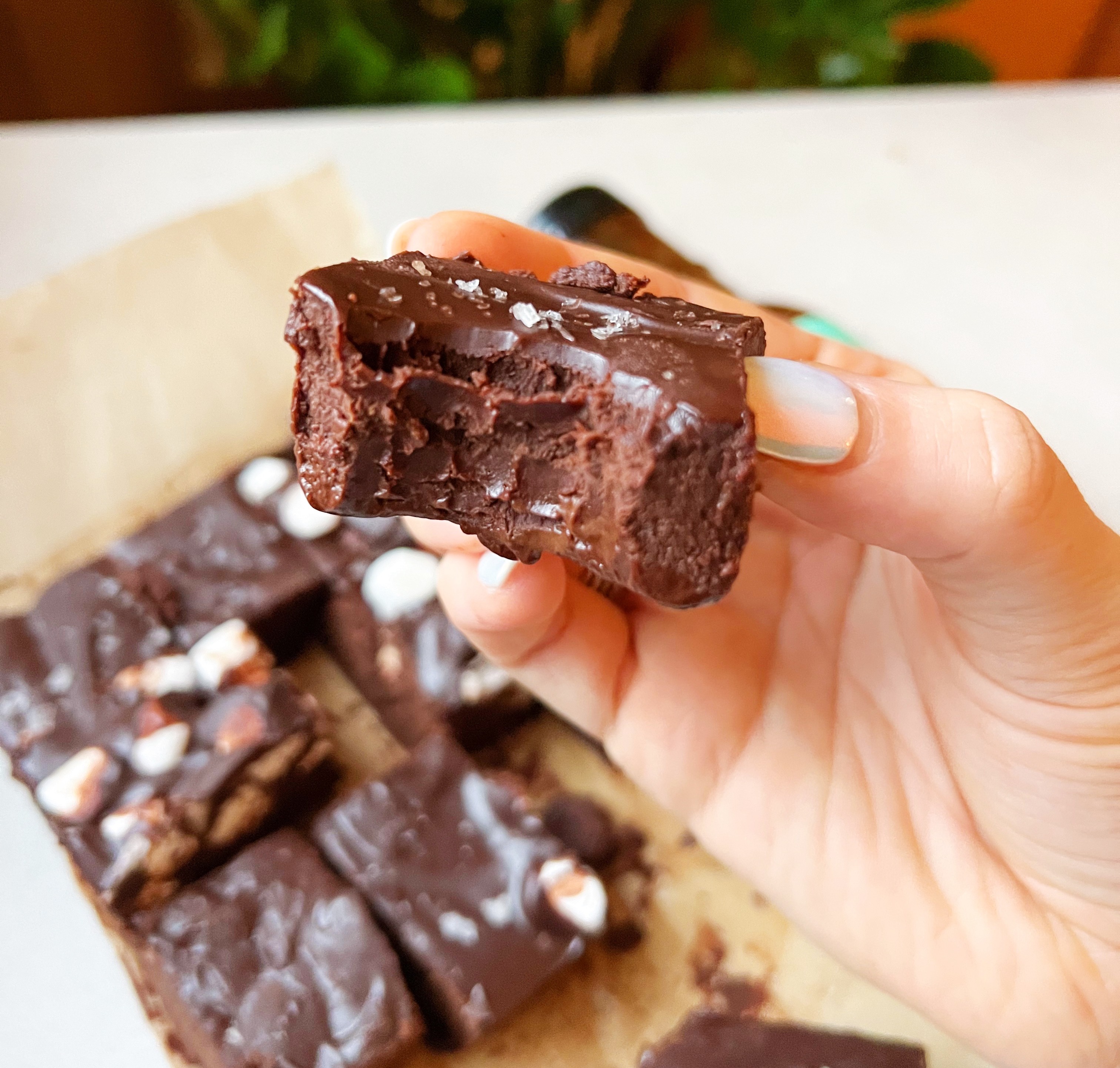 Why this fudge is so great
If the photos don't speak for themselves...there are a few more reasons why.
Made with better-for-you ingredients like coconut milk, Joolies date syrup, and coconut oil.
With the holiday's coming up, they make a perfect gift or addition to your holiday spread.
Give you indulgence without the sugar hangover.
The perfect smooth and creamy texture, it's not crumbly or soupy.
Easy to make! You don't have to be a baker or cook to nail this one😉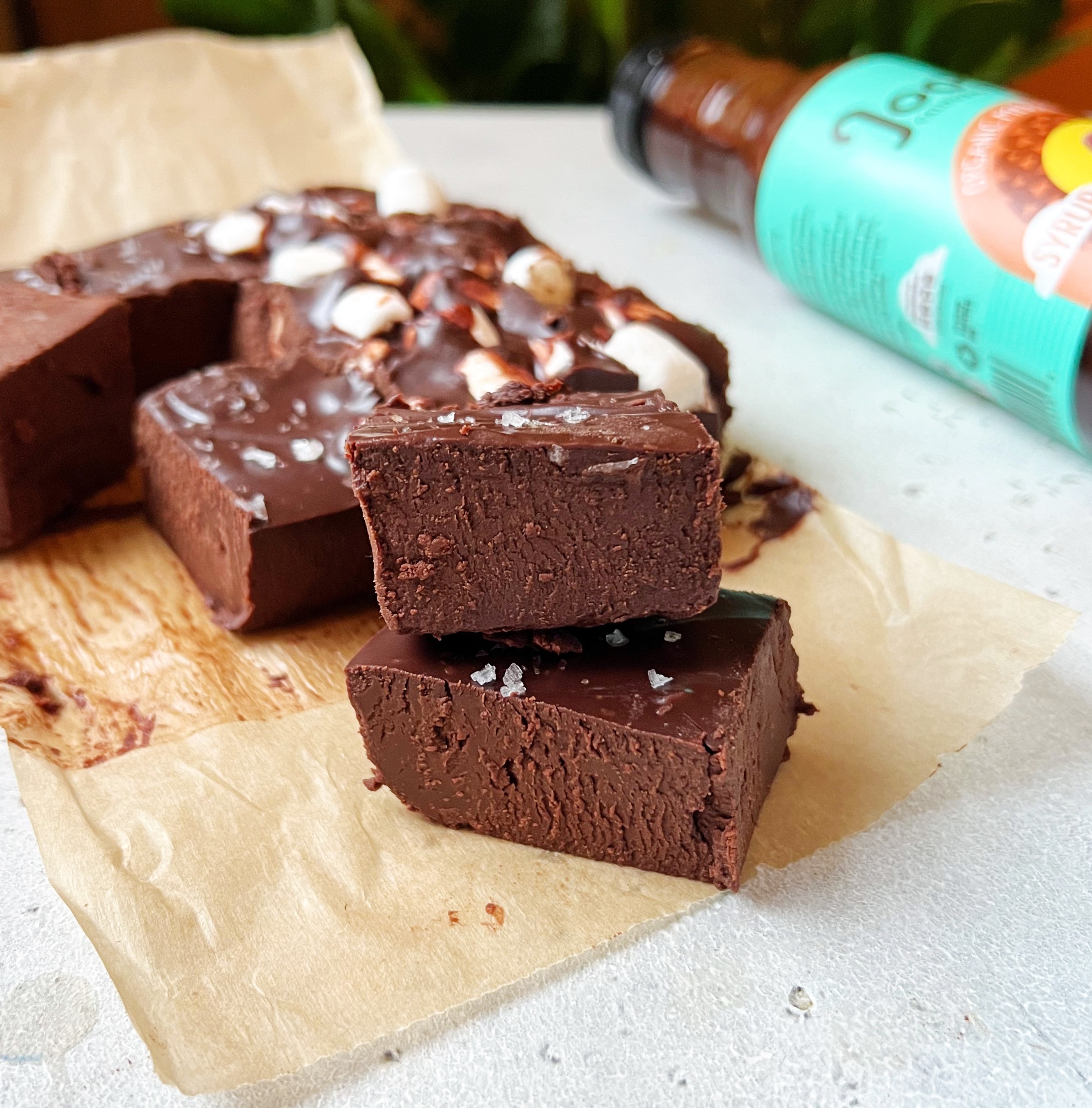 Ingredients you'll need:
Coconut Milk

It's important to get the full-fat version to get the creaminess we all love. Naturally, the coconut milk separates which works in our favor, since we only need the top cream portion. Be sure to just scoop out the cream and leave the liquid.

Joolies Cocoa Date Syrup

Dark Chocolate Chips

Unrefined Coconut Oil



Vanilla Extract

This helps to enhance and compliment the other flavors.

Marshmallows or Flakey Sea Salt

These are just the cherry on top for a little extra something! Sprinkles would also be a fun, festive topping.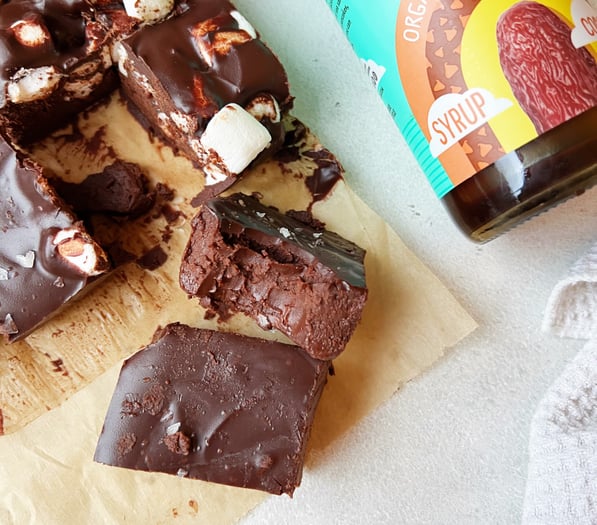 If you make this decadent dessert, be sure to tag us on Instagram and Pinterest so we can see all your date-able date recipe recreations! And you can always comment below!
Other Easy Chocolatey Sweets You'll love: