These No-Bake Chocolate Almond Cookie Bars are easy to make with just 6 simple ingredients and sweetened naturally with medjool dates for a vegan, gluten-free, refined sugar-free treat!
Okay we
know
"cookie" makes these bars sound like
dessert
(and they most definitely are a sweet treat) but these bars fit in more than one meal category😉 When the ingredients are as
simple
,

wholesome

, and

nutritious

as these, dessert is also a snack is also breakfast haha.
The base of these bars resembles a cookie dough-like consistency and definitely satisfies that cookie dough craving. This yummy cookie dough-like base gets is texture and flavor from the delicious combination of
Joolies Medjool Dates
,
creamy
almond butter
,
almond flour
,
coconut oil
, and
vanilla
.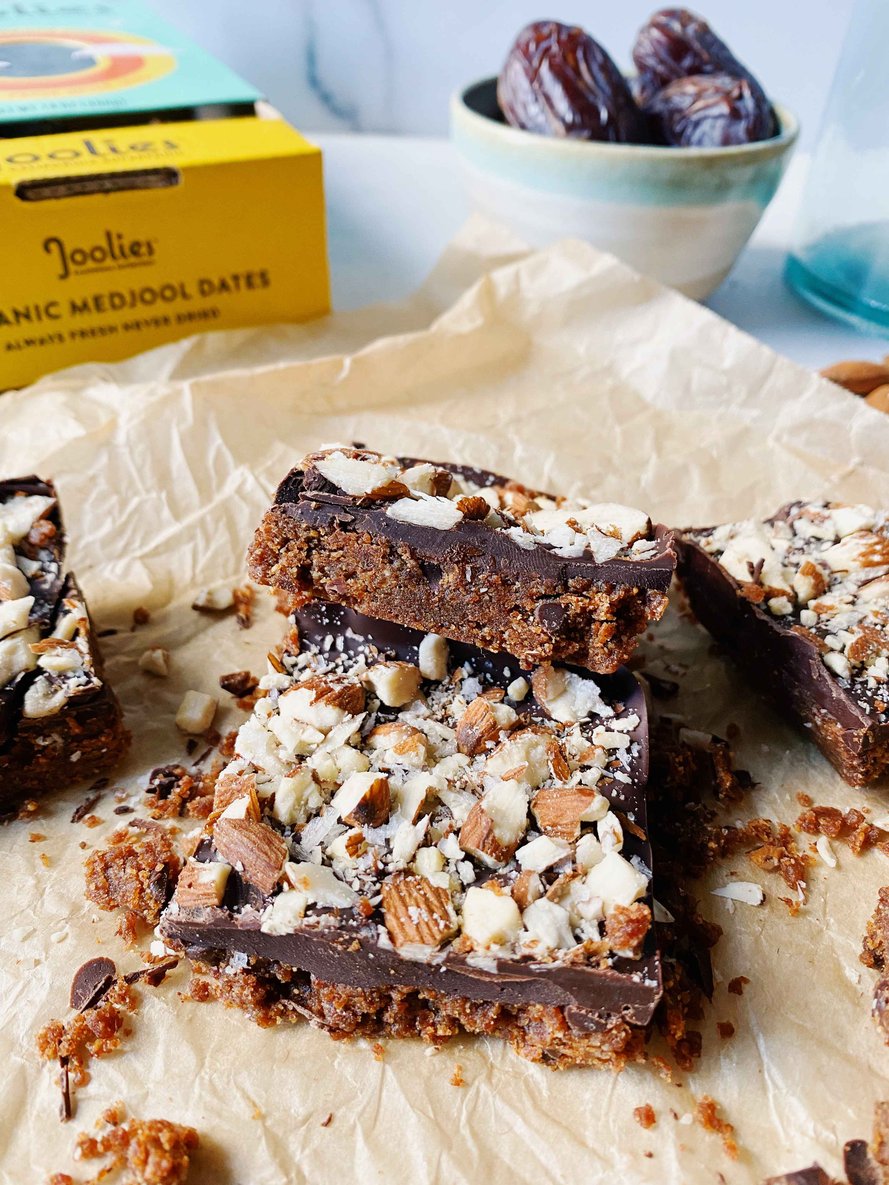 When it comes to picking between
refined
and
unrefined
coconut oil, we went with
refined
since it doesn't have any coconut flavor so the almond flavor can really shine.
To add a bit more chocolate-ness to is, you can add in a little bit of dark chocolate chips into the base--which we highly recommend😉 Bringing it all together, our almond cookie base gets a
dark chocolate topping
with
chopped almonds
for an added crunch factor
and
a sprinkle of flakey sea salt if that's your jam!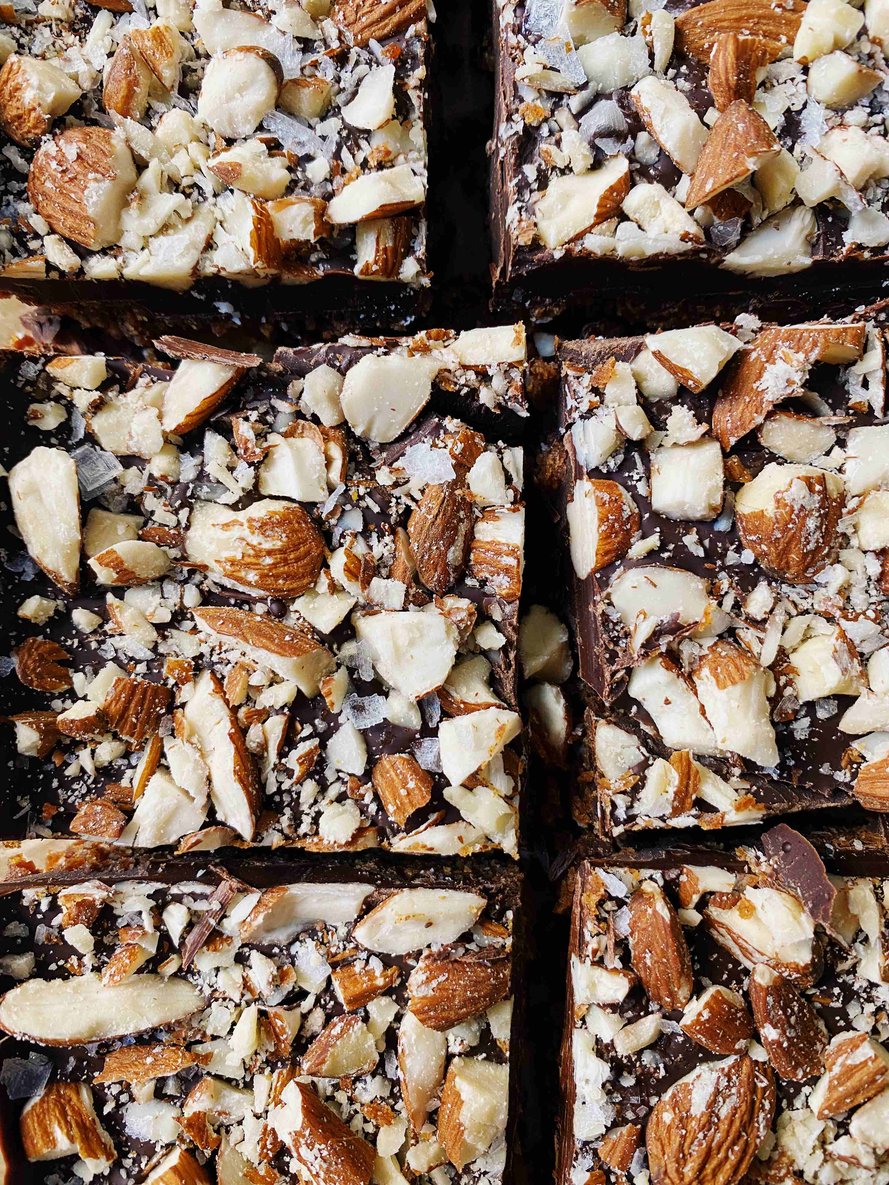 Ingredients you'll need:
Joolies Medjool Dates

The only

natural sweetener needed that's low glycemic and packs

in good nutrients like magnesium, potassium, antioxidants and more!

Almond Butter

The stickiness of the almond butter helps to bind everything together so we avoid a crumbly mess.

Almond flour

This helps us achieve the perfect texture of our bars while adding a hint more of almond flavor. You can swap for coconut flour, but you might need to add lees since coconut flour is so absorbent and it will add a coconut flavor.

Vanilla + Sea salt

Both of these ingredients help to compliment other flavors!

Almonds

These add a delicious crunch factor

and also supports a healthy gut, Omega-3 levels, and help control blood sugar levels thanks to its slow-digesting properties 👏

Dark Chocolate Chips

The coating that brings it all together. We recommend using a dark chocolate without fillers or artificial sweeteners. Some of our favorites are Hu Kitchen, or Enjoy Life Foods.

Coconut Oil

Adding a little bit of this into our melted chocolate thins it so the chocolate layer doesn't get too thick...we don't want a chipped tooth!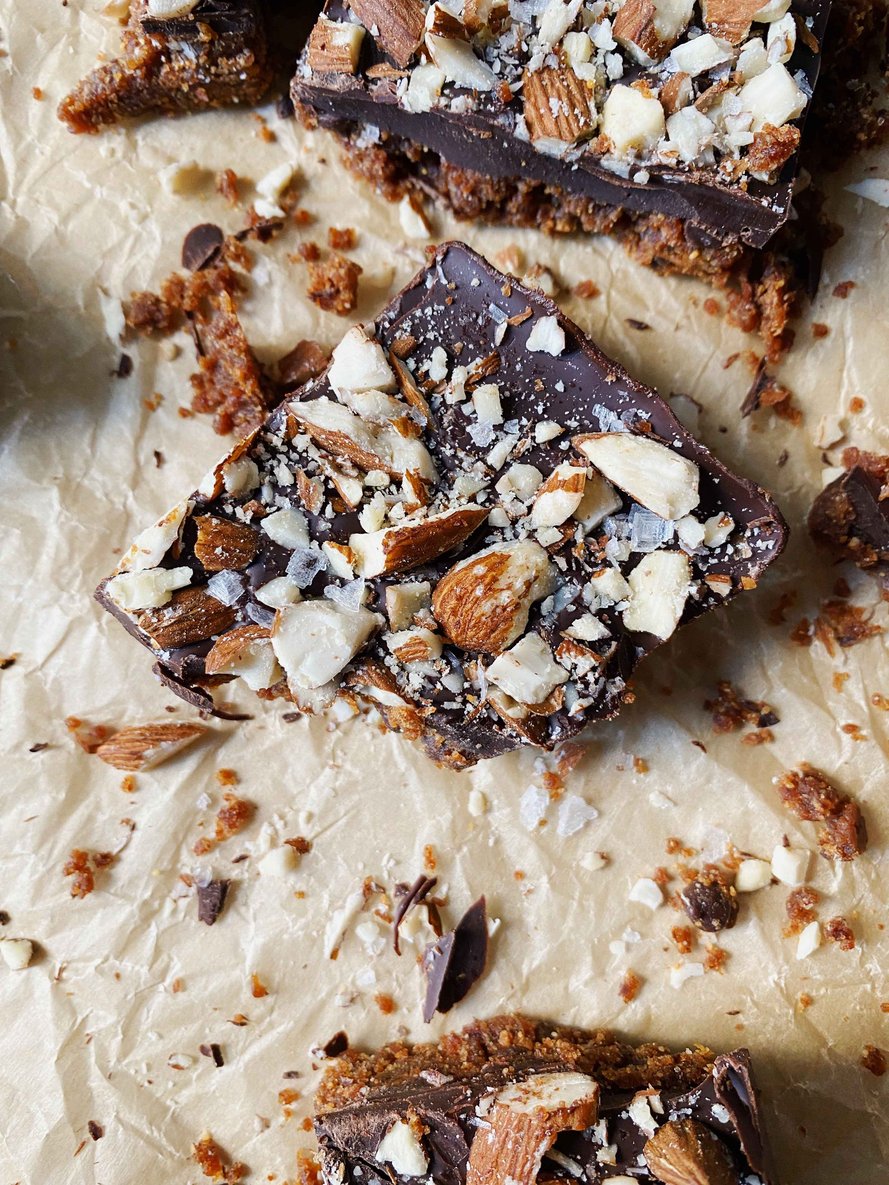 If you make this easy, sweet date snack, be sure to tag us on Instagram and Pinterest so we can see all your date-able date recipe recreations! And you can always comment below!
More Chocolate Recipes You'll Love: