Incredibly fluffy paleo carrot cake muffins made with wholesome ingredients and studded with caramel-y medjool dates. Perfect for Easter, a quick healthy breakfast, or dessert! Gluten Free, Dairy Free, Refined Sugar-Free, and Grain Free.
Fluffy, moist, naturally sweetened, and perfectly spiced, these
Carrot Cake Muffins
don't miss a beat!
Naturally sweetened
with
date syrup
and coconut sugar and made with feel-good, wholesome ingredients that keep this recipe
gluten free
,
dairy free
,
grain free
, and
refined sugar free
. So you will stay feeling good (probably even better!!) after one or a few😉
Dress them up with a thick-n-creamy icing for more indulgence or enjoy them warmed up with a hot cup of coffee--we love a recipe that doubles as a healthy breakfast and dessert! You can't go wrong either way.
Typically, carrot cake is marbled with raisins and while we're not ones with a strong hatred for that shriveled dried fruit (no shame if you do!), we just prefer medjool dates instead. They add lovely bites of chewy, caramel-y goodness into delicious baked goods. Plus, medjool dates are a nutrient-dense superfruit,
rich in fiber, potassium, magnesium, and vitamin B6
to name a few!
Tips and Tricks for these Muffins
Use finely ground almond meal to create the right texture (it will be super gritty if not).
Make sure your eggs are at room temperature so the batter will mix evenly.
Grate your own carrots. Avoid grabbing the pre-shredded kind at the store which aren't as fresh or moist as it will affect the texture and moisture of the muffins.
Have fun with mix-ins! Throw in some pecans, walnuts, or even crushed pineapple for even more added texture.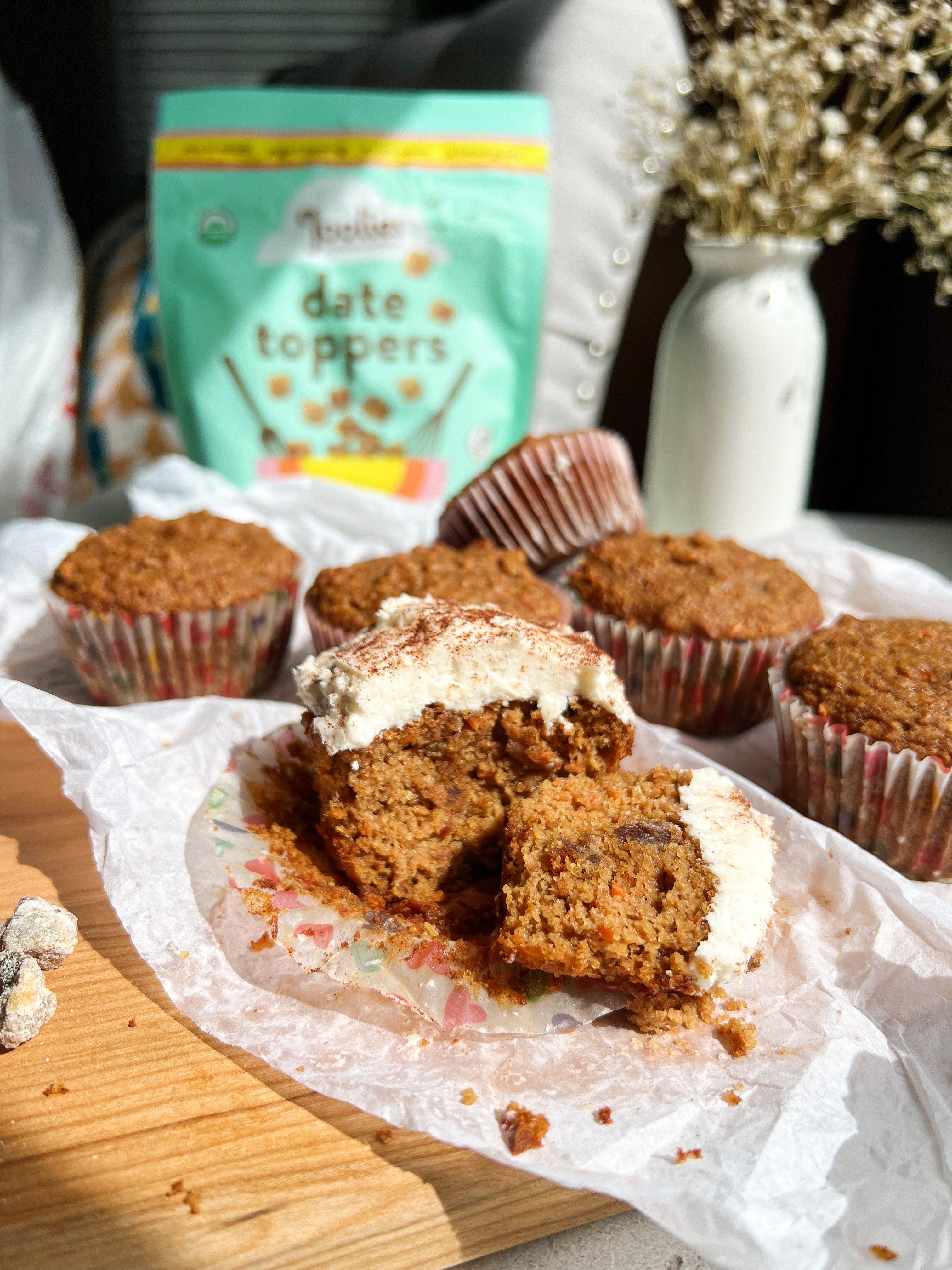 Ingredients you'll need:
Joolies Date Syrup
Avocado Oil

This neutral oil keeps our muffins moist and works with the baking powder and baking soda to create a fluffy and tender texture. You can substitute with olive oil or vegetable oil.

Dairy Free Milk

We went with a coconut milk, but you can use whatever floats your boat.

Carrots

What's a carrot cake without any carrots! You want these to be finely shredded so we recommend using the smaller side of a grater or you can achieve the same outcome with a food processor.

Joolies Date Toppers

Joolies California organic medjool dates chopped into bite-sized pieces with a light rice flour coating that adds moisture and little bites of caramel into our muffins.

Eggs

Almond Flour

This will thicken up the batter and also has a stellar nutritional profile that's rich in Vitamin E and magnesium and just like medjool dates, almond flour is a great low glycemic option!

Coconut Flour

This absorbent gluten free flour works in tandem with the almond flour to create the desired texture of our muffins. We love Bob's Red Mill Coconut Flour.

Coconut Sugar

T

o get the sweetness we all love, while keeping it refined sugar-free, we added a little bit of coconut sugar. We don't recommend substituting with a liquid sweetener as it will throw off the baking ratio.

Baking Soda + Baking Powder

Baking powder & baking soda work hand in hand together. They both are

essential

to getting the FLUFF by helping them rise properly.

Spices + Vanilla + Sea Salt

Don't forget the spice! Grab ginger, cinnamon, and nutmeg, to create the carrot cake flavor. Vanilla will help compliment the other flavors.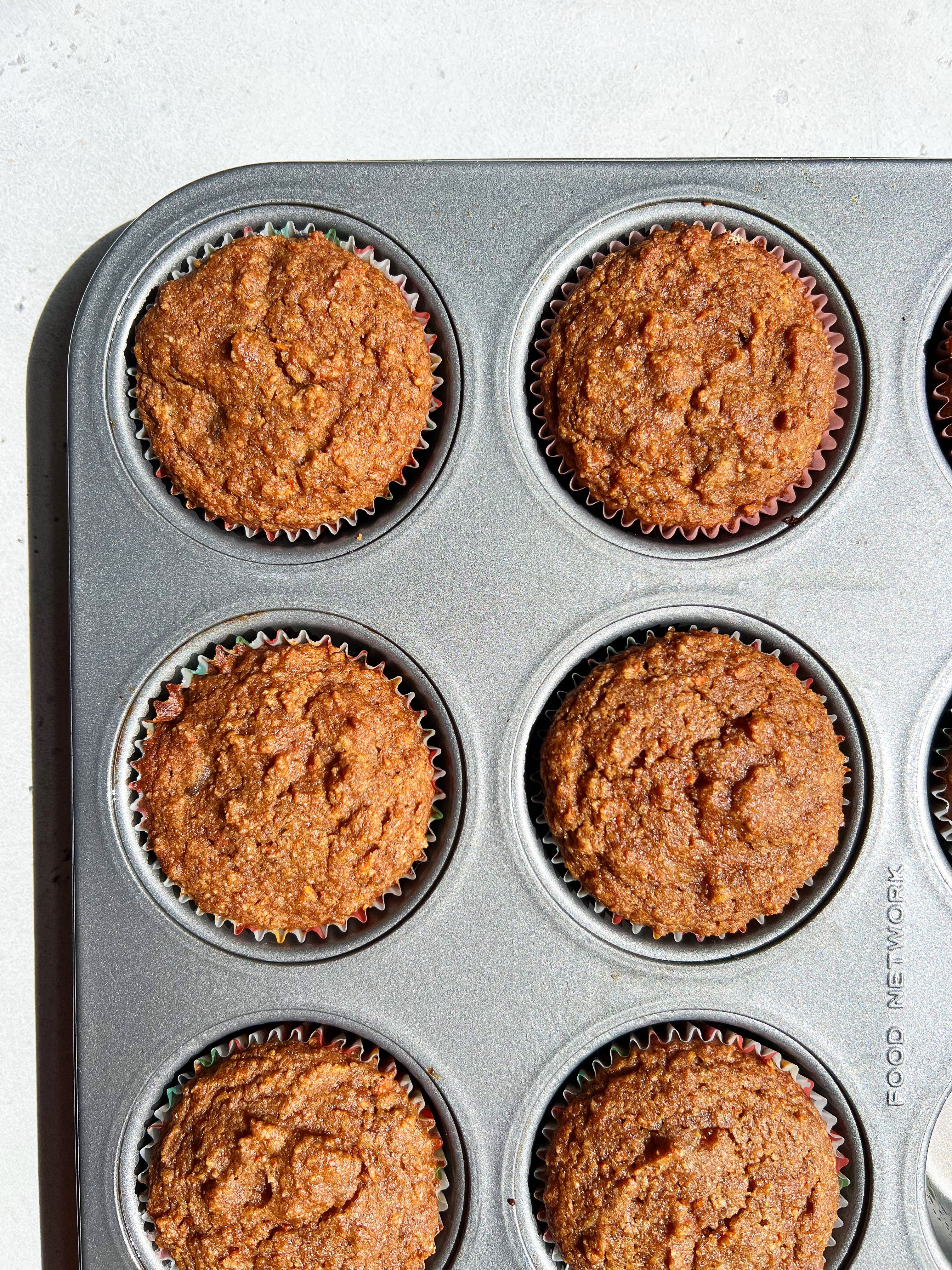 If you make these better for you carrot cake muffins, be sure to tag us on Instagram and Pinterest so we can see all your date-able date recipe recreations! And you can always comment below!
Other Baked Goods You'll love: