This paleo pumpkin date bread is perfectly soft, fluffy and full of caramel medjool dates and dark chocolate chips for a cozy fall breakfast or snack! Gluten-Free, Nut-Free, and Refined Sugar-Free.
As we enter the fall season, there is nothing more welcoming than a loaf of freshly baked pumpkin bread, are we right or are we right?! Of course we jazzed up your traditional pumpkin bread, making it 100% date-able 😉
This Pumpkin Date Bread 🎃is super fluffy, moist, and filled with bites of caramelized medjool dates 🌴and melty chocolate chips 🍫 It's also paleo, gluten-free, dairy-free, nut-free and refined sugar-free! Plus as an added bonus, your kitchen will smell like a divine pumpkin spice candle has been burning all day...but you can actually eat this one!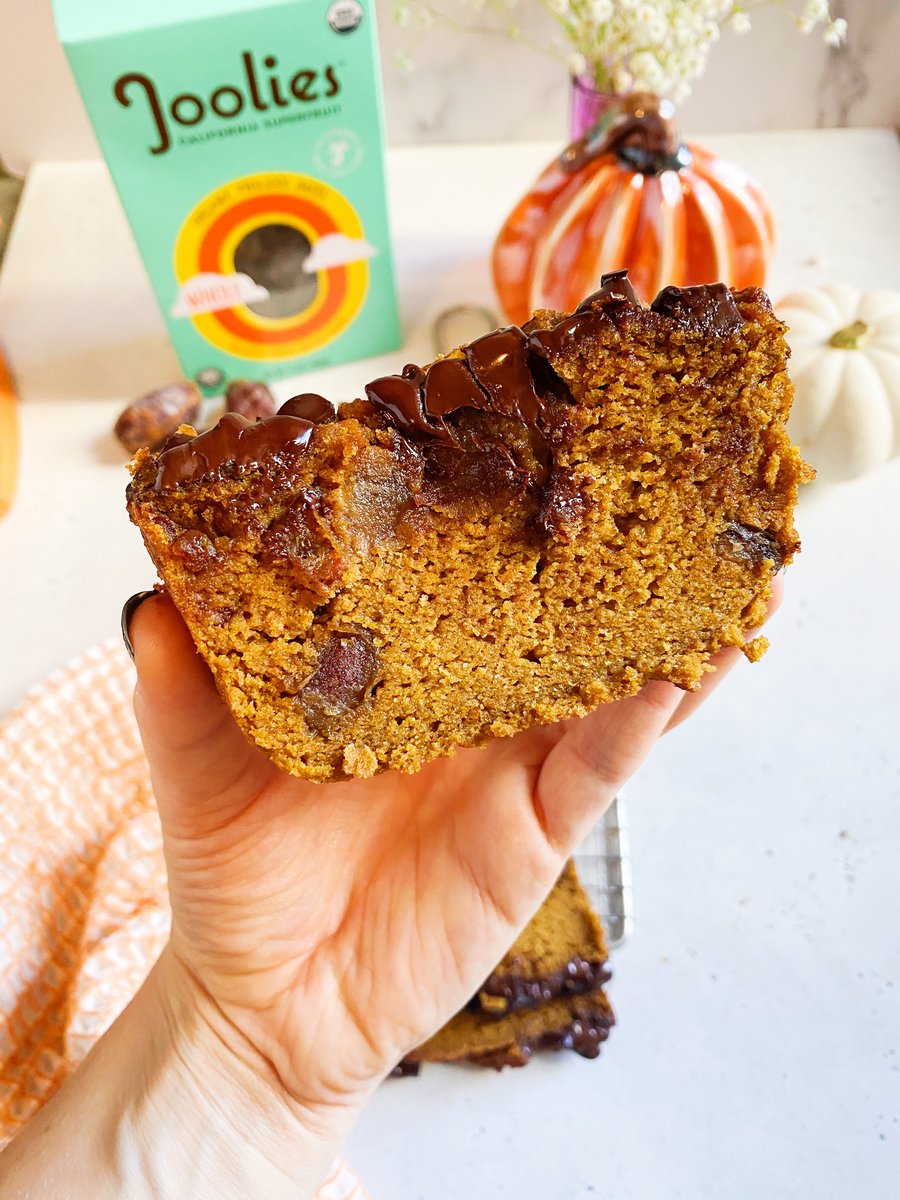 Yummy Ways to Enjoy
This delicious loaf is great to have on hand for an easy breakfast throughout the week. But a breakfast date isn't the only thing this date recipe is good for! It's also a great snack, dessert, or item to take to get togethers! Here are some ways we like to enjoy this pumpkin bread:
Warmed up with a cozy cup of coffee ☕
Slather on a thick layer of nut butter🥜, ghee, or just good ole butter 🧈 on a warm slice.
Crumbled over yogurt with a drizzle of Joolies Cinnamon Date Syrup 🌴
For a more indulgent option, warmed up with a few scoops of ice cream and a drizzle of date syrup!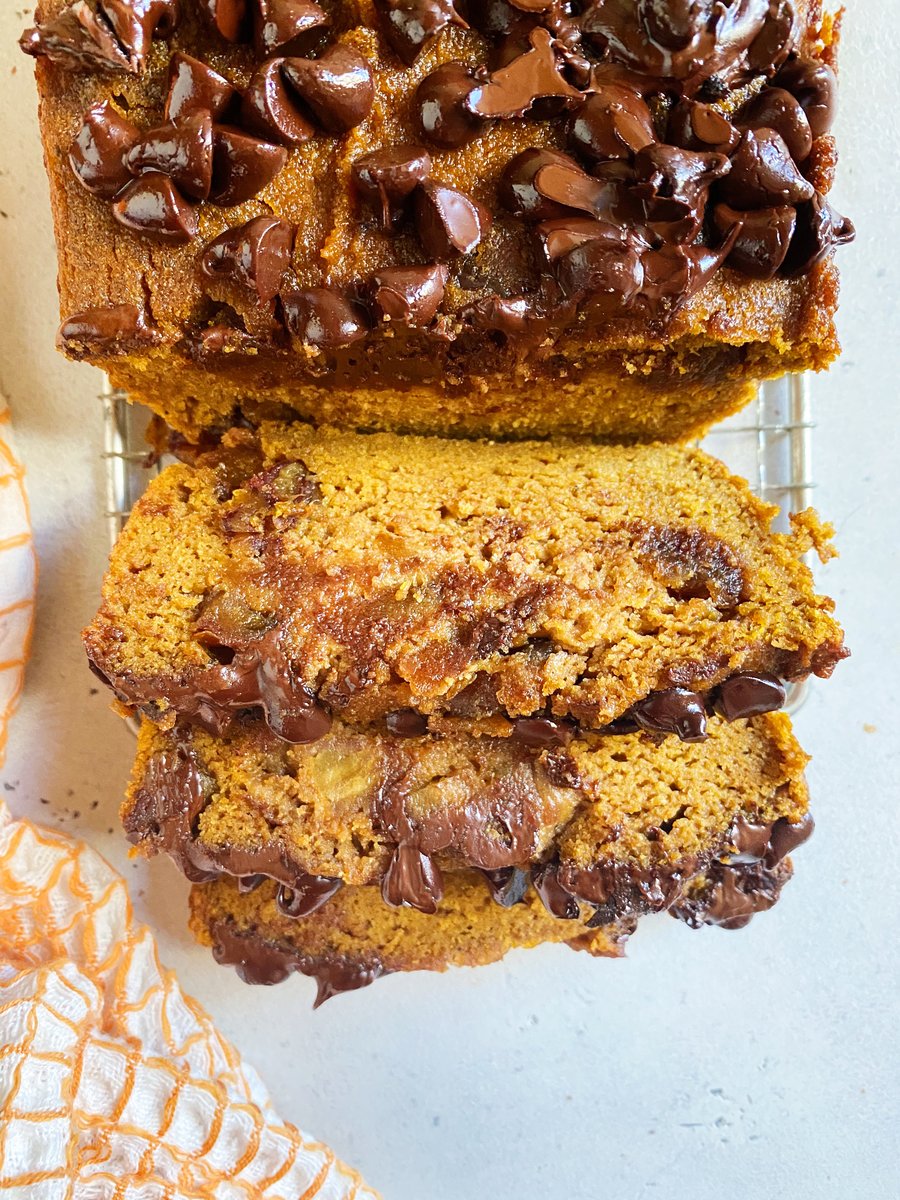 Ingredients you'll need
Pumpkin Puree

What's pumpkin bread without the pumpkin?! Make sure you grab 100% pumpkin puree and not pumpkin pie filling 🎃

Eggs
Coconut Oil

You want this to be melted, so pop it into the microwave for 40ish seconds, then let it cool before adding to the batter (you don't want it to cook the eggs). As an alternative, you can use vegetable oil or butter—whatever floats your boat!

Cassava and Coconut Flour
Coconut Sugar


To get the sweetness we all love, while keeping it refined sugar-free, we went with a coconut sugar. If you substitute with maple syrup or honey reduce the heat by 25 degrees Fahrenheit.

Joolies Pitted Dates

These are just as essential as the pumpkin are in this recipe! Joolies add an amazing texture, moistness, and boost of nutrients like potassium (3x that of a banana!), magnesium, Vitamin B's, etc!

Apple Cider Vinegar


A little bit of this is needed to help create the desired fluffiness in our bread! You can substitute with white vinegar if needed.

Pumpkin Pie Spices + Vanilla

Don't forget the spice! Grab cinnamon, nutmeg, cloves, allspice and ginger if you don't have a pre-made pumpkin pie spice. Vanilla will help compliment the other flavors.

Baking Soda

Despite being such a small ingredient, this is essential to getting the FLUFF! BASIC-ly 😂 when baking soda (basic) and ACV (acid) are mixed, a chemical reaction occurs, creating air pockets in the bread. AKA THE FLUFF 😁

Dark Chocolate Chips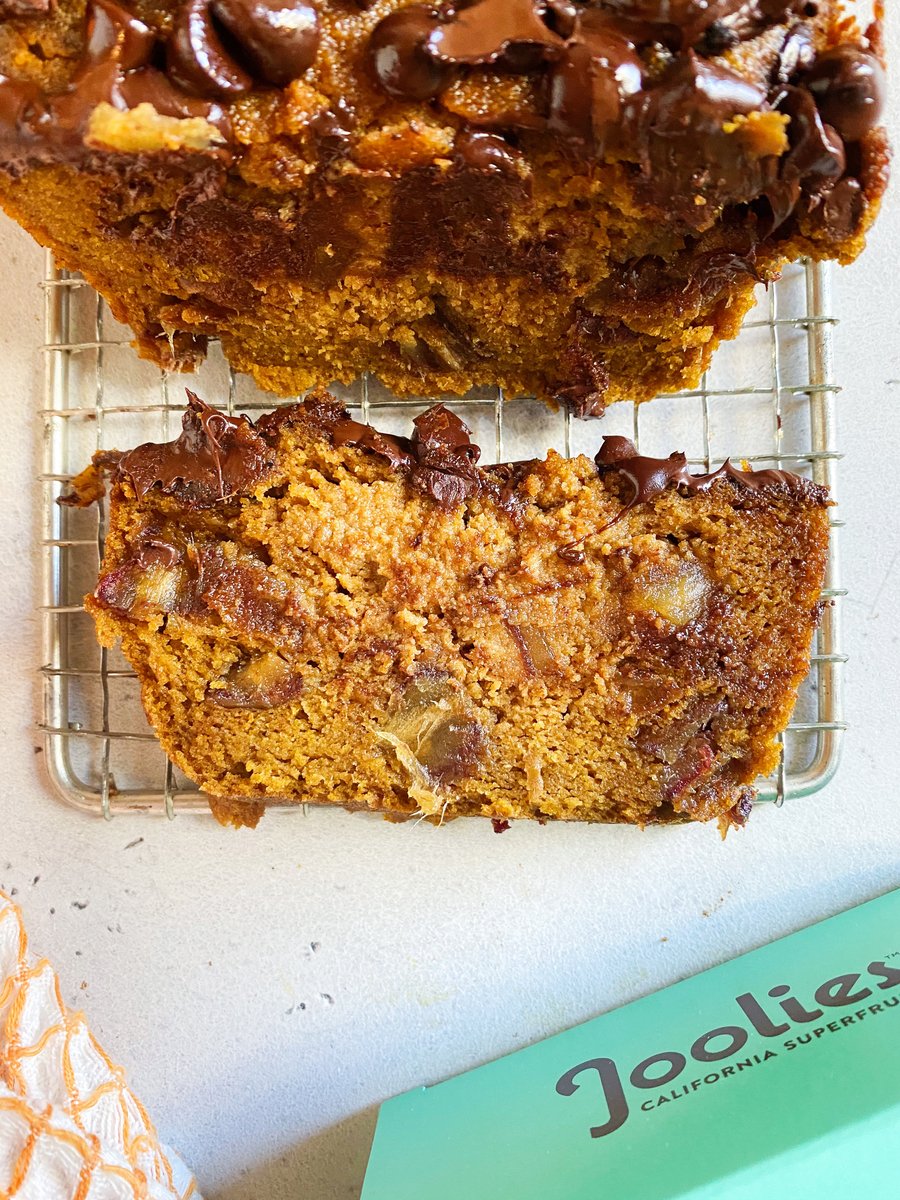 Other Date-able Pumpkin Recipes You'll Love
Paleo Chocolate Chip Pumpkin Cookies
If you make this cozy fall recipe, be sure to tag us on Instagram and Pinterest so we can see all your date-able recreations! And feel free to leave a comment below!