Inspired by Middle Eastern cuisine, these stuffed dates have a sticky-sweet center made with tahini and assorted chopped nuts, coated in smooth dark chocolate for a sweet yet wholesome treat. Vegan, Gluten-Free, Refined Sugar-Free.
With the season of Ramadan upon us, we wanted to highlight recipes inspired by Middle Eastern culture and traditions that use medjool dates of course! In observance of Ramadan, the sacred month of fasting and prayer🙏, Muslims fast from sunrise to sunset and traditionally break fast with fresh medjool dates.
As you already know, there are copious ways to enjoy medjool dates and these Rose Infused Tahini Baklava Stuffed Dates
are most definitely Iftar-worthy! Baklava is a scrumptious, sticky-sweet dessert made with layers of flaky phyllo pastry filled with chopped nuts and sweet honey, which is where we drew inspiration for the sweet, nutty filling of these stuffed dates.
Not only are they absolutely delicious, but quite stunning after a chocolate coat with dainty accessories of rose petals and crush pistachios that make a lovely homemade gift to friends and family, especially during Ramadan.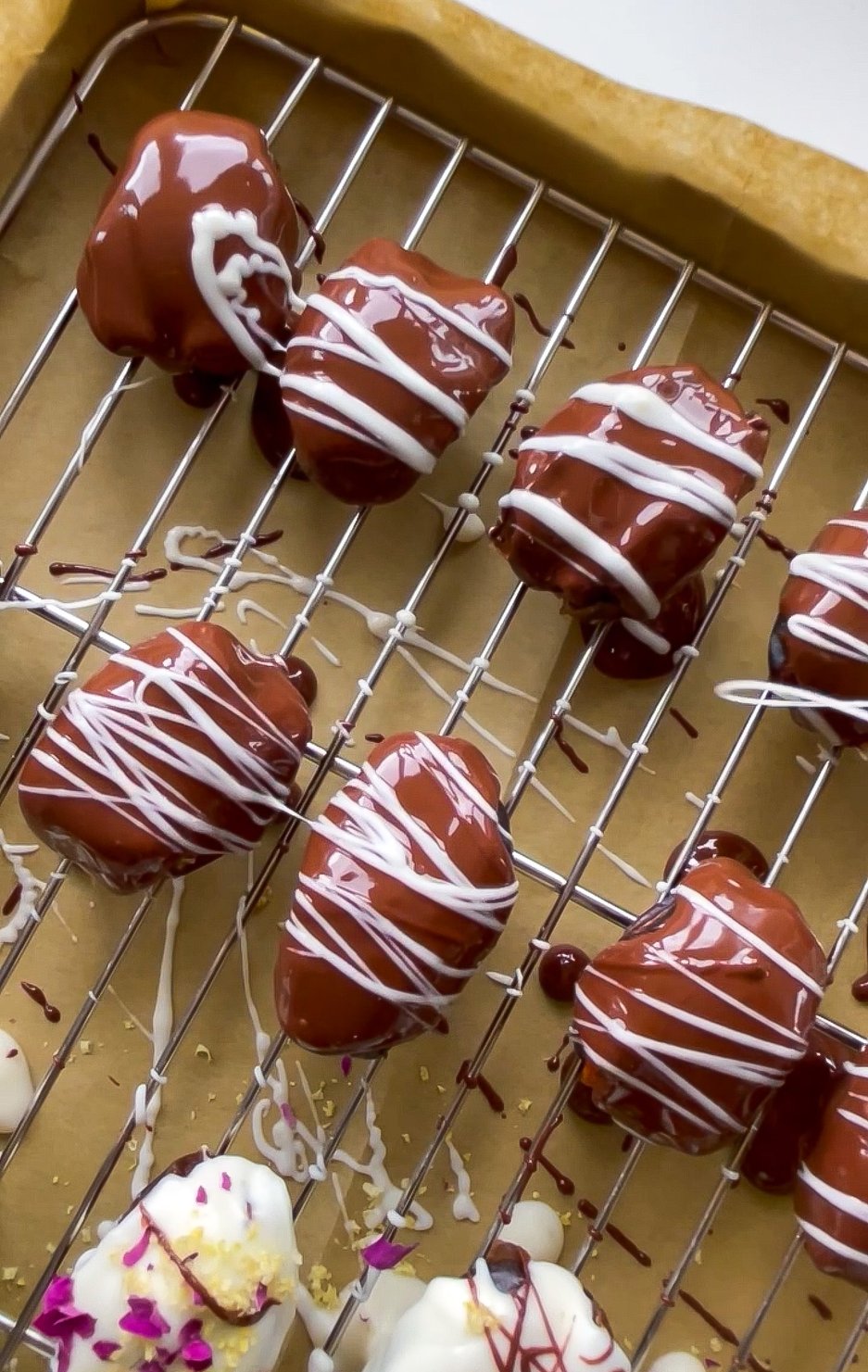 Ingredients you'll need:
Joolies Organic Medjool Dates

You can't stuff a date without a date! Whether you're team pitted or whole, both work equally as delicious and still give you all the amazing benefits of dates!

Tahini

This creamy sesame butter is a staple in Middle Eastern and Mediterranean cuisines and acts as the base of our filling that binds everything together.

Rose Water

This elevates the flavor profile by adding a subtle floral note to the stuffed dates. If you don't have rose water on hand or aren't really fan, feel free to swap with citrus like lemon or orange instead.

Pistachios, Cashews, Almonds


You can use any mixture of nuts that you desire for the baklava-inspired filling.

Joolies Date Syrup

Since tahini has more of a bitter taste, adding a touch of date syrup or honey will create the perfect balance.

Dark Chocolate Chips

The smooth and delicious topping that wraps our medjool date in a warm chocolate blanket.

We recommend using a dark chocolate without fillers or artificial sweeteners (it takes longer to melt and isn't great for your body either) like Hu Kitchen, or Enjoy Life Foods

Chef's Life Blending Oil


A tasty blend of

EVOO, Avocado, Sunflower, Grapeseed oils into one that mingles well with others. A

dding a little bit of this into our melted chocolate helps keep it from drying out and thins it out to make it easier for dipping!
If you make this baklava-inspired stuffed date for Iftar, brunch, or just cause, be sure to tag us on Instagram and Pinterest so we can see all your date-able date recipe recreations! And you can always comment below!
More Stuffed Dates You'll Love: