This simple Rosemary Date Cornbread is filled with flavor and has the perfect balance of sweet & savory. Perfect for Thanksgiving or dunking into a warm bowl of chili!
Sometimes there isn't time to for an all out homemade spread and that is A-OK, which is why we love recipes like this one--putting a flavorful and date-able twist on a classic that requires half the work. As Hannah Montana says, you get the best of both worlds. This Rosemary Date Cornbread is the perfect addition to your Thanksgiving/Holiday spread or pairing with a cozy bowl of chili! Everyone will love it and never guess your secret!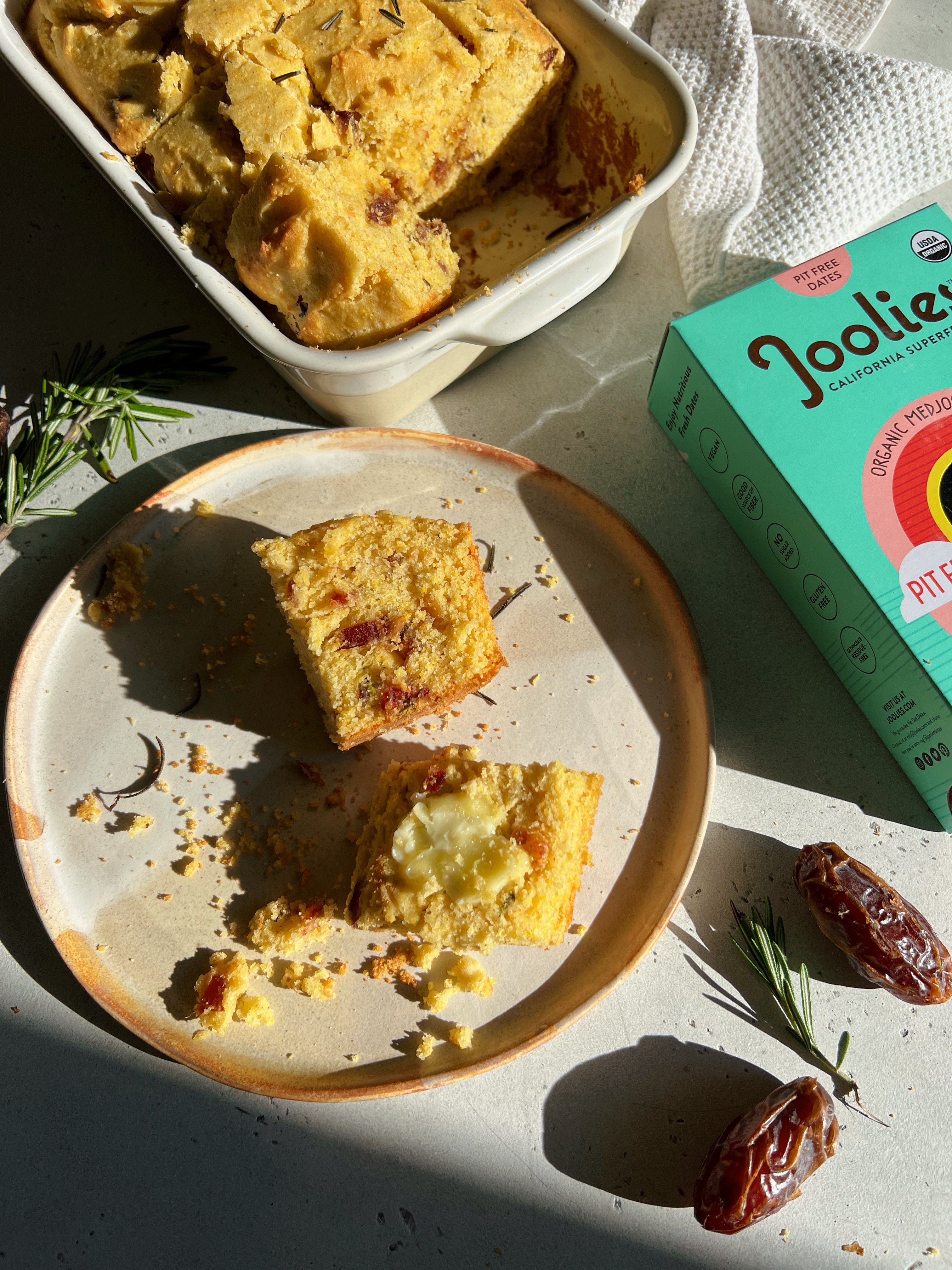 While we are on the topic, let me just say there should be zero, zilch, not an ounce of shame for using a boxed mix. *gasp.* If you really think about it, it's only saves you like a fourth of the work and truth be told, every great hostess/host has their tricks, even using boxed mixes for particular instances. And sometimes finished product turns out better than the homemade version...so with that I rest my case.
To give classic cornbread an elevated twist, you only need 2 simple ingredients: Joolies medjool dates and fresh rosemary. Adding in these fresh flavors provide a delightful balance of sweet and savory without the sweat of your brow.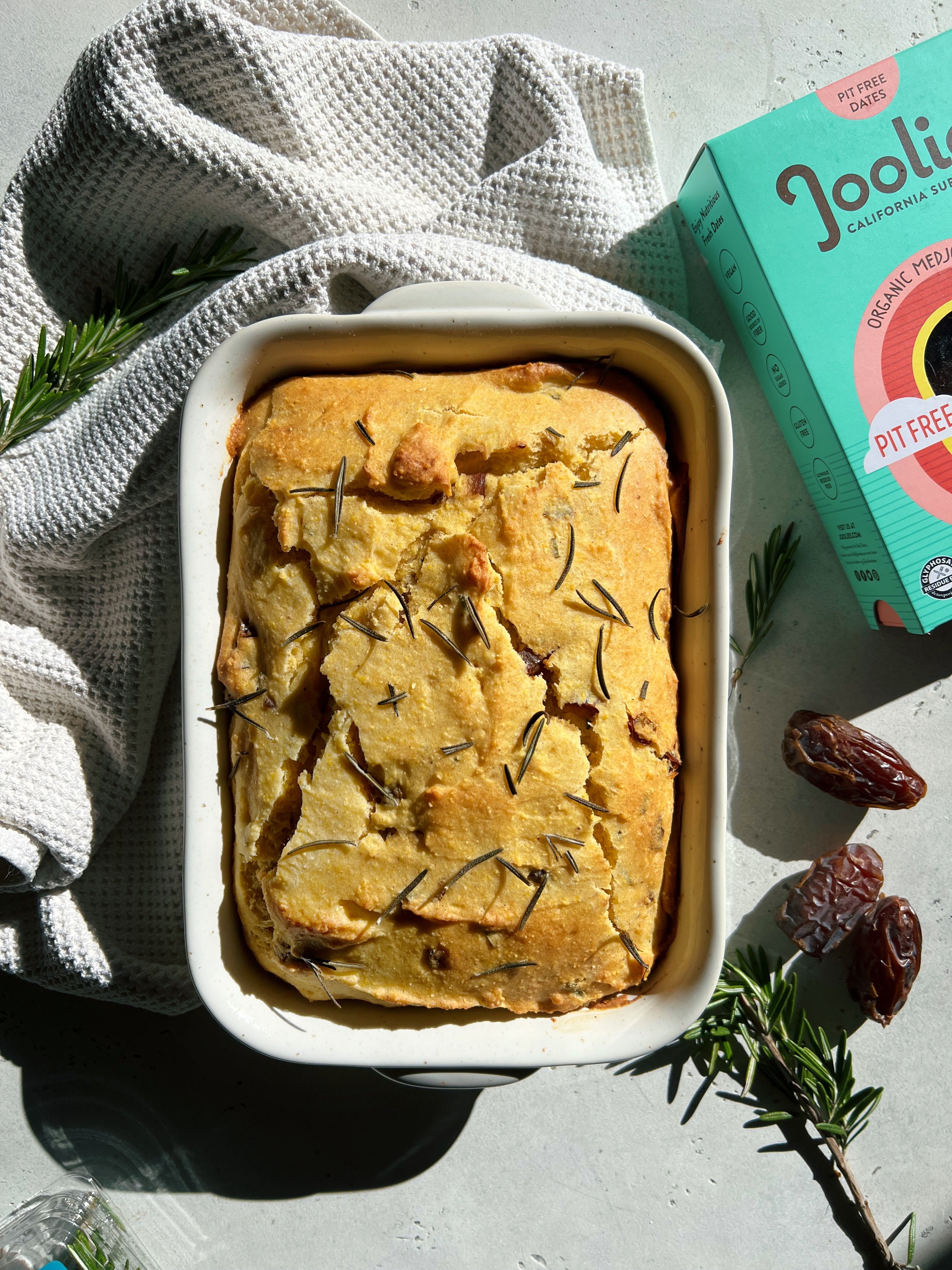 Ingredients in rosemary date cornbread:
Favorite Cornbread Mix


We highly recommend using Bob's Red Mill gluten free cornbread mix as it is made with wholesome ingredients and makes perfectly moist and fluffy cornbread every time.

Joolies Medjool Dates

Even though dates are typically used in sweet dishes, they add a richer flavor profile to savory dishes, becoming more caramel-like when warmed.

Joolies dates also add an amazing texture, moistness, and boost of nutrients like potassium (3x that of a banana!), magnesium, Vitamin B's, etc!

Fresh Rosemary

This adds a warm, wintery flavor amongst the cornbread. Fresh is always best as it adds a more vibrant flavor.

Eggs




Olive Oil




This adds healthy fats,

antioxidants

, and extra moisture to this dish. Feel free to substitute with another oil of your choice and/or butter!

Milk

To keep it dairy free, we went with almond milk, but feel free to use whatever floats your boat.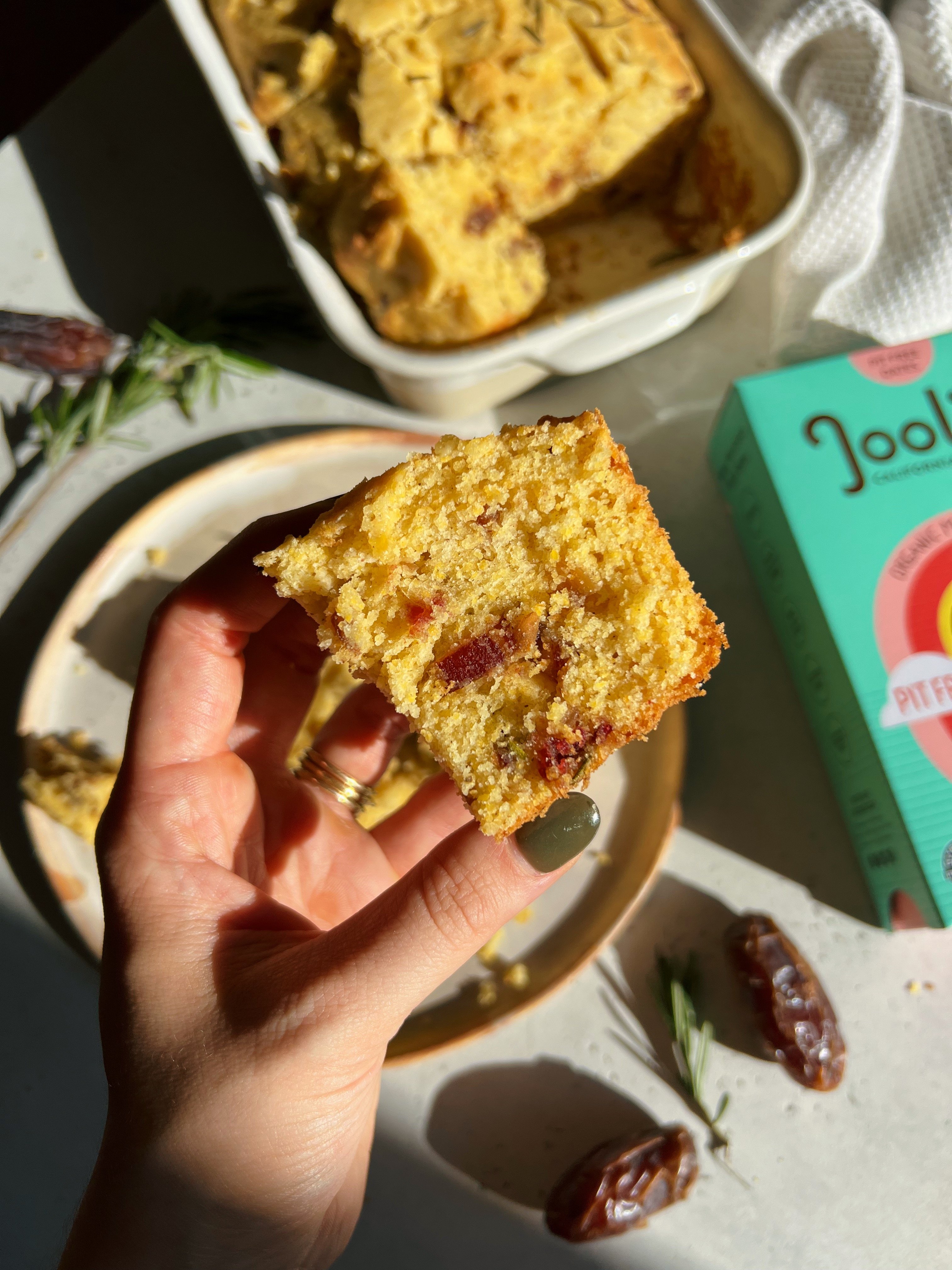 If you make this savory date recipe, be sure to tag us on
Instagram
@jooliesdates and use the hashtag #jooliesdates
so we can see all your date-able date recipe recreations! And you can always comment below!
More Easy Recipes You'll Love