These copycat Reese's Peanut Butter Pumpkins are made with five wholesome ingredients and naturally sweetened with date syrup. A delicious sweet treat that's easy to make and tastes better than the store-bought kind. Vegan, Gluten-Free, Refined Sugar-Free.
Some say Reese's peanut butter PUMPKINS 🎃 are better than all the other Reese's cups. I mean, the cute shape gives it instant brownie points🤩 Well we have something that just might one up the iconic Reese's peanut butter pumpkins...and the trick to the magic? Joolies date syrup! And using minimal ingredients that supersede the instant refined sugar gratification. With these Copycat Reese's Peanut Butter Pumpkins you get that indulgent satisfaction without the sugar crash of traditional candy. Let's get into this date recipe 😎
All you need are five simple ingredients to create this nostalgic candy into a better-for-you version that is vegan, gluten-free, and refined sugar-free. They're super easy to whip up and make for a great treat to keep on hand when that craving hits. Just pop em in an air-tight bag/container and store in the freezer.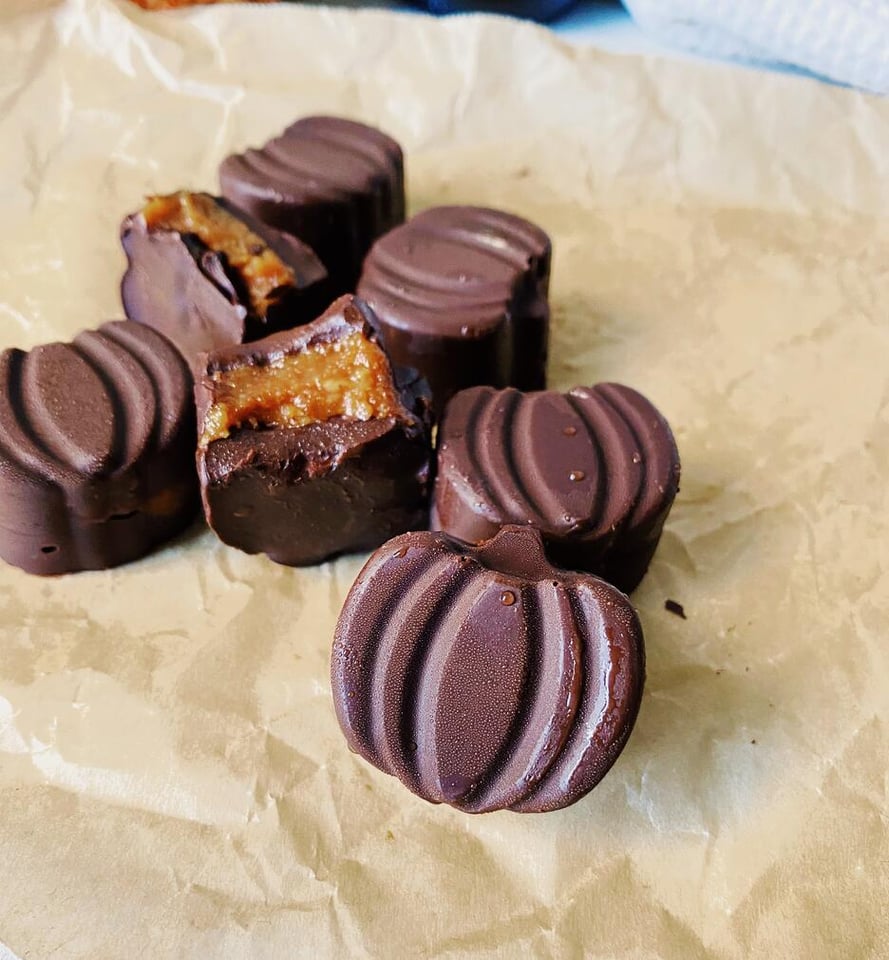 Tips for homemade Reese's Pumpkins
Add more coconut flour as needed. Depending on what kind of peanut (or nut) butter you use, the filling may be runnier and more difficult to mold so add more coconut flour as needed--Keep in mind a little goes a long way😊 We recommend adding in 1/2 tbsp increments.
Coat the sides of the mold really good. To make sure you get a pretty and even chocolate coating, be sure the sides get covered before plopping in the pb filling. If they don't you'll have more fo a pb pumpkin sandwich.
Add some spice/toppings! Take things up a notch and add a little bit of spice, flakey sea salt, or sprinkles!
Store in the freezer. For 💯 freshness, store the peanut butter pumpkins in an air-tight container in the freezer. Plus, they will best maintain their cute pumpkin shape that way.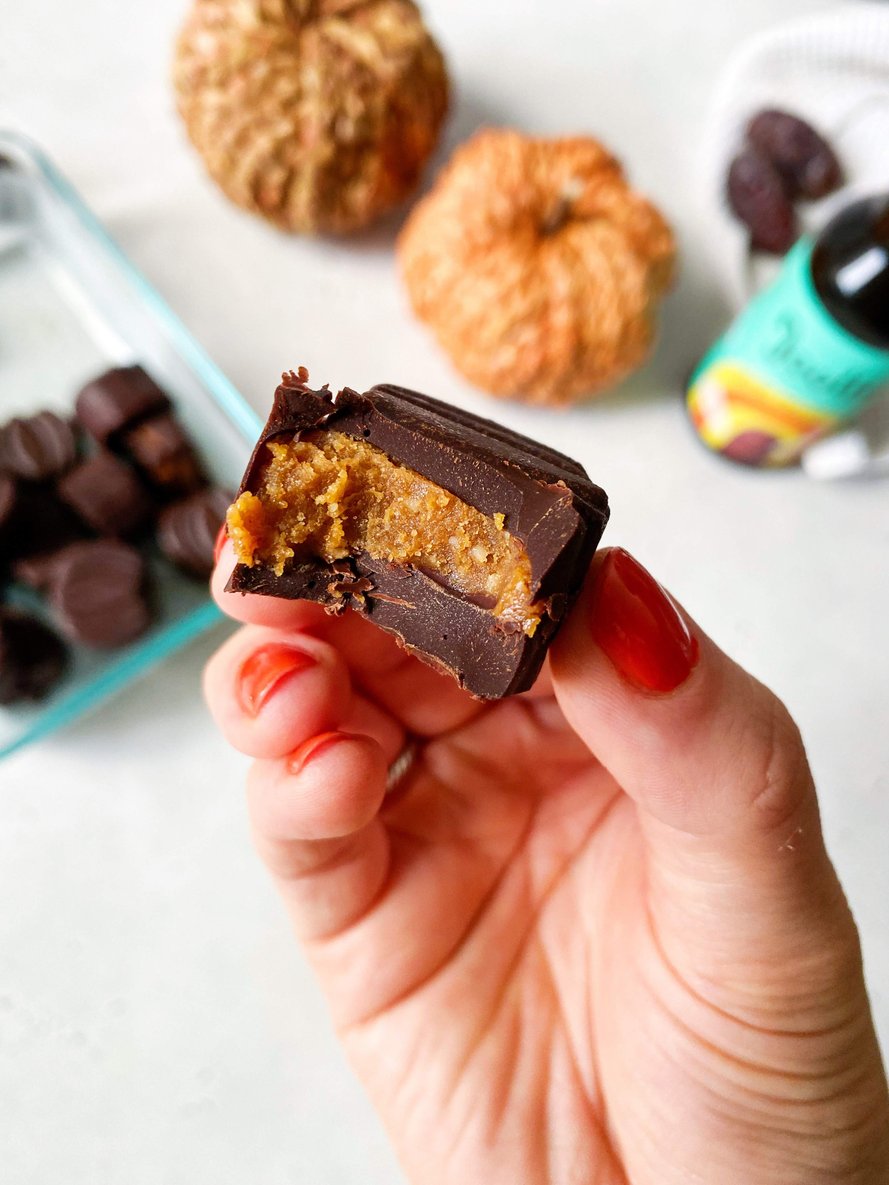 Ingredients you'll need:
Peanut Butter

What's a Reese's without peanut butter? We recommend using a creamy PB that has no added oils or sugars in it like 365 brand or Wild Friends. If you have a peanut allergy, not to fret! You can easily swap the PB for an almond, cashew, or one of our favorite nut-free options: Oat Haus granola butter😍

Joolies Medjool Date Syrup

Instead of all that yucky sugar and preservatives in the traditional Reese's, this natural sweetener with benefits is the perfect swap. Made with only one ingredient:

organic medjool dates.

You still

maintain all the nutrient and health benefits of a medjool date

in the syrup form! Woohoo!

You can also use Joolies medjool dates, just be sure to pit and process/blend them before mixing!

Coconut flour

This helps to thicken the batter to achieve that perfect peanut butter filling texture. You can swap for almond flour, but you might need to add a bit more to bind everything up. Coconut flour naturally absorbs a ton of liquid, which is why you need so little!

Dark Chocolate Chips

The final ingredient that brings it all together. We recommend using a dark chocolate without fillers or artificial sweeteners (it takes longer to melt and isn't great for your body either) like Hu Kitchen, Eating Evolved, or SoChatti. Natural chocolate is always the way to go!

Coconut Oil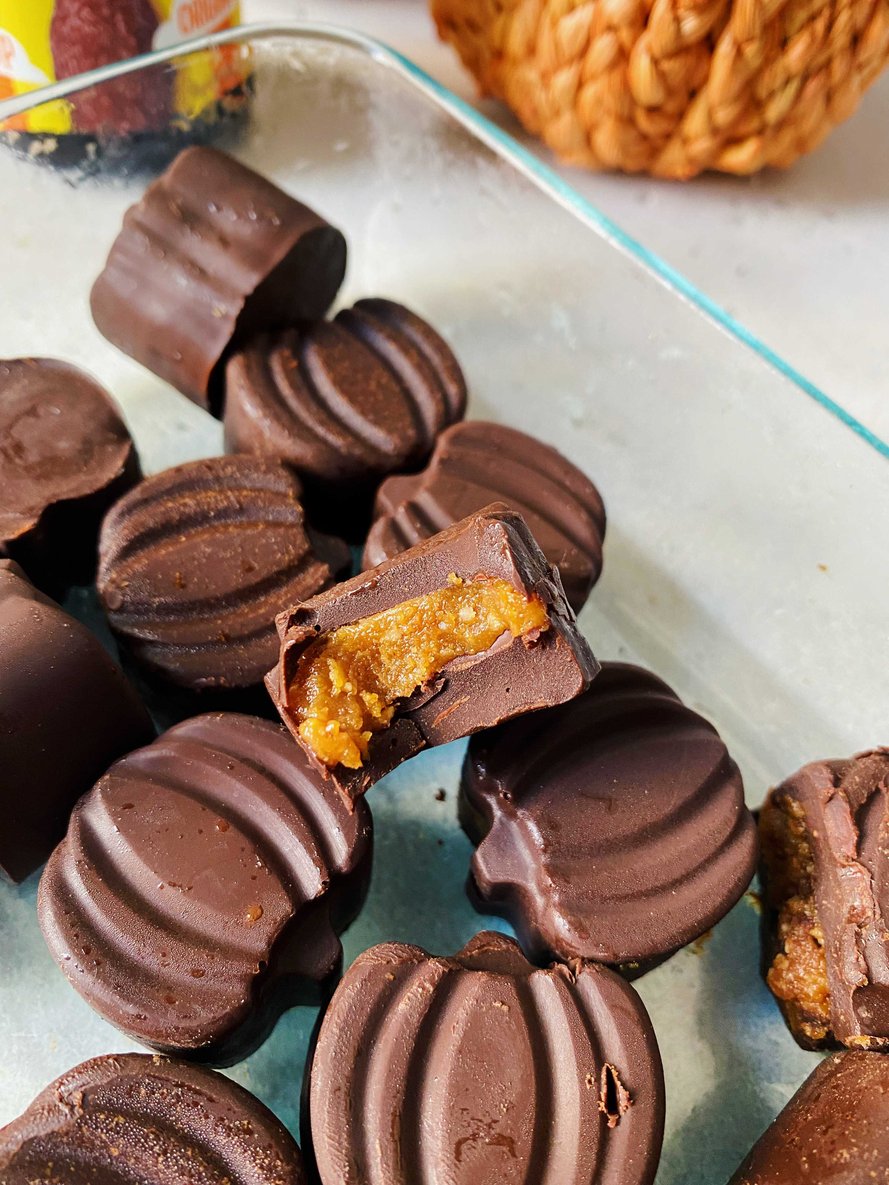 If you make this better-for-you classic fall candy recipe, be sure to tag us on
Instagram
and
Pinterest
so we can see all your date-able date recipe recreations! And you can always comment below!
More Better-for-you Candy Recipes You'll Love: