Fuel your day with these creamy overnight oats made with nutritious ingredients like rolled oats, nut butter, and naturally sweetened with medjool dates. An easy and healthy, make ahead breakfast! Vegan, Gluten Free, Refined Sugar Free.
When you think of overnight oats, you most likely equate the little super seed stud, chia seeds. But if you have a texture thing (like moi) or simply don't vibe with chia, it is hard to come across an overnight oats recipe that doesn't add this little dude into the mix--one that not only omits this super seed, but has that same delicious creamy texture.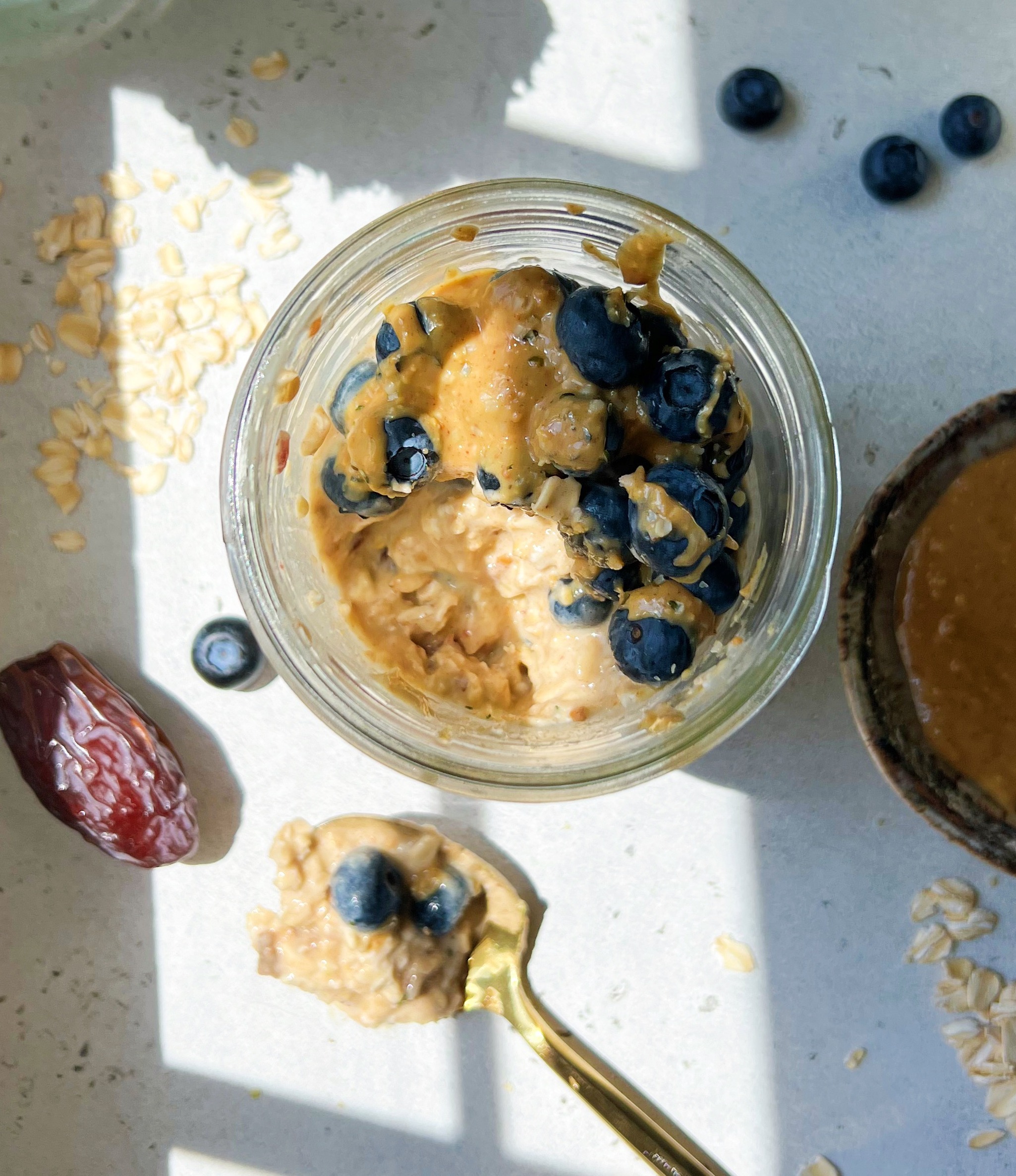 Creamy Overnight Oats without Chia Seeds are in fact possible without a drop of sweat from your brow. If you break it down from a nutritional standpoint, the chia seeds are the main source of fat in overnight oats so we just need to swap one source of fat for another (read: nut/seed butter). Here I used some luscious peanut butter, but almond, cashew, sunflower, etc butter work just as effectively!
What exactly are Overnight Oats?
Overnight Oats are a convenient, no-cook alternative to the classic, old school oatmeal. It's also a way for your future self to thank you😂 Rather than cooking your oats on the stove or in the microwave, you simply combine all the ingredients in a jar, shake shake shake, and let it thicken up in the fridge overnight. By the morning, all you need is a spoon to dive right in. Toppings are totally optional, but if you have the few extra seconds to spare, totally worth it!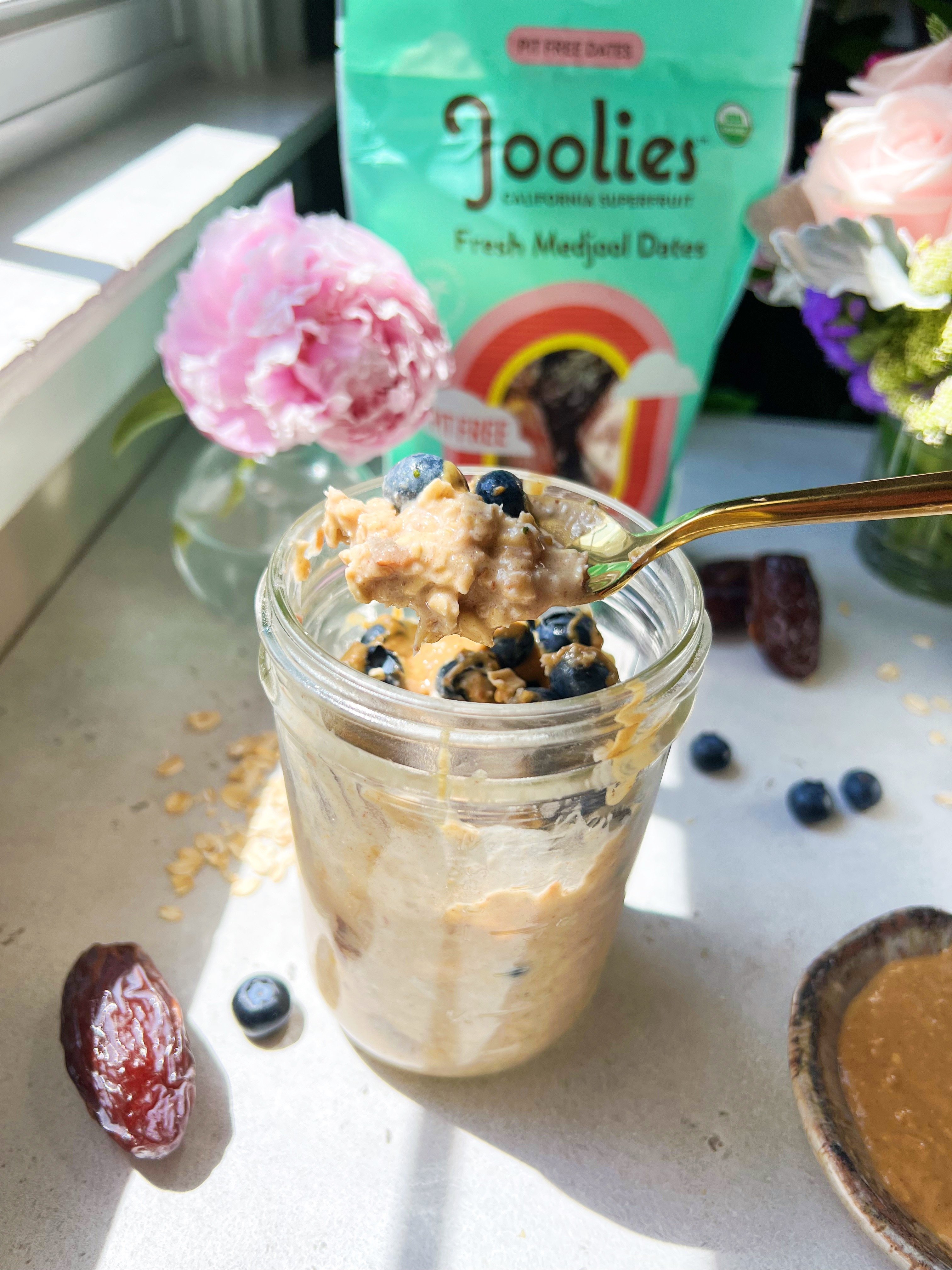 Why You'll Love Overnight Oats
They are ridiculously easy to make ahead and/or meal prep! So as you're dashing out the door, you'll have breakfast ready to grab and go. Plus, they stay fresh and delicious throughout the week so you can prep several at once!
They are 100% customizable. Whether you have dietary preferences or simply want to experiment with different flavors, overnight oats are incredibly versatile (and nearly foolproof)!

Easier to digest!

Oats naturally contain phytic acid which hinders the absorption of important nutrients like calcium, magnesium, iron, etc. Soaking your oats reduces the phytic acid content, making it easier for your body to absorb those vital nutrients. Read more about this

here

.

And of course, they are simple DELICIOUS! With their creamy, dreamy texture, overnight oats make for a satisfying and nourishing start to the day.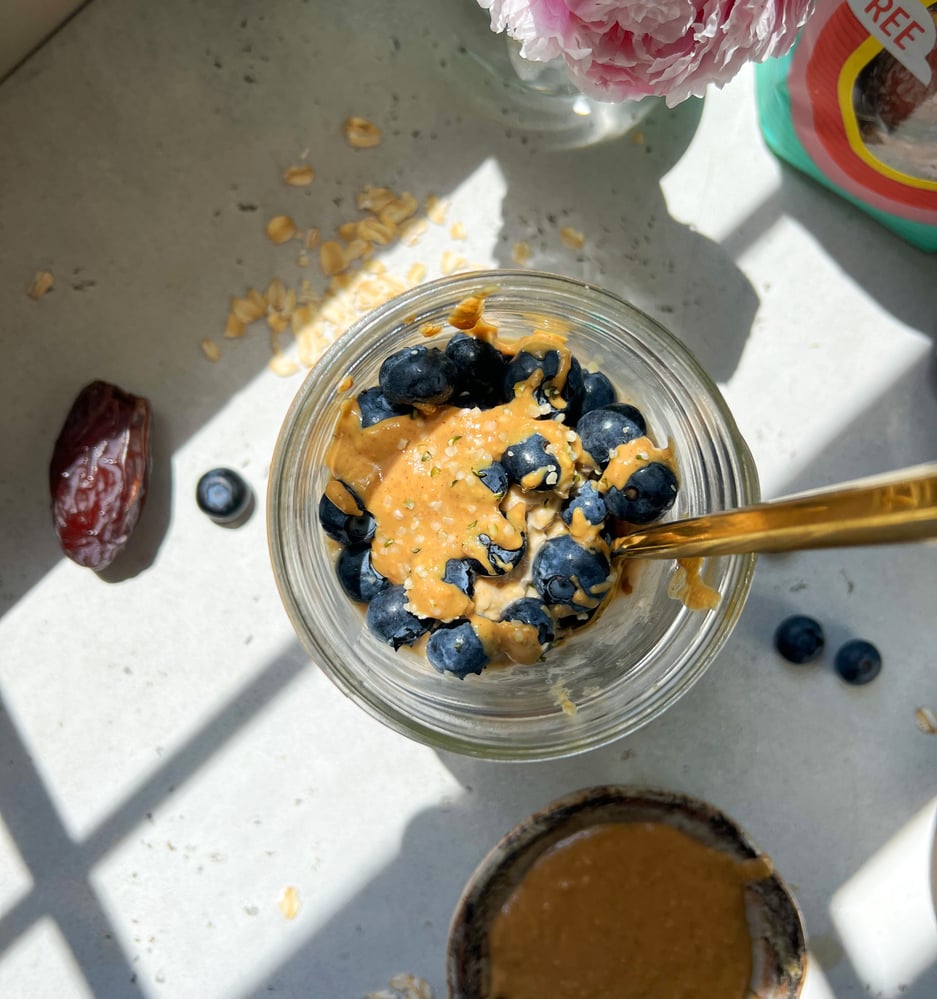 Ingredients you'll need:
Joolies Organic Medjool Dates

This fresh fruit adds just a touch of natural sweetness and works hand in hand with the nut butter to achieve that creamy, dreamy texture while adding all the amazing benefits of dates!

Gluten Free Rolled Oats

When it comes to overnight oats, ROLLED oats

achieve the utmost perfect texture. Some of our favorite gluten-free oat brands are

Thrive Market

and

Bob's Red Mill.

Peanut Butter

This healthy fat is what m

akes the oats thick and creamy! Feel free to swap out for different nut or seed butter.

Coconut Milk


To keep it vegan, we went with a coconut milk, but any dairy-free milk will work perfectly. If you're out of milk, you can substitute with water, it just won't be as creamy.

Vanilla Extract

Just a dash adds another layer of flavor, while complimenting the others. Feel free to omit.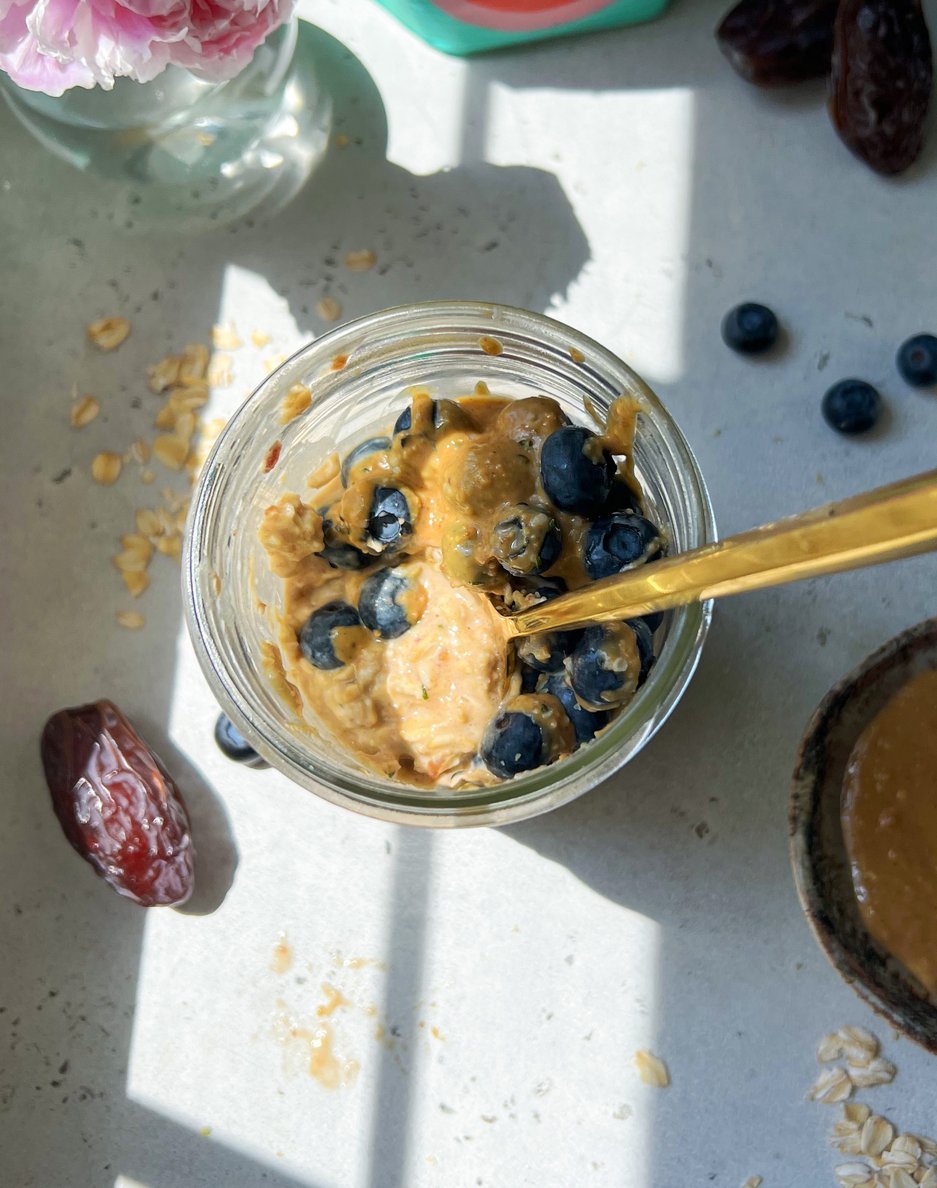 Optional Add-ins / Toppings

Protein Powder

If you're wanting a bit more protein in the morning, just add in your favorite protein powder or collagen peptides. Note: you may need to add in a bit more liquid.

Fresh Fruit


Blueberries, strawberries, banana slices, apple slices, etc

Hemp Seeds
If you make this easy, on-the-go breakfast, be sure to tag us on Instagram and Pinterest so we can see all your date-able date recipe recreations! And you can always comment below!
More Make Ahead Recipes You'll Love: