Skip the refined sugars with this easy chia seed jam made with 4 simple ingredients! Perfect on toast, in oatmeal, on charcuterie boards, and more. Vegan, gluten free, paleo, sweetened with dates.
Love jams and jellies, but don't always love all the refined sugar that comes with it? Yea, we feel you...which is why we bring to you today, this Easy Chia Seed Jam! Because you can have your cake (refined sugar free jelly) and eat it too.🥳 If you can slice some fruit and heat it on the stove, then you most definitely can make this recipe!
Why chia seed jam is so great
Made with minimal, wholesome ingredients, unlike commercially available jams/jellies that are loaded with added sugars, high fructose corn syrup, etc.
It's

super versatile

just like our medjool dates😊 and works with just about any juicy fruit of your liking!
Takes only 15 minutes to make and no canning is required 🎉
Sweetened naturally with Joolies date syrup and thickened with chia seeds (not refined sugar)!
Fresh or frozen fruit works perfectly so no need to rush to the store if you are out of fresh.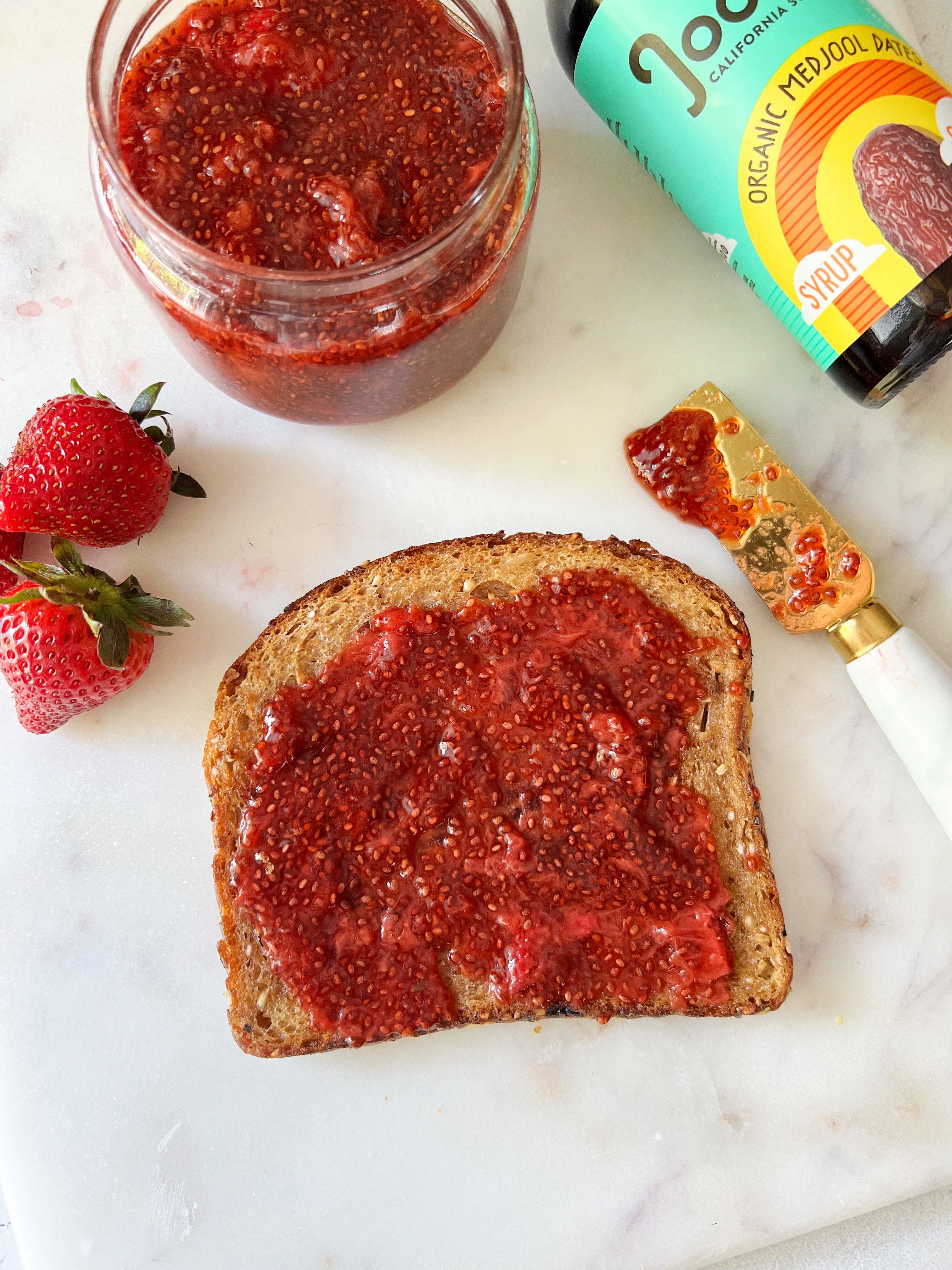 Ingredients you'll need:
Joolies Date Syrup

You can't stuff a date without a date! We love using our pitted option for these, but whole work just as well! Just be sure to remove the pit😉If you're running low on your stock of dates, you can buy some in bulk right here or in our 2 pack right here!

Fresh or Frozen Fruit

Whether you have some fresh fruit on hand or some packed away in the freezer, both options work great. We went with strawberries here, but this recipe is 100% customizable! Blueberries, cherries, peaches, raspberries, any juicy fruit.

Chia Seeds

This super seed thickens our jam instead of tons of added sugar like traditional jams. Plus, chia seeds have incredible health benefits being a superb source of omega 3-fatty acids, antioxidants, fiber, and a 20% protein content.

Lemon Juice

Adds a touch of brightness and compliments the flavors of the other ingredients. Feel free to omit or swap for a spice or herb.
If you make this date-sweetened chia seed jam recipe, be sure to tag us on
Instagram
and
Pinterest
so we can see all your date-able recreations! And you can always comment below!
More Recipes You'll Love